August 2, 2023
Good morning. In today's either/view, we discuss whether local brands are the future of India's FMCG sector. We also look at West Bengal's commitment to minority welfare, among other news.
---
📰

FEATURE STORY
Are local brands the future of India's FMCG sector?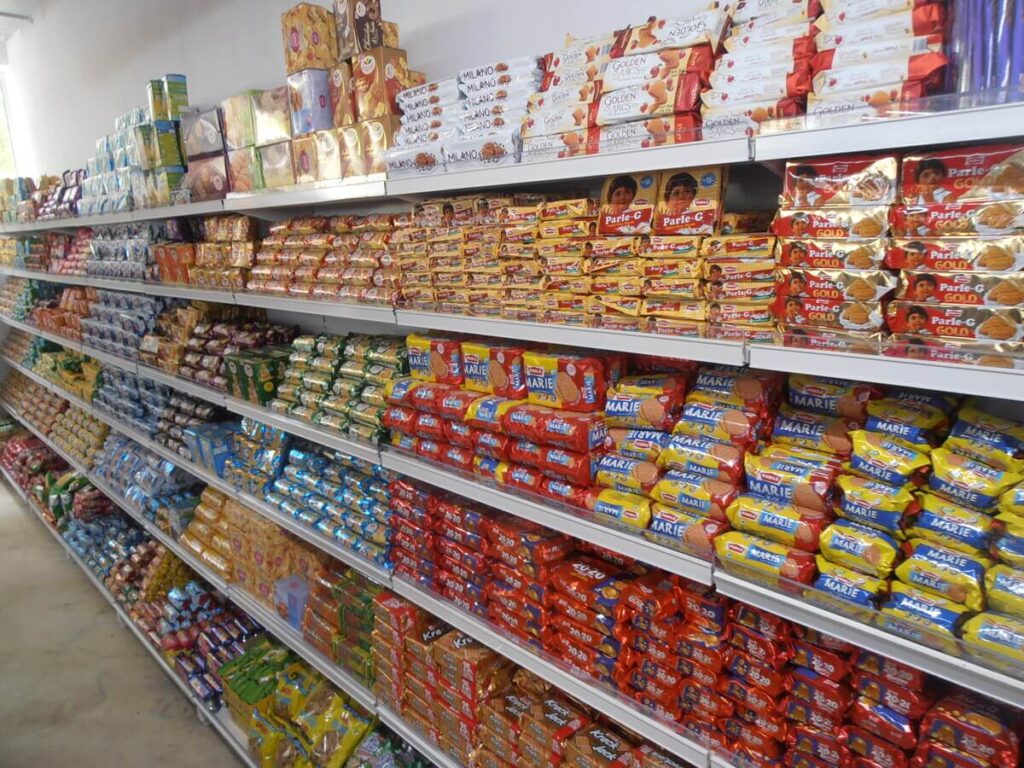 You've got your grocery list planned, and now it's time to go shopping. At the store, there's a plethora of choices in front of you. You recognise some big brands and some not so much. What do you go for? Perhaps you recall Prime Minister Modi's 'Vocal for Local' pitch from over the years. Perhaps you're just curious about the new local brand, or you're loyal to a big global brand and go with what you know.
There's safety in the known. That's what big global Fast Moving Consumer Goods (FMCG) companies are primarily banking on as they try to keep loyal consumers and bring in new ones. All this while new local brands try to give them a run for their money. Is their success guaranteed in a crowded market? What's the likely outcome of this proverbial David vs Goliath fight?
Context
There hasn't been a time when India didn't have a sizeable chunk of the world's population. That meant the FMCG sector always had a lot of potential. Post-independence, investments in this sector weren't very high. People's purchasing power wasn't much, and the government preferred small-scale sectors.
Arguably, the only multinational company of note was Hindustan Lever Limited (HLL) – now Hindustan Unilever Limited (HUL) – with its manufacturing base here. Their focus was on the urban market since money could be made there.
Things changed when Nirma came to the fore. Its focus was on value for money. Their products weren't niche and were affordable to those on the lower income scale. That strategy garnered big success, and the likes of HLL took notice. They saw some potential in the rural market. The government relaxed some norms, which helped. Companies could now go for economies of scale and make their products more affordable.
1991 and liberalisation was an obvious turning point. Trade barriers were relaxed with lower import tariffs, the rupee was devalued, and taxes were reduced. That ushered in several global brands looking to invest and cater to a billion people's needs. Companies took advantage thanks to rising living standards in urban areas and increased purchasing power in the rural economy.
In the decades past, this trend continued as more foreign companies sailed to Indian shores. They either entered the market alone or partnered with well-known local companies. The choices for what to buy at the store only kept growing. This also affected India's trade patterns. According to the World Bank, consumer goods imports increased from $3 billion in 1991 to over $58 billion in 2019.
The explosion of e-commerce and digital marketing made things even more competitive. Products could reach people at their doorstep from other cities. You could buy things through an app. Millennials and Gen Z were now a big target audience, and companies took notice. Think back to Pepsi's Dil Mange More campaign and tagline. That was to capture an entire generation's mood at the time. All this means the FMCG sector is among the top five in the country.
That's not the end of the story. Over the past several years, there has been a change. With a burgeoning entrepreneurial class and heightened aspirations, smaller home-grown companies sprung up. With the 'Vocal for Local' and Aatmanirbhar pitches, the government has asked companies to not only 'Make in India' but also to compete. The already crowded FMCG sector now has more local specialised brands competing for shelf space. Should MNCs worry?
VIEW: MNCs need not sweat
A 2007 Mckinsey report stated India will become the fifth largest consumer market by 2025. While the pandemic was the obvious speed bump in some aspects, this could still play out. Mass media, the internet and social media are all factors that seemingly favour big foreign brands. There's also something to be said for a generation of Indians valuing and buying global brands as a status symbol.
When PM Modi and the government began their 'Vocal for Local' pitch, foreign companies weren't sweating. Their belief remains that global brands dominate the Indian market with an unequal number of local alternatives. What the companies did take away from the government's pitch was Make in India. MNCs like Unilever, Procter & Gamble, and Nestle already have local manufacturing bases. The scales won't tip against them.
While consumers can sometimes be fickle, they're also entrenched in routines and habits. Their preferences might vary, but they won't change unless they see a drastic shift in value-for-money propositions. Foreign brands have a 50-60% market share in personal care products. In discretionary segments like chocolates and coffee, it's almost 90%. That's consumer loyalty at play.
COUNTERVIEW: Looking over their shoulders
All this talk of global brands dominating the FMCG sector isn't how Ritesh Tiwari sees it. The CFO of HUL believes that with commodity deflation, small players are moving ahead of their larger competitors. The big brands have significant market share and considerable reach with their distribution channels. However, with the emergence of e-commerce and other factors, there's a shift afoot.
During the pandemic, local brands suffered due to logistical shortcomings and consumers preferring familiar brands. Now, they want to bounce back, and it looks like they are. According to a recent report by Kantar, the volume growth in local brands has grown by 12.7% since last year. That's well ahead of the 8.5% by bigger brands. If we go back to 2016, a similar report by Kantar showed 35 local brands and 15 multinational ones in a ranking of the top 50 Indian brands.
Indian consumers want value for money. They're more informed about the choices in front of them. Local brands have the advantage of knowing the communities and people's tastes. When commodity costs fall, it's local brands that'll have the advantage. They can release products that cater to local needs. For example, companies like Supremo 51 in Madhya Pradesh and Reflect Dishwash in Maharashtra have recorded triple-digit growth.
Reference Links:
What is your opinion on this?
(Only subscribers can participate in polls)
a) Local brands aren't the future of India's FMCG sector.
b) Local brands are the future of India's FMCG sector.
---
🕵️ BEYOND ECHO CHAMBERS
For the Right:
Tracking Life & Death: Changes To A 54-Year-Old Law May Exclude Millions Of Poorest Indians & States
For the Left:
Defence PSUs and exports: How Modi, Rajnath and Jaishankar team crafted an astonishing success
---
🇮🇳 STATE OF THE STATES
Cleanest July in 4 years (Delhi) – The Commission for Air Quality Management (CAQM) reports that Delhi experienced its cleanest July air since 2019, with an average Air Quality Index (AQI) of 83.7 – an improvement over the previous years. The average PM10 concentration remained steady at 77 µg/m3, lower than levels recorded in 2019, 2021, and 2022.
Why it matters: In July this year, Delhi experienced predominantly 'moderate' and 'satisfactory' air quality, with no 'good' air days, according to the Central Pollution Control Board. The improved air quality is attributed to 19 rainy days, with this year's rainfall of 384.6 mm surpassing the normal by 83%, per IMD data.
Declining groundnut cultivation (Andhra Pradesh) – Despite a growing demand for oilseed crops, groundnut cultivation has steadily declined over the past few years. In 2016-17, it was cultivated in 10.13 lakh hectares, but this area decreased to 6.6 lakh hectares by 2019-20. Though there was a slight recovery in 2021-22 with 8.25 lakh hectares, most farmers remain disinterested. This year's target is 7.30 lakh hectares, but only 75% of that area has been sown so far.
Why it matters: Groundnut cultivation in areas like Anantapur, known for its high production, is declining due to deficit and erratic rains, causing worries about potential losses. Experts argue that cultivation in June and July was limited due to weather conditions. Farmers are deterred by the high investment cost, around ₹10,000 per acre, and are shifting to other commercial crops.
Minority welfare (West Bengal) – CM Mamata Banerjee emphasised her government's commitment to minority welfare. The allocation for the Minority Affairs Department in 2023-24 stands at ₹4,233 crore, compared to ₹472 crore in 2010-11. She also mentioned the allocation of ₹855 crore for minority area development and the formation of a state-level high-powered committee to improve educational infrastructure in Khareji madrasas.
Why it matters: Khareji madrasas, independent Islamic educational institutions in West Bengal, are not affiliated with the WBBME and lack government financial aid. They contribute significantly to Islamic education, preserving the cultural heritage of around 5 lakh students. The new committee will aid modernisation efforts to integrate them into mainstream society by providing infrastructure, formal education, vocational skills, spoken English training, and sports activities.
Diabetic neuropathy treatment (Gujarat) – Pharmaceutical company, Asprius Lifesciences, has innovated a new treatment for diabetic neuropathy, a condition leading to nerve damage in peripheral areas. The treatment involves a patented fixed-dose combination of two drugs. Ongoing clinical trials will assess its safety and efficacy. If successful, the firm has plans to launch the drug next year.
Why it matters: Diabetic neuropathy, affecting over 2% of the global population, results from nerve damage in the hands and feet, leading to symptoms like numbness, tingling, pain, and weakness. Asprius Lifesciences' treatment could potentially improve symptoms and reduce complications, offering a positive impact on their quality of life.
Bajrang Dal booked (Assam) – The police have filed a case against Bajrang Dal activists for conducting an arms training camp at a school in Darrang. The case was registered under Section 153A/34 IPC, which pertains to promoting enmity between different groups based on religion, race, etc. After discovering a viral video, the Assam Director General of Police instructed the district superintendent to take lawful action against those involved.
Why it matters: A video showing Bajrang Dal members conducting arms training at a school in Mornoi village went viral on Monday. According to the group, 350 youths were trained to counter security threats from illegal immigrants. Congress leader Debabrata Saikia urged CM Himanta Biswa Sarma to take action against the organisers and investigate the district administration's role in permitting such a camp.
---
🔢 KEY NUMBER
100% – The Aditya Birla Group has acquired a full, or 100% stake in KA Hospitality. It implies four more restaurant brands in the company's cap.