October 20, 2023
Good morning. In today's either/view, we discuss whether BluSmart can break the Ola-Uber duopoly. We also look at the international student summit in Kerala, among other news.
---
📰 FEATURE STORY
Can BluSmart break the Ola-Uber duopoly?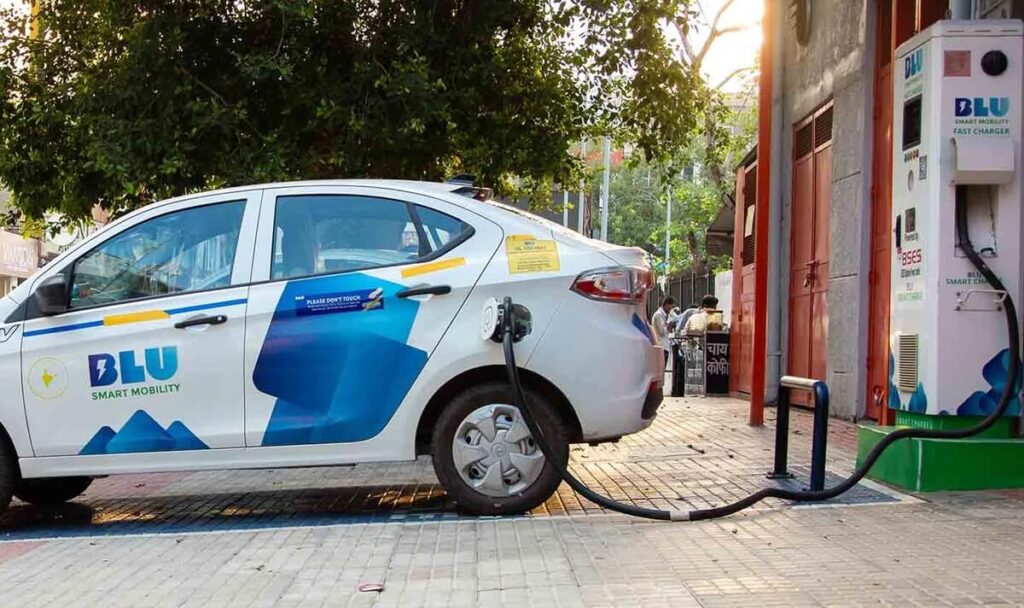 Who knew we would reach a point in time when getting a cab would be an app away? It's never been easier to hail a cab in a big metropolitan city. You've got two options – Ola and Uber. They've been the dominant players in this segment for several years now. But what if another company enters the space?
That's where BluSmart comes in. The (relatively) new kid on the block wants to shake things up with its all-electric vehicle fleet. With recent funding successes and being obviously environmentally conscious, can the company successfully take on the two incumbent juggernauts?
Context
Over the past decade, India's urban road passenger transportation has undergone a revolution. The online taxi services market has changed how we think about urban public transport. So much so that governments and policymakers have had to take notice. It's not hard to see why they're popular – rapid access, easy availability, and flexible rates.
In some states and cities, the rules and regulations are muddled on having fixed or variable fares for auto rickshaws and regular cabs. They should have a meter, but how many use them? How many drivers and agencies follow the meter model?
Beginning in 2011, when Ola was founded, and in 2013, when Uber came to India, these two have dominated the segment. They've constantly one-upped each other. When Ola began its rental service in 2016, Uber launched UberHIRE in 2017. Needless to say, both companies have become household names over the years. While other companies like Meru, Savaari, GetMeCab, and others have entered the fray, they've struggled to compete.
The online taxi market in India isn't without its challenges. Companies like Ola and Uber have come under fire for their pricing strategies and minimal transparency. In some cities, unions took them to task for operating without a license.
The business model can also be wonky. Keeping and expanding market share depends on possessing potential customers and loyal driver-partners. The latter is key. If you don't have drivers, there's no business. For this, companies need to keep drivers happy. That means being paid well. This is also where government regulations have come in. Karnataka and Maharashtra were the first to propose regulations for the segment. Even with all of this, the market remains ripe for growth.
One relatively new entrant in the segment is BluSmart. What started as an idea between three friends, Anmol Singh Jaggi, Punit Goyal and Tushar Garg, moved quickly into their app launch in 2019, with services beginning in Delhi-NCR. Along with co-founders Rishabh Sood and Anirudh Arun, they didn't listen to those who said they didn't stand a chance against Uber and Ola and decided to stay the course.
Interestingly, the company's first Electric Vehicle (EV) fleet of 70 cars ran on Uber's platform. This gave the group first-hand experience of what the business would entail. They pooled in some capital, got money from high net-worth individuals (HNIs) and launched their app on December 5, 2019.
Cut to January 2023, and it now has over 4,000 EVs. It's the only EV ride-hailing company in India. It currently operates in Delhi-NCR and Bengaluru and claims to have the largest network of EV charging stations across the Delhi-NCR region. Should Ola and Uber be worried?
VIEW: Being smart about it
There's one thing BluSmart has going for it – EVs. People are becoming increasingly environmentally conscious. With its fleet of EVs, the company has an edge in telling people they're the only company in this segment with EVs. And they're just getting started on this front. The company is building large-scale EV charging superhubs across Delhi-NCR and Bengaluru. Between January and October 2022, 80% of new electric taxis registered belonged to BluSmart.
The company has an edge in operations – the full-service model. It allows BluSmart to control service, unit economics, and the customer experience. The company owns their fleet of EVs. This means they can keep their fleet clean, a must to retain and onboard customers. It also means drivers don't have to shell out or take a loan to buy a car. The drivers also don't have to fret over high fuel prices.
What about Ola and Uber? Concerning the EV model, co-founder Punit Goyal isn't worried. According to him, if those companies need to scale their EVs like BluSmart, they'll need to shut down their existing model. It's also because they haven't set up charging infrastructure. Not to mention, Ola and Uber struggle with driver retention and customer satisfaction issues. What BluSmart has going for it is potential. Not just for itself but the market. India's ride-hailing market is valued at a little over $13 billion, with only 7% penetration.
COUNTERVIEW: Not so fast
For any newcomer, the biggest challenge is the incumbents. Uber has over 3 lakh cars and operates in over 100 Indian cities with a 43% market share, according to some estimates. Ola, too, is scaling up. Both companies are also introducing EVs, though there isn't a definitive timeline. With BluSmart looking to expand, their fleet includes pricier EVs from MG Motor and BYD. It also faces constraints in the number of cars it gets from Tata Motors, the only affordable EV maker in India.
If all you have is a fleet of EVs, they all need to be charged and ready to go. Some drivers have reported that charging takes up a portion of time that could be spent ferrying passengers. Then there's the domestic EV production scenario. Some EV automakers are facing issues, and when Ola and Uber enter with an EV fleet, the production line won't be exclusive to BluSmart anymore. This is also where Ola and Uber's market share will come in handy.
Uber already has an EV algorithm from international markets that can be implemented within the limitations of the domestic scene. For BluSmart, it all comes down to expanding its fleet and operations. The company plans to have 14,000 cars next year and 1 lakh in five years. Given that it owns all of its EVs, that's an expensive proposition, and expansion might not happen at a rapid pace unless they're flush with cash.
Reference Links:
What is your opinion on this?
(Only subscribers can participate in polls)
a) BluSmart can break the Ola-Uber duopoly.
b) BluSmart can't break the Ola-Uber duopoly.
---
🕵️ BEYOND ECHO CHAMBERS
For the Right:
Indians have a Mossad fantasy. But 2 weeks show even strong states crumble
For the Left:
With focus on Blue Economy and eye on China, India is working towards greater maritime heft
---
🇮🇳 STATE OF THE STATES
Afforestation directive (Haryana) – The Supreme Court has instructed the Haryana government to present details of land banks set aside for plantation activities within three months. This directive was issued after the court permitted the National Highways Authority of India (NHAI) to expand the Pataudi-Rewari-Gurgaon highway, but voiced concerns regarding insufficient compensatory afforestation.
Why it matters: The court's insistence on nearby afforestation ensures that the local environment and ecology are preserved. This move also sets a precedent for future projects, highlighting the balance between development and environmental sustainability.
Students' Global Summit (Kerala) – Chief Minister Pinarayi Vijayan inaugurated an international students summit at the Kanakakunnu palace in Thiruvananthapuram. The summit, attended by 162 students from 42 countries, was organized under the Keraleeyam programme.
Why it matters: During his address, the CM highlighted Kerala's peaceful and secular environment, its achievements in human development indices, and its ongoing transformation into a knowledge economy and innovation society. Such events promote cultural exchange, mutual understanding, and collaboration, positioning Kerala as a hub for global interactions.
Bus strike (Odisha) – Private bus operators in Odisha initiated a state-wide strike, causing a significant disruption to the public transport system. This strike, involving nearly 14,000 private buses, is in response to the Odisha government's location-accessible multimodal initiative (LAccMI). Debendra Sahu, the secretary of the private bus owners' association, mentioned that their decision to strike was firm, especially after discussions with the Chief Minister's Office (CMO) remained inconclusive.
Why it matters: The strike's timing, during the Durga Puja celebrations, has inconvenienced many residents and travellers in the state. People with travel plans, especially those returning to their hometowns for the festivities, are facing challenges due to the absence of private buses.
Return from Israel (Gujarat) – Due to the escalating conflict between Israel and Hamas, several Gujaratis, primarily students pursuing higher studies in Israel, have returned to Gujarat. While many registered with the Indian government's rescue mission, others came back independently. These students intend to resume their studies in Israel once the situation stabilizes.
Why it matters: The students shared experiences of receiving alert messages and seeking refuge during the attacks. The return has brought relief to their anxious families in Gujarat. The situation highlights the challenges faced by students abroad during crises and the decisions they must make concerning their safety and education.
LED elephant deterrent (Assam) – In Assam, light-emitting diode (LED) bulbs are being used as a novel method to deter wild elephants from entering human settlements. Five solar-powered LEDs, set 250 meters apart, were installed in the Nayapara and Hastinapur regions of Baksa district. These LEDs blink in a rhythmic pattern, which elephants tend to avoid.
Why it matters: This initiative by Aaranyak, a biodiversity conservation organization, aims to protect both crop fields and human settlements from elephant intrusions. Additionally, farmers are being encouraged to cultivate crops like Assam lemon, ginger, turmeric, and mustard, which elephants find less appealing.
---
🔢 KEY NUMBER
41 – Canada withdrew 41 diplomats from India amid a row over the murder of a Sikh separatist. India wanted those diplomats to leave the country and threatened to revoke their official status if they did not.