June 7, 2023
Good morning. In today's either/view, we discuss whether cycling can be the future of urban mobility in India. We also look at the drone surveillance on Goa shores, among other news.
---
📰

FEATURE STORY
Can cycling be the future of urban mobility in India?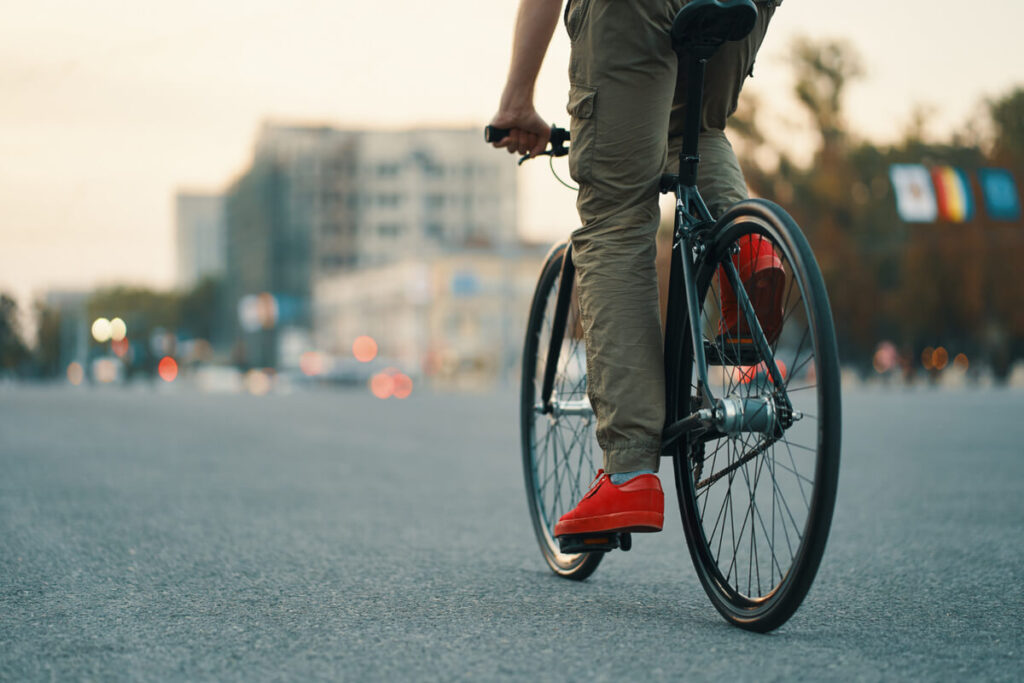 World Bicycle Day and World Environment Day, commemorated a couple of days apart on June 3 and 5 respectively, are pertinent to sustainable mobility in India. Going from A to B in a city can be quite a hassle, especially in a sprawling metropolis like Delhi, Bengaluru, or Chennai. Private transportation is obviously convenient. You never know with public transport. It can either be efficient or a headache.
India's mobility issues are well documented. Experts, civil society, and governments have all tried to crack it. Everything from multi-modal transport to more metro networks has been on the table. What if the future of mobility is something more primitive? Like the humble bicycle. It's like going backwards to move forward. But is it practical? Can this at least be something to consider on a smaller scale?
Context
India is a relatively small country in terms of land mass, with the second-largest, or probably already largest, population. It's a crowded place, and it will get increasingly crowded. Indian cities will be notoriously packed as urbanisation shows no signs of stopping.
Around 2030, for the first time, the rural population will decrease as the urban population continues to rise. The seven-largest cities in India will become even larger. Take Delhi, for example. Its population will grow by about one-third within the next decade. That adds up to almost 39 million people.
If we look at this broadly, India's urban population is around 461 million. Perhaps more. That's growing by 2.3% every year. By 2031, 75% of the country's national income will come from cities. India will have about 68 urban sprawls, each with a population of more than 1 million. To put that in perspective, the entirety of Europe has only 35. That's a humungous burden for Indian cities to carry.
With this many people packed into cities, they need to move around. The discussion on urban mobility comes at an interesting and opportune time, depending on how you see it. Countries and governments are dealing with the effects of global warming and climate change. This will most likely be at the heart of, or at least a part of, the thinking.
Post-independence, India's transportation system focussed on connecting rural to urban areas since the former is where most people lived. A lot of money was spent on building roads, railway lines, highways, bridges, etc. As the Indian economy grew, so did people's aspirations. Car ownership increased over the decades. It presented some challenges – traffic congestion and pollution, among others. The ninth planning commission suggested a mass transport system.
Public transport has come a long way with more buses, autos, taxis, suburban rail networks, and the metro. But, by and large, some of these still aren't the most environmentally friendly or accessible to all. Cities are now looking at things differently. The concerns and safety of pedestrians are talked about when it comes to urban planning.
The last census in 2011 showed that half of India's urban working population uses non-motorised transport, i.e., walking or cycling. As the world began to gradually open up and relax lockdowns after the COVID-19 pandemic, the World Health Organisation (WHO) released technical guidance on how to get around. It suggested cycling and walking to avoid any overcrowded public transport hubs.
As cities think of ways to ensure people can move around freely and easily and deal with the effects of climate change, can bicycles be the stone that kills two birds?
VIEW: Pedal to the metal
When we talk of rapid urbanisation, there's an understandable tendency to focus on the big sprawling cities. However, we shouldn't forget tier 2 and 3 cities. Rapid urbanisation and population growth have created a perfect storm to put a lot of stress on public infrastructure, and it's struggled to keep pace. Bicycles are the key. There's the obvious environmental benefit. But even connected with public transport, it can help in last-mile connectivity.
E-bikes, too, can play a role. It requires relatively lower investment and running costs. Companies can and have incentivised employees to adopt green modes of transportation. Take Copenhagen as an example. 45% of its citizens bike to work. Only 14% of them use cars. In 1995, they chose to change things around and didn't forget about public transportation, which covers almost three-quarters of the city.
The equivalent in India was Pune, once known as a 'bicycle city'. In the 1980s and 90s, 80% of its people owned or had access to a cycle. Things changed thanks to urbanisation. There's some good news. Pimpri Chinchwad, a city close to Pune, was lauded for its cycling model. The 'Harit Setu' project prioritises cycling with innovative street designs to ensure the safety and accessibility of cycling for residents.
India does have some groundwork laid. As part of the Bicycle Mayor Network, bicycle mayors are present in about 40 Indian cities. It's the largest number in the international network. Bhopal's bike-sharing initiative is a good starting point. Going back to Pune, it also has a bicycle plan. The ingredients are there, it's a matter of formulating and implementing policies.
COUNTERVIEW: It's an uphill task
Walking on the road is something millions of people have to do in India, putting their lives at risk. There just isn't enough space for pedestrians, let alone cyclists. As urban planning came of age in India, the focus was on motorised private and public transport. There wasn't a lot of discussion about climate change or having separate cycle lanes. The challenge or only option now is to shoehorn cycle-friendly policies into existing infrastructure, which can be cumbersome.
Let's assume we have dedicated cycle lanes, bike-sharing initiatives, etc. Will they be effectively used? What are the practical implications? Lane discipline isn't something Indians are known for. Bikers often travel on pavements meant for pedestrians, swerving to avoid people and encroachments. If some amount of safety isn't guaranteed, then people aren't going to buy in.
We've also got to look at who uses bicycles and why. Often, it's those who can't afford public transport. Daily wage labourers, for example, might not have money to buy a new bicycle for themselves. They probably have to borrow or get a second-hand one. With the lack of proper parking spaces, there's no guarantee that the bike is safe and won't get stolen.
When it comes to bike sharing, there are a couple of examples of how cities tried but failed. One example is Chennai's SmartBike sharing system, which works through an app. This was the issue. There was already a barrier to entry. The numbers didn't match the expectations, with only a few hundred rentals a week.
Reference Links:
What is your opinion on this?
(Only subscribers can participate in polls)
a) Cycling can be the future of urban mobility in India.
b) Cycling can't be the future of urban mobility in India.
---
🕵️ BEYOND ECHO CHAMBERS
For the Right:
UGC's clamp down on distance education goes against the spirit of NEP2020
For the Left:
Rahul Gandhi in the US: Why it's wrong to demonise Indians' past
---
🇮🇳 STATE OF THE STATES
Food trucks to empower trans people (Chandigarh) – Actor Ayushmann Khurrana is actively supporting the LGBTQIA+ community in Chandigarh by facilitating their transition into becoming entrepreneurs during Pride Month. Ayushmann has made substantial investments in building food trucks for people from the transgender community. Through this initiative, individuals within the LGBTQIA+ community can enter the food business and become self-sufficient.
Why it matters: These mobile food establishments are aptly named 'Sweekar,' symbolizing the significance of acceptance in contemporary society for this marginalized group. Ayushmann affirmed his unwavering support for the LGBTQIA+ community, expressing his commitment to contributing to their cause in his unique manner. He also stated that he believes that the true strength of a nation lies in inclusivity.
Puducherry adopts green budgeting (Puducherry) – Puducherry has achieved a significant milestone by becoming the first union territory to embrace green budgeting. The Chief Minister, N Rangasamy, marked the occasion of the 50th World Environment Day by unveiling the green budget reports for the baseline year 2022-23 and the subsequent year of 2023-24. Prior to Puducherry, the states of Bihar, Odisha, and Assam had also implemented this policy. The green budget aligns with the Chief Minister's budgetary announcement, which prioritizes inclusive and sustainable development in Puducherry.
Why it matters: It encompasses initiatives such as gender budgeting and child budgeting. The report itself has been jointly published by the Finance and Environment Departments of the Government of Puducherry, with valuable research support provided by The Energy and Resources Institute (TERI). Green budgeting serves as a crucial policy-making instrument aimed at facilitating the attainment of environmental and climate objectives. The Green Budget encompasses a detailed report that outlines the allocation of funds towards green initiatives, emphasizes sustainability measures, and fosters environmentally conscious planning.
Students and NGO create art from waste (Jharkhand) – On World Environment Day, children and youth from Ranchi, Jharkhand, collaborated with NGO SwitchON Foundation and local partners to collect over 4.5kg of plastic waste. They used the collected plastic to create an art sculpture, which was installed in Muri, located 60km away from the state capital. This initiative aimed to support the #BeatPlasticPollution campaign and prevent plastic waste from ending up in landfills.
Why it matters: Vinay Jaju, the managing director of SwitchON Foundation, stressed the severity of plastic pollution, affecting humans, wildlife, and habitats. SwitchON is committed to raising awareness among children and youth, urging them to reduce and reuse plastic waste. Jaju called for unity in the fight against plastic on Environment Day, emphasizing the need for collective action to combat this critical issue.
Drone surveillance by police on Goa shores (Goa) – The Goa Police have implemented a proactive measure to enhance safety and surveillance in the coastal areas of the state by employing drones. Superintendent of Police (North Goa), Nidhin Valsan, informed IANS that the usage of drone cameras will enable a close and vigilant watch on activities, ensuring the well-being of the people.
Why it matters: Drone cameras have been utilized for security surveillance and coastal monitoring during G20 meetings. Recognizing their potential, a local businessman in the coastal beach area acknowledged that drones could be highly beneficial in recording the activities of touts, whose presence negatively impacts the tourism sector. The police have also been proactively taking action against touts around the coastline, which has helped nearby businesses a lot.
Assam to drop board exams for class 10 (Assam) – The Chief Minister of Assam, Himanta Biswa Sarma, has made a significant announcement regarding the Secondary Education Board of Assam (SEBA). Starting from the next academic year, Class 10 (HSLC) board exams will no longer be conducted by SEBA. Instead, the madhyamik level exams will be held as class examinations, as per the official announcement. This decision brings a change in the examination format for students in Assam.
Why it matters: In addition to the previously mentioned announcement, it has been decided that the Class 10 exams in Assam will be conducted at the school level. Students will undergo a proper assessment and receive either a pass or fail designation. However, the Assam HS exams, which pertain to Class 12, will continue to be conducted annually in the usual manner. This decision to eliminate board exams for Class 10 aligns with the belief of officials that these exams will no longer hold the same level of significance, in accordance with the National Education Policy (NEP). Additionally, it has been mentioned that the Assam Higher Secondary Education Council (AHSEC) and the Secondary Education Board of Assam (SEBA) will soon be merged.
---
🔢 KEY NUMBER
₹1,116 crore – Kashmir witnessed a remarkable increase in the export of handicrafts, with the value rising from ₹563 crore in 2020-21 to ₹1,116 crore in 2022-23.