May 22, 2023
Good morning. In today's either/view, we discuss whether the Code on Social Security, 2020 will help gig workers. We also look at the increasing number of women judicial workers in Odisha, among other news.
---
📰

FEATURE STORY
Can the Code on Social Security help gig workers?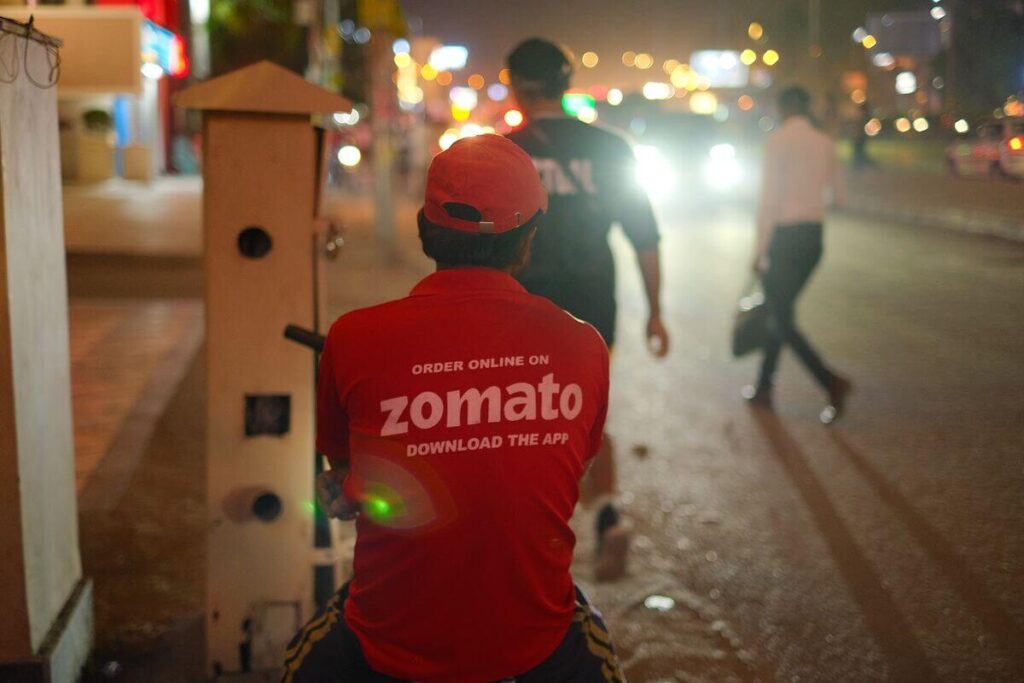 In India, social security is not just a noun but a paradox too. The term signifies the presence of a provision, and at the same time, declares its absence – and India's staggering reality. Only 9.3% of India's total labour force is assured of social security. Millions of hawkers, delivery workers, and creators work without welfare protection like pensions and maternity benefits. Gig workers occupy an essential role in this informal economy.
The Code on Social Security, 2020 was one of the four labour codes passed by Parliament between 2019 – 2020. Its reception has been widely beset with contradictory claims. It could be one of the most ambitious reforms initiated by the Narendra Modi-led government. Not without some changes, experts argue. There's a growing consensus that the legal code doesn't cast its net as wide enough as was promised by the legislature.
Context
The recent strike, in April, by Zomato-owned Blinkit delivery workers brought the central issues of exploitation in India's booming gig economy to the fore. Blinkit workers were protesting the platform's new payout structure under which their daily earnings were slashed from ₹1,200 to ₹600-₹700. Since the delivery executives' jobs fall outside the traditional employer-employee arrangement, they aren't obliged to a minimum wage or medical leaves.
Who is a gig worker, essentially? Anyone who works in temporary arrangements and provides services for compensation through short-term contracts. Delivery persons form one chunk of this economy, called platform workers. This may include beauticians, electricians, freelance photographers, writers, and consultants who rely on a digital platform or software for work opportunities. Non-platform workers are usually daily wage earners and self-employed workers.
One of the many things that the Covid19 pandemic did in India was to propel 9-5 workers to quit their jobs and seek employment more tailored to their ideal work-life ratios. People began seeing the benefits of working gigs as opposed to conventional jobs. You could work whenever, wherever, and as much as you like.
With the gig economy set to expand to 23.5 million, analysts saw it as a type of disaster-induced revolution. Buttressing this shift was the mass adoption of the internet and the increasing democratisation of technological breakthroughs.
But gig workers present a unique categorisation conundrum. Given the nature of their employment, they straddle both worlds of full-time employees and contract workers. It's what makes gig workers popular among digital startups, small and medium enterprises, solo entrepreneurs, and sometimes, big corporations. They can pay these workers and minimise costs.
For the gig workers, this isn't great news. They're hugely dependent on the generosity of their employers or platforms. This is why, when the government introduced a code to offer employment and pension benefits to the informal sector, it was largely perceived as a step in the right direction. After all, the government was finally catching up with the employment trends.
Many gig workers fall below the poverty line – 22% of the country's population, as in 2011-12. An efficient security code could change lives, as it were.
VIEW: A step in the right direction
The centre's decision to codify social security for gig and platform workers has apprised the states of the burgeoning sector. It's widened the spectrum of those who can avail of social security benefits. The code isn't just a collection of previous laws consolidated into one. It expands coverage and makes benefits available to all workers in the organised and unorganised sectors.
Governments have already taken note, with the Rajasthan Government announcing it'd be the first to establish a welfare fund for gig workers. The Rajasthan Code mandates platforms to pay 1% – 2% of their revenue for the new schemes. It sets aside ₹200 crore for its social security fund. It's a big win for workers fighting to bring an end to exploitative arrangements.
The government is keen on widening the social security net. Part of this also involves the e-Shram portal, where workers can register themselves to avail of government services and benefits. The Code hasn't been enforced in haste, like the farm laws. Instead, the government is taking a much-calculated approach with this one and involving all the necessary stakeholders while it does so.
COUNTERVIEW: Promises ring hollow
Most experts agree that the centre's Social Security Code comes up short in its offerings. While increasing the category of people who may be recognised as informal workers, it offers social security based on the size of the enterprise. The number of employees in an organisation determines the kind of social security workers can avail. This system already exists in the previous labour codes and has been at the routine end of criticism.
It's not just the design of the centre's security code that's an issue. A rights-based approach and rights-based language are evidently missing from the Social Security Code. While targeting some areas of exploitation, it doesn't adequately focus on empowering the workers. With gig workers mentioned only in the Social Security code and not the other labour codes – they remain deprived of access to minimum wage and safe working conditions. Once again, their security is tied to the employers' generosity.
The Rajasthan Code highlights another problem with India's social security codes. It mandates gig worker platforms to pay for the welfare fund when sufficient data suggests these platforms generate negative revenue and rely on debt or equity funding to remain afloat. It remains to be seen how gig employers will react to this.
Reference Links:
What is your opinion on this?
(Only subscribers can participate in polls)
a) The Code on Social Security, 2020 will help gig workers.
b) The Code on Social Security, 2020 will not help gig workers.
---
🕵️ BEYOND ECHO CHAMBERS
For the Right:
It's clear Indian economy is not 'fast-growing', govt must raise capacity for growth & employment
For the Left:
Rishikesh-Karanprayag rail project: Dumped by British, ignored by Congress and Modi government's grit to complete
---
🇮🇳 STATE OF THE STATES
Medicos quitting in large numbers (Haryana) – Haryana is currently grappling with a concerning situation as over 100 medical officers have resigned from their positions within a span of less than two years. This adds to the existing challenge of a shortage of doctors in the region. Although the government has not officially disclosed the specific reasons behind this significant number of resignations, some medical officers have cited issues such as an inadequate salary structure compared to the private sector, an excessive workload, and the introduction of a new pension scheme.
Why it matters: According to available data, a total of 92 government medical officers in Haryana resigned from their positions in the year 2022. In addition to that, this year, 22 more medical officers have resigned thus far. Alongside these resignations, 13 others have opted for Voluntary Retirement Scheme (VRS). Among them, eight individuals, including seven senior medical officers, chose VRS in 2022, and an additional five have done so this year. These figures shed light on the significant number of medical professionals who have chosen to depart from their roles, highlighting the challenges faced by the healthcare sector in Haryana.
Students develop app to feed the needy (Andhra Pradesh) – A group of engineering students, namely TVSL Naga Jyothi, T Pravallika, MC Lakshmi Lahari, and K Durga Sandhya, have recently developed an application called Food Shift. This app aims to address the issue of food wastage by redistributing leftover food to those in need. These four second-year students from Narayana Engineering College in Nellore were motivated by the words of Jacques Diouf, a former Senegalese diplomat and the Director-General of the United Nations' Food and Agriculture Organization (FAO). Diouf's statement, "Hunger is not an issue of charity but an issue of justice," served as a catalyst for their noble idea.
Why it matters: The app has garnered a positive response from the residents of Nellore, with many expressing their willingness to participate as donors or volunteers. The significance of this app lies in its potential to make a meaningful impact by reducing food wastage, combating hunger, and promoting a sense of community involvement and social justice.
Women to make 70% of judicial workforce soon (Odisha) – According to Chief Justice S Muralidhar of the Odisha High Court, there is a promising development on the horizon regarding the representation of women officers in the judicial workforce of Odisha. He deemed the rise in women's participation as a positive indication for both the state of Odisha and the nation as a whole. He further stated that in the near future, it is highly likely that women judicial officers will constitute well over 70 percent of the workforce.
Why it matters: The chief justice acknowledged that while the participation of women in the judicial workforce has shown positive progress, the same cannot be said for their representation in the Bar among lawyers. However, he expressed optimism that this gap will eventually be bridged. The chief justice highlighted that the presence of these women judicial officers would serve as an inspiration for others to pursue a career in litigation and join the judicial workforce.
Mumbai Local trains to be upgraded into Vande metros (Maharashtra) – In a significant development for Mumbai's transportation system, the Ministry of Railways made an announcement this week that is expected to bring about a transformative change in local suburban train travel. The ministry issued a concise, five-point directive to the Mumbai Railway Vikas Corporation (MRVC), the entity responsible for rail upgrades, project planning, and implementation in the city. The directive instructs the MRVC to upgrade Mumbai's local trains to the sophisticated Vande Metro (suburban) trains.
Why it matters: According to the note, the manufacturing of the trains will not be carried out in government-operated railway factories. Instead, technology partners will be contracted for this purpose, with a requirement to comply with the guidelines of the Make in India initiative. The Ministry of Railways has already granted approval to the MRVC to initiate the tender process for the project, which will include stringent maintenance obligations spanning a period of 35 years. These measures aim to ensure the successful implementation of the project and the long-term upkeep of the upgraded train system.
Lumpy Skin Disease outbreak (Sikkim) – The contagious lumpy skin disease (LSD) was detected among cattle in three districts of Sikkim, an official said on Saturday. Samples from Soreng, Pakyong and Namchi districts sent to the National Institute of High-Security Animal Disease (NIHSAD) in Bhopal turned out to be positive, Animal Husbandry Veterinary Services Secretary P Senthil Kumar said.
Why it matters: The government is implementing several measures to control the spread of the disease, according to P Senthil Kumar. He stated that the entry of dairy cows from outside the state has been prohibited until further notice. These steps are being taken in order to effectively manage and mitigate the impact of the disease.
---
🔢 KEY NUMBER
58% – The number of ultra-rich individuals in India with a net worth of $30 million or more is projected to increase by 58% over the course of the next five years.