August 18, 2022
Good morning. In today's either/view, we discuss whether India should junk its One-China policy concerning Taiwan. We also look at the supply of vegetables to the Army by SHGs and women's groups in Arunachal Pradesh, among other news.
---
📰

FEATURE STORY
China-Taiwan Tensions – Should India Junk Its One-China Policy?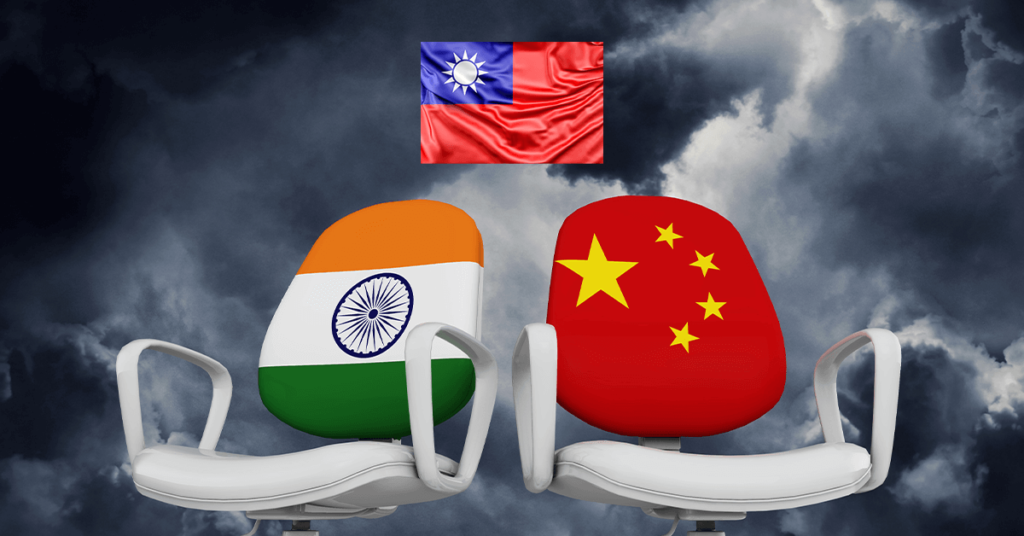 For a few hours, the world's media had its eyes fixated on tracking the route of US House Speaker Nancy Pelosi's plane as it landed in Taiwan. It was a historic visit from Taiwan's perspective. China wasn't happy, to say the least. What followed were strong words from China and military exercises.
One might think this has nothing to do with India, but that's not the case. It's the Indo-Pacific region in which India certainly has a stake. It involves China, India's competitor, in more ways than one. India has always maintained that it has an independent foreign policy. That could be tested once again. Should India engage with Taiwan and move away from its One-China policy? Or would that be too much of a risk?
Context
Let's set the stage. Taiwan is in the news now because a US delegation led by House Speaker Nancy Pelosi visited Taiwan to reiterate their commitment to the nation. It was historic because it was the highest-level US visit in 25 years. This was followed up by a US Congressional delegation visiting Taiwan a few days back. China was not too pleased with the recent developments.
Why is China angry? At the heart of it is this – the Chinese government sees Taiwan as a breakaway province that will eventually become a part of the mainland. On the other hand, many people in Taiwan consider themselves a self-ruled and separate country, irrespective of whether independence is officially declared.
There's been confusion and controversy concerning how to define Taiwan. It has its own constitution, democratically-elected leaders, and its own army. In 1971, after some countries believed that the Taipei government couldn't be considered a representative of the people living in mainland China, the UN switched diplomatic recognition to Beijing. The Republic of China (ROC) party, which the US and UK supported after World War II, was forced out. Since then, only about 15 countries have recognised the ROC government.
Only in 1991 did Taiwan proclaim the war with the People's Republic of China was over. China proposed its one country, two systems policy supposedly giving Taiwan significant autonomy. Taiwan rejected it. Beijing called the ROC government illegitimate. In 2000, Taiwan elected Chen Shui-bian as president, and his party, the Democratic Progressive Party (DPP). They openly called for independence. After his re-election in 2004, China passed an anti-secession law.
In 2016, Tsai Ing-Wen was elected president, and she's been in office since. All the while, China has insisted that Taiwan is part of the mainland. In 2018, it even threatened companies if they failed to list Taiwan as part of China on their websites. They've used aggressive rhetoric concerning how other countries talk about Taiwan. The latest came in the wake of the second US delegation visit, in the form of new military drills.
As far as India is concerned, it has been a balancing act. India doesn't have formal diplomatic ties with Taiwan yet. It follows the One-China policy. However, India does have an office in Taipei for diplomatic functions. Taiwan has the Taipei Economic and Cultural Center (TECC) in New Delhi. When Narendra Modi came to power in 2014, he invited Taiwan's Ambassador Chung-Kwang Tien to his swearing-in.
Talks focused mainly on commerce, culture, and education between the two countries have been low-key. Since 2017, there have been no parliamentary delegation visits and legislature-level dialogues. However, things have picked up in the last couple of years. For example, in May, the BJP asked two MPs to attend the virtual swearing-in of Taiwan President Tsai Ing-wen.
So, what should India do now that China has ramped up the rhetoric? Keep the status quo or pursue relations with Taiwan?
VIEW: Stand up to China
There could be a lesson for India in the way Taiwan is handling this. The small country is not exactly running in fear but instead calling out the bullying of China and its military aggression – 70 incursions in July alone. The lesson is to shape the narrative. Some may say Taiwan is speaking out hoping it'll get US military backing in case of an invasion. While that may be true, it's justified and messaging works.
Not calling out China's aggressions in the region, more specifically in Ladakh, will only help their cause, not India's. India hasn't been aggressive in its political messaging at home or abroad concerning China's actions at the borders. Perhaps India is afraid of being seen as weak. But that's the wrong assumption. As Taiwan shows, it's important to call out unwarranted aggression.
The risk of being an impartial observer could be similar to what has happened in the ongoing Russian invasion of Ukraine. To the frustration and anger of many, India has refused to outright condemn Russia and its actions. Much of the world has done the opposite, along with devastating sanctions. It's looking to be a repeat in the China-Taiwan issue.
While tensions have certainly increased, any further military escalation could lead to a Ukraine-like conflict. It's not something that any side wants. Certainly not China, as it will likely be isolated. There could be some indication that India is moving away from the One-China policy, and it should do so. As journalist Seshadri Chari wrote, India should pursue independent relations with Taiwan.
COUNTERVIEW: The risk is too high
Speaking of learning lessons, India needn't look far. As Russia decided to invade Ukraine, India was one of the few countries that stood steadfast in its stance and called for a peaceful and diplomatic resolution. It didn't take sides, much to the anger and disappointment of many. India has always maintained that it will follow its own independent foreign policy and not one based on others' interests.
Also, India's One-China policy is somewhat consistent with the US position of acknowledging Taiwan as part of China, despite rejecting Beijing's claim to the island nation. There's too much at stake in the region. The 130-km wide Taiwan Strait is important for trade flows from East Asia to the global market. India has economic partnerships with Japan and South Korea.
There's an economic component with Taiwan that's at stake. As Mohamed Zeeshan outlined, much of the economic cooperation is on a knife's edge. Last year, bilateral trade between India and Taiwan was more than $7 billion. Taiwanese companies have invested more than $2.3 billion in India. Wading into these waters, so to speak, could only spark further Chinese aggression in the Himalayas.
Given all this, India's stance is that there shouldn't be any unilateral change to the status quo concerning Taiwan. This is in keeping with its One-China policy. China is clear in what it wants from India – consistency. This was echoed by Indian foreign ministry spokesperson Arindam Bagchi when he said India's relevant policies are consistent. This is the strength India has which kept it out of recent conflicts.
What's your opinion on this?
(Only subscribers can participate in polls)
a) India should maintain its One-China policy concerning Taiwan.
b) India should junk its One-China policy concerning Taiwan.
---
🕵️ BEYOND ECHO CHAMBERS
For the Right:
The Flags We Should Have Raised This Independence Day
For the Left:
PM Modi's Vision for Bharat: A Quest For Selfhood And Building Bharatiya Model Of Development
---
🇮🇳 STATE OF THE STATES
CADA Act (Punjab) – The state government is thinking of introducing legislation to tackle the drug menace. The proposed Comprehensive Action Against Drug Abuse Act (CADA) will form the basis of planning and implementing efforts to tackle drug abuse driven by trafficking and consumption. It was proposed by the Punjab Special Task Force (STF). Someone sentenced to community service under the Act will be forced to work for the community. The Act will also cover government employees, and officials shouldn't reveal the identity of informers.
Why it matters: The legislation will help detect early addictive tendencies and provide timely intervention. It'll make the glorification of drugs and violence punishable with mandatory community service for those involved in minor crimes. The hope is that the legislation will enhance the impact of schemes under the Comprehensive Action Against Drug Abuse Strategy.
School attendance via an app (Andhra Pradesh) – Attendance taking of teachers and students will be done through the integrated attendance mobile application for schools that come under the Andhra Pradesh School Education Department. Teachers' associations have objected to the latest technology. Some wanted the current biometric system to continue, and others wanted a separate device for the new application.
Why it matters: More than 43,000 schools began using the new system of attendance. However, only 22,905 teachers marked attendance under the new system even though more than 91,000 downloaded the app. Those who fail to mark attendance before 9 am will be marked as absent. Officials said it was a success since nearly 73% of schools marked their attendance successfully.
Doubts about FIFA U-17 Women's matches (Odisha) – Bhubaneswar was set to host India's group stage matches of the FIFA U-17 Women's World Cup. Now, there's uncertainty if that'll happen due to the suspension of the All-India Football Federation (AIFF) by FIFA. A statement said that due to the ban, the tournament scheduled to take place between October 11 and 30 in India might not go ahead. Odisha was one of the states that would host matches.
Why it matters: The AIFF was banned by FIFA with immediate effect due to undue influences from outside parties which violate FIFA statutes. Previously, the state played host to the junior and senior men's hockey World Cups and major football tournaments like the IFL, I-League, Indian Super Cup, and the Indian Women's League.
Investigating atrocities against Dalits (Rajasthan) – The National Commission of Scheduled Castes (NCSC) will conduct a two-day review of the implementation of central schemes, school dropout rates, and violence against children based on caste in the state. It comes following several complaints of discrimination against Dalits. They'll conduct a review on August 24 and 25 since the highest number of complaints against Dalits have come from Rajasthan. The complaints range from murder to rape to discrimination in government promotions.
Why it matters: There was a recent incident involving a 9-year-old Dalit boy who was allegedly beaten to death by his school teacher because he accidentally drank water from a pot meant for the teacher. The team will review data on the district-wise Dalit population, their literacy rate, and the number of Dalit and SC students enrolled in primary, middle, and secondary schools.
Veggies for Army personnel (Arunachal Pradesh) – SHGs and women's groups in the state have begun supplying vegetables to Army personnel stationed at Bolung, Chug village, and Gunanagar. The initiative, called Mission Krishi Veer, was virtually flagged off by Chief Minister Pema Khandu. He has been calling for a system to supply vegetables and fruits to army contingents from local farmers.
Why it matters: The policy was announced as part of the budget to help boost the state's rural economy. Khandu was optimistic that the initiative would help increase farmers' income and encourage them to grow their farming output. The army contingent in the state demands huge quantities of fruits and vegetables, and this represents an opportunity for farmers and SHGs to capitalise.
---
🔢 KEY NUMBER
₹2 – Amul and Mother Dairy have announced a hike in the price of milk by ₹2 per litre. Both suppliers say the hike is due to rising input costs. It's the second hike in six months by the companies which earlier increased prices by the same amount in March.