April 8, 2022
Good morning. In today's either/view, we discuss whether India should deport Rohingya refugees or take a kinder view. We also look at the failure of some women-centric policies in Kerala, among other news.
---
📰

FEATURE STORY
Debating Deportation: The plight of Rohingya refugees in India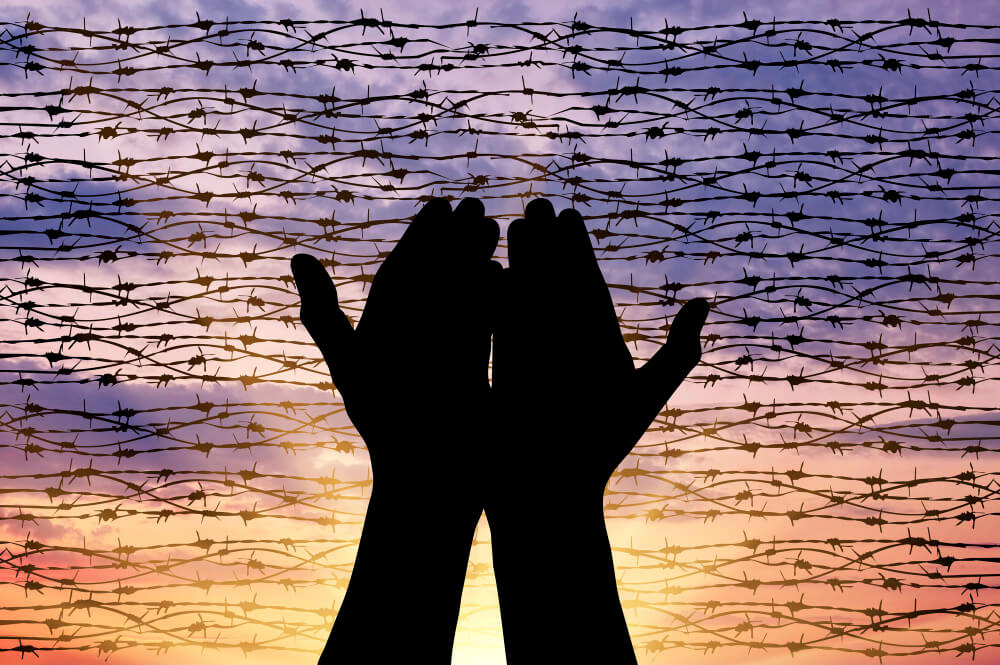 According to Amnesty International, there are around 26 million refugees globally. About 13 million of them happen to be children. And with each passing year, those numbers keep rising. The Rohingya crisis has been around since 1977, and about 75% of them seek refuge in India and Bangladesh. While India does entertain refugees when necessary, the Rohingyas find themselves in a rather mucky situation.
India has not signed any of the major international declarations on refugee rights. Neither do we have a proper refugee policy to safeguard their interests. For the most part, Rohingya refugees get tagged as "illegal immigrants" and put in a holding centre in Jammu, only to be deported back to Myanmar later.
While we technically are not obliged to entertain any refugees for national security reasons, there's still a moral obligation that India has to face. So let's talk about it: the state of Rohingya refugees in an increasingly closed off India.
Context
First off, who are the Rohingyas? The Rohingya people are an Indo-Aryan ethnic group from the Rakhine State of Myanmar. According to Myanmar, as per their Citizenship law of 1982, enacted by the erstwhile military junta, Rohingyas are not qualified to be full citizens of Myanmar. Why? Well, partly because of the British and partly because they are predominantly Muslim.
In 1824, when Myanmar was still called Burma, the British took over the region and brought in loads of people to work the rice fields. According to the Citizenship law, only people who could trace their residence in the territory pre-1823 get to retain their citizenship. Unfortunately, most of the Rohingyas were brought to the country after 1823. They also happen to be a Muslim minority in a mostly-Buddhist nation.
The largest exodus of Rohingya people happened in August 2017, when almost 7,00,000 people fled to Bangladesh and the world finally took notice. Since India shares a border with Myanmar and Bangladesh, several refugees showed up here too. As per official numbers, there are estimated to be around 40,000 Rohingya refugees in India right now.
Recently, the deportation of Hasina Begum has brought the spotlight back on the issue as, according to her family, officials say that she has been deported to Myanmar. Hasina and her family had fled Myanmar in 2012 to escape the genocide. She was later separated from her family in India and sent to a holding centre in Jammu for a refugee verification process. A year later, her family was informed of her deportation.
India has been called for its mistreatment of Rohingya refugees in the past. But every time, the government cites national security risks and economic burdens in return. All we can do now is try to understand the argument.
VIEW: International law and a moral obligation
According to Human Rights Watch (HRW), India houses around 40,000 Rohingya refugees across the country. At least 5,000 of them are in Jammu, living in ad-hoc houses. In March of last year, 170 refugees were gathered and taken away to a holding centre in the Hiranagar jail. The HRW claims that the 170 soon became 235, and there seems to be no slowing down now. It is also important to note that, since 2017, Jammu has been fostering an extremely anti-Rohingya sentiment.
On 31 March of this year, the HRW released an official statement that went over the deportation of a Rohingya woman to Myanmar. It quoted the South Asia director at HRW, Meenakshi Ganguly, who said, "The government's decision to expel Rohingya refugees despite mountains of evidence that their lives and freedoms would be at risk in Myanmar shows cruel disregard for human life and international law." This is where things get interesting.
All this while, the Indian government has been banking on the fact that they, to this day, have not signed two of the key refugee protection documents – the 1951 Refugee Convention of the UN and its 1967 Protocol regarding their status. This frees us of the duty of accepting refugees with open arms. India also does not have a proper refugee policy, so in the eyes of the law, we're a-okay, right? Well, both Indian and international law is a little more comprehensive than that.
At this point, it is clear that Myanmar is adopting "genocidal acts" against the Rohingya people. Clearly, "sending a victim back to its abuser" is seen as a violation of human rights in any situation. Thus, the principle of non-refoulement, i.e. the prohibition of the forcible return of refugees to a place where they face persecution, has become a norm in international law. As a signatory of both the International Covenant on Civil and Political Rights (ICCPR) and the Universal Declaration of Human Rights (UDHR), India owes the Rohingyas a home.
Besides, it isn't like India hasn't hosted refugees before. In the past, India has given ample shelter to groups like the Tibetan and Tamil refugees. In fact, the latter is still happening now as Sri Lanka deals with its economic crisis. Even our courts have cited Article 21, which ensures the protection of human life, to safeguard the rights of refugees in India. So what's with this double standard?
COUNTERVIEW: National security and a cash crunch
In August 2021, the government informed the Lok Sabha that the Rohingya Muslim migrants were engaged in illegal activities. In response to this, Union minister of state for home affairs Nityanand Rai said that orders have been given to state governments to restrict the immigrant population to specific locations. Earlier that year, the government also officially called the Rohingya refugees "absolutely illegal immigrants". This means that they pose a threat to national security and thus, can be deported if necessary.
According to reports, India isn't alone in thinking this. Bangladesh, Indonesia and Malaysia have been trying to turn Rohingyas away from seeking asylum in their territory as well. In 2017, Bangladesh Foreign Minister Abul Hassan Mahmood Ali told their Parliament that Cox Bazar, a fishing port and city, has 34 refugee camps. This makes 20-25% of the region's population Rohingya refugees. Such a massive Rakhine population might become a security threat later on. There's no saying that this won't happen to India as well.
To control these numbers, in 2015, Indonesia, Malaysia and Thailand too turned away boats full of Rohingya refugees. During this time, the BJP had just come to power and had already committed itself to assisting Nepal after a devastating earthquake. The added financial burden of housing and providing for vast numbers of refugees was something the nation simply wasn't ready to take on. Especially on the local level, which would have been affected the most. Even now, the developed nations aren't the ones dealing with the Rohingya crisis. The countries facing the brunt of this influx are the South Asian ones.
Geopolitically too, India has been trying to maintain its relationship with Myanmar and its army officials for a while now. Even as the military junta took over via a coup, India has remained more or less silent about the atrocities going on in the nation. The reason is one stemming back to the Treaty of Friendship between the two countries in 1951.
Myanmar is also important to keep insurgency at bay by the Indo-Burmese border, which is normally a hotbed of insurgent activities that affect the Northeast of India. And obviously, we can't talk about Asian geopolitics without bringing up China, something Myanmar can really help us out with, given their proximity to the nation. Policy-making is normally an emotionally-charged arena, but decision-making can't leave space for the same. As of now, according to the government and the Supreme Court, the Rohingyas simply cannot stay.
What's your opinion on this?
(Only subscribers can participate in polls)
a) India's deportation of Rohingya refugees back to Myanmar is justified.
b) India's deportation of Rohingya refugees back to Myanmar is not justified.
---
🕵️ BEYOND ECHO CHAMBERS
For the Right:
The failure of the Indian education system is creating chauvinistic, amoral citizens
For the Left:
You're wrong to think Hindu Right turned anti-America. It's American Left that's anti-India
---
🏴 STATE OF THE STATES
Inefficient use of funds (Punjab) – Punjab hasn't effectively utilised funds under the Centre's national food security mission (NFSM) to increase food grain production over the past five years. In the last four years, the state has not spent anything under the scheme. In 2017-18, the state spent ₹7.19 crores under the NFSM when Congress came to power. Launched in 2007-08, the scheme's objective is to increase food grain production through assistance to farmers in the distribution of high-yielding seeds, improved farm machinery, etc.
Why it matters: While Punjab wasn't spending money under the scheme, neighbouring Haryana spent ₹24.46 crores, and Himachal Pradesh spent ₹50.04 crores. Due to the state not spending the allocated funds under the NFSM, the Centre stopped the release of further funds for other centrally sponsored schemes.
"She projects" failures (Kerala) – In its most recent budget, the state government announced a Women-Oriented Nava Keralam. However, many of the women-centric projects in the state haven't panned out. Projects like the She Taxi, She Auto, Gender park, and She Buses among others, didn't go as planned. Some of them were resigned to being only on paper. Others didn't receive much support post-launch. Employees and officials had to leave the projects due to a lack of funds.
Why it matters: In the recent budget, more than ₹14,000 crores was allocated for gender projects, 20.90% of the state's total outlay. Last year, the state allocated more than ₹4,000 crores in the budget for gender projects. Out of the projects previously announced, only the She Lodges, which provides shelter for women, are running smoothly. The state government has focussed on women-centric policies to ensure parity and equality.
Reviewing Swasthya Sathi scheme (West Bengal) – The state government has requested consultancy firm Ernst & Young (E&Y) to review the Swasthya Sathi scheme. The medical insurance scheme was launched to provide secondary and tertiary care. Some private hospitals said the rates in the scheme were unviable and alleged incidents of late payments. An official said E&Y will submit its report with possible modifications to ensure its more accessible for providers and beneficiaries.
Why it matters: The scheme has become popular as private hospitals see several patients under the scheme. According to the scheme's website, more than 2 crore families are covered. There have been complaints of hospitals refusing to offer treatments under the scheme. The hospitals said the number of people is more than the beds earmarked for this particular scheme.
Airport footfalls (Goa) – At the Goa International Airport, footfalls have steadily risen, showing signs of a strong recovery. In March, passenger footfalls at the airport saw a 78% increase. As Covid-19 cases decline and restrictions have been eased, more tourists have flocked to the state. Data from the airport showed more than 4,100 flights in January. In March, that number increased to more than 5,500, with more than 8 lakh fliers.
Why it matters: The hope is that as tourism bounces back, the airlines will too. According to the Airport Authority of India (AAI), the Goa International Airport is the ninth busiest airport in India. The airport can cater to 76 lakh passengers a year. However, since it's operating beyond its capacity, an ₹255.7 crores expansion project has already begun.
Ban on hunting and trading of animals (Nagaland) – In the state's Kiphire district, the trading and hunting of wild animals and birds have been banned. The new directive comes under the Wildlife Protection Act 1972. Per the order issued, all hamlets under the district's jurisdiction must implement the ban with immediate effect. The exceptions are certain rat species or permission to hunt allowed under the provisions and reasons specified in the Act.
Why it matters: The state government adopted the Wildlife Protection Act in December 1981. It outlined a hunting ban on wild animals and birds within the territorial jurisdiction of the state. In April 2020, the state government issued warnings after taking note of a rise in hunting activities after several videos went viral of people showcasing the prey they just hunted.
---
🔢 KEY NUMBER
44.2 degrees Celsius – Akola district in Maharashtra recorded the world's hottest temperature. It ranked first among the 15 hottest places on Tuesday. It was one of four places in India in the rankings.