April 4, 2023
Good morning. In today's either/view, we discuss whether Dior's pre-fall fashion show in Mumbai is a case of making history or is it hype. We also look at the proposed setting up of yogshalas in Punjab, among other news.
---
📰

FEATURE STORY
Dior's pre-fall show in Mumbai: A case of making history or hype?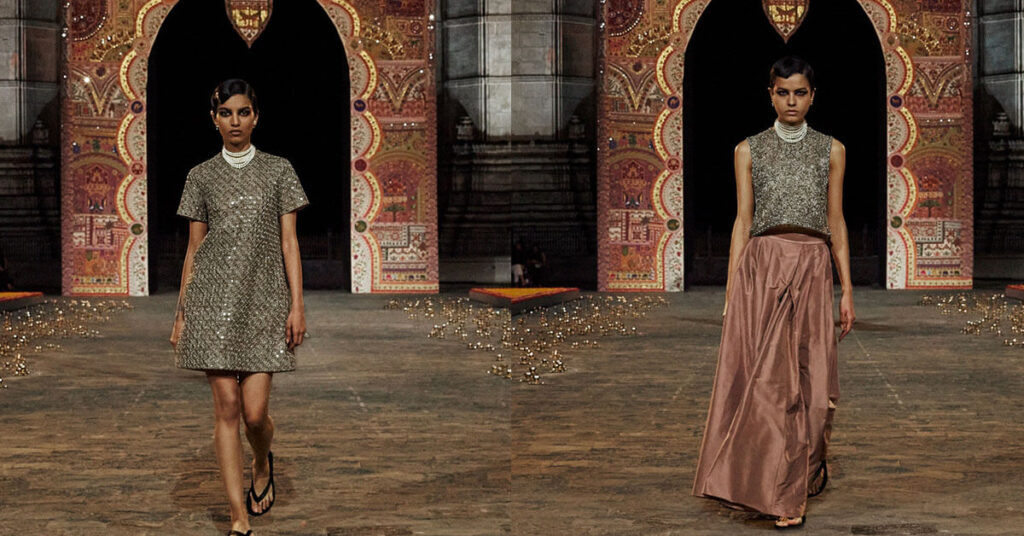 India's tryst with the House of Dior began in the 1950s when French fashion designer Christian Dior travelled to India and picked up on the subcontinent's rich textile tradition. Dior launched evening gowns inspired by draped fabrics and intricate embellishments and named them after cities in India and Pakistan, like the Soirée de Lahore.
On March 30, Dior staged its Pre-Fall 2023 fashion show at the historic Gateway of India monument in Mumbai. Dior's artistic director of women's collections, Maria Grazia Chiuri, pulled off this coup to show the luxury brand's appreciation for Indian textile traditions. Much like the styles in a pre-fall collection, the event garnered a salmagundi of responses. While some hail it as an iconic moment in high fashion, others decry it as cultural essentialism.
Context
"Long years ago we made a tryst with destiny, and now the time comes when we shall redeem our pledge, not wholly or in full measure, but very substantially."
Only some months before people across the subcontinent readied themselves for independence from British rule, Christian Dior was preparing to launch his first spring-summer collection in France. It came to be known as the 'New Look' collection, a moment of extravagance and rebellion against wartime cutbacks.
Since its founding, Dior has often sought Indian culture and expertise in varying degrees of accreditation that teeter dangerously close to appropriation. The Soirée de Lahore, a pallu-inspired dress with gold embroidery and peacock motifs, was deemed a panelled marvel.
Under Marc Bohan, Dior staged its first fashion show in Mumbai in 1962 at the Tata Institute of Fundamental Research (TIFR). Thereafter, some of his collections would play on the distinctive shape of the sari.
Gianfranco Ferré, stylistic director of Dior until 1997, toured extensively in India. The country appears in his maharaja-chic embroidery and colourful ensembles in turmeric yellow and saffron orange.
For all its glitz and glamour, there's also a dark side to Dior's relationship with India. Luxury brands like Dior and Saint Laurent outsource their production to independent factories for cheaper labour costs. In India, these embroiderers work in harsh conditions without employment benefits and protections.
Indian craftspeople's contribution to French high fashion goes back centuries when Europeans began to use Indian-made textiles, like chintz, for their clothes and upholstery. Now, these Indian artisans form the backbone of the luxury industry's textile production, which goes on to be assembled and become "Made in Europe".
But the recent fashion show claims to be something different. It's more appreciative of India's influence in Dior haute couture, argues Chiuri. The archway in front of the monument was clothed in a 12-foot-high embroidered Toran, traditionally crafted by women in India using embroidery and patchwork. Over several months, artisans of the Chanakya School of Craft and the Chanakya Atelier, Dior's Indian partners, handcrafted the toran.
Elephants, peacocks, and tigers appeared not only on the Toran but the models' ensembles. There were 23 Indian models, 33 Indian models with international backgrounds, and 43 foreign-origin models donning the Madras checks, Benarasi brocade fabrics, jali-work mirrors, tie dye detailing, and Nehru collars.
Currently, Dior has two boutiques in India. But the appeal of Indian markets has never been higher. According to several reports, India's ultra-high-net-worth individuals (UHNWI) are increasing. Between 2020 – 2021, the number of UHNWIs shot up by 11%. As the rich get richer, so will the country's market for luxury fashion.
Given that the event has drawn out many polarised responses, let's get into whether Dior's fashion show's appreciation for Indian culture made history or just hype.
VIEW: It's a powerful moment
Dior's pre-fall show sets a high standard for European luxury labels' shows in India. Celebrities and fashion designers viewed it as a long overdue tribute to India's rich textile and crafts legacy. That evening, Dior became the first international luxury brand to hold an official calendar show in India. And they did it by employing several Indian-origin models. The display maps a precedent of due acknowledgement for other labels to follow.
After a history of Western fashion brands reneging on their duty to collaborate with Indian designers and artisans, art director Chiuri's efforts are a breath of fresh air. The pre-fall collection took inspiration from the many instances in history where Indian fashion has inspired Dior's collection.
Chiuri's efforts to promote Indian artisans go beyond the Mumbai show. She has worked with Chanakya International and the nonprofit Chanakya School of Craft for three decades. Dior had commissioned 22 of their mammoth tapestries for its Haute Couture Spring-Summer 2022 show at the Musée Rodin in Paris.
COUNTERVIEW: Too little too late
After a protracted history of European designers touring India to selectively replicate the subcontinental heritage of paisleys, turbans, and vivid colour combinations, the credit was long overdue. What's worse is the practice is historically rooted in colonialism. Exporting Indian textiles for the benefit of European colonisers and their appropriation is something that continued way past India's independence. It's doubtful if such efforts of reparation require celebration.
The ninety-nine showcased looks incorporated unoriginal motifs and silhouettes popularly identified with Indian iconography. The collection failed to scratch beneath the surface of Nehru jackets and kurta-style shirts. Such designs have been in circulation for some time now. Dior featuring them lets its historical legacy of evolution and disruption down. It's argued that labels like Miss Sohee or S&N By Shantanu and Nikhil have been more evocative with their indigenous-inspired designs.

For some, the Mumbai pre-fall event smells of cultural appropriation. The event argues for its own relevance, with an elaborate decoration of diyas and rangolis, employing Indian-origin models, and bombing popular Indian motifs. It's an effort to appear appreciative more than being so. The motive is simple. Dior wants to increase its revenue from the Indian market without completely severing its ties to an exploitative supply chain.
Reference Links:
What is your opinion on this?
(Only subscribers can participate in polls)
a) Dior's fashion show in Mumbai is a landmark moment in high fashion.
b) Dior's fashion show in Mumbai is not a landmark moment in high fashion.
---
🕵️ BEYOND ECHO CHAMBERS
For the Right:
AMU, beyond the anti-India slander
For the Left:
When politicians equate their simulated victimhood with a crisis in democracy
---
🇮🇳 STATE OF THE STATES
'CM Di Yogshala' initiative to be launched soon (Punjab) – Punjab Chief Minister Bhagwant Mann announced 'CM Di Yogshalas' in every mohalla of the state on Monday as part of the state government's endeavour to guarantee people's health and wellness. Mann stated that the yogshalas would originally be established in four districts: Amritsar, Ludhiana, Phagwara, and Patiala. It will then be available in all areas of the state. He also stated that the state government would provide complimentary yoga and meditation teachers to anyone who wishes to do so in any of the state's parks.
Why it matters: In the coming days, the government will extend the plan to every mohalla in Punjab. CM Mann said that yoga is very beneficial for the mind and body, and he himself is an ardent practitioner of yoga. He emphasised the need to reintroduce yoga into the daily lives of Indians. The AAP government in Delhi had started a similar yoga-based initiative, but it was halted due to disagreements with Lieutenant Governor VK Saxena.
RTO to issue vehicles to clear driving test (Tamil Nadu) – In a bid to relieve citizens from their dependency on driving schools to obtain driving licenses, the government of Tamil Nadu has decided to issue vehicles to citizens via the Road Transport Office (RTO) to clear their driving tests. According to papers given in the Assembly recently by Transport Minister SS Sivasankar, a total of ₹6.25 crore has been allocated for the acquisition of a car for each of the 91 Regional Transport Offices (RTOs) and 54 unit offices. The automobiles at RTOs may only be used to obtain a driving license for non-transport light motor vehicles.
Why it matters: The decision comes in response to reports of widespread corruption involving transportation department workers, driving schools, and touts at RTOs. Driving schools charge ₹7,500-10,000 to provide driving training and assistance in getting a DL. Bribes given to RTO employees, touts, and others are included in the fees. Applicants must currently provide a pollution certificate, registration certificate, and evidence of car insurance for the vehicle being used in order to take the driving exam. A NOC from the RTO is also needed if the vehicle is registered in another jurisdiction.
Bihar Sharif violence: 77 arrested (Bihar) – According to authorities, a total of 77 individuals have been detained in association with the communal violence that erupted in Bihar Sharif town in Nalanda district during the Ram Navami celebrations. Officials stated that normalcy had been restored in Bihar Sharif. Senior officials are camping in the affected regions, and a large number of security troops have been deployed.
Why it matters: After new confrontations erupted on Saturday night, police issued a prohibitory order under Section 144 in Bihar Sharif. On Saturday, the state police detained 45 individuals. Chief Minister Nitish Kumar chaired a high-level meeting to order the capture of perpetrators. He also announced an ex-gratia of ₹5 lakh each to the families of people who lost their lives in the incident. Communal violence was also witnessed in West Bengal, and it is speculated that this has been done to siphon political gains for the upcoming Lok Sabha elections.
UN recognises 'Mission 500' of Maha farmers (Maharashtra) – "Mission 500 Crore Litre Water Storage," a farmers' movement in Maharashtra that works on the fundamental concept of "of the people, by the people, for the people," has been selected to participate in the United Nations Water Conference 2023 in New York. Dr Ujjwalkumar Chavhan (IRS) began this initiative to build tiny check dams and water bodies in Dhamangaon village of Chalisgaon Tehsil in 2017.
Why it matters: As part of the initiative, river deepening and expanding works have been carried out with the participation and planning of the people in the Gram Sabhas in order to build dams and reservoirs in rural areas. So far, 450 crore litres of water tanks and trenches have been built in 80 villages across nine districts, and 30 kilometres of agricultural roadways have been fixed, in addition to the planting of 45,000 trees. The campaign has previously received recognition from the Union Ministry of Jal Shakti and the Governor of Maharashtra.
Jiribam-Imphal railway line nears completion (Manipur) – The Jiribam-Imphal new line train project, one of the most important connectivity initiatives for the northeastern area, has made 93.30% headway, officials said on Sunday. According to the NF Railway CPRO, the Jiribam-Imphal railway project includes numerous tunnels and bridges in difficult topography that spans more than 111 kilometres.
Why it matters: Indian Railways is making a major contribution to the transformation of the Northeastern states by completing a number of new train line projects. Under capital linkage initiatives, new train lines are being built to connect all of the cities in the northeastern area. The NF Railway, CPRO, also stated that it would assist the state in getting important commodities faster and will assist state local producers in exporting their products outside the state more quickly. Union Home Minister Amit Shah said in a rally that the BJP aims to fully complete the connectivity of the northeast region by 2025.
---
🔢 KEY NUMBER
80% – The achievement of ISRO's RLV will reduce launch expenses by 80%.