April 7, 2023
Good morning. In today's either/view, we discuss whether Donald Trump's indictment sets a bad precedent. We also look at the debate to legalise hemp in Himachal Pradesh, among other news.
---
📰

FEATURE STORY
Donald Trump's indictment – Does it set a bad precedent?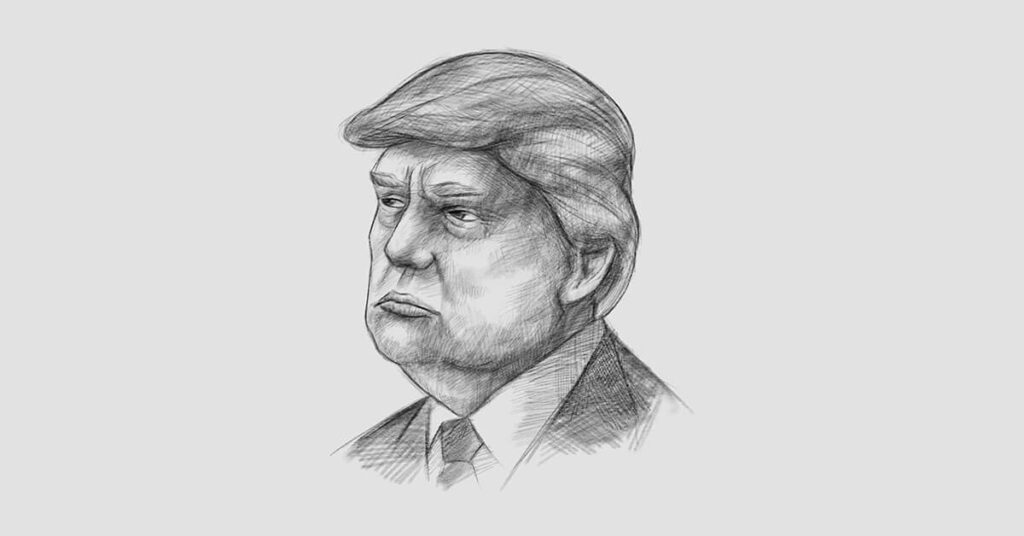 From the time he came down the Trump Tower escalator to announce his candidacy for the 2016 Presidential election to walking into a Manhattan courtroom, it's been a crazy ride for Donald Trump. The constant media attention and fascination didn't stop as he boarded his Trump-branded plane to fly to New York, land, and the following day be arrested and criminally charged. It was all covered with a play-by-play.
34 counts of falsifying business records are what prosecutors presented. They were related to hush money payments to adult film star Stormy Daniels with whom Trump allegedly had an affair in 2006. It's a low-level felony, but it's historic because it's the first time in United States history that a former President is facing criminal charges. While some celebrate Trump's day in court, others are concerned whether the conviction will prove dangerous for democracy.
Context
When the grand jury was convened to examine the case, they looked at something that came to light when Trump was still President. What the charges showed was something that many had known since the final weeks of the 2016 election – Trump and his allies' efforts to suppress stories that would damage his election campaign.
Daniels and Trump met in 2006 at a celebrity golf tournament in Nevada. A year later, Trump invited her to Los Angeles to discuss a possible appearance on Celebrity Apprentice, a spin-off of the NCB hit show The Apprentice. In 2011, Daniels, in an interview with In Touch, described her encounters with Trump. That interview wasn't published because Trump's attorney at the time, Michael Cohen, threatened to sue the publication.
Daniels has spoken about being threatened in Las Vegas by a man who told her to "leave Trump alone." In 2016, as Trump secured the Republican nomination for President, American Media Inc, the publisher of the National Enquirer tabloid, got the rights to McDougal's story for $150,000. The story never got published. It's called a "catch and kill". Prosecutors would later detail it was done to prevent damaging Trump and influencing the election.
Cohen reached an agreement with David Pecker, the chairman and CEO of American Media Inc, but it wasn't finalised. Cohen kept a copy of the draft agreement. When Daniels' attorney said his client was ready to go public, Cohen negotiated to pay her $130,000 in exchange for her story and a non-disclosure agreement. Essential Consultants LLC wired the money.
After Trump won the election, Cohen sought reimbursements from the Trump Organisation. The denials ended in some form in 2018 when Cohen acknowledged the payment to Daniels. He denied any reimbursement and its connection with the election campaign. Things took a turn when the FBI executed a search warrant at Cohen's office and home.
As pressure mounted, Trump admitted Cohen got a monthly retainer but had nothing to do with the campaign. As Cohen pleaded guilty to tax evasion and fraud, he told a Manhattan court it was Trump that directed him to make the payments.
Documents from that case showed Trump was aware of the payments. The spotlight then turned to the Trump Organisation. In 2021, a 15-count indictment was brought upon two Trump Organisation companies and its CFO, Allen Weisselberg.
In 2022, Alvin Bragg was elected as the new Manhattan District Attorney (DA) and said his office's investigation into Trump was active. Cohen, who has now spilt the beans against his former boss, met with investigators. Apart from Cohen, the grand jury also heard testimony from Pecker. The DA had what he needed, and Trump was indicted.
VIEW: No one's above the law
No one's above the law is a common refrain that officials sermonise. In reality, the law often doesn't apply to the rich and powerful, who seem to slip through the cracks. Not in this case. There is some precedent that many don't know about. In 1973, US Vice President Spiro Agnew resigned and pleaded guilty to tax evasion. While all he got was a fine and unsupervised probation, this was someone who was in office.
Other high-ranking officials in the US government being indicted isn't new. As President, Trump used his pardon power on former Illinois Governor Rod Blagojevich, who was sentenced on corruption charges. Another example is former US presidential candidate John Edwards who was indicted in 2012 on charges relating to conduct similar to Trump's.
The case in question is probably routine for the DA's office. Bragg himself said this case and the allegations are similar to white-collar cases. What's different here is that it centres around a former US President. But that shouldn't matter as long as the investigators focus on the crime more than the person. Many have pointed out the irony of the situation as Trump was the one who began the "Lock her up" chants against his former opponent Hillary Clinton for supposed crimes that never happened.
COUNTERVIEW: A slippery slope
As the case now stands, it's unclear how it will end. Bragg, an elected Democrat, is the first prosecutor to indict Trump. What he has done is open the floodgates. Every local prosecutor will now feel emboldened to investigate and prosecute presidents once they leave office. Every local prosecutor will be eager to make a name for themselves. Democrats cheering the charges may feel differently if one of their own is on the receiving end next time.
Part of the problem is not knowing how this ends. If it isn't an open-and-shut case, Trump and his allies will have all the fodder they need. A failure to secure a conviction could have dire consequences. While 34 counts sound like a lot, it doesn't say much about the strength of the case. It all depends on whether the prosecutor's theory of the case holds up.
The Trump era ushered in the deepening of political tribalism and partisan rhetoric. The indictment will dominate political analysis for the foreseeable future in the run-up to the 2024 elections. A recent Quinnipiac poll showed 70% of independent voters think this case is politically motivated. Many argue that weaponising the Justice Department against political opponents is akin to autocratic behaviour. That's not good news for American politics or democracy.
Reference Links:
What is your opinion on this?
(Only subscribers can participate in polls)
a) Donald Trump's indictment sets a bad precedent.
b) Donald Trump's indictment doesn't set a bad precedent.
---
🕵️ BEYOND ECHO CHAMBERS
For the Right:
Centre for Policy Research is paying the price for intellectual freedom
For the Left:
A party built on Bharatiya ideals is propelling India into the future
---
🇮🇳 STATE OF THE STATES
Assembly debates legalising Hemp (Himachal Pradesh) – On Thursday, Himachal Pradesh's state assembly formed a committee to study the possibility of legalising Hemp cultivation in some areas of the state. Puran Chand Thakur, a BJP MLA from Mandi's Darang constituency, moved a resolution to legalise cannabis cultivation under rule 101 of the Vidhan Sabha's rules of procedure. On Chief Minister Sukhvinder Singh Sukhu's direction, the committee was formed under the chairmanship of the Horticulture and Revenue Minister, Jagat Singh Negi.
Why it matters: The Committee will study the medicinal benefits of cannabis, its other uses, and illegal cultivation carried out on a large scale in the state. In Uttarakhand, cannabis is already being legally cultivated. The Union government has also allowed it in some parts of Rajasthan, Madhya Pradesh, and Uttar Pradesh. It could benefit the construction and pharmaceutical industries.
Electronic kits for public schools (Tamil Nadu) – On Wednesday, Chief Minister MK Stalin inaugurated the Indian Institute of Technology Madras' (IIT-M) initiative to link one lakh government school students to electronic devices. The students received electronic kits developed by IIT-Madras. The initiative falls under the educational institute's 'Anaivarukkum IITM' programme.
Why it matters: A thousand students from Class 10 will be chosen for this scheme to receive guidance on higher education. It will help in increasing the accessibility of government school students to premier institutions offering STEM courses. Notably, IIT Madras offers scholarships up to 75% for students from lower socioeconomic backgrounds pursuing a Bachelor of Science (BS) degree.
Smart classes in public schools (Bihar) – Bihar State Electronics Development Corporation (BSEDC), a Government of Bihar undertaking, has endowed RailTel Corporation of India with an order to install an Electronic Knowledge Network across government engineering colleges and polytechnic institutes in the state. It will help the campuses meet their digital goals.
Why it matters: The BSEDC is responsible for conceiving and overseeing IT projects for Bihar's state agencies. The Electronic Knowledge Network project entails 100 Mbps internet connectivity, a Wi-Fi system, and Smart classes to ensure a reliable internet infrastructure. It will enable data and video transmission in engineering and polytechnic institutes.
Farmers against agricultural land bill (Goa) – A farmers' association will undertake a campaign against the Goa Restriction on Transfer of Agricultural Land Bill passed last week. The farmers will Goa's governor PS Sreedharan Pillai reject it. On the face of it, the bill will prohibit the transfer of agricultural land "by way of sale, gift, exchange, lease or by any other mode" to non-agriculturists. But its listed exceptions have caused farmers to argue that the Bill will sound a death knell for Goa.
Why it matters: Farmers argue that the exceptions undo the protections the Bill seeks to provide. It allows the transfer of land to non-agriculturists when required by an industrial or commercial enterprise or a cooperative farming society. Non-agriculturists capable of cultivating land in three years can also have a piece of the pie.
8-hour shutdown (Sikkim) – The Tangkhul Naga Long (TNL) announced a complete shutdown in the Ukhrul district. From April 6, the TNL has also called for an indefinite curfew from 6 pm – 5 am. Fire service, telecom, media, and medical services are exempt from the shutdown. The Tangkhul apex body's move comes after several instances of violence in the district.
Why it matters: There have been two bomb blasts in the Ukhrul district headquarters in the past two weeks. The last one, on April 3, injured six people. 70 commandos from Imphal West and Imphal East reached Ukhrul to begin routine patrolling. TNL is worried about the state government's deployment of special police commandos instead of less aggressive measures like CCTV cameras to prevent further violence.
---
🔢 KEY NUMBER
$140 million – The amount India's e-sports industry is projected to be valued at by 2027, at a CAGR of 32%.