November 3, 2022
Good morning. In today's either/view, we discuss whether the approval given to Genetically Modified Mustard by the Indian government is the right decision. We also look at the entrepreneur scheme for school students in Punjab, among other news.
---
📰

FEATURE STORY
Government Nod For GM Mustard – Is It The Right Call?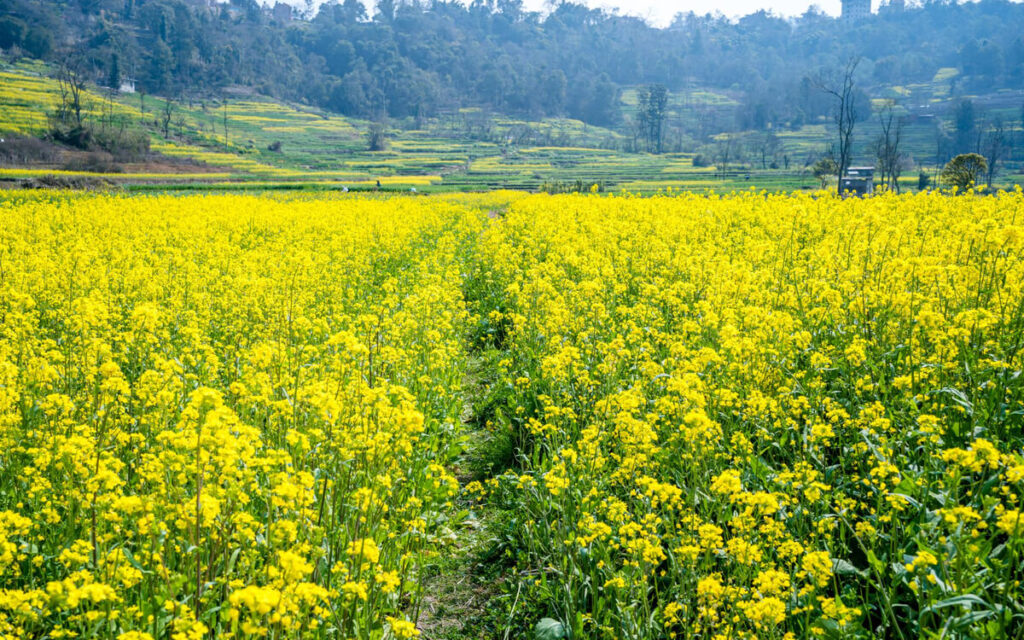 One of the biggest challenges of the 21st century is world hunger. The pandemic increased challenges to food security in almost every country, with reduced incomes and disruptions to the food supply. The Russian invasion of Ukraine worsened things further. According to the UN World Food Programme, the number of severely food-insecure people has doubled from pre-pandemic levels.
While there are several ways this problem is being tackled by countries, companies, and other organisations, there's one that stands out – using Genetically Modified (GM) crops and seeds. In India, the government has recently approved GM mustard. While some have lauded the move as beneficial for farmers and improving food security, others aren't convinced about its effectiveness.
Context
For starters, what are GM crops? They're crops or seeds that have been modified using genetic engineering. Their DNA sequences are changed to provide some beneficial traits. For example, changing the genetic nature of a crop can help it become resistant to pests or can help increase its yield. They can even be engineered to be more nutritious.
Genetical modifications in agriculture go back to the 1800s when an Australian monk, Gregor Mendel, bred two different types of peas and identified the basic process of genetics. In 1922, the first hybrid corn was produced and sold commercially. Decades later, in 1982, the US Food and Drug Administration (FDA) approved the first consumer GM product – human insulin to treat diabetes.
In the 1990s, a wave of GM foods became available in the USA, including cotton, corn, potatoes, and tomatoes. In 2003, the World Health Organization (WHO) stepped in. Along with the Food and Agriculture Organization (FAO), they developed international guidelines for the safety of GM foods. In 2016, the US Congress passed a law that required GM foods to come with a label on the packaging titled "bioengineered".
As far as India is concerned, it's been relatively late to the party. In 2002, Indian farmers began cultivating Bt cotton, a pest-resistant GM version. The Bt gene from soil bacterium is introduced into the target crop, making it resistant to bollworm, a pest to cotton. By 2014, 96% of the area under cotton cultivation was Bt cotton. With a new variety and methodology like this, regulations are in place. Among them are the 1986 Environment Protection Act and the 2002 Biological Diversity Act.
Last month, the government's Genetic Engineering Appraisal Committee recommended the release of the GM mustard. Termed Dhara Mustard Hybrid (DMH-11), the regulator said it could be used for seed production per existing guidelines before commercial release. This particular variety was done by scientists at Delhi University's Centre for Genetic Manipulation of Crop Plants (CGMCP). The process involved crossing the Indian "Varuna" variety of mustard with an East European 'Early Heera-2' mutant.
As the seed has now been cleared for use, it's become controversial with concerns about food security and regulatory rigour. Will it help farmers and consumers, or is this a bill of false goods?
VIEW: It's a win-win
Broadly speaking, this is a win for everyone. It shows the wonders of how science can help solve our food security problems – consumers get quality products, and farmers can rest a little easier. Understandably, there are concerns about using such methods, but that's what regulations are for. Some of the same issues came up when Bt cotton was being introduced. That turned out well in the end.
Speaking of DMH 11 in particular, field trials have shown that it has 28% more yield than the Varuna variety. It's essential for food security. Mustard yield in India is low at 1,260 kg per hectare. It's below the global average of 2,000. India is one of the largest importers of edible oils, meeting 60% of its needs from abroad. Disruptions in the global supply chain have increased prices and India's import bill.
Indian agriculture faces several issues. Among them are the overexploitation of resources and declining productivity. Also, extreme weather events like droughts and excessive rains have destroyed crops. Scientific innovations are the best way to beat those. India can learn from the likes of Brazil, China, the US, and Canada on GM crops, where they've been grown for years. With GM mustard being released, the floodgates can be opened for others. There are plans to release a GM cotton variety from Bayer AG that allows farmers to spray the herbicide glyphosate, which can't be done on normal cotton.
COUNTERVIEW: Can't celebrate just yet
Before we rejoice about this new crop in the wild, we've got to take stock to see if everything is in order and if this will actually help farmers. While the green light was given for GM mustard in 2017, its approval was pending after activists and farmer groups approached the Supreme Court. According to a letter from GM Free India, Dr Deepak Patel, who conceived the Indian GM mustard variety, and his team changed the GMO approved while regulators were unaware. Also, anything beyond the 28% benefit data isn't publically available.
About 17 countries, including France and Germany, have said no to GM crops. The US and UK have strict regulations. In India, successive governments have handed over the reins to large companies. For example, Monsanto was allowed to commercially cultivate Bt cotton in 2002. It developed a second-generation seed, raising doubt about the original's sustainability. Over the years, its benefits faded away as the company monopolised 93% of production. There could be a repeat of this with GM mustard.
GM mustard is a herbicide-tolerant crop that can be harmful to the environment. With new technology, there are always risks that need to be accounted for, some unforeseen. For indigenous crop varieties, GM crops pose a threat. They're an important tool in fighting climate change. India is an important player in the global food supply chain. There are enough uncertainties as is. Anymore could hurt not only India but other countries that depend on us too.
Reference Links:
What is your opinion on this?
(Only subscribers can participate in polls)
a) GM mustard will be beneficial to Indian agriculture and food security.
b) GM mustard is a risk to Indian agriculture and food security.
---
🕵️ BEYOND ECHO CHAMBERS
For the Right:
Nirbhaya to Bilkis Bano—civil society stands demobilised. RSS ready to take space
For the Left:
Can India Provide Leadership in These Turbulent Times?
---
🇮🇳 STATE OF THE STATES
'Business Blaster Young Entrepreneur Scheme' launched (Punjab) – Harjot Singh Bains, Punjab's minister of education, on Tuesday unveiled the "Business Blaster Young Entrepreneur Scheme" as a pilot programme in 31 public schools spread across nine districts of the province, taking another leaf out of Delhi's "model of education". The project will support students' aspirations to become entrepreneurs who are enrolled in government schools.
Why it matters: They want to make sure that graduates of Punjab's public schools won't have to worry about their futures. In an effort to foster young entrepreneurs at the school level, pupils in class 11 will receive seed money of ₹2,000 to launch a firm.
Funds for 'Multimodal Logistics Hub' requested (Tripura) – The government consented in principle to the proposed extension of the Sonamura-Daudkandi Protocol Route connecting Bangladesh's River Meghna with River Gomati of Tripura from Srimantapur to Maharani, and a request for awarding further 36.33 acres of land is currently under active review.
Why it matters: The Central Government has been presented with a proposal from the Tripura Government asking for funding to build a "Multimodal Logistics Hub." The proposed project will include the construction of a road, railway, waterway, and airway to enhance trade, business, and tourism.
Over 70 participants in Speed Fest 2022 (West Bengal) – The Motorsports Association of Eastern India (MSAEI) recently held the third JK Tyre Bengal Speed Fest at Haldia for two days. This competition included the East Zone Qualifier for the Indian National Autocross Championship and featured four-wheel autocross, gymkhana, and two-wheel dirt track racing.
Why it matters: Chief organisers Saurav Chatterjee and Sk Ajgar Ali stated that they aimed to steer contemporary youth away from illegal road races in addition to educating people, especially the youth, about regulated motorsports.
CM launches Purple Fest logo (Goa) – The Goa government has launched the logo of Purple Fest – Celebrating Diversity, a first-of-its-kind inclusive festival that includes, expresses, and celebrates people with disabilities, according to CM Pramod Sawant.
Why it matters: He asserted that the Central Government, led by Prime Minister Narendra Modi, is dedicated to ensuring that people with disabilities have an inclusive, equitable future in society. He added that the sign language course would be implemented next year for persons with disabilities.
Villages pass motion against Parandur airport (Tamil Nadu) – On Tuesday, the grama sabhas of the towns near Parandur passed a resolution opposing the purchase of 4,563.56 acres across 13 towns for the envisioned new airport. This comes when the 100-day mark for the protest against the State government's plan approaches.
Why it matters: Of the required land, 3,246.38 acres is patta land. The project's impact will be felt by about 1,005 families. For lands in 13 communities, the State made an offer that was 3.5 times the market value. Under the Right to Fair Compensation and Transparency in Land Acquisition, Rehabilitation, and Resettlement Act of 2013, they will be acquired in the "public interest."
---
🔢 KEY NUMBER
70% – A survey conducted by the online community platform LocalCircles revealed that 70% of residents from Delhi, Noida, Ghaziabad, Gurugram, and Faridabad are affected by poor air quality.