June 19, 2023
Good morning. In today's either/view, we discuss whether the Integrated Child Development Services has been effective in early childhood intervention. We also look at the launch of Infinity Centres by Kerala, among other news.
---
📰

FEATURE STORY
Has the Integrated Child Development Services been effective in early childhood intervention?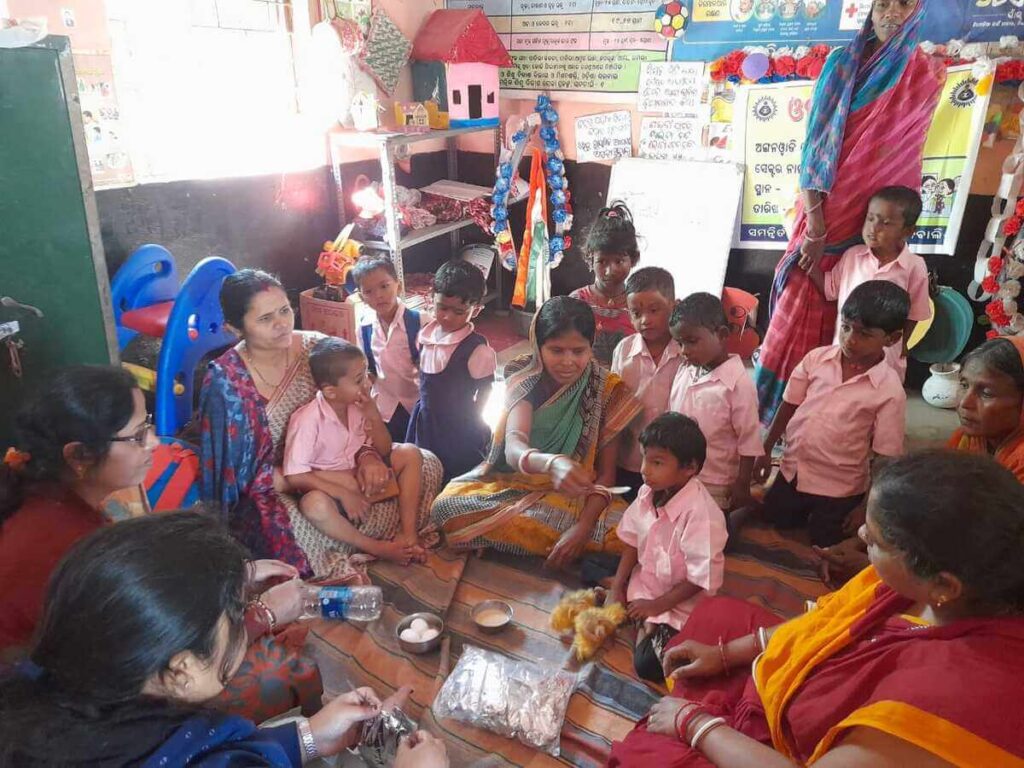 Taking care of a large and diverse population through policy and legislation is a tall order. Significant economic growth doesn't guarantee everyone a roof over their heads and food on the table. Children are particularly important since they represent the hopes and dreams of the country's future. They need to grow up healthy and get a good education.
Here's where the Integrated Child Development Services (ICDS) programme comes in. Its main goal is to tackle childhood malnutrition and early childhood development. The flagship initiative has its fair share of successes in the country. However, given the amount of economic reforms in the country, can it be deemed a success?
Context
As of 2021, there are about 2.3 billion malnourished adults. One of the sustainable development goals of the United Nations (UN) is Zero Hunger – eliminate malnutrition and hunger worldwide by 2030. That goal won't be met by the UN's own estimates. There are about 149 million stunted children across the globe who are chronically bereft of essential nutrients.
Over the past few decades, studies have shown that a child's early years have a disproportionately large impact on the rest of their lives. Countries realise the importance of investing early and designing programs as a cost-effective way to tackle inequality and raise a generation of healthy adults.
Coming to India and childhood malnutrition, it doesn't make for good reading, and it has been that way for a while. When the first National Family Health Survey (NFHS) was conducted in 1992-93, over half of the children under four years were found underweight. Every sixth child's body mass index was low. India still has one of the worst child malnutrition rates in the world.
Why is India so bad in this regard? Poverty and poor government policies are contributing factors. However, the role of culture, social norms, and customs are often overlooked. For example, in Rajasthan, some pregnant women believe weight gain during pregnancy could make delivery difficult, so they avoid nutritious foods like fruits, nuts, etc.
Pulling people away from deeply-held social beliefs and customs is easier said than done. The focus has largely been on information, communication, and education. It can just be done by providing food packets, for example. While government schemes can be provided and accessible, nothing will change unless there's the intent and beneficiary demand. Apart from the healthcare aspect of this, there's an economic cost. India loses about 4% of its GDP annually due to childhood malnutrition.
The Indian government recognised the importance of early childhood intervention decades ago. An inter-ministerial survey in 1972 revealed child care initiatives were failing partly due to resource shortages, faulty approaches, and shoddy coverage. The government decided something had to be done.
The ICDS was launched in 1975. The flagship initiative provides nutritional meals, primary education and healthcare, and immunisation, among other services, to children under six years of age. It began with 33 projects at launch and ballooned to over 2,900 by 1991-92. One of the core tenets of ICDS is its functioning through Anganwadi Centres.
Given the ambitious task the ICDS has to undertake, how has it fared?
VIEW: An impressive effort
The ICDS is one of the world's largest programs for early childhood development and care. The government decided to have the ICDS as an umbrella under which there could be specific targeted initiatives. One example is the Prime Minister's Overarching Scheme for Holistic Nutrition (POSHAN) Abhiyaan, launched in 2018. This scope was extensive. It ranged from using technology to capacity building to behavioural change strategies.
The ICDS has a lot of ground to cover. So far, it's done just that, and the results have been positive. A World Development study showed the positive impact of the ICDS on cognitive achievements. This was true, especially among girls from underprivileged backgrounds. A study in the Natural Library of Medicine showed a 7.8% increase in school enrolment among adolescents born in villages with proper ICDS implementation.
Given the ICDS is India's primary policy tool to address childhood malnutrition, it has been lauded for being well-conceived and well-placed to address the issues. In the decades since its launch, it has expanded to cover almost all development blocks. It goes above and beyond to include education services for children and adolescent girls. The program includes awareness and information campaigns since there's an understanding that this is the first step.
COUNTERVIEW: Falls short on various counts
Tackling childhood malnutrition in India was always going to be a tall order. Given the population numbers and demographics, the ICDS is being stretched thin. Despite undergoing various changes over the years to keep pace, a 2006 assessment by the National Institute of Public Cooperation and Child Development (NIPCCD) showed the ICDS' work was unsatisfactory. A 2005 World Bank study concluded there's little evidence to show the ICDS impacted overall child nutrition status.
The pandemic was an example of the ICDS' shortcomings. When the lockdown was announced, Anganwadi centres were among the first to close. While the ICDS services continued, they were piecemeal. They could only undertake the supplementary nutrition program (SNP) where dry rations were distributed to households with kids below six years of age. Given a significant part of Anganwadi workers needed to visit homes and conduct mass sensitisation activities, the pandemic ensured that didn't happen.
There are systematic and structural issues at play too. While the government has conducted awareness programs, some studies have shown that it's either inadequate or ineffective. This has resulted in relatively low enrolment among women. There seems to be a mismatch between the program's intentions and implementation. Some have posited that there isn't enough focus on improving child-care behaviour and educating parents about improving nutrition.
Reference Links:
What is your opinion on this?
(Only subscribers can participate in polls)
a) The Integrated Child Development Service (ICDS) has been an effective early childhood intervention.
b) The Integrated Child Development Service (ICDS) has not been an effective early childhood intervention.
---
🕵️ BEYOND ECHO CHAMBERS
For the Right:
The Modi Government Must Answer for India's Historic Bank Loss of ₹12 Lakh Crore
For the Left:
Accountability is best determined by the accountable, not others
---
🇮🇳 STATE OF THE STATES
Malcha Mahal's facelift (Delhi) – Malcha Mahal, the 14th-century hunting lodge, is due for a facelift soon. Concerned authorities will execute a five-layer plantation drive of flowering trees like Jacaranda, Gulmohar, Bougainvillea, Amaltas, and Chinar. On Saturday, Lieutenant Governor VK Saxena urged officials to promptly begin the tree plantation and look into developing water bodies in the Ridge forest.
Why it matters: Over the last few years, the Malcha Mahal has gained popularity as a haunted house. It's due in part to the fact that the Tughlag-era monument, situated in a forest, has been in a decrepit state surrounded by ruins. The new plantation drive complements INTACH's pledge to restore the Mahal. The efforts might lead to the unravelling of the monument's image as haunted, giving way to something better.
Launching Infinity Centres (Kerala) – Chief Minister Pinarayi Vijayan cut the ribbons of the first Kerala Startup Mission (KSUM) Infinity Centre in Dubai. Infinity centres are one-stop destinations, soon to be across the globe, to strengthen Kerala's startup ecosystem. Chief Secretary VP Joy chaired the event at Taj, Burj Khalifa, while Indian Ambassador to the UAE Sunjay Sudhir, IT and Electronics Secretary Rathan U Kelkar, and others are likely to have attended.
Why it matters: India hosts the highest number of migrant citizens, with approximately 32 million Non-Resident Indians (NRIs). Their significant contribution of around $78 billion in remittances is key to India's development story. KSUM's infinity launchpads are expected to assist the NRI community in establishing businesses in Kerala. It'll help leverage resources to support and boost emerging companies' growth.
Peace room at Raj Bhavan (West Bengal) – Soon after paying a visit to violence-torn Canning in South 24 Parganas district, West Bengal Governor CV Ananda Bose installed a 'Peace Room' at Raj Bhavan, dedicated to grievance-redressal of the public. It will be a mediating body responsible for communicating issues to the government and the State Election Commissioner, who will then make the call. People can reach the Peace Room at [email protected] or through a round-the-clock helpline at 033-22001641.
Why it matters: Rural polls in West Bengal will be held on July 8. The nomination filing stage of the coming polls has been fraught with challenges. Two areas were struck with violence. Considering this, the governor has started the help room to assuage people's concerns. It'll ensure that the present climate of fear doesn't dissuade people from exercising their right to vote.
146 new colleges (Maharashtra) – The Department of Higher and Technical Education has green-lit a proposal submitted by the traditional universities. It entails establishing 146 new colleges in the state on a permanent non-subsidy basis in 2023. The University of Mumbai (MU) will subsume 20 of them. It will lead to SNDT University registering the highest increase in college numbers, with the expansion of 34 new institutes.
Why it matters: The plan submitted to the state government comprehensively proposed new courses, units, and colleges. The submissions were made after considering various factors like physiography, local requirements, research policies, and development indicators for urban, rural, and tribal areas.
Opposition condemns CM Sarma (Assam) – The Assam Pradesh Mahila Congress has submitted a memorandum to the director general of Assam police calling for action against Chief Minister Himanta Biswa Sarma's alleged ties to a Manipur-based Kuki insurgent organisation. Earlier, 12 opposition parties in the state, including Congress and TMC had staged a sit-in protest condemning Sarma's alleged hush-hush meetings with militant outfits and demanding his arrest under the National Security Act of 1980.
Why it matters: Earlier in the week, some media outlets reported that after visiting violence-struck Manipur, CM Sarma met with Kuki insurgent outfits in Guwahati to discuss peace negotiations. Assam Congress' women's arm claims that a Kuki militant leader has written to the Union Home Minister Amit Shah that his organisation had aided the BJP come to power in the 2018 Manipur assembly polls.
---
🔢 KEY NUMBER
229 GW – India's peak power demand in June is unlikely to touch or surpass 229 gigawatts, the levels earlier expected by the Central Electricity Authority.