July 14, 2022
Good morning. In today's either/view, we discuss whether India's demographic dividend should be seen positively considering the weak economic cues and poor education standards. We also look at the Videshi Vidya plan in Andhra Pradesh, among other news.
---
📰

FEATURE STORY
India's Young Demographic: A Boon Or A Bane?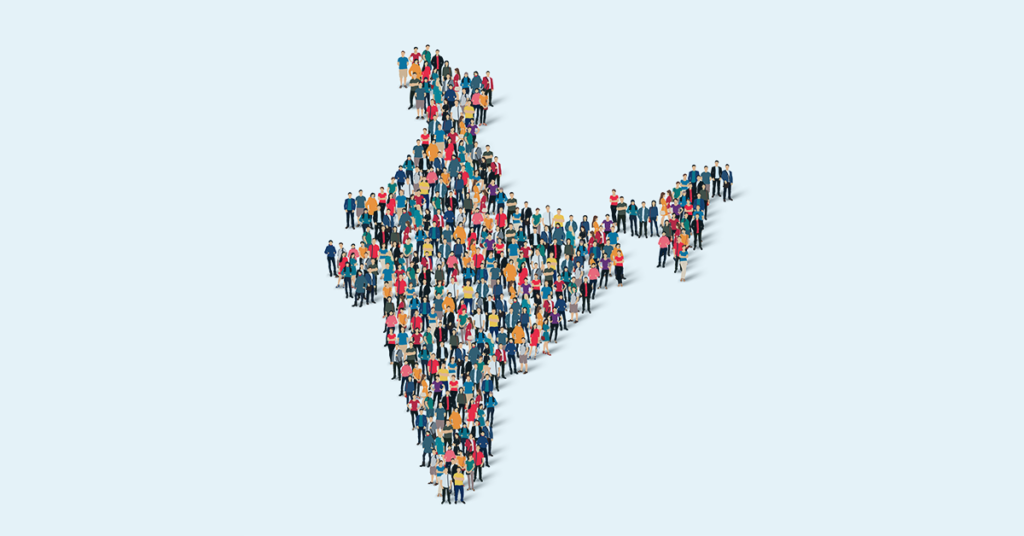 According to a UN report, India is on track to replace China as the most jam-packed country by 2023 and will continue at that number 1 spot till 2100. Right now, we're 1.412 billion people in India. And unlike China's population, which happens to be an ageing one, India has a doe-eyed, young and spritely population. What a time to be alive, right?
The issue is that, if not honed, this demographic can become quite the liability for the country. With unemployment soaring and the employability of India's youth plummeting, the likelihood of turning the new kid on the block into a cash cow is pretty low. So, is India's younger population the sign of a profitable future like we all hoped it would be, or are we looking at another crisis?
Context
Since Prime Minister Narendra Modi came to power, at least once every quarter, he'd use the phrase "demographic dividend" while referring to the power of our population. But what does this mean? A demographic dividend occurs when the number of people that fall in the working-age group in a country is higher than that of those dependent on someone else. Basically, more young people than the elderly and children.
India entered this demographic dividend window in 2005-06 and is expected to stay in it till 2055-56. During this time, the working-age ratio will either be equal to or above 150%. The dependency ratio is expected to be 66.7% or below. It is also estimated that the highest working-age balance the country will have will be between 2021 and 2041. We are supposed to reach its peak in 2031.
As of 2011, around half of India's population has been in the working-age group, i.e. 15 years to 64. And it is said that we will add another 183 million people to this demographic by 2050. As per the UN Population Fund in 2019, India will provide a massive 22% of the global workforce for the next three decades. While India's population numbers might be doing great, our economy has been underperforming for some time now.
According to the Centre for Monitoring Indian Economy, the unemployment rate in April reached 7.6%. Since then, there has been a tiny reduction, but the numbers are still uncomfortably high. Between 2017 and 2021, our working-age population reached 115.5 million. Yet, the labour force only saw a growth of 7.7 million. In fact, the workforce shrank by 11.3 million instead.
The 2022 "State of Inequality Report" also pointed out that our unemployment rate actually increased with our education levels. Especially among educated women, the unemployment rate reached 42% in the group. Clearly, something is off here, but that doesn't mean we've already lost. What we're talking about is capability. Can we get this golden egg to work in our favour?
VIEW: A golden egg
As pointed out by the Thomson Reuters Institute, India's biggest boon is the cheap labour available here. That's why the companies want to come here. For a long time, China had us beaten because of the sheer strength of their population numbers. China's population is ageing, i.e. their dependency ratio is going up. This means a smaller Chinese workforce. On the other hand, India has a population that forces the system to give businesses access to the young and educated. As of 2018, the manufacturing labour costs in China are estimated to be $5.51 per hour. India's is less than $2 per hour.
With a rising youth population, the labour costs in the country are sure to go down. If the nation gets really comfortable with a weak rupee really soon, this will be a good thing. South Korea, Japan and China have had similar situations in the past, with a weak domestic currency and large population, and look how they've turned out. In fact, a demographic dividend is precisely what pushed the economies of Asian nations like Japan, China and South Korea. But this isn't just because of the size of our population, it's what the people of those countries do with their money.
Another point that people make regarding this is that India is estimated to have a 47 million surplus of labour by FY30. This means that India will be all set to send labour off to labour-deficit countries like the US, UK and Japan. The demand for Indian labour will just be higher and thus, give us a lot more negotiating power on the international playing field.
With more people working and having access to an expendable income, more money is going to exchange hands in the domestic market. The amount of consumption in the country is bound to go up and thus, help the economy in various ways. According to Sunil Devmurari, country manager for India at Euromonitor, "This is the most exciting aspect of India's demographic dividend."
COUNTERVIEW: A capability trap
According to a 2019 report from UNICEF, at least 47% of Indian youth will not be ready for employment by 2030. This means that they will simply not possess the skills and education necessary to be an employable individual in today's market. But when you look at the National Family Health Surveys, more than 95% of India's kids are attending their primary schools. The problem is the horrible infrastructure in our public education system and rampant malnutrition that results in abysmal learning outcomes for our children.
In 2021, the Centre for Science and Environment learnt that a whopping 375 million Indian children may suffer from long-lasting health and education impairments. All of this came after the pandemic, and it isn't like we're recovering from this very swiftly. In 2018, the Annual Survey of Education Report said that only half of the kids in Grade 5 could read a Grade 2 text without any issues. The pandemic only worsened things as a survey in 2021 showed that the number of children in primary school who could not recognise an alphabet was way higher than before.
So why is all of this important? Well, the only way to cash out on a population is to have them be active members of society, i.e. employed and healthy. Only if the workforce is working can we see some serious economic growth, which is not doing too good. All this talk of India overtaking China in the population race will amount to nothing when one realises that around 24% of the latter's workforce is formally skilled. For us, that is still at an embarrassing 3%.
It also is important to note that India's young population isn't evenly distributed between all the states. A state like Kerala has an ageing population while Bihar has an increasing working-age one. Unless the state institutions and policies acknowledge this divide, India will be stuck in what researchers at Harvard and the World Bank called a "capability trap". This is where a country knows their achievable goals but lacks the infrastructural know-how to reach them.
Even the Confederation of Indian Industry agrees that if we don't create enough jobs and train our young to be good at them, we'll be looking at a demographic liability instead.
What's your opinion on this?
(Only subscribers can participate in polls)
a) India's rising young demographic will be good for the country.
b) India's rising young demographic will not be good for the country.
---
🕵️ BEYOND ECHO CHAMBERS
For the Right:
Original Vision – Nehru's India Didn't Turn Its Back On Foreign Investment Despite Experiencing Colonial Rule
For the Left:
Why We Need To Commemorate July 12 And Remember Stellar Role Of RSS Founder In Freedom Struggle
---
🇮🇳 STATE OF THE STATES
Awareness on NRI marriages (Punjab) – The National Commission for Women (NCW) launched a series on the dos and don'ts on NRI marriages across various districts in the state. They wanted to highlight the risks involved in NRI marriages and create awareness of the legal provisions available. NCW Chairperson Rekha Sharma said families should do the proper checks before getting their daughters married. The programme highlighted the role of the judiciary, the role of the police, and the sociological aspects of NRI marriages.
Why it matters: There have been victims of NRI marriages who have had to resort to the courts to seek relief. Per the Commission, Punjab contributes to the highest majority of its over 5,500 pending cases. Last month, the Commission said one of the ways to deal with this is through a national helpline and training police officers in dealing with women, and letting women know their legal rights.
Videshi Vidya plan (Andhra Pradesh) – The state has issued a new set of guidelines for the Jagananna Videshi Vidya Deevena, benefitting more students. It states students who are admitted to any of the top 200 World Ranking Universities will be eligible for financial assistance. For those in any of the top 100 ranked universities, the fees will be reimbursed. The amount will be transferred directly to their accounts. Students from economically weaker sections are also eligible.
Why it matters: Earlier, the scheme applied to only a few countries, but it is now for the top 200 universities. The previous government had capped the number at 300 SCs, 100 STs, 1,000 BCs, and 500 minorities. Also, those from economically weaker sections were previously excluded. Per the new guidelines, these limits have been scrapped.
Post-Covid health protocol (West Bengal) – With emerging cases of post-Covid complications, the state government has notified a comprehensive treatment guideline. In an advisory to healthcare providers, there's an emphasis on complications of the heart, lungs, and those related to diabetes. The state sees these as a public health concern. Some patients, including younger ones, complained about chest pains. The guidelines outline how to investigate, diagnose, and treat post-Covid heart issues.
Why it matters: Even as most Covid patients recover, many continue to battle the long-term effects after they've been discharged. It's commonly known as long-Covid. According to doctors, these are seen in patients who battled a severe form of infection and needed intensive treatment. They say these patients need regular follow-ups during their recovery.
Saving the Great Indian Bustard (Gujarat) – State forest department officials have concluded that they might be unable to conserve and save the Great Indian Bustard (GIB). It's one of the heaviest birds that can fly. The state has only four females surviving in the state's Kutch region. In an affidavit submitted to the Supreme Court in April, the state government said the four remaining GIBs could be relocated so that high tension power lines and renewable energy infrastructure can be in place.
Why it matters: Lala-Parjan Sanctuary in Kutch is where the GIBs live, spread over 2 square km. It's the smallest animal reserve in India. In 2000, it had around 58. The last male member has been missing since 2018. Per the latest census conducted in 2018, India has less than 150 GIBs. Of this, 122 are in Rajasthan.
Oil exploration (Meghalaya) – Exploration for oil and natural gas will soon begin in Meghalaya. Union Minister of State for Petroleum and Natural Gas, Rameswar Teli, said the state has potential for oil and natural gas exploration. Projects to lay gas pipelines will be done by Indradhanush Gas Grid Ltd, a joint venture between Indian Oil, GAIL, ONGC, Oil India, and the Numaligarh Refinery. Meghalaya is included in this as the pipeline will extend till Shillong.
Why it matters: Last year, Oil India Limited discovered a thermogenic gas reserve with high methane content in Umphniang village in the East Khasi hills. The particular area is located near an exploration block operated by ONGC since the 1990s. It's close to the India-Bangladesh border. Since India imports most of its oil and gas, the government is forced to increase the price of petrol and LPG.
---
🔢 KEY NUMBER
7.01% – The rate of retail inflation for June. It's a small decrease from May's 7.04% due to lower crude and edible oil prices. The inflation rate for vegetables increased by 17.37% with pulses decreasing by 1.02%.