May 29, 2023
Good morning. In today's either/view, we discuss whether Imran Khan's Pakistan Tehreek-e-Insaf (PTI) is crumbling. We also look at the inauguration of the new Parliament building in Delhi, among other news.
---
📰

FEATURE STORY
Is Imran Khan's Pakistan Tehreek-e-Insaf (PTI) crumbling?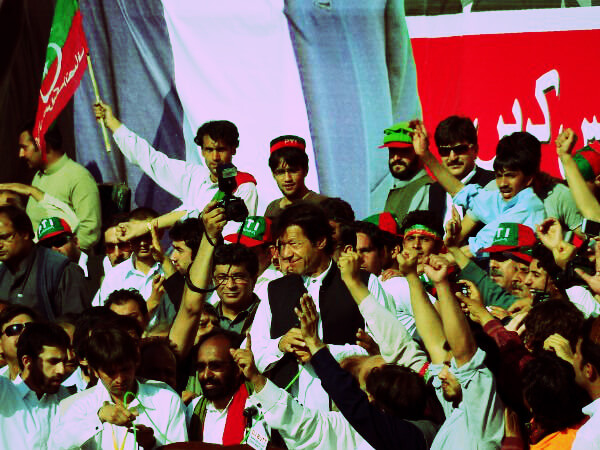 Democracy is a messy proposition. There is no shortage of examples of that. India's neighbour Pakistan is in a messy situation right now, to say the least. The country's economy was already in poor shape, and it has been under pressure from the international community to clamp down on terrorism. While the latter isn't breaking news, recent events indeed were.
Pakistan's former Prime Minister, Imran Khan, was arrested. This set off national alarm bells, with incidents of violence catapulting the country into a national crisis. While he's got some relief from the Supreme Court, what comes next? Khan surely isn't going down without a fight. Others say there's no hope for his political future or the future of his Tehreek-e-Insaf party, which hangs in the balance.
Context
From cricket to politics, the legendary bowler has had quite the journey. Imran Khan's political journey began in 1996 when he founded the Pakistan Tehreek-e-Insaf (PTI). Khan wasn't unpopular in political circles. He frequently criticised the Pakistani regime and spoke out against its alleged corruption.
PTI didn't get off to a roaring start. In its first electoral test in 1997, it won less than 1% of the votes and no seats in the National Assembly. The 2002 elections weren't very different, but they did win one constituency. That was filled by Khan, making him a member of the National Assembly.
In 2007, Khan resigned from the Assembly in protest against General Pervez Musharraf's candidacy in the presidential elections. Later that year, his agitation landed him a short stint in jail as part of Musharraf's crackdown on critics. The PTI boycotted the 2008 elections.
In the run-up to the 2013 legislative elections, Khan held massive rallies trying to consolidate support. Even a fall where he injured his back and neck didn't stop him from addressing his supporters from a hospital bed. Despite PTI's best-ever performance, it didn't have the seats needed for a victory.
In 2014, Khan continued his rallies. This time his ire was aimed at then-Prime Minister Nawaz Sharif, asking him to resign. There were corruption allegations against him, and his family was named in the Panama Papers. Sharif was eventually disqualified by a court from his post.
In 2018, PTI won enough seats to form a coalition and tasted electoral victory. Khan was now Prime Minister. His opponents criticised him for his closeness with the military establishment. In 2020, they formed the Pakistan Democratic Movement (PDM) and accused Khan of being the military's puppet.
PTI was in trouble, and a no-confidence vote last year showed how bad things had gotten. Allies left the coalition, and even some within the party abandoned ship. On April 10, 2022, Khan was ousted as Prime Minister by losing the vote, a first in the country's history. Despite this, the PTI secured a landslide victory in July. Things then took a turn later that year.
During one of Khan's rallies from Lahore, expected to end at Islamabad demanding snap elections, he was shot in the leg in an apparent assassination attempt at Wazirabad. Keep in mind, relations between Khan and the new Prime Minister, Shehbaz Sharif, weren't exactly cordial. Sharif blamed Khan for ruining the country's economy and polarising the country's electorate. The PTI blamed Sharif for orchestrating Khan's removal.
As the country continued to become increasingly unstable, earlier this month, Khan was arrested, and violence erupted in the aftermath. There have been over 100 lawsuits against him for several alleged offences.
All the while, the country's economy continued to deteriorate. Mounting debt, inflated energy import costs, inflation, and political instability created a perfect storm of events. Given the current state of affairs, are Khan and the PTI's chances of redemption all but gone, or can they rise from the ashes?
VIEW: It doesn't look good
Since Khan's arrest, the country has plunged into a democratic crisis. There have been reports of violence across the country since then. All this while, influential leaders have gone to the exits of PTI. Among them was former Minister of Information and Broadcasting Fawad Chaudhry, also a close aide of Khan. The government is considering banning the PTI over the violence that followed Khan's arrest.
The government, led by Prime Minister Shehbaz Sharif, was blamed by the PTI for the turmoil. What did happen was that Khan, once an ally of the military, had a falling out. The poor handling of the pandemic and the economy were the last straws for the military establishment. In Pakistan, the military is important and has a big say in governance. Crossing them is ill-advised.
It's unlikely that Khan and the PTI will be a force to reckon with in the future. The party has been severely weakened. Apart from an exodus of influential leaders, there's not much party infrastructure left to put up a fight. Given the over 100 charges Khan faces, he could be arrested again. The PTI could see several "electables" leave. They are influential feudal leaders and landlords who have dominated the political landscape in Punjab and are crucial to the party's prospects in the rural areas. The military will likely facilitate who comes to power as they would rather have a civilian government than military rule. In that case, the PTI seems unlikely.
COUNTERVIEW: Down but not out
Any talk of the PTI's demise might be a bit premature. If there's one thing Khan can do, it's galvanise support. He's done it before, and he certainly can do it again. Many have criticised Khan for being cosy with the military in the past, which is true. Others have pointed out that he doesn't really have a coherent political ideology while campaigning. That being said, he has been consistent in speaking against corruption.
That anti-corruption message won him and the PTI plenty of young, first-time voters. They constitute about 45% of registered voters. The PTI and Khan are now enjoying a period of unparalleled popularity. A Gallup poll from March showed Khan enjoying a 61% approval rating. It made him the most popular leader in Pakistan. On his return to his home in Lahore after being released on court orders, he was accompanied by thousands.
Speaking of galvanising support, Khan knows the power of social media. He has been making near-daily addresses calling for early elections. While some leaders have left the PTI, Khan has all the support. There's no reason why even if Khan is the last man standing in the party, he can't rebuild the party's future. PTI was duly elected before due to widespread support and mass appeal. That isn't inconsequential.
Reference Links:
What is your opinion on this?
(Only subscribers can participate in polls)
a) Imran Khan's Pakistan Tehreek-e-Insaf (PTI) is crumbling.
b) Imran Khan's Pakistan Tehreek-e-Insaf (PTI) can't be counted out.
---
🕵️ BEYOND ECHO CHAMBERS
For the Right:
India's menstrual hygiene efforts sideline women from unorganised sector. Govt must prioritise
For the Left:
G20 meeting in Kashmir: A milestone for peace, progress and global cooperation
---
🇮🇳 STATE OF THE STATES
New Parliament (Delhi) – On Sunday, Prime Minister Narendra Modi inaugurated the new Parliament building. He set the Sengol, a 5-feet long gilded sceptre, close to the Lok Sabha Speaker's seat in the brand new building. The new building is triangular in structure, 10% smaller than the older one, and can seat 1,272 ministers for a joint parliamentary session. The old building will be revamped into a 'Museum of Democracy'.
Why it matters: Replacing the old Parliament is part of the Central Vista project, through which the centre seeks to redevelop governance infrastructure in central Delhi. The Sengol was chosen for its alleged historical and symbolic significance. While the Union government alleges it was presented to Jawaharlal Nehru in 1947 to mark the transition of power from the British to the Indians, experts and Congress leader Jairam Ramesh argue there's no evidence to back that up.
First aid training for Corporation (Tamil Nadu) – Chennai Corporation officials received first aid training as part of Kauvery Hospital (KH) and Restart Heart Foundation's initiative to address the rising cases of out-of-hospital cardiac arrests and other medical emergencies that need to be dealt with immediately. KH hosted 150 Greater Chennai Corporation officials from Thousand Lights Zone 9 for Basic Life Support (BLS) and First Aid Training programmes.
Why it matters: The programme was announced to mark World Emergency Medicine Day and will go a long way in increasing awareness about first-aid measures for emergencies. It taught people the skills to take care of medical emergencies efficiently. Knowing how to use an Automated External Defibrillator (AED) with Cardiopulmonary Resuscitation (CPR) can be critical in saving a life before an ambulance arrives.
Parameters for EWS quota (West Bengal) – The state education department has announced that colleges and universities will reserve a maximum of 10% of their seats for students from economically weaker sections (EWS). The eligibility criteria for EWS students include a gross annual family income of less than ₹8 lakh, non-possession of five acres or more of agricultural land, and no residential flat of 1,000 square feet or more in a municipal area.
Why it matters: The EWS quota will not apply to minority educational institutions. The new section of reservations will require colleges and universities to increase their annual permitted intake in all branches of academics to facilitate incoming EWS students. The EWS seats will not compromise the seats for SC/ST/OBC categories. Their number and percentage will remain intact.
IIT Gandhinagar's education collaboration (Gujarat) – The Indian Institute of Technology (IIT) Gandhinagar and the Vivekananda Institute Of Professional Studies Technical Campus (VIPS-TC) have signed a Memorandum of Understanding (MoU) to launch Bachelors, Masters and Doctoral programmes at VIPS-TC. The agreement also includes internships, special training programmes, faculty support, guidance in infrastructure development, and the joint organisation of seminars, conferences, and workshops on converging areas of interest.
Why it matters: The Industrial Revolution 4.0 is here, and this partnership hopes to prepare tech enthusiasts for its demands. It's a strategic collaboration to foster innovation and academic excellence in Information Technology (IT). It'll allow students and faculty members to work together on cutting-edge technological advancements and tackle emerging challenges in the field. Most of all, it will vastly improve the students' quality of education.
Over 3,300 UPSC aspirants (Manipur) – Despite all the challenges spurted by the violence in the state, over 3,300 aspiring civil servants appeared for the UPSC preliminary examinations at 12 designated centres on Sunday. The ongoing violence prompted 700 aspirants out of the 4,051 registered candidates to appear at exam centres in other states. Admit cards and other exam-related documents were used as a curfew pass on Sunday.
Why it matters: After violence between Meiteis and Kukis erupted in Manipur, the government imposed a curfew and internet shutdown and deployed 10,000 security forces. The clashes have claimed 70 lives. To make appearing for the exams safer and easier for students in Manipur, the Union Public Service Commission permitted students to take the preliminary tests at centres in Aizwal, Kohima, Shillong, Kolkata, and Delhi.
---
🔢 KEY NUMBER
12% – The percentage of young girls in India who think menstruation is a curse from God or caused by disease, as reported by a study on menstruation awareness.