February 20, 2023
Good morning. In today's either/view, we discuss whether India is doing enough to eliminate manual scavenging. We also look at the roads being constructed in Meghalaya, among other news.
---
📰

FEATURE STORY
Is India doing enough to eliminate manual scavenging?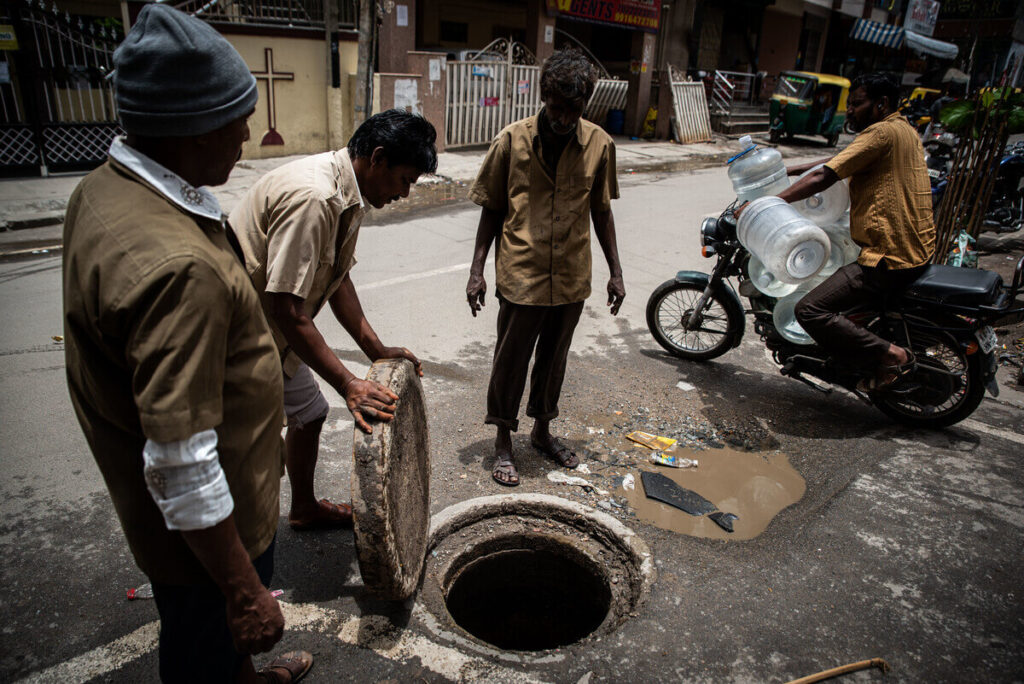 Despite manual scavenging being legally abolished in 2013, the practice is still rampant in India. Every five days, a sanitation worker dies due to being exposed to poisonous gases in sewers and septic tanks. To solve this, the Centre and state governments have been pushing for the mechanisation of sewer cleaning. In the 2023-24 budget, the government allocated around ₹100 crore to NAMASTE – National Action for Mechanised Sanitation Ecosystem.
It is hoped that mechanisation will eliminate the problem of manual scavenging. However, the rootedness of the occupation in caste oppression behoves some to argue that it is an incomplete solution. Let's find out for ourselves where India stands in the effort to solve this crisis.
Context
In South Asia, manual scavengers are those people who are employed to handle human excreta on streets, railway tracks, dry latrines, septic tanks, gutters, and sewers. The practice involves cleaners directly handling excreta by entering septic tanks, sewers, or railway tracks. It is prevalent in India, Pakistan, Nepal, and Bangladesh.
We can visualise manual scavenging being problematic on two levels. The very practice of manually cleaning human excreta – ergo, shit – is unjust because of its disastrous implications on human health and life. On another level, the practice is problematic because 98% of manual scavengers are Dalits and women.
Efforts to improve working conditions have been sluggish and inadequate since this job is relegated to those whose life the State and society consider expendable, that is, Dalits and women.
Manual scavenging is a caste-designated occupation that is rooted in thousands of years old Brahminism. Presently, manual scavengers are from lower caste groups at the bottom of the caste hierarchy and are bound to jobs that higher caste groups consider deplorable or "impure".
India passed The Prohibition of Employment as Manual Scavengers and their Rehabilitation Bill in 2013, effectively banning the employment of manual scavengers, the manual cleaning of sewers and septic tanks without protective equipment, and the construction of insanitary latrines. This law was enacted in the State list, making it a prerogative of state governments, as opposed to the concurrent list.
The 2020 Amendment Bill, awaiting cabinet approval, goes one step further and advocates complete mechanisation of sewer cleaning, providing better protective gear, higher penalties, rehabilitation, and reparations. Meanwhile, the Centre undertook the process of mechanisation and rehabilitation under the NAMASTE scheme, 2021.
Another significant intervention directed at workers who manually remove waste from dry latrines was Sulabh International in 1970, which now claims to have freed 2 lakh women.
Despite this, about 2,60,000 dry latrines still exist, manual scavengers are hired, most are predominantly Dalit, and over half of them are women. At this point, one might wonder if the problem exists not due to a lack of legal and policy changes but rather due to negligence. Others might wonder whether the government schemes and bills meet the mark of facilitating real change.
VIEW: On the right path
The 2013 Act and the 2021 Central NAMASTE scheme acknowledge that manual scavengers who work in hazardous conditions should be provided with proper equipment, alternative employment, cash reparations, scholarships, and self-employment assistance. The toilets built under the Swachh Bharath mission, too, were proclaimed as being connected to proper septic and sanitation systems to eliminate the need for manual scavenging.
In 2021 when the Union Ministry of Social Justice found that there were 58,098 manual scavengers employed in the country, the government clarified that it had distributed self-employment cash assistance to all eligible manual scavengers. 18,199 manual scavengers were reportedly given skill training, and 1,562 were provided capital subsidies.
The NAMASTE scheme, on paper, seeks to correct the historical injustice of viewing the lives of manual scavengers as expendable. To this end, it aims to ensure zero fatalities in sanitation work, no contact with faeces, and skill development through the mechanisation of sewage cleaning.
After state governments in Delhi and Hyderabad introduced sewer and septic tank cleaning machines, several manual scavengers have reported better working conditions and a reduced frequency of directly handling human faecal matter. Besides, the states also sought to empower sanitation workers by making manual scavengers owners of the cleaning machines. According to state officials, this ensured that manual scavengers would become entrepreneurs and that red taping wouldn't delay the machines' supply.
The NAMASTE scheme also identifies the scarcity of sufficient, reliable data on the number of septic tank and sewer workers and proposes to enumerate them. Data on the number of manual sanitation workers in each city will facilitate their incorporation into the multiple schemes announced until now.
COUNTERVIEW: More to be done
The 2013 Act doesn't prohibit manual scavenging but allows it to continue if practised with protective equipment. Even when reports suggest that the number of manual scavengers is increasing, no convictions have been reported since 2013.
To this date, many manual scavengers are compelled to climb down sewers. In the name of protective gear, some only have a rope attached to a belt tied around their waist. The presence of 2,60,000 dry latrines implies that there are thousands of people still cleaning the toilets in rural homes. Cash assistance, financial reparations on death, and other provisions under the law are severely inadequate. For instance, in 2019, only 6% of the manual scavengers received skill-building training.
A primary hindrance created by state and central authorities is underreporting data on manual scavenging and denying its existence based on technicalities. While many districts report zero deaths in the past five years due to manual scavenging, independent researchers report that several manual scavengers have died: 19 in Mumbai and 46 in Delhi. Last year, the centre claimed that there are no manual scavengers in the country, but 330 people have died from cleaning septic tanks and sewers.
Governments have notoriously sidestepped the first level of manual scavenging's caste rootedness. Several activists have contended that the number of machines promised on paper will never materialise fully because Dalits' and women's cheap and exploitable labour benefits the authorities. This is evident in the government's contractual hiring of thousands of people to clean railway tracks.
When machines do materialise, as in the case of Delhi and Hyderabad, their limitations compel sanitation workers to get inside sewers. The machines still require monitoring and operations from sanitation workers and do nothing to delink Dalits and women from the occupation of handling human waste. Passing ownership onto the sanitation workers increases the lower castes' responsibility of handling faeces instead of liberating them from the occupation.
Reference Links:
What is your opinion on this?
(Only subscribers can participate in polls)
a) India is doing enough to eliminate manual scavenging.
b) India is not doing enough to eliminate manual scavenging.
---
🕵️ BEYOND ECHO CHAMBERS
For the Right:
How the ICHR Is 'Inventing History' Under the Modi Government
For the Left:
The fallacy of 'Opposition unity'
---
🇮🇳 STATE OF THE STATES
Shrimp farming expansion (Punjab) – The state government has plans to bring 5,000 acres of the border district under shrimp farming in the next five years. Cabinet Minister Laljit Singh said the government is paying special attention to the sector. The state offers a 40-60% subsidy to farmers adopting aqua-culture. The state is looking to utilise waste saline-affected waterlogged areas.
Why it matters: In 2022-23, 366 farmers took up shrimp cultivation over 1,212 acres. It yielded 2,400 tonnes of shrimp. Farmers have taken up shrimp farming on the waterlogged zero-income land, which has proved to be successful. Thanks to shrimp farming, farmers' incomes have gone up, and they're able to earn up to ₹3 lakh from one acre.
Ola's investment (Tamil Nadu) – Ola signed an MoU worth more than ₹7,600 crore with the Tamil Nadu government. The company will set up an EV hub with advanced cell and vehicle manufacturing facilities, vendors, and suppliers. The investment will help create more than 3,000 jobs in the state. The hub will be across 2,000 acres of land.
Why it matters: For Ola, the new facility will help the company bring its EV ecosystem under one roof for 2 and 4-wheelers. Last year, the company released its first Lithium-ion cell NMC-2170 built at its Battery Innovation Centre in Bengaluru. CEO Bhavish Aggarwal said with this investment and others, India is on track to become a global EV hub.
Waiting for unity (Bihar) – Chief Minister Nitish Kumar has urged the Congress to unite the opposition to help reduce the BJP's strength in the Lok Sabha to below 100 seats. He praised the recently concluded Bharat Jodo Yatra but urged the party to think beyond it electorally. Congress leader Salman Khurshid said there's still time to decide, and he understood Kumar's reasoning.
Why it matters: There are some murmurs that the Left has been looking to form an alternate front without the BJP and Congress. In light of this, Left leader Sitaram Yechury met with Lalu Prasad Yadav even though one RJD official said it was a courtesy call. However, Yadav has been in touch with Congress, NCP, DMK, and others to form a new united front against the BJP.
New liquor policy (Madhya Pradesh) – The state government has set up a cabinet committee for recommendations on a new liquor policy. It comes as BJP leader Uma Bharti has called for a controlled liquor policy in the state. She has been campaigning against the consumption of liquor. The committee will submit its recommendations for the 2023-24 excise policy.
Why it matters: A new liquor policy was supposed to be announced last month but was delayed due to Bharti's demands. She wanted "ahatas", or areas close to liquor shops used for drinking, to be closed and a ban on liquor shops within 1 km of schools and other establishments. She asked the Shivraj Singh Chouhan government not to cash in on people's drinking habits.
Road projects planned (Meghalaya) – Union Transport Minister Nitin Gadkari said road projects worth more than ₹25,000 crores have been planned for the state. Speaking at election rallies, he said the Centre is building roads valued at ₹3 lakh crore in the region to help eradicate poverty. He said detailed project reports for the roads are being prepared, including one for a four-lane Shillong bypass.
Why it matters: Across the northeast, more than 350 national highway projects worth ₹4,000 crore are ongoing. Gadkari said road connectivity across the region has increased by 25% since 2014. He emphasised the need for good roads and highways for people and industries. Among the projects considered are a 130-km two-lane paved shoulder Ranikor-Baghmara road and the 43-km two-lane paved shoulder Nongstoin-Wahkaji road.
---
🔢 KEY NUMBER
4.5 crore – With the decision by Star, Zee, and Sony to disconnect their services on cable tv platforms, the All India Digital Cable Federation (AIDCF) estimates 4.5 crore families won't have access to them. The decision came after AIDCF members did not revise the pricing in response to a price hike by the broadcasters.