January 6, 2023
Good morning. In today's either/view, we discuss whether India can become a hub for green hydrogen. We also look at the additions to mid-day meals in West Bengal, among other news.
---
📰

FEATURE STORY
Is India on track to become a green hydrogen hub?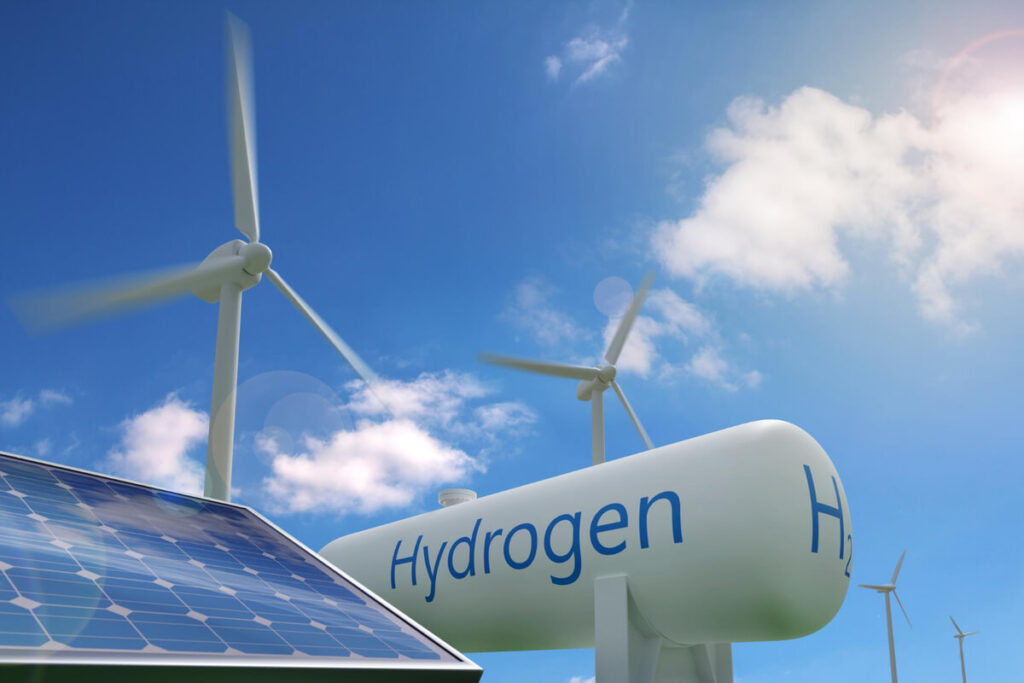 India has set some ambitious goals for combating climate change and global warming. It's part of the path to 2047, the centenary year of independence. By that time, if all goes to plan, India should be well on its way to reducing emissions and transitioning to renewable energy sources across several sectors.
Part of the plan involves increasing the production of green hydrogen and making India a hub for it. Recently, the government cleared ₹19,744 crores in incentives for green hydrogen with a projected production capacity of 5 million tonnes by 2030. While this is a noble pursuit, is India ready to begin this shift? How will the existing sectors reliant on fossil fuels be convinced?
Context
Hydrogen is most widely used as an industrial chemical through the gasification of coal or lignite. It can also be made through steam methane reformation, which often uses natural gas as its feedstock. These processes aren't exactly carbon-friendly. One clean option is the gas produced by steam methane reformation, where the emissions are restricted by capturing and storing the carbon. This still isn't the most environmentally friendly.
Green hydrogen, on the other hand, can eliminate emissions by using renewable energy. All you need is water and some renewable power source like wind or solar. Green hydrogen is receiving some attention because it's a potential low-carbon fuel that can replace today's fossil hydrocarbons. The gas is versatile and has applications in other spaces like heating.
Companies have begun to take notice, not just because of public and policy pressures, but to see if it's good for their bottom line in the long run. A couple of years ago, Shell Nederland said it partnered with energy company Eneco to bid for an offshore wind tender to create a hydrogen cluster in the Netherlands. BP's solar developer was looking to develop an Australian green hydrogen plant.
In India, the government is looking to be proactive on green hydrogen. Union Minister of Power and New and Renewable Energy, RK Singh, said last year that it was time for green hydrogen in India. The private sector isn't far behind. Last March, six renewable energy companies formed an independent advocacy group for green hydrogen. Biggies like Reliance, Jindal, JSW, and others have plans for green hydrogen.
Prime Minister Narendra Modi said India could become a global hub for green hydrogen. It came in the wake of his ambitious announcement at the COP26 summit promising India will become net zero by 2070. Now, the government cleared more than ₹19,000 crores in incentives for the sector. Can the goal of becoming a global green hydrogen hub be achieved?
VIEW: India has the right ingredients
The government is following the motto of striking while the iron is hot. It understands that hydrogen production needs a lot of energy. Green hydrogen using renewable sources is essential for India's sustainable energy capacity. Broadly speaking, the National Hydrogen Mission has some policy incentives for companies. Interstate transmission charges were waived for 25 years, and renewable purchase obligations were granted, to name a few.
State-run Indian Oil Corporation (IOC) said it would partner with ReNew Power and L&T to produce green hydrogen. The role of the private sector can't be underestimated. That's where a lot of the investment will need to come from. Adani has pledged $70 billion to clean energy assets, including green hydrogen. The French oil giant TotalEnergies SE will work with the company on this. Reliance is another one that's investing heavily.
One other thing India has going for it is the pipeline of electrolyser factories. Here again, the government's production-linked incentives will play an important role. For developing economies like India, there's an opportunity to produce green hydrogen as renewables become cheaper. This will set the pace for India's energy transition journey and achieving that zero carbon target.
COUNTERVIEW: Inherent roadblocks exist
Pouring a lot of money into green hydrogen is well and good. But if India is going to have a robust green hydrogen market, there needs to be demand from end users. This includes industries like steel and cement that are carbon-intensive. Also, to be noted, most carbon-intensive industries will be cropping up in the Global South. So with the supply, there should be a proportional growth in demand.
The economics of it all need to be carefully considered. Some estimates put the cost of hydrogen production using renewable resources between $3-7 per kg. Fossil-based hydrogen costs about $1.8 per kg. In India, the production cost of green hydrogen is about ₹500 per kg. So production is capital intensive. Some investors might see grey hydrogen as a cheaper alternative middle ground.
If India is to truly capitalise on green hydrogen, then buying clean power is essential. India's power woes are well documented. What's the plan to ensure green hydrogen plants have an uninterrupted supply of renewable energy? Power accounts for about 70-80% of the production cost for green hydrogen. Will there be enough of that to meet India's daily demand?
Reference Links:
What is your opinion on this?
(Only subscribers can participate in polls)
a) India will become a green hydrogen hub.
b) India will find it tough to become a green hydrogen hub.
---
🕵️ BEYOND ECHO CHAMBERS
For the Right:
India's strategic paralysis with China must end
For the Left:
SPM-NIWAS: How an institution seeks to transform water and sanitation services to millions
---
🇮🇳 STATE OF THE STATES
India, France hold 36th strategic dialogue (New Delhi) – India and France held the 36th strategic dialogue on Thursday in New Delhi. The two sides reviewed their overall strategic cooperation during the high-level discussion. National Security Advisor Ajit Doval led the Indian delegation, while Emmanuel Bonne, Diplomatic Advisor to the French President, led the French delegation. According to the Ministry of External Affairs (MEA), the delegations will deliberate on wide-ranging bilateral and global issues. The last strategic dialogue between the two countries was in November 2021 in Paris.
Why it matters: In May 2022, Prime Minister Narendra Modi and French President Emmanuel Macron held extensive discussions in Paris on the Ukraine-Russia war, terrorism, and the Indo-Pacific. Due to the Indo-Pacific's commercial and security-associated significance, India and France have both been championing free and open trade in the region. After the Paris meeting, the two leaders announced their resolve to further their strategic cooperation and international partnership.
Chicken, seasonal fruits served in mid-day meals (West Bengal) – State schools in West Bengal will serve chicken, eggs, and seasonal fruits as part of the PM Poshan Scheme (earlier Mid Day Meal scheme) until April 2023. According to a state government official, Rs 371 crore has been apportioned for adding to the diet. The centre and state share the cost of PM Poshan meals in a 60:40 ratio. This good tiding comes ahead of the panchayat polls in WB, for which the incumbent Trinamool Congress has launched an outreach campaign, too, highlighting all of the government's welfare policies.
Why it matters: Whether political posturing or not, the Poshan meal revamp is a comfort to many teachers and midday meal workers. In October 2022, the centre increased the budget for Poshan meals, translating into less than a rupee hike per student. Teachers and teaching federations in Bengal protested the move by calling attention to how the nutritional needs of children were not being met. Besides, the National Family Health Survey reported last year that high levels of undernutrition is a severe problem in WB.
CM inaugurates Ganol Hydro Power Project (Meghalaya) – Chief Minister Conrad Sangma inaugurated the much-awaited 22.5 MW Ganol Hydro Power Project in the West Garo Hills district. The inauguration, termed as a historic and landmark day, was made possible by the National Peoples Party's determination and grit to put Garo hills on the country's power map. 3 Turbine-Generator units of 7.5 MW each are installed over the Ganol river to use its waters. The CM lauded James K Sangma, who had initiated the project during his term as Power Minister.
Why it matters: While it is home to the wettest place on earth, Meghalaya has unique water-related issues. The Garo Hills region suffers from a water shortage during the dry winters. According to CM Sangma, the latest hydropower project is a step towards resolving the issue. Currently, Meghalaya's water needs dictate harnessing 380 MW of power.
Mopa airport begins operations (Goa) – Mopa airport, officially renamed Manohar International Airport, started its operations on Thursday. An Indigo flight carrying 179 passengers arrived at Goa's second airport at 9 am. Airport officials gave the Mopa's maiden landing a water cannon salute as a mark of respect. Chief Minister Pramod Sawant called the day a dream come true and a significant achievement for the state and the centre. The Sawant-led government announced the launch of Blue Cab service, owned by Pernel taluka locals, which is to run at the airport.
Why it matters: Earlier this week, the centre acceded ex-post facto approval to rename the airport as Manohar International Airport as a tribute to the late Manohar Parrikar, Goa's four-time chief minister and former union defence minister. Originally expected to finish in 2019-2020, work on the airport was finally wrapped up in December 2022.
29 IPS officers transferred in major reshuffle (Telangana) – On Tuesday, the K Chandrashekhar Rao-led government initiated the transfer of 29 Indian Police Service (IPS) officers in Telangana. Hyderabad City Police Commissioner C V Anand is now also the Additional Directorate General of Public Information (ADGPI) of Telangana State's Anti Narcotics Bureau. V Venkata Srinivasa Rao, chairman of the Telangana State Level Police Recruitment Board, is now also the Additional Director General of Police (ADGP). Apart from this, eight officers previously waiting for their postings have finally secured them.
Why it matters: In December 2022, the KCR-led government transferred Anjani Kumar to the role of DGP, replacing the superannuated M Mahendra Reddy. With Assembly elections on the horizon, a major IPS reshuffle was expected to accompany Kumar's transfer.
---
🔢 KEY NUMBER
18,000 – The number of employees Amazon plans to lay off in a bid to scale down expenses amidst an "uncertain economy".