August 21, 2023
Good morning. In today's either/view, we discuss whether India's traditional TV broadcasting business is staring at its demise. We also look at the possible introduction of trolleybuses from Delhi to Jaipur, among other news.
---
📰

FEATURE STORY
Is India's traditional TV broadcasting business staring at its demise?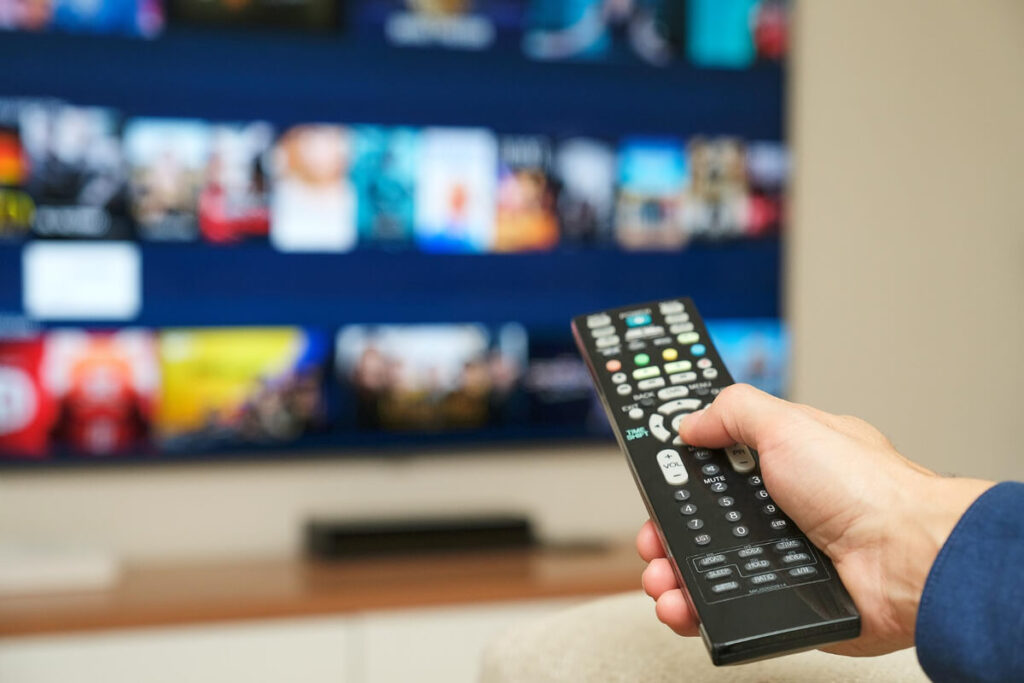 A television set is one of the most prized members of Indian households. It has its own designated space that it occupies. Much like a resourceful elder child, it also whips up different programmes, soaps, reality shows, sports, and documentaries for the family; like an obedient younger child it follows a reliable schedule; like a loving partner, it always leaves you wanting more.
But there's reason to think the Over The Top (OTT) subscriptions boom could dethrone traditional cable TV. In 2022, TV outperformed its competitors, including digital platforms, by having the biggest share of revenue. However, a closer examination of its progress over recent years reveals that things may not always be looking up.
Context
Indian TV's 'one to all' format has delivered some hits that have enticed several generations, be it the Star Plus network's Kyunki Saas Bhi Kabhi Bahu Thi or Colors TV's Balika Vadhu. And who can forget the endearing and oft-hilarious Khichdi, whose days of Star Plus reruns may be over but is still being streamed by Indians on Disney+ Hotstar? Then, for what seemed like the longest time, the notorious Naagin ruled Indian TV, amassing a television rating point (TRP) from the Broadcast Audience Research Council (BARC) of around 5.3 and 800 million viewers.
Currently, Anupamaa is holding several Indians captive at a weekly TRP of 2.6 (last checked). The interesting thing is, it premiered on Star Plus but has shifted to Hotstar since. In doing so, it has followed a host of TV shows transitioning from TV broadcasting to OTT platforms.
OTT services like Netflix, Hulu, and others use the internet to deliver shows and movies. There's way more opportunity to personalise the content you consume and lets you watch stuff seamlessly on lots of different gadgets. For some, it's a vast improvement over an Idiot Box that just talks at you.
What makes it more personable, you ask? Well, consumers get to pick what to watch and when to watch it. It's like TV that's all about what you want, as opposed to a stringent, linear timetable. This new way of watching is more about you, the viewer.
India's Media and Entertainment Industry is predicted to reach ₹2.34 lakh crore. It'll keep growing at a rate of 10% every year and reach ₹2.83 lakh crore by 2025. Traditional media like TV, print, and more made up 58% of the money earned in the media and entertainment sector.
But the digital content space isn't very far behind. The digital industry is set to grow by 29%. With its second-largest consumer base worldwide, India is a competitive arena for established OTT entities. Take Netflix, for example, which has understood the Indian market well enough to offer a ₹149 per month mobile phone plan.
With the Indian entertainment industry transitioning, is it time for linear TV to retire?
Disney is doubling down on raising its streaming revenue, while its traditional TV base declines. It's exploring strategic options, to either sell or arrange a joint venture for Star India. What's happening to advertisements? And what does it mean for sports or news, which regularly attract the masses?
VIEW: Can't count it out yet
TV penetration is enormous in India. It'll reach around 76% of the market by 2026. It's simply the conventional, go-to mode of entertainment for the substantial lower middle class, aspiring, and destitute classes. In 2022, people spent an average of around 3 hours and 34 minutes on TV every day. This is close to pre-pandemic levels, despite OTT platforms spending a lot on digital content.
The industry leaders don't want to lose out on the goliath that is the Great Indian TV. So they envision and predict a future that involves TV and OTT to coexist. Neeraj Vyas, the head of businesses like SET, Sony SAB, and Sony PAL, believes TV will not only survive but potentially thrive for the next 5-7 years. He notes that both pay and free-to-air TV audiences remain substantial. Take, for instance, how Indians tuned in to their TVs to watch the latest IPL season in far greater numbers than OTT platforms. The merger of Zee Entertainment Enterprises and Sony's Indian TV businesses could turn the tide toward the broadcast TV realm.
OTT platforms are riddled with some problems. The Indian market is price-sensitive, and rising subscription costs are not a good sign. Many of the streamers invested heavily in content due to high valuations and available funds. However, the Indian streaming market, which was already competitive, is facing difficulties because of tepid global funding.
COUNTERVIEW: Writing's on the wall
If numbers matter, the outlook for digital streaming services is overwhelmingly positive. TV may not be a goliath for much longer, as its popularity is slowly waning. On the other hand, digital media is smaller but growing rapidly. It's worth ₹571 billion, making it the second-largest part of the industry. Its share of the whole media and entertainment pie has risen from 16% in 2019 to 27% in 2022. And this is only with internet penetration in half the population. What happens when that climbs higher?
OTT is here to stay. Its personalised content makes it stand out as a key contender in the media world. As cities grow and the population urbanises further, OTT fits right in. Unlike regular TV, OTT combines everything neatly in one spot. This convenience will likely make streaming the new usual way to enjoy entertainment. Technologies like 5G will guarantee seamless OTT experiences, driving the subscriber base even higher.
Let's talk about advertisements and subscriptions. Digital subscriptions grew from ₹29 billion to ₹72 billion between 2019 and 2022. TV advertising saw a modest 2% growth, whereas digital advertising grew impressively by 30%. That's almost half of the total media and entertainment ad share. Given these circumstances, it's no surprise that Disney is reportedly considering its options for a valuable asset like Star India.
Reference Links:
What is your opinion on this?
(Only subscribers can participate in polls)
a) The TV broadcasting business is nearing its end.
b) The TV broadcasting business isn't nearing its end.
---
🕵️ BEYOND ECHO CHAMBERS
For the Right:
From Nuh to Manipur, why the state is wrong when it blames mass violence on 'mob anger'
For the Left:
Why Modi won & could win again
---
🇮🇳 STATE OF THE STATES
New trolleybus (Delhi) – The Ministry of Road Transport and Highways (MoRTH) is in discussions with automobile companies to introduce high-speed luxury trolleybuses from Delhi to Jaipur. These electric buses will have seating arrangements like business class, akin to airlines and run at 100 kmph to reduce travel time to about two-and-a-half hours. The proposal is to build an electric highway where the left lane will have an overhead cable to supply electric power to buses or similar vehicles.
Why it matters: Officials want to transform the public transport sector and make them more sustainable and environmentally friendly. Given the design and type of bus and the seating arrangements proposed, passengers will have more space. The project will start from Urban Extension Road (UER) II, which connects Alipur and the Delhi-Gurugram Expressway at Mahipalpur.
The state's startup scene (Tamil Nadu) – Addressing the 'Tamil Nadu Startup Thiruvizha 2023' in Coimbatore, Chief Minister MK Stalin said the number of startups in the state has tripled in the past two years from 2,300 in March 2021 to 6,800 in 2023. He cited the government's initiatives, including the Tamil Nadu Startup Seed Grant (TANSEED) of ₹10 lakh for each startup. So far, 109 startups have been given grants under this scheme. Regional startup hubs have been established in Madurai, Erode, and Tirunelveli in the 2022-23 financial year.
Why it matters: Stalin wants Tamil Nadu to become a startup hub and a destination for investors and multinational companies. The state nodal agency StartupTN organised the event in Coimbatore expected to attract over 10,000 visitors. The state also launched a special grant of ₹30 lakh for the SC/ST population to launch their own companies. This was increased to ₹50 crore this year.
Consumers feeling inflation pinch (Odisha) – Households across the state are feeling the pinch of rising vegetable prices. Recent reports have shown a rise in the prices of onions by ₹10 in the past twelve days. The current rate is about ₹35 per kg. In Bhubaneshwar, onion is being sold for ₹35-40 per kg in several retail markets. One trader said it could increase further to ₹80. Consumers are unhappy and want the government to intervene.
Why it matters: The increased prices come on the heels of rising tomato prices. The secretary of Chhatrabazar in Cuttack said the recent rains have affected crop output in several parts of the country. The arrival of the new harvest, which usually comes in August, has been delayed. There could be a shortage until then. The Centre also announced a 40% export duty on onions till December 31.
Smart City project delays (Goa) – Smart City projects in Panaji have struggled to meet their deadlines due to delays in getting permissions and proposals. Only half of the 49 projects have been completed, with projects worth ₹669.9 crore yet to be done. The state government told the Centre that the public works department has faced delays in getting approvals to install electric poles, EV charging stations, etc. There have also been delays in getting environmental approvals from the forest and the tourism department.
Why it matters: Among the big-ticket projects is the ₹145.8 crore one to lay new electric, water supply, sewage lines and smart walkways, which will be completed next March. The work order for these was issued in December 2021. Commuters and pedestrians will not get much respite from the dug-up roads since other projects in Ribandar will also be completed in the first quarter of 2024.
Waiting for border talks to resume (Mizoram) – Reports suggest the Mizoram government submitted a proposal of the list of territorial claims to Assam in February. That was three months after both states agreed on the way forward. However, Mizoram hasn't received a response and wants to resume secretary-level talks with Assam. The news of the new proposal comes two years after clashes between police forces of the two states led to the deaths of 11 people, including one civilian.
Why it matters: The border dispute between Assam and Mizoram has been ongoing for 150 years and deals with several villages on the border of the two states. The Mizo National Front (MNF), which rules Mizoram, is an ally of the BJP, but it has been critical of the BJP government's handling of the Manipur violence. The MNF recently announced its support for the opposition's no-confidence motion against the Modi government.
---
🔢 KEY NUMBER
40% – The government imposed an immediate 40% duty on the export of onions till December 31. The decision comes as the prices of onions and other vegetables have increased sharply in recent months.