March 3, 2023
Good morning. In today's either/view, we discuss whether Manipur's anti-immigration drive is the right move. We also look at hackers from Gujarat being trained in Nigeria, among other news.
---
📰

FEATURE STORY
Is Manipur's anti-immigration drive the right move?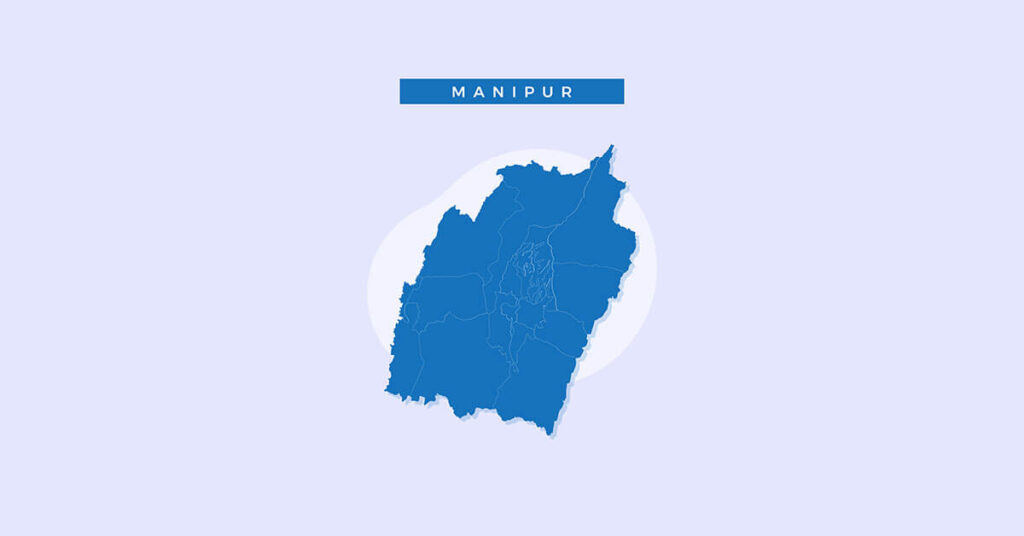 On February 15, the Deputy Commissioner of Churachandpur District in Manipur launched a biometric verification drive to identify 'illegal immigrants' in South Manipur villages. The initiative is a part of the state government's protracted battle against identifying, arresting, and turning away refugees from its strife-torn neighbour, Myanmar.
Despite lacking a refugee law, the Indian state has historically maintained appositely porous borders for asylum-seeking refugees. So the recent anti-immigration drives against refugees across India present a unique moment in Indian nation-making. Manipur, too, offers a curious conundrum with a divided local population and an unwavering top gun position against refugees and immigrants.
Context
Manipur and Myanmar share a 364 km-long border, which touches the Ukhrul, Kamjong, Chandel, Tengnoupal, and Churachandpur districts of the Indian state. In 2012, when the first wave of violence against Myanmar's Rohingya community began, they sought refuge in India. In 2017, when violence against the community erupted again, India's northeast states saw a new wave of refugees.
In the first wave of the refugee influx, the then Congress-led government's official position was that while it was Myanmar's internal matter, New Delhi was sympathetic to the refugees. To this end, India announced a $1 million package of relief assistance and did not make the influx of refugees a matter of contention.
The second wave, in 2017, elicited a resolute no from the BJP-led Union government. It stated in an affidavit that India was not obliged to adhere to the principle of nonrefoulement or the principle of not deporting refugees back to their countries where they are vulnerable to persecution.
In 2021, Myanmar was in turmoil again, with severe crackdowns on civilians and a military coup that usurped power from a democratically-elected government. As thousands of Myanmar nationals fled their country to seek asylum, the Ministry of Home Affairs (MHA) sent out two letters of advisory to Mizoram, Nagaland, Arunachal Pradesh, and Manipur to identify and deport the Myanmarese people.
At that time, the BJP-led state government in Manipur was battling its fair share of problems. CM N Biren Singh's party was fighting defections while his government's role in the deterioration of the hill tribals and dominant Hindu-Meitei valley communities' relationship was becoming increasingly clear. But no matter that Singh had previously expressed support for Myanmar's refugees. His government shortly took up the mantle of driving out refugees.
Last year, the Manipur government committed to cracking down on refugees and immigrants, whom it collectively calls illegal immigrants or foreigners. Manipur arrested and deported hundreds of such people, of whom several were Myanmar refugees. The latest move of verifying citizenship in the villages of Churachandpur and Mualnuam sub-divisions is a testament to the state government's heightened resolve to pursue anti-immigrant or rather anti-refugee politics. What warrants clarification is how the state plans to use the collected biometric data.
Some say that Singh is adept at choosing the brain in the dil-dimaag dichotomy. That his decision caters to the needs of dominant indigenous communities like the Meitei. His politics has given new life to old ethnic faultlines between the Meitei and Nagas on one side and Kukis on the other. Clearly, there is both support and resistance to the anti-immigrant policies of the state.
VIEW: Some local communities support the state's drive
Given that the state's anti-immigrant drive arose from the Union government's advisory, the state's antagonism towards Myanmar's refugees is more a centre-led initiative than self-purported responsibility. New Delhi's prerogative has been to pursue friendly relations with Myanmar's military junta. Visible and vocal support to the political refugees would be an uncertain twitch in the diplomatic tightrope it practices with the country.
The decision to record bio-metric details and verify people's identification too has its roots in the centre's advisory for arresting and deporting all foreign nationals. Besides, the ethnic similarities between the Kuki community in Manipur and the Chin refugees from Myanmar make it difficult to identify outsiders without verifying their documented identity and biometric data.
The anti-immigrant drives have support from Manipur's Meitei and Naga communities, who have been wary of an allegedly enormous increase in the Myanmarese population settled within the state. Leaders of the community's social and civic groups, like the Unified Naga Council and the Coordinating Committee on Manipur Integrity COCOMI, argue that the new settlers threaten not only a demographic change but a cultural change too.
According to them, the new settlers substantially increase the burden on the state's resources. Allegedly, they practice jhum cultivation, a method of slash-and-burn agriculture practised in the Chittagong Hill tracts and nearby regions of Arunachal Pradesh, Mizoram, and Nagaland.
COUNTERVIEW: The state's heavy-handedness is uncalled for
Refugees are often products of national turmoil, who leave their countries, not on the pretext of seeking better economic opportunities but a place safe from persecution and violence. The state government's rhetoric blatantly villainises political refugees by labelling them as illegal immigrants. The government has also not made an effort to quell misconceived fears about Myanmar's refugees being complicit in the state's drug problem.
While the anti-immigrant drive does have its origins in the MHA advisory, Manipur would not have been alone having sheltered the refugees. Mizoram, its neighbour, defied the Union advisory and allowed NGOs and SCOs to set up a de-facto aid and settlement system for refugees.
Chin and Kuki communities share rich ancestral and kinship ties. The state's anti-immigration drive affronts this historical association and, in many ways, is parochial in its mandate against solidarity between the transborder communities. Identifying foreign nationals is problematic because of the porous boundaries and unregulated trade between Manipur and Myanmar.
Lastly, the ambiguity around the state's collection and use of biometric data has many villagers concerned about their right to privacy. According to some reporters, the intensified drive smells of a dehumanising intent.
Reference Links:
What is your opinion on this?
(Only subscribers can participate in polls)
a) Manipur's anti-immigrant drive is the right move.
b) Manipur's anti-immigrant drive is not the right move.
---
🕵️ BEYOND ECHO CHAMBERS
For the Right:
BJP is turning Indians indifferent and sceptical toward corruption
For the Left:
Amid renewed Khalistani threat, it is imperative to gain clarity about who is on which side
---
🇮🇳 STATE OF THE STATES
Governor questions Singapore selection criteria (Punjab) – The government of Punjab, led by Chief Minister Bhagwant Mann, has decided to send a second batch of school principals to Singapore on 4th March. The school principals attend workshops there to learn and upgrade their pool of knowledge. The governor of Punjab, however, has written to the chief minister questioning the criteria for the selection of the principals.
Why it matters: The governor has accused that several complaints have been received regarding the arbitrary selection of the principals. He also pointed out that the process of selection is very opaque. CM Mann replied that he was not answerable to him but to the people of Punjab, who voted him to the office of Chief Minister. This matter is of significance because governors in every state not ruled by the BJP are creating trouble for the incumbent parties and constantly hampering governance.
Denmark to aid set up an offshore wind farm (Tamil Nadu) – In order to conduct a study on the green transition and mitigating climate change, including the creation of next-generation fuels and energy systems, the Indian Institute of Technology, Madras (IIT-M) has partnered with Denmark. According to Danish minister Lars Aagaard, Denmark is working with Tamil Nadu to build the state's first offshore wind field.
Why it matters: Danish Minister Lars Aagaard said that Denmark is interested in partnering with the state for the development of renewable energy and recognised Tamil Nadu for its potential for wind energy generation. Tamil Nadu already supplies over half of its renewable energy from wind energy. Under the Indo-Danish Green Strategic Partnership, an MoU was signed for four projects, three of which focus on green energy.
CMC to hire technicians from government agencies (Odisha) – The Municipal Corporation of Cuttack (CMC) has decided to hire more engineers, technicians and technical experts from various government agencies to cater to the shortage of workforce needed for certain new projects. The body said that private agencies hired for the development of these projects are not achieving their targets on time.
Why it matters: This move of the CMC has not gone down well with the corporators. Reacting to this, a corporator said that he could not find the reason behind assigning work to government agencies when the CMC has more than 20 engineers. He said that it shows the inefficiency of the municipal corporation towards the implementation of these projects.
Hackers receiving training in Nigeria (Gujarat) – The pandemic made people aware of the importance of upgrading and upscaling oneself to fetch higher incomes. This life lesson has also been adopted by cybercriminals. While these hackers and scammers are already well-versed in a range of digital exploits, according to reports, cybercriminals from Ahmedabad are now going to Nigeria to train themselves for more advanced jobs.
Why it matters: The hackers undergoing training in Nigeria are receiving both technical knowledge as well as various social hacks to find people who can be easily swindled. The police have received information that this is not the first time that these local criminals are being trained by bigger organisations. The cybercrime menace has increased dramatically in India. In 2022, the instances of cybercrimes were three times higher than in 2021.
Gangtok metal band bags top spot (Manipur) – The four-piece band known as "Girish And The Chronicles," which consists of Girish, his brother Yogesh, Suraj Sun, and Nagen Mangrati, has been chosen to play at the Summerside Festival in Grenchen, Switzerland, in June after placing first out of 50 bands from around the world in an online selection process.
Why it matters: As part of its June Swiss tour, GATC will also play at the Bremgarten Festival and other locations. The band will then embark on a tour of Spain, where they will make a return appearance at the Zurbaran Rock in Burgos after thrilling Spanish audiences the previous year. The band has amassed a total of 24 thousand active monthly listeners on Spotify, and their song "Ride to Hell" has received over 100 thousand streams globally.
---
🔢 KEY NUMBER
10% – Salaries in India are to be hiked by 10% in 2023, the highest in the Asia-Pacific region.