July 3, 2023
Good morning. In today's either/view, we discuss whether retail inflation is about to finally ease up. We also look at the proposal to redevelop Manikarnika ghat of Varanasi in Uttar Pradesh, among other news.
---
📰

FEATURE STORY
Is retail inflation about to finally ease up?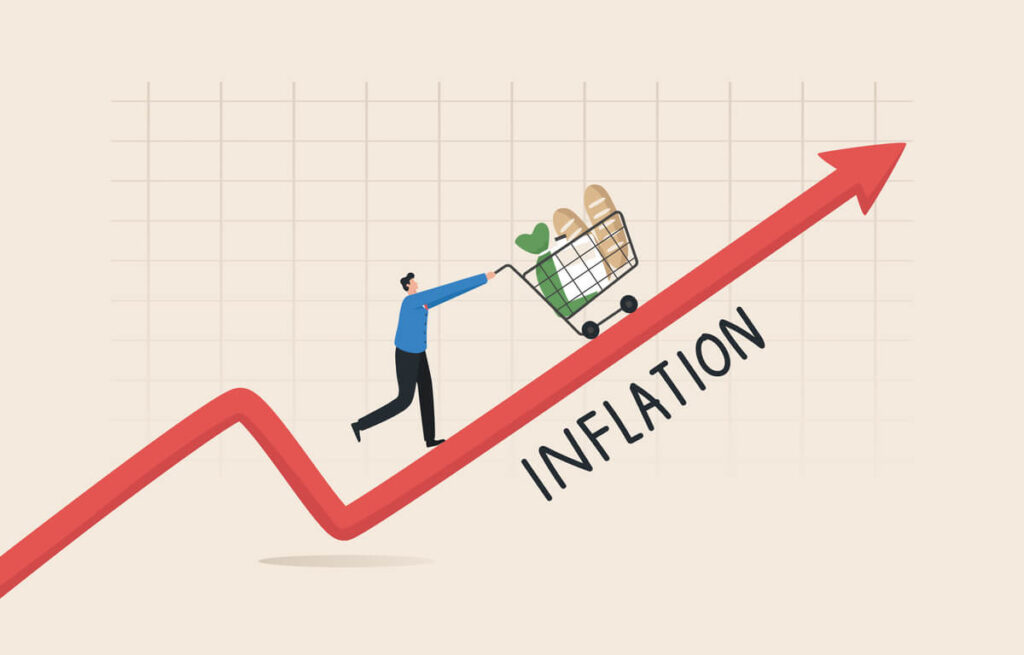 Buying groceries and essential items is common, and budgeting for that expense can become quite a headache. Every trip to the local Kirana store, market, or street vendor can result in spending more or less than before as prices fluctuate. The pandemic threw a wrench in the works as supply chains were disrupted.
For May, retail inflation was 4.25%, the lowest in two years. However, there's a difference between numbers on a page and seeing prices at the market. The question on every consumer's mind is – are we out of the woods? Is India's retail inflation going to subside to some sense of normalcy? Or are there twists and turns ahead?
Context
Let's start with the basics. In any economy, inflation is indicative of the rise in prices of goods and services. Retail inflation, specifically, is measured by Consumer Price Index (CPI). It's the weighted average of prices of goods and services. It's everyday items people buy like food and vegetables. It also includes things like fuel since people use their private transportation.
On the governance side, the Ministry of Statistics and Programme Implementation (MoSPI) compiles inflation data. They see how CPI changes over time. The Reserve Bank of India (RBI) also keeps an eye on retail inflation to ensure prices don't go out of control.
So how did things look once the pandemic set in? In short, not good. During the initial months, retail inflation increased as people's lifestyles changed. Here are a couple of examples. Transportation and Communication inflation increased to double digits in August and September 2020 since people preferred private transport.
Personal care and effects inflation was also in double digits during this time due to the high price of gold. Gold is classified under personal effects. It was the preferred investment choice since it was considered relatively safe at the time.
Food inflation was the most alarming. It increased to over 11% in October 2020. Seasonal and flood-induced shortages made sure of that. In the overall retail inflation index calculus, food and beverages have the highest weightage of over 45%.
In November 2020, rating agency CRISIL said high inflation and slow growth were trouble for Indian policymakers and consumers. Part of this involved high core inflation, i.e., non-food and non-fuel commodities. It's often regarded as a better gauge for underlying inflationary pressures.
Since the pandemic subsided, thanks to vaccines and eased restrictions, India's retail inflation has been on a see-saw. A paper by the Monetary Policy Department of the RBI stated that India's long-term inflation level was probably about 4.3% before the pandemic.
Apart from the pandemic, the resulting supply chain constraints and the war in Ukraine shocked the system. Hence, CPI has remained above 4% for the past three years. The RBI's mandate is to keep CPI within the 2-6% tolerance band. Last year, it failed on that front as CPI went past 7%.
Earlier this year, a paper by the RBI staff said the second half of 2023 could be when India moves away from a "high inflation regime". It came just a week after retail inflation data for March was released that showed it at 5.66%, a 15-month low.
Do we know what's ahead? Sort of. There are reasons to be optimistic per some economists and the government. Others, though, aren't jumping the gun.
VIEW: The worst is behind us
May was a good month as far as retail inflation was concerned. It hit a 25-month low of 4.25%. That's a decent drop from 4.7% the previous month and a drastic decrease from 7.04% in May 2022. So, retail inflation was under the RBI's upper tolerance limit of 6% for the third consecutive month. To get specific, retail inflation for vegetables decreased to 8.18%, while for cereals, it was 12.65%, and for spices, it was 17.9%. Additionally, core inflation dipped to 5% in May.
Given where inflation is now, the RBI's Monetary Policy Committee (MPC) will try and keep inflation close to 4% of the 2-6% band. The RBI's projection has been for inflation to move towards the 4% target over time. Even if there's an expected increase in the coming months, it's expected to be marginal. From the government's standpoint, its supply-side efforts to contain the prices of food and essential items will work well for food inflation.
Economists are optimistic that this will continue for the time being. While the inflation data for June hasn't been released yet, it's expected to be below 5% again. May's CPI was lower than expected, thanks to moderation in food prices. Some of the current increase in vegetable prices is due to seasonal factors and weather disturbances.
COUNTERVIEW: Not so fast
While headline retail inflation decreased in May, consumers continue to feel the pinch when buying groceries and food items. While some part of the decline in year-on-year inflation is observed, prices of vegetables, rice, pulses, milk, etc, remain relatively high. Data from the Ministry of Consumer Affairs, Food, and Public Distribution's Price Monitoring Division showed the prices of vegetables like potatoes and onions have increased by 8.8% and 11.1%, respectively. The national average retail price of tomatoes was ₹46 per kg on June 27. A month before, it was ₹23.6.
The delayed arrival of the monsoon in states that account for 61% of the rice-sowing area resulted in a decline in cultivation until June 25. There's also a global rise in the prices of rice, and it could push up inflation. A deficit monsoon could increase food inflation by 50-60 basis points. Some economists warn of rising food inflation in the coming months and quarters, particularly for pulses.
There's also El Nino to contend with. The disruptive weather pattern could result in heavy rains and floods in some parts of the world and droughts in others. It's expectedly to strengthen in the coming weeks. RBI Governor Shaktikanta Das has acknowledged its potential impact on agriculture. Precedence doesn't bode well for the current scenario. In the past, food grain production has decreased in India by about 57% in El Nino years.
Reference Links:
What is your opinion on this?
(Only subscribers can participate in polls)
a) Retail inflation will ease up going forward.
b) Retail inflation won't ease up going forward.
---
🕵️ BEYOND ECHO CHAMBERS
For the Right:
Pandemic No Longer an Excuse, the Government Must Collect and Publish Public Data
For the Left:
Permanent interests, not permanent friends drive foreign policy
---
🇮🇳 STATE OF THE STATES
Art in the new Parliament (Delhi) – Plans are underway for the new Parliament's second art project, which will focus on the country's freedom movement and traditions. Although the concept and proposal are complete, the execution is expected to take around a year. The upcoming phase will feature eight new galleries, evenly distributed between the Lok Sabha and Rajya Sabha Foyers, and artwork to adorn the dining halls. The project will be overseen by the Indira Gandhi National Centre for the Arts (IGNCA) under the Ministry of Culture.
Why it matters: The galleries will cover various themes, including India's pre-1857 fight for esteem, the freedom movement from 1857 to 1947, the role of women in national development, and the contributions of tribal leaders in the freedom movement. Galleries in the Rajya Sabha Foyer will showcase India's knowledge and Bhakti traditions on the upper ground floor. The first floor will feature India's connection with nature and traditional sports. The remaining walls of the building will be adorned with shlokas and sacred symbols.
Third Eye surveillance project (Karnataka) – The Gadag police department in Karnataka is set to implement the 'Third Eye' project, a smart policing system. With the support of Minister HK Patil, the department has been granted ₹3 crore for the project, which involves the installation of advanced cameras, including ANPR, PTZ, and bullet cameras. Initially, it'll cover 45 locations and 25 more will be added in the next phase. A command centre has been established to monitor traffic violations and other activities from a central office.
Why it matters: Smart policing with advanced gadgets is a first not just for Gadag, but all North Karnataka districts. This smart policing system aids in maintaining law and order, detecting and preventing crimes, and managing traffic. The CCTV footage collected can serve as scientific evidence in court, reducing confrontations between motorists and traffic police. The system will cover entries, exits, critical junctions, tourist spots, bus stands, railway stations, and other sensitive areas.
Redeveloping Manikarnika ghat (Uttar Pradesh) – Prime Minister Narendra Modi is likely to visit Varanasi, his Parliamentary constituency, on July 17. Here, he'll lay the foundation for projects worth ₹3,000 crore. He is also expected to lay the foundation for the redevelopment and restoration of Manikarnika Ghat, one of Varanasi's oldest sacred riverfronts. A spokesperson revealed that the state government wants to make Manikarnika modern and accessible. It will be done through CSR funds.
Why it matters: The Yogi government in Uttar Pradesh plans to redevelop the iconic Manikarnika Ghat and nearby heritage buildings and temples in Nagara style, with three storeys from Manikarnika Ghat to Tarakeshwar Temple. The cost for this proposed project is estimated to be ₹17.56 crore.
Developing marine-derived antibiotics (Goa) – Scientists at the CSIR-National Institute of Oceanography are developing an antibiotic molecule derived from ocean sponges to combat hospital-acquired infections, specifically gram-positive infections. The compound, PM181104, has shown promising results against over 250 clinical pathogens. The research is part of the CSIR's mission IND program, and preparations are underway to apply for investigational new drug status.
Why it matters: The urgent need for new anti-infectives to combat drug resistance has prompted the exploration of novel chemical entities, with the marine environment proving to be a promising source. The diverse marine life offers untapped resources for pharmaceutical industries, with sponges being of particular interest. These primitive organisms filter-feed and produce antibiotic compounds to combat ingested pathogens, making them valuable for human use in drug discovery.
School farms fruits and fish (Assam) – Gone fishing is not just an idiomatic expression in Simbargaon Higher Secondary School. The school's focus on nutrition through the vegetables, fruits, mushrooms, and fish the school farms makes it a popular choice among parents in the village. The school's uniqueness is attributed to the principal Sansuwmi Basumatary and chowkidar Shambhu Charan Mushahary's dedication to farming.
Why it matters: This highly sought-after school spread over seven acres, resembles a botanical park and provides education in the Bodo language for Bodo tribal students and Assamese for Adivasi and Muslim students. It features classrooms designed like cottages and promotes sustainability by growing trees, maintaining an orchard, and cultivating seasonal vegetables. The school saves timber by maintaining its wood supply and teaches students self-sufficiency skills. The annual grant for maintenance and expenses, including electricity, is ₹75,000.
---
🔢 KEY NUMBER
6,000 – The number of posts a verified Twitter account can view in a day. The daily limit for unverified accounts is 600.