August 14, 2023
Good morning. In today's either/view, we discuss whether Saudi Arabia's "The Line" is the future of urbanism. We also look at the show cause notice issued to panchayats in Haryana, among other news.
---
📰

FEATURE STORY
Is Saudi Arabia's "The Line" the future of urbanism?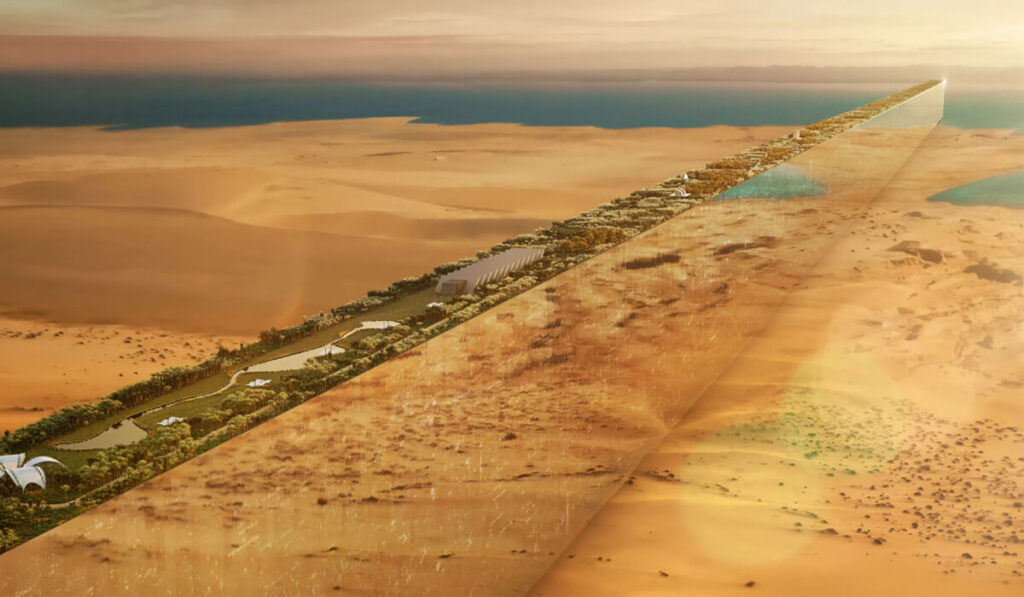 If you asked people what cities in the future would look like, the answers would be varied. Some might envision something right out of The Jetsons cartoons. Others might paint a picture akin to Blade Runner. Or something just a touch more advanced than our current scenario, nothing too fancy. Urban planners and architects have their tasks cut out to imagine what future cities will look like and how they'll function.
It seems Saudi Arabia has an answer. It's called The Line. It stretches across 170 km towering 500 metres but only 200 metres wide. It's billed as a revolutionary, not concept, but a reality to provide unparalleled livability. With work already underway, we could very well see what the future looks like, stretched across the mountains and deserts of Saudi. Or could it end up being a cautionary tale?
Context
In 2017, Saudi Arabia announced its planned business and industrial zone called NEOM. Spread across 26,500 square km, the focus was on industries and entertainment. It'll be a free trade zone with its own tax structure and legal system. It's all part of the Vision 2030.
Leading this effort is the country's ruler, Crown Prince Mohammed bin Salman (MBS). He wants to make Saudi Arabia a global investment destination. He expects local and international companies to pour over half a trillion dollars into NEOM in the coming years. Saudi itself will spend $500 billion in developing the zone.
The most ambitious project within the NEOM zone is The Line, an eco-city with no cars, streets, or carbon emissions. In a televised address announcing the project, MBS said in part, "We need to transform the concept of a conventional city into that of a futuristic one".
That futuristic city is 170 km long. Its relatively narrow width of 200 metres means people will get to their office, go shopping, or have a meal all within minutes of each other by walk or thanks to a high-speed rail network. It will be made up of connected communities called "city modules".
Its three-layered layout is unique. The top layer will be for pedestrians. Below that comes the layer of physical infrastructure, and below that is transportation. Over a million people are expected to live here, and millions more as tourists and visitors. There won't be any flying cars in The Line, but robots and smart technologies will play a key role in how this city lives and breathes.
Like any large-scale infrastructure project Saudi Arabia undertakes, The Line spares no expense. The city infrastructure alone is expected to cost $100-200 billion, and multiple architecture and design firms are on board. MBS has also brought in digital artists and designers who worked on big-budget Hollywood blockbusters.
The project isn't without controversy, as is usual with anything involving Saudi Arabia these days. When it was announced, influential people like former US Department of Energy head Ernest Moniz and acclaimed British architect Sir Norman Foster were on board. The murder of journalist Jamal Khashoggi in 2018 changed that. Also, the kingdom has some of the most regressive laws for women and LGBTQ+ people. But this hasn't stopped stakeholders from being all-in on The Line.
So, why does Saudi want this project in the first place? The answer is they need it. The country has some challenges ahead. How does it break its dependence on oil production? What are the other sources of revenue and jobs for the local population? If projections are to come true, then The Line will contribute 3.8 lakh future-ready jobs and add $48 billion to the country's GDP by the end of this decade.
Is The Line the answer to these Saudi-specific questions and for the world concerning sustainability and cities of the future?
VIEW: Ambitious but necessary
In 2021, the United Nations Development Program conducted the most extensive survey on public opinion on climate change. A majority of people across every age group, economic standing, and nationality saw it as an emergency. Most people look to governments and policymakers for solutions. The Line is Saudi's answer, not just for itself, but for the world. Urban planners need not replicate its exact design, scope, and scale but take away valuable lessons for the future.
There needs to be a drastic change in how cities are designed and built if we're to have any chance of mitigating the effects of climate change. One of the lessons The Line can teach us is in the actual building part itself. As NEOM's executive director Giles Pendleton put it, there's a lot of real estate to build relatively quickly. So, why not do things differently? The Line uses a lot of Artificial Intelligence (AI) to design modular pieces that are pre-engineered and predetermined. These are then made easier to assemble quickly.
At the outset, The Line's designers and planners touted its sustainability. Part of this is that its total footprint is just 34 square km, thanks to its unique design. While some might argue that living here would mean a cramped or claustrophobic existence, in theory, each resident would have an average of 1,000 cubic metres of urban volume. That's more than most current urban sprawls. They even compared The Line to Seoul, South Korea.
COUNTERVIEW: Wildly unrealistic
We need to zoom out a little first. The Vision 2030 presented by MBS offers a lot on paper. It represents the dynamics and weaknesses of such lofty plans, especially for the Gulf. There's no doubt the region needs to look to a post-oil world. Throwing money on megaprojects isn't the way to go. Its 2006 Economic Cities Program, Vision 2030's predecessor, was meant to have over 4 million residents by 2020. Those projects have stalled. Its flagship, "King Abdullah Economic City", only has about 4,000 inhabitants.
It's nice to have a 100% renewable energy megacity. However, let's be real, its survival will depend on the price of oil and Saudi's ability to sell it to regular people for years to come. What's stopping this from being another playground for millionaires and billionaires? And that's what some see this project as – another billionaire (the ruler of a country and not a CEO) not knowing what to do with all his oil money. If someone wanted to build the city of the future, why start in the desert? Why live in a place where there's no "outdoors"?
The concept of having the city as a line itself is inefficient. The design philosophy is something many aren't convinced about. According to the researchers at Complexity Science Hub, two random people in The Line will likely be an average of 57 km apart. That impacts mobility, for example. The pitch is that everyone will be within a few minutes walking distance of some point of interest. That means there'll need to be at least 86 stations of the high-speed rail system if we assume a walking distance of 1 km.
Reference Links:
What is your opinion on this?
(Only subscribers can participate in polls)
a) Saudi Arabia's The Line will be the future of urbanism.
b) Saudi Arabia's The Line won't be the future of urbanism.
---
🕵️ BEYOND ECHO CHAMBERS
For the Right:
Giving INDIA a Voice Amid the Shifting Political Landscape
For the Left:
Overdoing India's 'backsliding democracy' narrative
---
🇮🇳 STATE OF THE STATES
Show cause notice (Haryana) – The state government is taking action against gram panchayats and sarpanches that have restricted entry for Muslims after the recent communal violence. District authorities have issued show cause notices under the Haryana Gram Panchayati Raj Act, Section 51, which deals with suspension and removal. Their replies will be examined, and subsequent steps will be taken accordingly.
Why it matters: In response to the Nuh communal violence, several gram panchayats in Rewari, Jhajjar, and Mahendragarh districts had passed resolutions barring entry for Muslims. Haryana's Development and Panchayat Minister, Devender Singh Babli, instructed district administrations to take strict action against those issuing such orders. There are unconfirmed reports of FIRs against some gram panchayats and sarpanches in Rewari.
Funds for Tulu (Karnataka) – Dakshina Kannada Congress leader K Harish Kumar revealed that the Karnataka Tulu Sahitya Academy hadn't paid teachers for three years, despite their efforts to teach Tulu in schools. Initially, guest teachers received an honorarium of ₹3,000 monthly for over a decade, promoting the language. However, due to Covid-19 and other factors, payments ceased, impacting Tulu's academic promotion.
Why it matters: Around 45 Dakshina Kannada and Udupi schools teach Tulu as a third option for sixth-grade students. Congress leader Harish Kumar urged the culture minister to release funds for the Karnataka Tulu Sahitya Academy, which owes ₹27.6 lakh to Tulu teachers. The request is to clear unpaid honorariums for 2020-21, 2021-22, and 2022-23. Kumar seeks the continuation of the ₹3,000 monthly honoraria for Tulu guest teachers.
Saving fishing cats (West Bengal) – A conservation breeding plan has kicked off in Garchumuk Zoological Garden to safeguard the fishing cat, or Baghroli, categorised as 'vulnerable.' Forest Minister Jyoti Priya Mallick revealed that this initiative will expand to other locations. Successful breeding could see numerous fishing cat offspring reintroduced into their natural habitat by 2024. The project began at Garchumuk Zoological Garden in Howrah and will extend to areas like Bankura, Jhargram, and northern regions.
Why it matters: The Conservation Breeding Programme aims to prevent species collapse caused by factors like habitat loss, poaching, and climate change. The fishing cat, a 'vulnerable' species found in South Asia, is being conserved due to its adaptability to wet conditions. A study is ongoing to identify suitable release areas where local support ensures the animals' survival.
Mangrove transfer (Maharashtra) – The Maharashtra State Mangrove Protection Authority (MSMPA) instructed CIDCO in its recent meeting to hand over all remaining mangroves, of around 1,300 hectares, to the forest department for safekeeping within the next two to three months. CIDCO holds two mangrove land parcels, with possession of one expected in a month and the process for the second to begin afterwards. Additionally, Vasai-Virar Municipal Corporation will transfer 1,400 ha soon.
Why it matters: A survey will identify remaining mangroves under government agencies not yet handed to the forest department, mainly held by CIDCO, VVMC, and the revenue department. About 4,000 hectares remain, estimated conservatively. The survey aims to rectify discrepancies in current mangrove maps. Meanwhile, the state government, via Maharashtra Maritime Board, is attempting to overturn Bombay HC's mangrove protection order through a Supreme Court petition.
Poor telecom services (Nagaland) – Nagaland Legislator Kudecho Khamo voiced frustration over poor internet connectivity, particularly in Phek district. He criticised telecom providers for taking money without adequate service and demanded they either improve or be removed. His comments were made during a Phek District Planning & Development Board meeting, where he accused providers of criminal intent.
Why it matters: Nagaland Legislator Kudecho Khamo criticised the state's lagging digital progress, causing inconvenience and prolonged tasks due to poor telecom services. He emphasised the urgent need for improved networks to save time and energy, urging officials to expedite solutions. The district administration and legislators pledged support for better network service. At the meeting, Urban Development, Police, and Telecom departments (Jio, BSNL, Airtel) presented detailed reports.
---
🔢 KEY NUMBER
1.3% – In the April-June 2023 quarter, the country's electricity output grew only 1.3%, contrasting with a 17.1% increase in the same period last year.