November 17, 2022
Good morning. In today's either/view, we discuss whether G20 is still relevant in this day and age. We also look at how Tripura will build Asia's largest fountain, among other news.
---
📰

FEATURE STORY
Is the G20 still relevant today?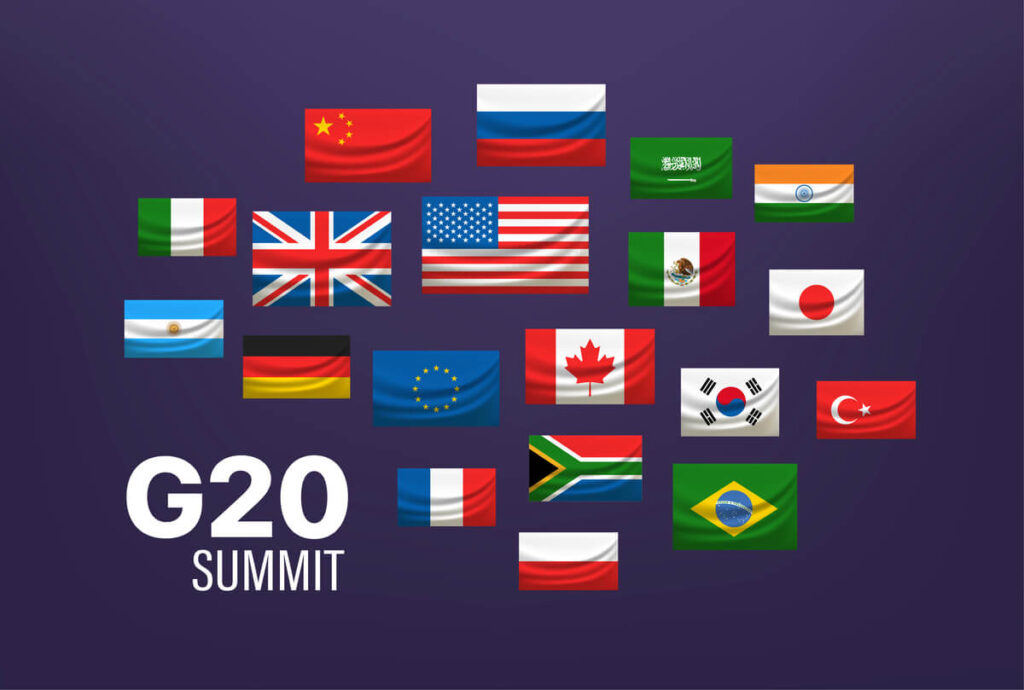 There's a lot happening in the world to be concerned about. We're emerging from a global pandemic, there's economic uncertainty in the air, big companies are being cautious and cutting back on hiring or laying people off, the Russian invasion of Ukraine continues, and climate change remains a constant threat.
In light of all this, global leaders have landed in Bali for the G20 summit to hash things out and see what can be done. The theme this year is "Recover Together, Recover Stronger." The focus will be on global health, sustainable energy transition, and digital transformation. While that's all good, is the G20 still relevant today? Or is it needed now more than ever?
Context
Let's start with the basics. Formed in 1999, G20, or the Group of 20, is a collection of twenty of the world's largest economies. The intent at the time was to bring together the most industrialised and developing economies to discuss international economic and financial matters.
Over time, the summit has evolved to tackle a larger pool of issues, like geopolitics and climate change. It all began in 2008 with its inaugural meeting in Washington DC. This was no ordinary meeting. It happened as the global financial crisis was becoming visible. It resulted in the meetings of G20 finance ministers and central bank governors being raised to the level of heads of state.
The result of the first summit, given its timing, was a dramatic reform of global finance. That remained the focus the following year when the G20 agreed to blacklist states that didn't cooperate with efforts to tackle tax evasion. This cemented the G20 as a major decision-making body on global financial and economic issues.
Finance and economics aren't the only topics at the table. Take the 2009 summit, for example. The G20 discussed how to deal with Iran's covert nuclear plant. At the 2017 meeting, members discussed the situation in Syria and how to install a partial ceasefire. While the G20 is a meeting of several nations, it's quite common for bilateral talks to place on the sidelines.
For India, this summit is crucial. Ahead of the meeting, India laid its agenda, focussing on reviving global growth and food and energy security. Given how important and timely these issues are, not just to India but to the world, is the G20 still important today?
VIEW: Crucial for India and the world
As far as India is concerned, this year's G20 is vital. India will assume the group's presidency from December 1, and the chairmanship will be under Prime Minister Narendra Modi starting next year. The theme for India's presidency is One Earth One Family One Future. India is well placed to position itself as a force for unity in trying to strike a balance between global superpowers.
The G20 is a forum for India to assert itself in shaping geopolitical and economic narratives. While other groups like the QUAD and ASEAN are more region-focused, the G20 represents the era of the globalised world. India needs to be a part of that conservation. India is an economy that's performing relatively better than some of the others. That's a big deal in the G20 since developed and developing countries have equal stature.
Looking at it from a broader perspective, the pandemic is a prime example of how a crisis can affect the entire world. The same goes for the 2008 financial crisis. These two events alone show why the G20 is a necessary force. While region-focussed groupings are important, something like the G20 allows countries to reach a consensus on a macro level.
COUNTERVIEW: Shrinking relevance and importance
While globalisation has made the world a global village, it has also led to quite a bit of strife, not just within nations but among them. Global governance can seem somewhat marginalised now. While the US has returned or is in the process of returning to the world leadership stage after four years of Donald Trump, countries like North Korea, Iran, China, and Russia are the big challenges.
Perhaps the G20 is the problem itself. While its members represent about 85% of the global GDP, the group has become good at spouting grand pronouncements to acknowledge the challenges. As far as advancing solutions is concerned, it's not been that capable. No one doubts that universal healthcare is important, but the G20 hasn't done much to advance that in member countries. Perhaps it's a matter of too many cooks in the kitchen. Wouldn't a more representative group comprising the G7 and BRIC (Brazil, Russia, India, and China) countries be more viable?
Coming to India, region-focused groups mentioned earlier help give the issues more focus. India assuming the presidency won't be a cakewalk. The conflict in Ukraine has resulted in a rift between the G7 and Russia. India's stance is neutral with calls for a diplomatic solution, a controversial position drawing criticism. While India was hailed as the world's pharmacy supplying Covid-19 vaccines, no G20 meeting helped solve the global inequity in vaccine distribution.
Reference Links:
What is your opinion on this?
(Only subscribers can participate in polls)
a) The G20 is still relevant and important.
b) The G20 is irrelevant and not important.
---
🕵️ BEYOND ECHO CHAMBERS
For the Right:
Why Is There No Upper Caste Outcry When Merit Goes For A Toss In The EWS Quota?
For the Left:
Embrace Competitive Federalism
---
🇮🇳 STATE OF THE STATES
37 lakh people applied for power subsidy (Delhi) – Despite claims from officials that a sizable number of people have applied, statistics indicate that there have been almost 10 lakh lesser consumers this year than in the previous. The data indicates that in 2021–2022, 46.8 lakh persons took advantage of the scheme's benefits.
Why it matter: People currently receive a 100% subsidy for consuming fewer than 200 units and a 50% payment of ₹800 for consuming between 200 and 400 units. The Delhi government now requires people to sign up for the subsidy in order to continue receiving the perks. There are 57 lakh electrical users in Delhi. 30 lakh people receive no bills, while 16–17 lakh people receive only a portion of the cost. The government allotted ₹3,090 crores for the power subsidy programme during the most recent fiscal year.
Asia's largest fountain in Ujjayanta Palace's Lake (Tripura) – As part of the "Smart Cities Mission," Asia's largest fountain, measuring 120 metres in length, will be built in one of the lakes at Ujjayanta Palace by January 2023, according to Dr Shailesh Kumar Yadav, CEO of Agartala Smart City Limited (ASCL).
Why it matters: For ASCL, the state government contributed ₹78 crores, and the central government released ₹294 crores. The total sum is ₹372 crore, of which ₹342 crore worth of work has already been finished. 49 of the 67 projects that were enlisted have been finished, while 17 are still in progress.
Projects worth ₹7,310 crores announced (Jharkhand) – On the 23rd statehood function day on Tuesday, the Jharkhand government inaugurated 369 programmes and projects worth ₹7,310 crores.
Why it matters: These included creating a "Block Level Institute for Rural Talent Acquisition" to recruit rural residents for positions funded by the CM Sarathi Yojna, enrolling 8000 students annually in coaching centres for undergraduate competitive exams, providing free coaching to 27,000 students for graduate competitive exams, and offering students loans for higher education at a rate of 4% annually.
20,000 new MSME units to be set up (Rajasthan) – Shakuntala Rawat, the minister of industries and commerce for Rajasthan, recently unveiled the MSMEs Policy 2022, which aims to increase the contribution of MSMEs to Rajasthan's Gross Domestic Product (GSDP) and exports of the state of Rajasthan by providing them with financial and technical support and a supportive regulatory environment.
Why it matters: The policy called for the establishment of 20,000 new MSME (Micro, Small, and Medium Enterprises) units with a combined investment of ₹10,000 crores and the creation of 1 lakh new jobs, according to the state government. Additionally, the strategy aimed to make it easier for 9,000 MSMEs to receive "Zero Defect Zero Effect" (ZED) certification.
MoU with Centre for Effective Governance of Indian States (Karnataka) – Basavraj Bommai, the chief minister and finance minister of Karnataka, witnessed the signing of a five-year Memorandum of Understanding (MoU) between the state government and the Centre for Effective Governance of Indian States (CEGIS).
Why it matters: According to the press release, CEGIS has proposed to offer technical, analytical, and programmatic support under the GoK-MoU in areas like improving state revenue, including competency mapping and training for frontline tax officials, developing a plan to improve administrative data quality, and data use for the departments of education, health, and women and child development.
---
🔢 KEY NUMBER
398 – A survey recorded as many as 398 species of birds and butterflies in Coimbatore Forest Division.