March 8, 2023
Good morning. Wish you a happy Holi! The newsletter won't be sent tomorrow as the team is taking a break today. We will see you on Friday.
In today's either/view, we discuss whether the new method for uniform assessment in schools is the right move. We also look at the plans to set up a space park in Tamil Nadu, among other news.
---
📰

FEATURE STORY
PARAKH's uniform assessment in schools: Is it the right move?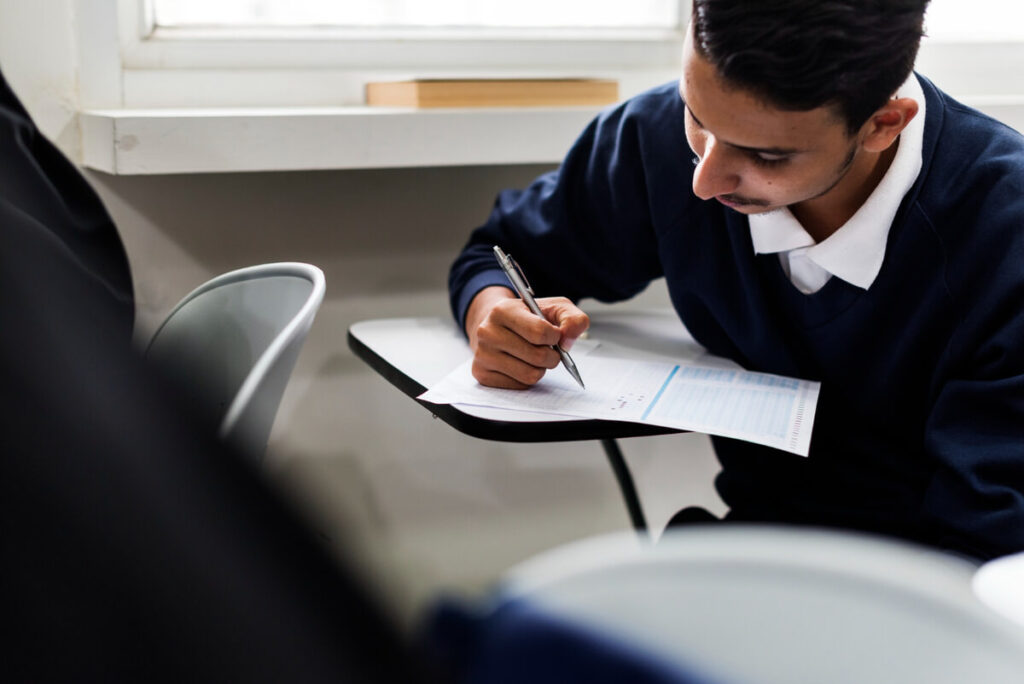 A lot has been said and written about the Indian education system. Education is the silver bullet, and India has tried to perfect it for a while. Successive governments and policymakers have their own ideas on how to craft a system that they feel is world-class. Assessing the effectiveness of the system is tricky. The same goes for students of any system. What's the best method?
We have tests and exams galore, but how should they be structured? The latest method is PARAKH (Performance Assessment, Review and Analysis of Knowledge for Holistic Development). It's India's first national assessment regulator. The goal is to bring uniformity across recognised school boards for student evaluation and assessment. Uniformity sounds nice and could democratise education. But will it work in practice?
Context
In many ways, the Indian education system goes back to the 1800s and the British, who brought a modern school system to India, including English. Science and maths were categorised as modern subjects. Things evolved in 1921 when the Uttar Pradesh Board of High School and Intermediate Education was set up. It was the first of its kind.
In the years that followed, other states followed suit. Post-independence, in 1952, the Central Board of Secondary Education (CBSE) was established. Schools in Delhi and some other regions came under its jurisdiction. The CBSE would decide the curriculum and the exam system. The government's role was limited to setting standards and coordination. That changed in 1976. A constitutional amendment included education in the concurrent list. It meant the policies were decided at the national level by the Centre, and states had relative freedom to implement programmes.
When it comes to what students will study, that responsibility goes to the National Council for Educational Research and Training (NCERT). In terms of policy, the 1986 National Policy on Education and the 1992 Programme of Action (POA) outlined free and compulsory education for all children below 14 years.
There's also the Indian Certificate of Secondary Education (ICSE) which began as a replacement for the Cambridge School Certificate, first mooted in 1952. Both the CBSE and the ICSE have their own examinations in schools. In 2017, the CBSE announced a uniform assessment scheme for its affiliated schools for class 6 to 9 students. The rationale was to boost students' performances before the class 10 board exams.
When the National Education Policy (NEP) was announced, the goal was to revolutionise Indian education. Politics of this policy announcement aside, it outlined 'competency-based assessment'. Last year, the government announced a central regulator, PARAKH. It'll set norms, standards, and guidelines for assessment and evaluation for all recognised school boards.
In the long run, PARAKH will be the national single-window source of all assessment-related information. Will this new system raise the standards of education? Can that even be effectively measured?
VIEW: The time has come for uniformity
The Educational Testing Service (ETS) was chosen by the NCERT to establish PARAKH. Part of the reasoning for a national regulator goes back to some of the goals of the NEP. Experts have long called for a shift away from rote memorisation. Assessment is now envisioned as students building their knowledge and skills through ongoing activities and assignments.
The current system seems untenable to have any form of uniformity. One could argue political meddling has resulted in the somewhat fractured state of Indian education. Each board and its affiliated schools follow its own rules and formats for assessment. The outcomes aren't necessarily the same. For parents, the question is often, which board will help their kid have a secure future? Does scoring high on one board become more advantageous?
There are disparities in the scores of students enrolled under different state boards. Part of PARAKH's mission is to measure skills at the K12 level effectively. There are hundreds of thousands of schools in India, with millions of students segmented across school boards, regions, and demographics. PARAKH aims to set a somewhat level playing field.
COUNTERVIEW: Easier said than done
A couple of years ago, the Supreme Court made it clear that there can't be a uniform scheme for the assessment of Class 12 marks for all state boards. Their argument was each board is unique, independent, and autonomous. The court said each board should evolve on its own and be best placed to see how to take things forward.
Concerning PARAKH's goals, Kerala wanted none of it. They've been sceptical of the NEP from the outset. The state government sees any uniform assessment as detrimental to the general education sector. Education minister V Sivankutty argued such an approach would alienate large sections of students from the mainstream. Previously, it rejected proposals for the centralisation of school education on suspicions of non-academic interests being involved.
Applying a uniform assessment method in a country with demographical, cultural, and linguistic variations would be a tall order. State Council For Educational Research and Training (SCERT) officials want a de-centralised model. They argued only a teacher could assess a student's strengths and weaknesses through continuous classroom evaluation.
Reference Links:
What is your opinion on this?
(Only subscribers can participate in polls)
a) PARAKH's uniform assessment for education is the right decision.
b) PARAKH's uniform assessment for education is the wrong decision.
---
🕵️ BEYOND ECHO CHAMBERS
For the Right:
Will India's 'Development' Move Past Bombast and Pretending?
For the Left:
GDP data shows how well Nirmala Sitharaman handled pandemic economy. Critics judged too soon
---
🇮🇳 STATE OF THE STATES
Encounter Justice of Uttar Pradesh (Uttar Pradesh) – The Uttar Pradesh police have exterminated a total of 178 criminals in gunfire exchanges since the BJP came to power in March 2017. The government's stance of "zero tolerance" against gangsters has resulted in the police engaging in encounters and killing a listed criminal every 13th day in the state.
Why it matters: Critics have harshly spoken against this tactic being employed by the police, wherein they say that killing criminals instead of following the due judicial process is harmful in the long run. In reply, the ADG of Uttar Pradesh police has said that all the encounters have been executed properly without ever going overboard. He also pointed out that despite the staggeringly high number of encounters, the Supreme Court has not raised any objections regarding any encounter.
New space park to come up soon (Tamil Nadu) – To capitalise on the Center's decision to construct a new spaceport in Kulasekarapattinam in southern Tamil Nadu, the state government plans to establish Space Industrial Park and Propellants Park near Thoothukudi. Private firms will use Kulasekarapattinam to deploy small satellites into orbit. The state government has designated Tamil Nadu Industrial Development Corporation (Tidco) as the nodal organisation for the Defense Industrial Corridor initiative to advance the aerospace and defence sectors in the state.
Why it matters: The market for small satellites is expected to increase at a rate of 16.4% from $3215.9 million in 2020 to $13711.7 million in 2030. The Center has started construction of a new spaceport at Kulasekarapattinam after realising the market potential for small satellites. The planned industrial parks are anticipated to reduce supply chain limitations for the Kulasekarapattinam spaceport's upstream operations. The Tamil Nadu government intends to connect these industrial zones with connected businesses in the state, including those that produce technology, mechanical parts, and chemicals for propulsion.
Location tracking devices mandatory for private buses (West Bengal) – According to a notice issued on Monday, the West Bengal government prolonged the limit for putting location-tracking devices with emergency buttons in private buses to May 31. Bus owners who don't install the device by May 31 may file for a provisional certificate of health, but only after paying a fee of ₹50 per day until the device is installed. The device installation limit was previously set for March 31.
Why it matters: The location tracking devices will significantly boost the security levels of both the vehicles as well as the passengers, and it will make the detection of buses easier in case they get stranded or run off course. However, bus owners across the state are saying that while they are not against the decision of the government, the time limit of two months is very small for them to install a location tracking device.
How a woman sarpanch uplifted a village (Rajasthan) – The village of Soda in Rajasthan has seen a one-eighty-degree shift in its state ever since Chhavi Rajawat took the reins of the village's leadership as the sarpanch. Chhavi is India's first woman sarpanch who holds an MBA degree. She was elected to the seat of sarpanch in the year 2010, and her tenure lasted till 2020. During this time, Soda turned from a slowly dying village into a developed and lively place to live.
Why it matters: When the sarpanch initially assumed power, the village did not even have proper civic amenities and was significantly underfunded. While she was elected to the seat of sarpanch via reservation along with other women, she found that the elected women were just figureheads and their husbands ruled in their stead. Chhavi worked hard to bring both infrastructural as well as social change in the village, where people enjoy both civic amenities as well as political equality.
First Sainik School for girls (Manipur) – At an ex-servicemen gathering on Monday in Koirengei, on the outskirts of Imphal, Manipur's chief minister, N Biren Singh, announced that a Sainik School for female pupils would shortly be established in the state. Additionally, the state government has chosen to give Agniveers preference when hiring for government positions and has set aside ₹3 crores to build a memorial at the ex-servicemen's office so that people can offer their respects to troops who sacrifice their lives for the nation.
Why it matters: Sainik Schools are significant educational institutions that provide opportunities for students from diverse backgrounds to receive a quality education. These schools admit students based on their performance, regardless of their socioeconomic status or background. This enables students to get access to quality education. Recently, there has been a tremendous rise in the number of women who are joining the defence forces. A Sainik school for girls would really improve their chances of entering the defence forces.
---
🔢 KEY NUMBER
550 – Telangana State Road Transport Corporation places an order for 550 e-buses.