May 24, 2022
Good morning. We have exciting news to share today. Our team has launched a new newsletter named The Local Brief (or TLB in short). TLB is a daily newsletter brand that brings local news that matter to you. To begin with, we have started publishing the Bengaluru edition called Bengaluru Brief. 

Be it social issues or civic amenities, policing or jobs, events or food and drink, things to do or places to visit, TLB will cover them all. All it takes is just five minutes of your time to catch up on the news! Check it out here.
If you are a resident of Bengaluru or have a connection with the city, then you do not want to miss this! Please do subscribe and share your feedback on the same. More cities will be added in the near future!
Alright, back to regular programming. In today's either/view, we discuss whether QUAD grouping is in India's long-term interests. We also look at the new biodiversity site in Goa, among other news.
---
📰

FEATURE STORY
QUAD – Is it in India's long-term interest?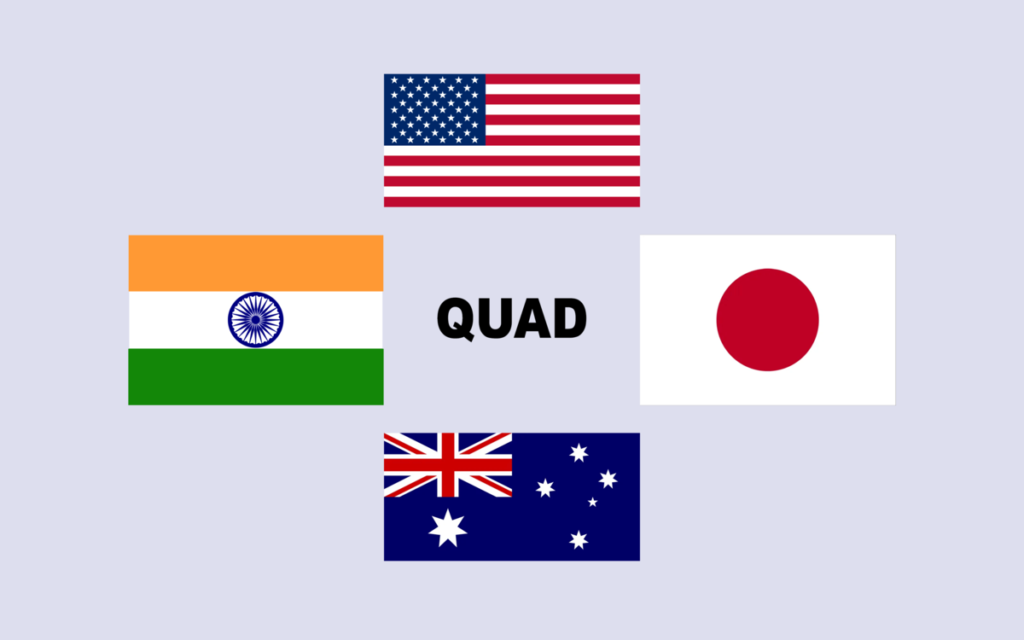 We all have our group of friends from different times in our lives. Now, have you ever thought to yourself whether staying in this friend group is a good thing or not? Has the thought of 'is it in my best interest to be in this group' ever occurred to you?
With Prime Minister Narendra Modi in Japan for the QUAD Summit, the timing of the conference is relevant, given India's complicated relationship with China and the ongoing Russian invasion of Ukraine. Taking a step back, does QUAD represent an overall good for India long-term? Or has the current geo-political landscape undermined QUAD's importance for India?
Context
In the early 2000s, the USA and its allies were involved with the War on Terror in Iraq and Afghanistan. During this time, there was a power shift happening in the Asia-Pacific. China was beginning to stretch its economic and military muscles. The US has traditionally followed a policy of soft power on China – not wanting to completely alienate it but emphasising human rights in any strategic dialogue and partnership.
When the 2004 tsunami happened, the United States, Australia, India, and Japan came together to provide humanitarian assistance. In 2006, then Indian Prime Minister Manmohan Singh and his Japanese counterpart Shinzo Abe called for a partnership with other like-minded countries in the Asia-Pacific.
In 2007, Abe initiated the group with the support of then Australian Prime Minister John Howard, Indian Prime Minister Manmohan Singh, and US Vice President Dick Cheney. It was called the Quadrilateral Security Dialogue, or QUAD in short. It wasn't all diplomatic speak at its launch. Running parallel to the talks were large-scale joint military exercises. The reason for all this was simple – counter China's growing economic and military might.
Needless to say, China wasn't thrilled, dubbing it "Asian NATO." Soon after its launch, it faced trouble. Australia withdrew during Kevin Rudd's tenure as Prime Minister. Australian policy was dismayed by growing tensions between USA and China in the Asia-Pacific. When Julia Gillard succeeded Rudd in 2010, military cooperation with the USA resumed. Even with Australia's absence, the others continued their joint military exercises.
The Obama administration's 'pivot to Asia' in 2011 represented a shift of its resources and diplomatic capital away from the Middle East and into the Asia-Pacific. One thing that has remained consistent is India's relations with the member countries. By and large, India has gotten along with its fellow QUAD members.
Fast forward to 2017 and the ASEAN Summit in Manila. The four countries agreed to revive the QUAD. Once again, the goal was to counter China in the Indo-Pacific region. In 2021, the members declared "a shared vision for a free and open Indo-Pacific" and a "rules-based maritime order in the East and South China seas." In the wake of the pandemic, the first 'QUAD plus' meeting took place that included South Korea, New Zealand, and Vietnam to discuss their response.
VIEW: QUAD's relevance for India is crucial
When talking about India and the QUAD, long-term is the correct timeframe. Judging its results, if any, in the short run doesn't do it justice. Geo-politics is a complex and shifting phenomenon, so anything that provides some sense of stability is welcome. India's advocacy for and involvement with QUAD is in keeping with its evolving priorities.
Some of the issues present in the Asia-Pacific, like climate change and the pandemic, are present elsewhere. Hence, any political and diplomatic efforts by the QUAD to enhance its functional dimensions will have far-reaching effects in helping resolve these issues. The pandemic itself has shown the importance of regional cooperation. Speaking at the previous summit, Prime Minister Narendra Modi reiterated India's commitment to be a proactive partner with like-minded democracies.
It also doesn't seem like the Indian government doubts QUAD's intentions, given External Affairs Minister S Jaishankar's comments on its positive contributions. What are India's geographically sensitive areas from a security standpoint? It's the Indian Ocean and its borders with China. Maritime security is important for India. The Malabar military exercises will benefit India militarily. While India is hesitant about the militarisation of the QUAD, it might soften its stance given Chinese aggression.
Economically, there's a good amount to gain. The Indian government is increasingly pushing its Digital India Mission. India is setting the stage for 5G. Part of QUAD's mission is supply-chain security. For India, semiconductors will be of specific interest. India can work with the QUAD members to establish their production plants in India and leverage human capital.
COUNTERVIEW: Clashing ambitions and ideals
The QUAD is quite clear about its ambitions to counter China. China is clear in its criticism of QUAD's existence. Standing in the middle is India. No doubt both countries have in recent years been at odds, even resulting in skirmishes at the border. However, given the Astana Declaration, India keeps an open channel of dialogue with Beijing. Broadly, there's reluctance from India on the QUAD being labelled anti-China, though that's the perception.
The timing of the summit is striking. We're a few months out since Russia began its invasion of Ukraine. This is another point of contention. Among QUAD members, India has remained neutral on the conflict, not just in its public-facing statements but through its abstentions in UN condemnations against Russia. Also, to be kept in mind is China's praise for India's neutral stance. India has welcomed the Chinese and Russian foreign ambassadors this year in the wake of the conflict. Russian foreign minister Sergey Lavrov pushed for an India-Russia-China trilateral mechanism.
There's the danger of India getting mixed up with the United States' military calculus. Given the perceived threats in the South China seas, the US saw the QUAD as an opportunity to draw up an overarching military vision. It could well turn into India entering into a dangerous military alliance. Then there's trade. China has overtaken the USA as India's number one trading partner. It's another long-term complication.
One thing that undermines QUAD in the long-term is AUKUS – the trilateral security pact between Australia, the United Kingdom, and the United States for the Indo-Pacific region. Here's the complication, the USA decided to share sensitive nuclear submarine technology with Australia. It shared sensitive military technology with one QUAD partner and not the others. Speaking of military equipment, the USA has been open about discouraging India from buying the S-400 missile system from Russia. There's a question of how long India can balance its strategic, military, and diplomatic goals given the inconsistencies by one of the QUAD members.
What's your opinion on this?
(Only subscribers can participate in polls)
a) QUAD is in India's long-term interests.
b) QUAD is not in India's long-term interests.
---
🕵️ BEYOND ECHO CHAMBERS
For the Right:
What The Supreme Court Said About Those Promoting Hatred In The 'Guise of Historical Truth'
For the Left:
How RSS Fought Khalistani Separatists In Punjab In 1980s, Promoted Hindu-Sikh Brotherhood
---
🇮🇳 STATE OF THE STATES
Electronic City investment (Delhi) – The Delhi government will offer production-linked incentives to companies to set up units at the upcoming Electronic City. A policy document will outline the rules to make it easier for global electronics companies. The Dialogue and Development Commission (DDC) of Delhi has teamed up with EPIC Electronics Product Foundation to help attract investment and jobs.
Why it matters: The Delhi government wants Electronic City to be a showcase of its broader plan to generate 20 lakh jobs in five years. While presenting the budget this year, deputy chief minister Manish Sisodia said Electronic City has the potential to generate 80,000 jobs in the coming five years. The hope is that it will become a design and manufacturing hub for electronics companies.
Experimental Safari TV (Kerala) – Safari TV, a 24-hour Malayalam television channel, founded by Kerala-based entrepreneur Santhosh George Kulangara has reimagined the state's television programming landscape. It's an experiment as the focus is on travelogues, world movies, history, and culture. The channel doesn't air any ads. It runs on the money from Kulangara's other ventures. This again is a departure as channels usually run on advertising for revenues.
Why it matters: In the past decade, the Malayalam entertainment and media landscape has changed. This was led by the film industry by adapting local culture, stories, and talent. Among the changes is depicting and representing marginalised sections of societies and their narratives. Safari TV, since launching in 2013, has grown due to the broader expansion of digital media.
Kotia dispute (Odisha) – The South Odisha Development Council, comprising members from seven districts of southern Odisha, asked the state government to engage with the Centre to help resolve the Kotia border dispute. The issue relates to whether Kotia belongs to Odisha or Andhra Pradesh, as the latter is trying to claim border villages by offering ration cards, healthcare, and other facilities. Council President Bhrugu Baxipatra said it doesn't stop with Kotia and is spreading to Gangabada in the Gajapati district.
Why it matters: In January, the state went to the Supreme Court asking it to intervene and restrain officials of Andhra from intruding and interfering in Odisha's jurisdiction. In its affidavit, the state said Kotia should be made part of Odisha and said it had the right. The dispute over the villages in Kotia first reached the apex court in 1968. In 2006, the court said inter-state boundaries did not fall within its jurisdiction, and only Parliament could resolve them.
New biodiversity site (Goa) – Goa now has its second biodiversity site. More than 6.1 lakh sq km in Curtorim village, including several major water bodies, have been declared a biodiversity heritage site. The proposal to make this a biodiversity site was floated in 2015. It cited the six large lakes as the source of good paddy and vegetable cultivation in the village. The Curtorim biodiversity management committee, local panchayats, and the owners and tenants of the land will jointly manage the site.
Why it matters: Goa's first biodiversity site is a sacred grove located in the mining-hit village of Surla in Surla, Bicholim. It encompasses more than 7,000 sq metres of forested land. A site can be declared a biodiversity heritage site under Section 37(1) of the Biodiversity Act, 2000. It gives the site legal protection under the Act.
New projects launched (Arunachal Pradesh) – Home Minister Amit Shah launched several projects and schemes worth ₹436 crores in the state. Among them was an agreement to build a National Defence University campus to produce technocrats to work in the defence sector. A total of 22 projects were launched including schemes to benefit more than 33,000 families and 800 Self-help groups and NGOs. Shah coined the state as the jewel in India's crown and criticised Congress for not recognising the development in the state.
Why it matters: The BJP has done well in the state over the past few years. In 2019 it won 41 out of 60 seats in the Assembly elections. In the following year, it won six of the eight seats in the civic body polls in the state. It came as several MLAs joined the BJP after leaving the JD(U). Congress on the other hand has had to reshuffle its state unit after poll defeats.
---
🔢 KEY NUMBER
30 hours – An Oxfam report unveiled at the World Economic Forum (WEF) said the pandemic created a new billionaire every 30 hours. It called for taxing the rich to help reduce inequality.