September 28, 2022
Good morning. In today's either/view, we discuss the new trend of quiet quitting. We also look at the plan to widen all district roads in Bihar, among other news.
---
📰

FEATURE STORY
Quiet Quitting – Laziness or Rejection of Hustle Culture?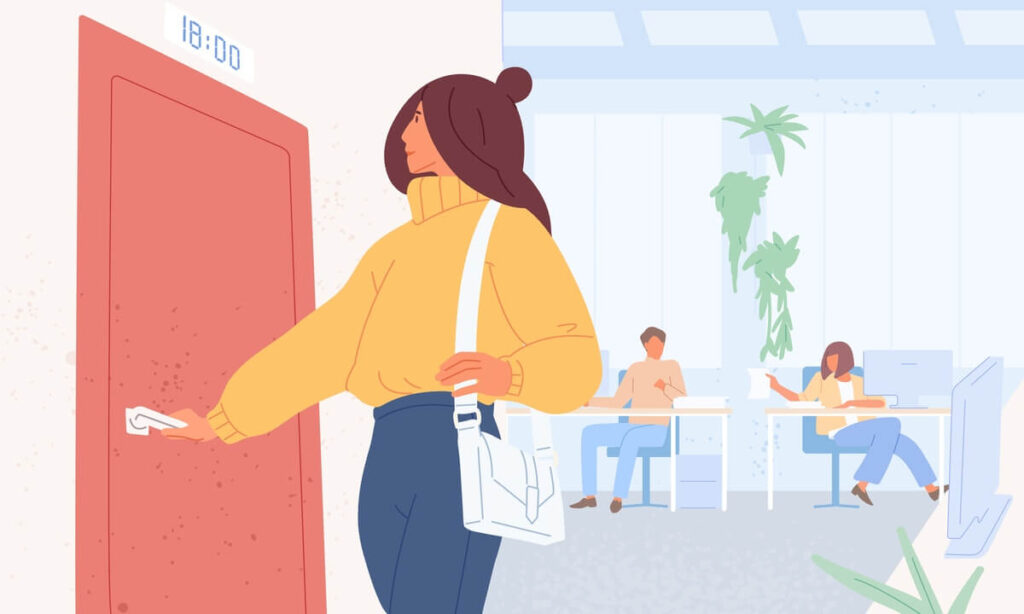 It's been an intense, strange, and traumatic past couple of years for the world. The pandemic has changed the lives of millions in more ways than one. Work, for example, has taken on a new meaning. Many companies were forced to have their employees work from home. Some have continued that, others want them back at the office, and some a combination.
Now, concerning work and employment, there's a new trend – quiet quitting. It's not exactly what it sounds like. It's not mass resignations. It's the trend of employees strictly following work guidelines, logging off at a certain time, and not taking on extra responsibilities to maintain a healthy work-life balance. Some say this should be the norm, while others think it's lazy for a certain generation.
Context
Not a few months go by when there's a new trend that has its origin on some social media platform, and soon enough, it's being talked about on the national news. In a TikTok video that went viral a few months back, a 24-year-old engineer from New York spoke about how one's worth shouldn't be defined by their labour.
But this trend actually goes back a little further, both in time and place. In China, there was this trend called "lying flat". It's more or less what the engineer from New York outlined. Workers wanted to have a relatively healthy work-life balance. It's important to note that the US and Chinese economies and demographics are different. So, it won't be right to compare China and the US in this context.
Coming back to tracing the origins of this new trend, last year, there was a time when the "Great Resignation" dominated the news cycle. The broader context in discussing this issue is the impact of the pandemic. It either radically shifted things or merely accelerated people's relationship with work and employment. A report stated that 1 in 3 workers was considering leaving their job, and 60% thought of changing careers.
A year into working from home, some didn't want to go back to commuting and preferred the flexibility of remote work. Others were burned out from logging long hours while also managing whatever housework they had. A Randstad Employer Brand Report stated that 68% of the workforce preferred flexible working hours.
Quiet quitting evolved from the mass resignation trend. If you're a quiet quitter, you only perform the duties assigned to you per your job description. Anything outside of that is something you don't entertain. You make time for yourself and others around you.
Closer to home, things kicked off when Shantanu Deshpande, CEO of Bombay Shaving Company, advised youngsters to work 18 hours a day in the formative years of their careers. In a LinkedIn post, he said youngsters have to grind it out for 4-5 years to "build flex". He spoke of the current generation wanting a work-life balance. In his opinion, putting in hard work early will help them later. More millennials and Gen Z candidates are joining the Indian workforce.
But is Deshpande right? Is putting in the hours early in one's career helpful later on? Doesn't that show you to be a hard worker? Or is it a fallacy? Should we instead talk about the nature of work, a work-life balance, payments, etc?
VIEW: Nothing wrong with working hard
The thrust of the argument against quiet quitting isn't being in front of a computer and working all day. It's more of ensuring people work hard and give it their all. For CEOs of companies that have faced complex disruptions over the past two years, quiet quitting is another thing to worry about. From their point of view, the company needs all hands on deck.
Even with Deshpande's post, he clarifies that he didn't literally mean working 18-hour days but was trying to make a point about hard work. Arianna Huffington has a more nuanced take on this topic. She does believe in rejecting hustle culture and anything that contributes to burnout. However, quiet quitting should be rejected as well. As she puts it, work can give people meaning and purpose. It's part of our everyday lives. For millions, they struggle to get consistent gainful employment.
There's a mantra that some follow – you get out of life what you put in. The same can apply to work. As Mandy Sharp, CEO of Tin Man Communications, stated, the concept of quiet quitting doesn't help the employer or employee. She speaks from a PR firm's point of view where they deal with people. Quiet quitters will be overtaken by those willing to go the extra mile and be rewarded for it.
If quiet quitting is something that's going to become a noticeable and tangible trend going forward, we need to see who can even afford it. Some, particularly racial minorities, don't have that privilege. There are others for whom it might not even be financially possible. Speaking of hard work, many consider themselves to be high achievers, and going above and beyond shouldn't be demonised.
COUNTERVIEW: It speaks to larger issues
First, there are a couple of myths to dispel about quiet quitting. It doesn't actually involve someone quitting their job. Also, some business leaders see this trend as a synonym for laziness. It's not true. It's doing what you've been asked to per the job title. Anything more should come with an explanation.
Speaking of work-life balance, it's a tale as old as time. It's been discussed and debated to death. But there's a good reason why. Much of the current generation certainly see employment and work differently than their parents or grandparents. This then goes into the debate on who coined the term quiet quitting, Gen Z or Gen X. It depends on how you see your work and life. The other myth here is that somehow employees disregard their work.
What's really at play here is a broader discussion on work conditions, culture, and pay. A 2022 State of the Global Workplace report showed stress among employees reached an all-time high in 2021. The highest regional percentage was in South Asia. In India, only 13% said they were thriving.
There are reports that employers use artificial intelligence to monitor employees to ensure they're on the job. As Microsoft CEO Satya Nadella put it, there's "productivity paranoia" among CEOs that's uncalled for. If we shouldn't demonise those who go above and beyond, the same should apply to those who prioritise their mental and physical health.
Reference Links:
What's your opinion on this?
(Only subscribers can participate in polls)
a) Quiet quitting is a sign of laziness and lack of motivation.
b) Quiet quitting is good as it prioritises a work-life balance.
---
🕵️ BEYOND ECHO CHAMBERS
For the Right:
'Koi Patthar Se Na Maarey Mere Diwane Ko'…But It's Still Necessary To Critique The RSS
For the Left:
Not Buying Peace, Not Driving A Wedge – Real Reason Behind Mamata's 'Clean Chit' To Modi
---
🇮🇳 STATE OF THE STATES
Govt schools to get security guards, sanitation staff, campus managers (Punjab) – In a first, School Education Minister Harjot Singh Bains, said that ₹123 crores had been sanctioned to create clean and safe campuses by hiring security guards, sanitation workers, and campus managers. He also said that the post of peon was lying vacant in most government schools.
Why it matters: A monthly fund will be given to School Management Committees (SMCs) to hire peons and security guards. This will improve the health and safety of students in all government schools. Campus managers will be allotted for managerial work, removing the burden from the teachers.
Bill for international Buddhist university passed (Tripura) – On Monday, the Tripura assembly unanimously passed a bill for establishing Dhamma Dipa International Buddhist University in Manu Bankul. The university will promote the study of science, Buddhism, medicine, dentistry, management, and other professional courses. BJP MLA Sankar Roy revealed that the state government has already allotted 25.28 acres of land at the cost of ₹75.84 lakhs.
Why it matters: 51 countries will fund the project, and students belonging to these countries will be granted admission into various courses at the proposed university. Since interest among students in pursuing higher education in Tripura is increasing, constructing this university will meet the demand.
Plan to widen all district roads (Bihar) – In order to combat traffic jams, the Bihar government is planning to widen all major district roads in a phased manner. The plan to build flyovers on narrow roads will also be implemented. The Road Construction Department has about 15,273 km of major district roads under it.
Why it matters: The new scheme will convert one-lane roads into intermediate lanes, while intermediate lanes will be made into two-lane roads. Roads with two lanes still experiencing traffic congestion will be widened.
Subsidized electricity benefits 1.2 million farmers (Rajasthan) – Under the Mukhyamantri Kisan Mitra Urja Yojana, farmers have been provided with subsidized electricity since the scheme was launched last year. Due to this, the electricity bills of around 750,000 farmers have been reduced to nearly nothing.
Why it matters: The aim of the scheme was to increase the incomes of farmers and eliminate electricity expenses. Consumers were given a subsidy of ₹1,000 per month on their agriculture electricity bill. If the bill was less than this amount for any month, the balance would be adjusted in the coming months accordingly.
Graphene industrial park to be set up (Kerala) – To tap the opportunities of graphene, Kerala will set up an industrial park for the nanomaterial. The India Innovation Centre for Graphene (IICG) will be established as a centre of knowledge for conducting research on the new technology. A draft 'Kerala Graphene Policy' has also been shared among stakeholders.
Why it matters: Graphene has seen a wide range of applications in many scientific disciplines with advances made in high-frequency electronics, biochemical and magnetic sensors, and energy storage and generation. The new industrial park will focus on its applications, market potential, and challenges.
---
🔢 KEY NUMBER
20% – Less than 20% of women are in leadership roles in startups in India, although 34% of the startup workforce in India constitutes women.