November 17, 2023
Good morning. In today's either/view, we discuss whether AI should be used in Indian classrooms. We also look at the support given to Haryana's paddy farmers, among other news.
---
📰 FEATURE STORY
Should AI be used in Indian classrooms?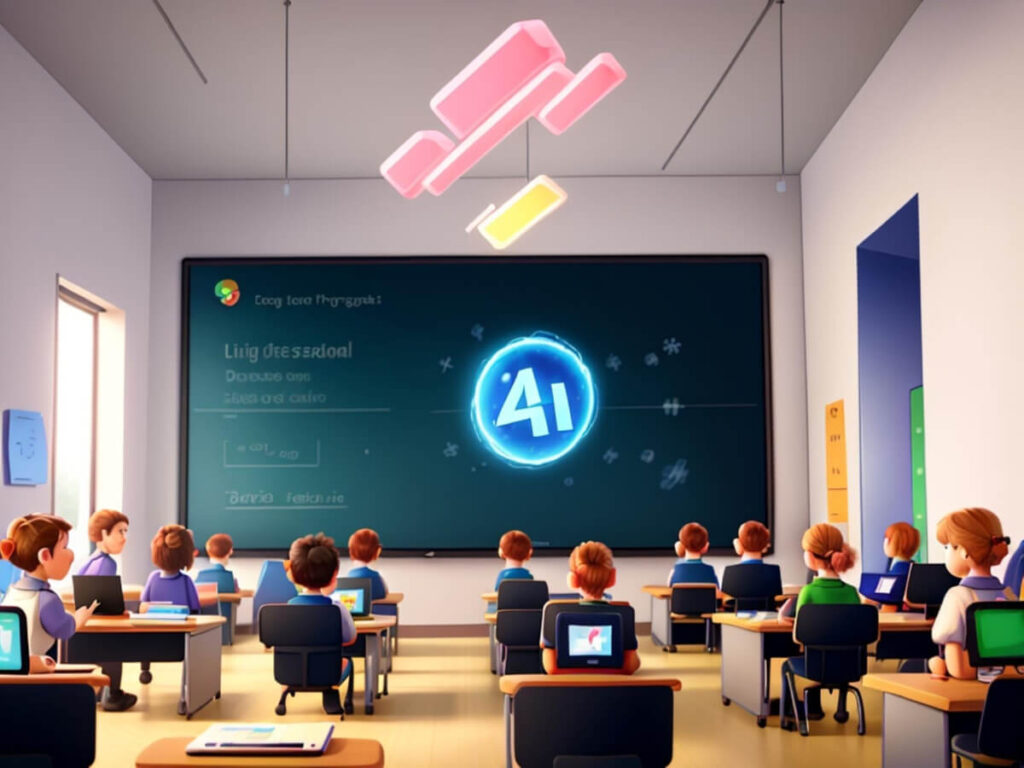 How much technology is too much technology? Where and when do we want it, and where and when do we need it? Can technology help complete school and college assignments and homework? Can it prepare a thesis for a doctorate candidate? Perhaps it can do them all. We're probably already there. Depending on your perspective, that's either exciting or terrifying.
If education is the backbone of a thriving economy, then how much technology should we let in? What are the use cases? There are plenty of uncomfortable questions, and we might not know all the answers right now. But the topic does need to be discussed and debated. What's the use of Artificial Intelligence (AI) in classrooms? Perhaps it takes a load off the educator's and student's backs. Or, it's a slippery slope.
Context
Alan Turing once said a computer would deserve to be called intelligent if it could deceive a human into believing it was human. Amid all the excitement, nervousness, and scepticism about AI and tools like ChatGPT, AI in education isn't a new phenomenon. It has been around for decades.
In its simplest form, a human teaches computers how to do things that usually require human intelligence. In the 1960s, scientists trained a computer to predict if an image was a dog or a cat by feeding it pictures of cats and dogs. That's basically what AI is. Sure, things have exponentially evolved since then.
There's a school of thinking that's in line with what Henry Ford once said – "If I asked people what they wanted, they would have said faster horses." We've become adept at building "faster classrooms". That's to say, using computers for various tasks.
The Indian education sector is an interesting use-case scenario. Given how it has evolved or, in many cases, hasn't, there has been a long-standing discussion on the need to update and upgrade. Not just in what and how students learn but how it applies to the real world. By and large, the Indian education system continues to value and promote rote learning and memorisation. It's how you top most examinations.
This isn't to say technology has been kept out of Indian classrooms. Quite the opposite. It's becoming more prevalent in schools to enable increased interactivity and engagement by students. Any decent school these days has a computer lab. More classrooms have projectors, interactive whiteboards, and audio-visual capabilities. For teachers, there's review and activity management software.
The 2020 National Education Policy (NEP) outlined some proposals for technology integration into the education system. The primary aim is to enhance educational access and improve teaching, learning, and evaluation processes. Other examples include proposals for a National Education Technology Forum (NETF) and a dedicated e-education unit.
The government's think tank, NITI Aayog, published a discussion paper several years ago on the National Strategy for Artificial Intelligence. The focus was an "AI for All" strategy to leverage it for social and inclusive growth.
While AI tools being used in schools is one thing, what about teaching it to students as a subject? It looks increasingly likely that students will learn it. In 2019, the CBSE announced the inclusion of AI in their syllabus for classes 8, 9, and 10 as an optional subject. This means teachers should first have a grasp of advanced concepts. It remains to be seen how well this has borne out.
VIEW: AI can transform education
While there are some cases of schools being sceptical of AI, rushing to ban them would be a missed opportunity for the Indian education sector. Despite trying for years, India hasn't been able to alter teaching and learning methods. The same old rote learning method has persisted that some educators and experts have called for a moratorium on. Here's where AI and its tools can come in.
The important thing to note here is that AI will be a complimentary tool, not in the driver's seat. In an AI-driven learning environment, teachers won't become obsolete, as some fear. They remain knowledge providers but also facilitators. AI-driven tools can help with interactive pedagogical practices and exercises. Being a teacher in Indian schools can mean a heavy workload. Why not lighten that a bit? AI tools can be used for planning, delivering, and evaluating courses.
For India to travel the path of integrating AI in schools, the digital divide needs to be bridged, which is happening. As early as 2016, Andhra Pradesh and Microsoft collaborated to use data to curb school dropouts. There's no reason for schools, teachers, students, and parents to be scared of AI tools. Technology can be scary at first, but once people understand and become familiar with it, AI can be a game-changer.
COUNTERVIEW: Not so fast
On the one hand, the CBSE announced AI as an optional subject. On the other, it banned ChatGPT for examinations. Bengaluru colleges have also banned ChatGPT and other tools to avoid plagiarism in assignments and tests. This is the big worry – AI could make students lazy. While traditional learning may increasingly seem like a relic of the past in the modern, more complex world, we need to first assess how technology will be used.
Would teaching students how to use ChatGPT make them smarter? Some experts believe the opposite. If the goal is to nurture and hone cognitive and critical thinking skills for the future's unprecedented challenges, then AI could act as an impediment. If we're going to rely on technology to an ungodly extent, do we risk hurtling toward a Wall-E-like existence where humans become unthinking masses? What's the point of giving students an assignment where they need to read, research, interpret, and comprehend only to have an AI tool blurt everything out in seconds? What's the guarantee that the tool provides accurate information?
The challenge will be for educators to navigate the world of these technologies. That's easier said than done in India. Let's think practically. Given the high levels of inequality in India, it's almost certain that students from high-income backgrounds will be the ones who are exposed to new technologies. Not every school will be equipped to use and teach AI.
Reference Links:
What is your opinion on this?
(Only subscribers can participate in polls)
a) AI should be used in Indian classrooms.
b) AI shouldn't be used in Indian classrooms.
---
🕵️ BEYOND ECHO CHAMBERS
For the Right:
In the age of Kalyug, it is time to leverage the power of the collective
For the Left:
Why K Annamalai infuriates the DMK
---
🇮🇳 STATE OF THE STATES
Paddy support (Haryana) – The state government has successfully disbursed over ₹12,490 crore for paddy and ₹805 crore for millet procurement for the Kharif season 2023-24. This funding, credited directly to farmers' accounts via an e-purchase portal, has facilitated the procurement of approximately 58.36 lakh metric tonnes (LMT) of paddy and 3.90 LMT of millet, supporting a substantial number of farmers.
Why it matters: By ensuring fair compensation and efficient procurement processes, the government is reinforcing the agricultural sector's stability and sustainability, which is crucial for the state's economy and food security.
T-Hub's milestone (Telangana) – T-Hub, a pioneering innovation hub in Telangana, celebrated its 8th Foundation Day, marking significant achievements over the years. It has invested $3.5 billion in nurturing startups, created over 600 corporate partnerships, connected 500 mentors, and engaged with over 3,000 startups.
Why it matters: The celebration also included the announcement of strategic partnerships with notable organisations and the unveiling of two flagship initiatives, T-Bridge and T-Scale, aimed at enhancing global market access and guiding startups towards growth and Series-A funding readiness.
Special status ultimatum (Bihar) – Chief Minister Nitish Kumar has issued an ultimatum to the Union government demanding special status for Bihar, highlighting it as a critical issue for the state's development. He stressed this during the Chief Minister Entrepreneur scheme program, emphasising that special status would enable Bihar to progress like other developed states.
Why it matters: This demand for special status is not just a political stance but a strategic move aimed at Bihar's economic development and growth. Special status would potentially offer tax concessions, attracting investments and industries, vital for a state struggling with poor infrastructure and economic challenges, such as significant revenue loss from liquor prohibition.
Migrants' protest vote (Rajasthan) – Pakistani migrants in Rajasthan with Indian citizenship, feeling neglected by successive governments, have threatened to use the 'None of the Above' (NOTA) option in the upcoming November 25 assembly elections. Represented by Seemant Lok Sangthan, these migrants, spread across key constituencies like Jodhpur and Barmer, seek attention to their basic needs and dignified living.
Why it matters: The community's frustrations stem from unaddressed issues and unfulfilled political promises, despite their significant voting population in about ten constituencies. It highlights the challenges faced by migrant communities in integrating and obtaining basic amenities.
Fiscal boost (Meghalaya) – The state cabinet approved an amendment to the Meghalaya Fiscal Responsibility and Budget Management Act, 2006, allowing the state to increase its borrowings by up to ₹400 crore this year. This decision, announced by Chief Minister Conrad K Sangma, follows the state's compliance with power reforms, enabling a 0.5% increase in budget borrowing. Additionally, the cabinet approved the adaptation of NCERT textbooks with modifications for local content and language, and the establishment of a recruitment board for the education department to address vacancies within 3-6 months.
Why it matters: These measures signify a strategic effort to enhance Meghalaya's fiscal capacity and educational standards. The increased borrowing capacity is expected to fuel development projects and reforms, while the adaptation of NCERT textbooks aims to improve educational content and align it with national standards, reflecting a commitment to elevating the state's education system.
---
🔢 KEY NUMBER
268,923 – According to the Institute of International Education's Open Doors Report (ODR), the number of Indian international students in the United States rose by 35% to a record high of 268,923 students in the 2022-23 academic year.