March 20, 2023
Good morning. In today's either/view, we discuss whether India should ban or regulate e-pharmacies. We also look at the proposed introduction of geography labs in schools in Delhi, among other news.
---
📰

FEATURE STORY
Should India ban e-pharmacies?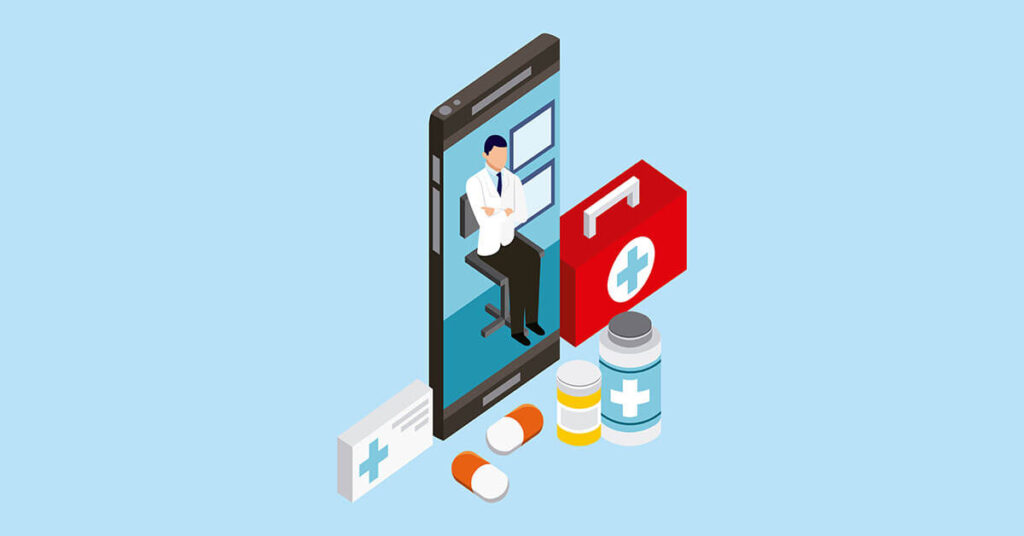 Like many things during the pandemic, the Indian healthcare sector looked for ways to better serve people during the crisis. And like many services, they went online. Several companies were prompted to turn to the online market. Over the past several years, there has been an upsurge in online pharmacies, or e-pharmacies, as they're often called.
They're now under the microscope. Last month, the Pharmacy Council of India (PCI) called for a nationwide ban on e-pharmacies alleging violation of norms by selling medicines online. The notice has been met with opposition from online retailers who want to make their case to the government. Are online pharmacies a risk to public health or a way to increase the accessibility of medication?
Context
This particular segment of the healthcare and pharmaceutical industry owes a lot to the rise of e-commerce in India. The growing penetration of the internet and smartphones with the intrinsic convenience of online purchases is the perfect base for it to grow in India.
The Indian drug market was valued at $42 billion in 2021. It was the third biggest market in terms of volume and the thirteenth in terms of value. It's projected to reach $65 billion by 2024. The market is supported by increased digitisation, rising disposable incomes, and a maturing populace.
Post 2013-14 would be the period best associated with the rise of e-pharmacies. Their mission was clear – disrupt the traditional brick-and-mortar pharmacy model that has dominated for so long. As companies began propping up, investors took notice and saw an opportunity. In 2020 alone, the sector garnered $700 million in investments. In 2015, the Indian Internet Pharmacy Association was born thanks to 11 startups. Among them were 1MG, Netmeds, Medlife, and PharmEasy.
How do e-pharmacies operate? There are a couple of ways. There's the stock-based model. The merchandise and the company are regulated by the e-commerce enterprise, and the items are shipped directly to the customer. Registered e-pharmacists verify the orders only with a valid prescription. There's also the commercial centre-based model. The e-pharmacy is an intermediary between consumers and retailers.
It wasn't all smooth sailing for some companies. PharmEasy's IPO faced opposition from the Confederation of All Indian Traders (CAIT), stating their business model was based on "gross illegality". It cited a 2018 Delhi High Court order that banned the sale of medicines online until the centre drafts rules for licensing such activities.
Concerning regulations, it gets tricky. Pharmacies abide by two Acts – the Drugs and Cosmetics Act of 1940 and the Drugs and Cosmetic Rules of 1945. Given how old these are, there were no provisions for online sales. While technically unregulated, they can't operate without a license. Some online pharmacies don't sell medicines directly. Some are just aggregators, like Swiggy or Zomato.
As e-pharmacies look to continue their market disruption and capitalise on the e-commerce boom in India, the government's latest move could be a blow to their businesses.
VIEW: Can't compromise on healthcare
Last year, as Flipkart was ready to enter the digital medicine vertical, CAIT asked the government to prevent marketplaces and online pharmacies from selling drugs. The issue is the unregulated use of prescription medication. It's something the government is concerned about too. It wants to control the irrational use of prescription drugs. The government is also concerned about the private data these companies collect.
With no robust regulatory mechanisms, there are safety and efficacy issues with drugs sold through online pharmacies. Another group in support of a nationwide ban is the Pharmacy Council of India (PCI). They cited violations of the 2015 Pharmacist Practice Regulation by selling medications online. PCI President Montu Patel said the regulation clearly states medicines can't be sold without patient counselling. He said the group received several complaints with little to no action taken.
To Patel's point, one big concern is the process' authenticity. Some e-pharmacies dispense drugs using a scanned copy of a prescription. These are easy to manipulate or fake. Per the 2016 Electronic Health Standards, an electronic prescription signed by a registered practitioner should include the registration number. This isn't always the case. To add to these companies' woes, another group, the All Indian Organisation of Chemists and Distributors (AIOCD), has also been pushing for a ban citing similar reasons.
COUNTERVIEW: A ban would be a mistake
Covid-19 made the strongest case for e-pharmacies. There was a need for medications, and people wanted them at their convenience. Nearly 8.8 million households used home delivery services during the lockdowns. There's a sense that banning e-pharmacies is extreme and unnecessary. It would be a nightmare for the startup ecosystem, where hundreds of millions of dollars have been invested.
The government's approach and attitude toward e-pharmacies have been a bit hot and cold. There's no doubt they've seen how the sector has grown and how important it has become for millions. The sector is driven by consumer sentiment, and the government wouldn't want to do anything to upset that. Threatening to ban businesses isn't the best PR move.
Regulation would be the way to go. It's inevitable, considering the impact they've had on the healthcare sector. The government can take a cue from the European Union, where every e-pharmacy that's registered and legally operating uses a common logo and links to the national authority's site. Verifying customer details can be done through a valid ID card. Do away with scanned images of prescriptions. People aren't going to stop ordering medicines online anytime soon. There's no need to throw the baby out with the bathwater.
Reference Links:
What is your opinion on this?
(Only subscribers can participate in polls)
a) The government should ban e-pharmacies.
b) The government should regulate e-pharmacies.
---
🕵️ BEYOND ECHO CHAMBERS
For the Right:
The Next Step in Government-Led Internet Censorship Without Transparency Is Here
For the Left:
How PM Narendra Modi is Leading the Way for Green Growth in India
---
🇮🇳 STATE OF THE STATES
Geography labs to be introduced in schools (New Delhi) – The Delhi government intends to create geography laboratories similar to science labs in all government schools to provide experimental knowledge and learning in addition to theory. Currently, most Delhi government institutions have physics, chemistry, and biology laboratories but no geography labs. Officials noted that geography teaching could not be successful without the use of maps, charts, globes, and other visual aids.
Why it matters: A geography classroom plays an important role in broadening a student's geographical knowledge – an essential part of learning that introduces students to a wide range of academic subfields, including physical, human, and nature-society geography, as well as geographical methods. A geography classroom fosters a welcoming environment, stimulates students' imaginations, and motivates them.
The return of Kodava Hockey Namme (Karnataka) – After four years of being hampered by natural catastrophes and the pandemic, Kodava Hockey Namme is back in all its grandeur, igniting unbridled delight after being inaugurated by Chief Minister Basavaraj Bommai. Uncountable people are enthralled by the sport in which India once boasted of being a giant before being dethroned by cricket. Hockey encompasses every element of a top professional activity, including speed, skill, and planning.
Why it matters: Pandanda Kuttappa and his brother Pandanda Kashi spearheaded the effort to bring this competition to the Kodava community, which has featured some outstanding players at the world level. They have acquired the title of "Father of Kodava Hockey Namme" for a good reason. The Pandanda siblings organised the first Kodava Hockey Tournament in Karada hamlet in 1997. The Pandanda Hockey Cup was the name of the competition. The society contributed ₹2 lakh to the tournament money. A total of 60 Kodava 'okkas' (families) founded the hockey namme, which provided an equitable chance for girls.
Free diagnostic services irrespective of income (Odisha) – The Odisha government extended its free diagnostic services to all individuals, regardless of financial status, on Saturday. All necessary diagnostic services will be given only to patients recommended by the state's public health institutions. The Nidaan plan provides free diagnostic assistance to all groups of individuals. In a notice, the Health and Family Welfare agency enumerated 146 different kinds of tests that will be offered at various levels of health centres.
Why it matters: According to the revised key diagnostic list, all patients will have access to 16 kinds of tests at sub-centres, 65 types of tests at PHCs and 103 types of tests at CHCs, 121 categories of tests at sub-divisional hospitals (SDHs), and 145 types of tests at district headquarters hospitals (DHHs). Aside from that, all government medical schools and institutions will continue to offer 221 kinds of tests, and the important diagnostic list will be updated on a regular basis based on the state's priority and disease prevalence.
New gecko species discovered (Gujarat) – According to wildlife experts Harshil Patel, Tejas Thackeray, Zeeshan A Mirza, and Raju Vyas, a new species of naked-toed gecko (Cyrtopodion) has been found in the Gujarat districts of Dahod and Panchmahals. The discoveries, which were published earlier this month in the international journal Zootaxa (Magnolia Press), have been called 'Cyrtopodion Vindhya,' and it is the fifth endemic reptile described in the state of Gujarat in the last fifteen years.
Why it matters: Cyrtopodion species from India are among the country's least-known gekkonid reptiles. In India, there are now six recognised varieties of the family. The recently found reptile is nocturnal and lives near granite rocks. Over the last three decades, India has surfaced as a hotspot of gecko diversity, with more than half of the geckos reported/described from the nation. The number of gecko species in India increased from about 61 in 1996 to 136 by the end of 2019.
IAS officer suspended for misusing funds (Assam) – The Assam government suspended IAS officer Sewali Devi Sharma, secretary to the Assam government, Agriculture Department, in connection with a case of financial inconsistencies and misuse of funds during her term as the Executive Chairman cum Director, SCERT. According to the notice, during her term as Executive Chairman and Director of SCERT, the Agriculture Department created five bank accounts without the permission of the Government of Assam.
Why it matters: A investigation conducted by SCERT on the Functioning of Open and Distance Learning (ODL) discovered financial anomalies and reliable allusions to fund misuse. Earlier in the day, the Assam government suspended four Assam Civil Service (ACS) officers, Munindra Bardoloi, Sharmistha Borah, Sukanya Bora, and Hemanta Kumar Dutta, after the Chief Minister's Special Vigilance Cell discovered a number of flaws and anomalies in the execution of works and usage of funds under Rajya Sabha MP Ajit Kumar Bhuyan's Members of Parliament Local Area Development Division (MPLAD).
---
🔢 KEY NUMBER
175 – Heavy snowfall in Sikkim: BRO soldiers rescue 175 stranded tourists and provide food and shelter.