June 9, 2022
Good morning. In today's either/view, we discuss whether environmental clearances need to be made mandatory for inland waterways. We also look at the antiretroviral drug shortage in Manipur, among other news.
---
📰

FEATURE STORY
Should there be a green clearance mandate for inland waterways?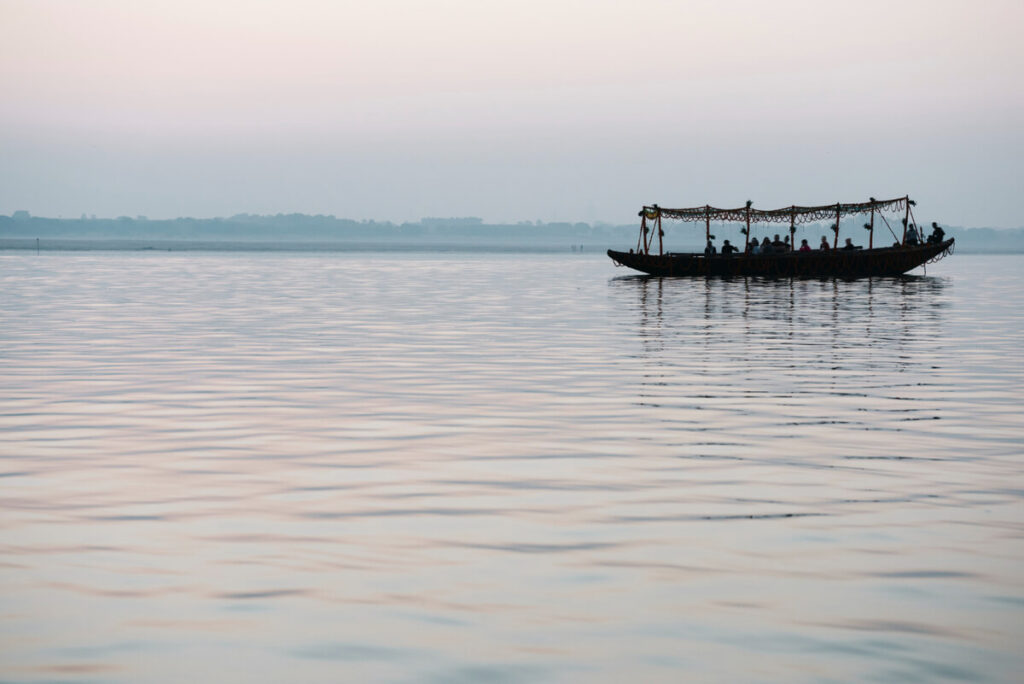 Sustainable development is a topic that has gained prominence over the years. For India, it's more important than ever, considering its economic ambitions and rapid urbanisation. There's a lot that needs to go right in terms of manufacturing, trade, etc. One often under-covered aspect is inland waterways. They're the lifeblood for many.
There's an issue to be looked at specifically. It's environmental clearances for inland waterway projects. Given how ecologically important these waterways are, not just for people but for the environment, shouldn't they be brought under the ambit of environment clearance? Or will that hamper their development in any way?
Context
An inland waterway is a system of navigable inland bodies of water. India has an extensive network of rivers, canals, backwaters, and creeks. More than 100 inland waterways have been notified for transport. Just how important are inland waterways in India? There's legislation on them – The National Waterway Act, 2016. There's also a national body for them – The Inland Waterways Authority of India (IWAI).
Let's look at the IWAI first. It's the statutory authority in charge of waterways in India. It was formed under the Inland Waterways Authority of India Act, 1985. The body is responsible for its development and regulation concerning shipping and navigation. Projects undertaken by the IWAI are mostly done through proposals from the Ministry of Ports, Shipping, and Waterways and the Road Transport and Highways department.
The National Waterway Act, 2016, began as the National Waterways Bill tabled in 2015 by the Minister of Shipping, Road Transport, and Highways Nitin Gadkari. Under this legislation, the government can make laws on shipping and navigating inland waterways declared as national waterways by the Parliament. Importantly, it provides specifics on development activities that can be undertaken on each waterway.
Over the years, the government has talked about developing waterways as it's perceived that developing road and rail transport came at the cost of inland water transportation. Even that had some drawbacks. One of the problems in India is poor road conditions. A study by the Transport Corporation of India (TCI) and IIM-Kolkata showed poor road conditions and its ramification cost India $21.3 billion annually.
In 2015, Amitabh Verma, then chairman of IWAI, said only 5 waterways were declared national waterways in the past three decades. Based on the data available for navigable waterways, 101 water bodies of at least 25 km in length were proposed to be declared national waterways.
The impetus for the 2016 Act was to give waterways their due. From 1986 till 2010, successive governments have spent only ₹1,117 crores on inland waterways.
In some ways, developing waterways can be tricky as they need to be promoted. But the advantages of waterways are they're relatively environmentally friendly, and the running cost is lower than road or rail.
The government has been somewhat proactive in wanting to identify and develop waterways. India has an estimated 14,500 km of navigable waterways. It identified 5 rivers in Gujarat for possible inland water transport. For four of these rivers, detailed project reports were prepared to cover a combined 1,100 km. This was part of a broader national plan that identified 106 additional waterways. One of the more high-profile projects is the $375 million World Bank-financed Ganga waterway.
As with any large-scale infrastructure project comes the issue of its impact. How will it impact the local ecology and population? For any large-scale infrastructure project, environmental clearances are necessary. But inland waterways do not require any environmental clearances. Is this fair?
VIEW: Given their impact, they should
Given how vital waterways are to trade and transport, their development needs to take cognizance of the surroundings. Environmentalists argue that most Indian rivers are too shallow for large-scale cargo transport. For infrastructure projects on waterways, activities like dredging, i.e., underwater excavation, can damage the river.
The Environmental Impact Assessment (EIA) Notification 2006 states mandatory environmental clearances for at least some components of waterways projects like dredging and constructing ports. In 2019, more than 50 experts and citizens sent a letter to Dr. Harsh Vardhan, Union Minister for Environment, Forests & Climate Change (MoEFCC) asking him to make environmental clearances mandatory. It came in the wake of the National Green Tribunal (NGT) asking the MoEFCC for directions regarding clearances.
The letter cited the MoEFCC's own expert committee that suggested inland waterways be brought into the ambit of environmental clearance. Himanshu Thakkar of the South Asia Network on Dams, Rivers, and People has previously said none of the five waterways at the time were working. For the Ganga project specifically, it's the first time large-scale activities like dredging will take place on the river. They could alter the river in irreversible ways in the absence of environmental assessment. However, the NGT disposed of the case.
COUNTERVIEW: No precedence and impedes development
Concerning the Ganga project, the river has special significance for millions from a societal, environmental, and religious perspective. That's why the IWAI said it would adopt a 'working with nature' approach. Given large cargo boats need a minimum depth, the IWAI is taking special care to accommodate such vessels while keeping the dredging to a minimum. A 45-metre channel has been earmarked at its deepest part. It will reduce the amount of dredging.
There's also no precedence for requiring environmental clearances. As Union Minister Nitin Gadkari said, the constitution doesn't stipulate or mandate environmental clearances or approvals for major ports and airports. His refrain was simple – why ask for clearances, which will only delay development? He essentially called it out for being a bureaucratic hassle.
Part of the reasoning here is two-fold. First, waterways are underdeveloped transport means in India. There's untapped potential. A well-coordinated inland waterway network could alter the country's logistics network. Waterways are mostly ready-built infrastructure networks. The capital investment is lower compared to road and rail. Second is the broader economic impact, particularly in portraying India's ease of doing business. Companies will be keen to set up plants and units in places where they can transport raw materials and goods easily and cheaply. The rapid development of waterways will ensure that.
What's your opinion on this?
(Only subscribers can participate in polls)
a) Environmental clearances are necessary for inland waterways.
b) Environmental clearances are not necessary for inland waterways.
---
🕵️ BEYOND ECHO CHAMBERS
For the Right:
India's welfare programmes are suffering because of the delay in census by Modi government
For the Left:
Kanpur violence: Yogi administration does well to bring situation under control, now it must look for masterminds
---
🇮🇳 STATE OF THE STATES
New Mohali township (Punjab) – Punjab Chief Minister Bhagwant Mann approved the setting up of a modern new township at Mohali. He asked officials of the urban development department and the Greater Mohali Area Development Authority (GMADA) to prepare a proposal. He wants the township to be modern and become an IT hub with industries wanting to invest there.
Why it matters: Mohali was chosen, according to Mann, because it had good road, air, and rail connectivity. Recently, the GMADA finalised its seventh independent township, called Aerotropolis, spread over 1,600 acres. One property consultant said the government should also focus on affordable housing as prices have gone up in the area due to its proximity to Chandigarh.
Hiring I-PAC again (Andhra Pradesh) – The ruling YSR Congress has hired Prashant Kishor's I-PAC to help with its poll strategy for the 2024 elections. A party leader said Kishor won't be directly involved as he's busy with his Jan Suraj mission in Bihar. Instead, it'll be co-founder Rishi Raj Singh. In neighbouring Telangana, I-PAC is already working with the TRS. The news comes days after reports of the Pawan Kalyan-led Jana Sena Party will look to ally with the TDP for the 2024 elections in the state.
Why it matters: This will be the second time I-PAC is teaming up with the YSR Congress. It worked with the party in the 2019 elections and helped it secure victory. The party won 151 of the 175 seats in the state assembly and 22 of the 25 Lok Sabha seats. The team has already begun preparations by gathering feedback from people on the implementation of welfare schemes.
Replacing Governor in universities (West Bengal) – The state cabinet decided to remove the Governor from the chancellor's position and replace him with the Chief Minister in four universities. The move comes almost two weeks after a similar move in all universities functioning under the state higher education department. The bills will be introduced in the monsoon session starting June 10. If the Governor delays signing it, the state government said it might take the ordinance route.
Why it matters: Similar bills have been proposed in Tamil Nadu, and Rajasthan could bring in the same changes. Mamata Banerjee has been outspoken about the functioning of state universities. It could cause further tension between her and the Governor. On May 26, the state cabinet passed a unanimous resolution in favour of her being made the chancellor.
Fair price shops (Maharashtra) – The state government will allow farmer producer companies to sell their fruits and vegetables in fair price shops (FPCs). Currently, two companies have been approved to sell at shops in Pune and Thane for the next six months. The prices will be decided by the shops. These shops give the public access to food grains at lower rates. FPCs have struggled to find a fixed place to sell their produce as they face logistical and cost issues.
Why it matters: Perishable goods have never been sold at FPCs. Some owners have complained of financial struggles as the PDS system isn't enough to sustain them. This initiative will open the doors to FPCs in the state and elsewhere, especially those that want to sell fruits and vegetables. For farmers, this will open a direct market as FPCs are generally located in areas easily accessible to people.
Antiretroviral drug shortage (Manipur) – Almost 13,000 people living with HIV/AIDS in the state are unable to get their daily dose of antiretroviral therapy (ART) drugs. They've been out of stock since April. The Manipur State AIDS Control Society (SACS) was asked to procure the drugs but still hasn't. The crisis came to light after NGOs highlighted the shortage.
Why it matters: The state has 13 ART centres providing medicine to patients. The current issue has put pressure on service providers and staff at these centres as many patients have been waiting. Previously, the National AIDS Control Organisation (NACO) used to supply the medication. Kripa Society president Hijam Dinesh said authorities have not been responsive.
---
🔢 KEY NUMBER
11.3 lakh tonnes – The amount of wheat India exported in May. Of this, 4-5 lakh tonnes were dispatched after an export ban was imposed on May 13. Indonesia and Bangladesh are the biggest beneficiaries of the despatches.