November 21, 2023
Good morning. In today's either/view, we discuss whether there should be a minimum age for class 1 admissions. We also look at the scientific mining prospects in Punjab, among other news.
---
📰 FEATURE STORY
Should there be a minimum age for class 1 admissions?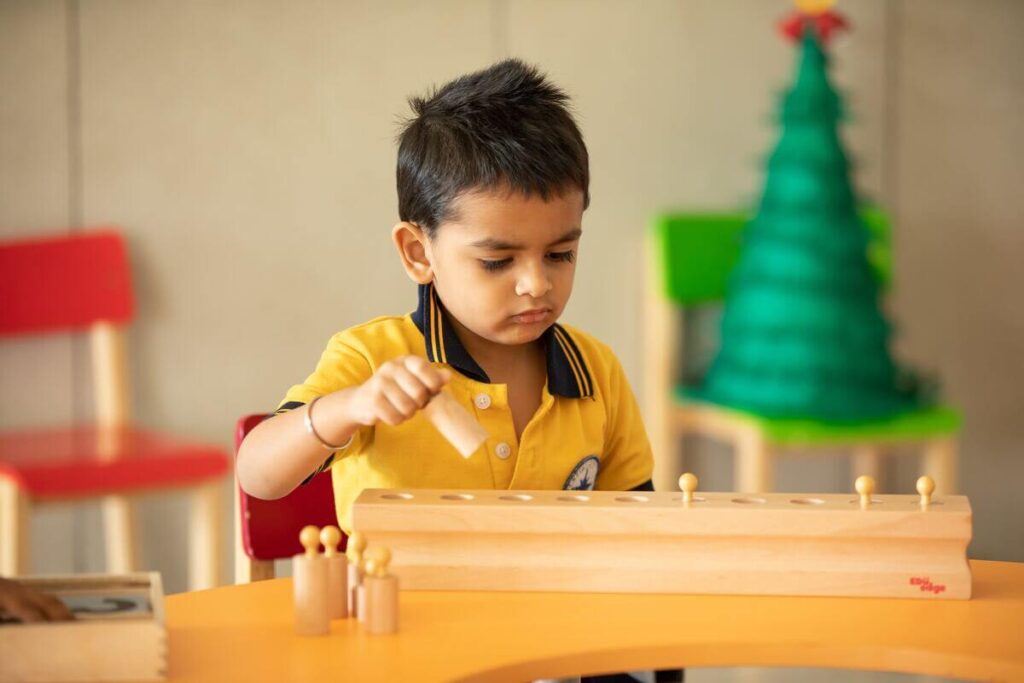 Maria Montessori once said early childhood education is the key to the betterment of society. Given how important the early years are for learning and absorbing everything around us, education forms the basis for all that. It starts at the pre-school level, and then we make the leap to formal education in class 1.
However, there has been some recent discussion on what's the appropriate age to admit kids in class 1. While the government has one point of view, some educators and parents aren't convinced. The government also has the 2020 National Education Policy (NEP) with particular guidelines.
Context
It's widely understood that the early years, from birth till about 8, are arguably the most extraordinary period of growth and development in a child's lifetime. The foundation for all learning is laid during this time and needs to be done right. Research shows us that early learning and childhood education go a long way in reducing the chances of dropouts and improving outcomes.
If we were to look at whether the Constitution's framers' faith in the Indian state to provide quality childhood education has been fulfilled, the short answer is no. That doesn't mean the successive governments haven't done anything. There was the National Policy of Education (NPE) in 1986.
In 2002, the government passed the 86th constitutional amendment with two provisions. One, the Right to Education (RTE) of a child between six and 14 years, was a fundamental right. Second, the fundamental duty of educating a child is their parent or guardian.
Early childhood education is a particular challenge in India. A Lancet series on advancing early childhood development estimated that in 2010, about 250 million kids under age 5 living in low and middle-income countries weren't reaching their development potential due to poverty. Most of them are in India.
Parents usually start thinking about their child's early childhood education when they turn 2. Once pre-school is done, it's time for class 1 admissions. What does the NEP say? For one, it outlines the expansion of early childhood education, including economically weaker sections. Also, the NEP proposed early childhood care and education from age 3 onwards.
So once pre-school is done, the time comes for class 1 admissions. Here's where there's some contention. As of April this year, the minimum age for entrance to Grade 1 is 6 years old, and the upper limit is 8. The thinking behind this is that a child typically is 4-5 years old when they enrol in kindergarten. Some schools use a cut-off date to determine eligibility for admission. Others expand age restrictions to help students with unique and special needs.
VIEW: Should be 6 years
In India, up until recently, several states had different cut-off dates for enrolment. Now, the NEP mandates that children must be at least six years old by a particular cut-off date to be eligible for admission to class 1. The government's reasoning is to be in line with global standards for a student's smoother academic journey.
While some are apprehensive about the move, there's research that shows it's a good decision. Take Finland, or most of Scandinavia, for that matter. Children enter Grade 1 at six or seven years, and educational outcomes are amongst the best. If we want to go scientific, 90% of a child's neural network develops by age six. That's emotional learning, literacy, and social regulation.
What the decision to fix the age at six does for village and rural schools needs to be mentioned. Kids here usually start their education later compared to their big city counterparts. So the decision to make it six years will give them enough time to complete their pre-schooling. The same goes for students in Anganwadis, government-aided, and education centres run by NGOs.
COUNTERVIEW: Need to be flexible
One line of thinking is rather than tinkering with the age, shouldn't the focus be on modifying the curriculum? Just extending the age for class 1 might not have the desired results. More kids begin their schooling by age 3. There are just over a dozen states and Union Territories, including Kerala, for example, which allow class 1 admission for kids before they reach 6 years of age.
The UK and US are two major countries where children generally begin their schooling at age 5. The problem in India is that the rule hasn't been implemented uniformly. For example, Kendriya Vidyalaya schools only take students aged 6 for class 1. However, the Odisha Board, for example, takes students a year earlier. If the rule is implemented uniformly, some kids might have to repeat their current class (UKG) or pre-primary, since they've yet to reach age six.
Finland and other Scandinavian countries can afford to have their kids start Grade 1 at six or seven years since they have excellent childcare facilities. With more working parents in India, they're inclined to send their kids to school at a relatively early age. Ultimately, there needs to be some flexibility to allow states and union territories to admit based on the age they see fit.
Reference Links:
What is your opinion on this?
(Only subscribers can participate in polls)
a) There should be a minimum age limit for class 1 admissions.
b) There shouldn't be a minimum age limit for class 1 admissions.
---
🕵️ BEYOND ECHO CHAMBERS
For the Right:
BJP facing more trouble as polarisation is not enough
For the Left:
Uniform Civil Code Complications May Not Be Insurmountable If Parliament Has A Genuine Desire
---
🇮🇳 STATE OF THE STATES
Scientific mining (Punjab) – An IIT Ropar study stated that Punjab has more potential for mining from its rivers. The state government is mulling a collaboration with the institute for river sand mining and its socio-environmental sustainability. Scientific mining is what the state needs to extract the maximum potential. The study called for regulations to check mining from inside the water. IIT Ropar has proposed monitoring riverbeds using satellite data.
Why it matters: 518 mining sites across 14 districts in the state have been notified to extract 1,300 lakh tonnes of sand. To ensure the river doesn't erode or get damaged, regulations are needed to check illegal river mining since it results in the formation of ditches – a sort of artificial lake that hampers the eco-flow. Scientific mining along the Beas River could've reduced the damage caused by monsoon floods.
Saving money thanks to LED bulbs (Andhra Pradesh) – With the use of LED bulbs, the state has been able to save over 28 lakh MW per hour, amounting to ₹1,145 crore. The state has been at the forefront of tackling climate change through Environmental and Energy Efficiency (EE) Programmes. In the past few years, the state has installed over 23 lakh LED bulbs to illuminate streets and 10,000 gram panchayats. Under the Ujala scheme, over 2.2 crore LED bulbs have been distributed in the state.
Why it matters: The use of energy-efficient lighting has resulted in the reduction of over 23 lakh tons of carbon dioxide annually. Across India, under the Ujala scheme, over 36.86 crore LED bulbs, 72.18 lakh LED tube lights, and 23.59 lakh energy-efficient fans have been distributed. This has helped reduce carbon emissions by 39.30 million tons annually.
Investors come calling (West Bengal) – The seventh edition of the Bengal Global Business Summit (BGBS) will begin in Kolkata, with some of the top industrialists expected to attend. The two-day summit is organised by the state government to woo investors and companies into the state. Among those expected to attend are Mukesh Ambani, Sanjeev Goenka, Sanjeev Puri, and companies like ITC, Ambuja Neotia, and the Hiranandani Group. The summit will have plenary sessions and discussions with a focus on manufacturing and industries & urban infrastructure and real estate.
Why it matters: The summit is a time and place for the TMC government and Chief Minister Mamata Banerjee to showcase what the state has to offer for companies. The UK will have the largest delegation with 55 members. It's part of the UK-India 2030 Roadmap agreed by both countries to boost trade and investment.
IFFI begins (Goa) – Cinema lovers descend on Goa for the 54th annual International Film Festival of India (IFFI). This year's festival will have 13 world premiers, 18 international premiers, 62 Asia premiers, and 89 Indian premiers. The festival will begin with a screening of the British film "Catching Dust". There'll also be a considerable international presence, with Hollywood icon Michael Douglas being awarded the prestigious Satyajit Ray Excellence in Film Lifetime Award.
Why it matters: The festival this year has been bigger than ever with a record 2,926 entries from 105 countries. That's three times more than last year. This year's edition has also focused on accessibility with arrangements for specially-abled delegates to access venues and screenings. There'll also be embedded audio for the visually impaired and embedded sign language.
Climate-smart cultivars (Assam) – The rising global population and threats from global warming and climate change have threatened food security. The 100-year-old Assam Rice Research Institute (ARRI) is developing climate-smart cultivars like drought-resistant, biotic, and abiotic stress-tolerant cultivars for direct-seeded rice. The institute wants to develop varieties of rice that are rich in iron and zinc.
Why it matters: The ARRI has undertaken research and development on several rice varieties over the years. In Assam, there's a high demand for aromatic Joha rice, but it hasn't reached other parts of the country. ARRI currently has 11 scientists and 30 research scholars who undertake research on rice in six categories. The institute has developed over 45 rice varieties.
---
🔢 KEY NUMBER
1,783 – Bengaluru is home to the highest number of women-led startups with 1,783, according to startup data platform Tracxn.