July 22, 2022
Good morning. In today's either/view, we discuss whether universities should be apolitical spaces in our country. We also look at the growth of startups in Punjab, among other news.
---
📰

FEATURE STORY
Should Universities In India Be Apolitical?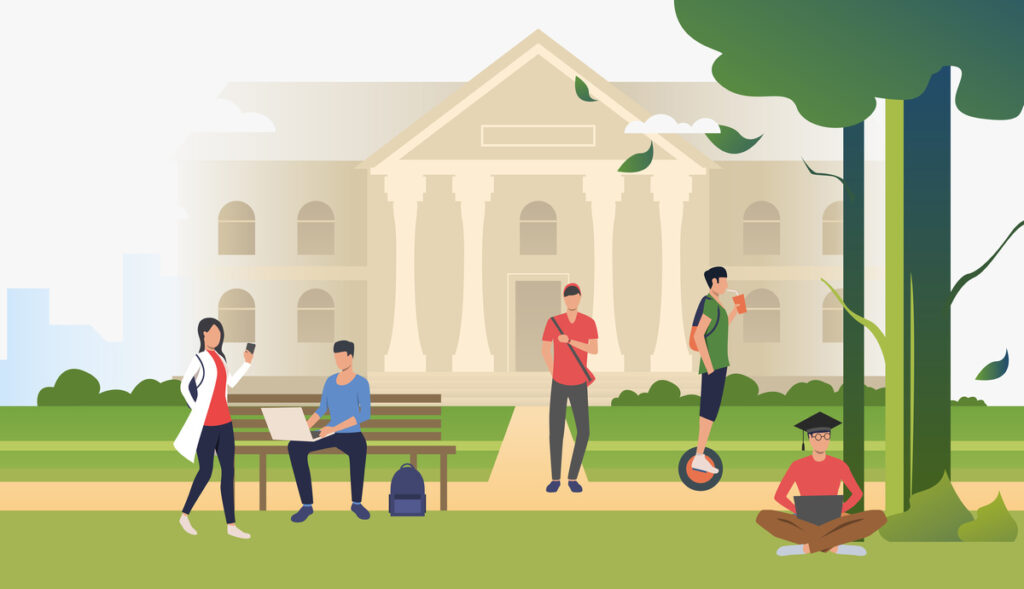 In a recently held interview, the Vice-Chancellor of Jawaharlal Nehru University (JNU), Santishree Dhulipudi Pandit claimed that 90% of the students at JNU are apolitical while the other 10% are troublemakers. In light of this comment, we thought it was time to join the perennial debate on whether Indian universities should encourage political activity on their campuses or detach themselves from politics altogether.
The VC of JNU also said that the university is not a place for pursuing political aspirations. But is this the best approach for moulding the future citizens of the country?
Context
Political outbreaks on university campuses in India are far from rare. In the late 1960s, state governments started interfering in the administration of universities by exercising power over important appointments such as the vice-chancellors, faculty, as well as non-teaching staff. Student and teacher unions became tools for extending the political influence of ruling parties and conducting political battles.
It wasn't long before the Central government took this into account and started throwing its weight around in universities. Campuses were transformed into political spheres and governments were soon threatened by independent voices that could emerge from universities. The rapidly changing political regime post-1989 furthered universities as arenas for political contests.
Under these circumstances, the micromanagement of universities by the government grew with time and interventions with political motives became rampant. This eventually led to the unfortunate events that took place at Jawaharlal Nehru University and Delhi University in 2016 and 2017 respectively. Occurrences such as these deprive universities of the essential autonomy they require, providing freedom of expression and exploration of ideas to their students.
Similarly, all the Tata Institute of Social Sciences (TISS) campuses experienced extended strikes in 2018 as a revolt against the reservation policies of the Modi government, which were evidently excluding marginalised sections from receiving an education. In 2017, the Benares Hindu University also rose against eve-teasing, protesting for the protection of girl students. This, however, took a violent turn as police administered lathi charges to the girl students.
VIEW: University campuses should be political spaces
Politics is far more than just political parties. It is determining different ideas that battle each other to decide what the best way to shape the world is. Hardly does a week go by without a demonstration or protest defending individual ideas. The teaching faculty of universities are burdened with the responsibility of empowering students to have an independent and credible voice in evaluating parliament, judiciaries, governments, and legislatures as citizens of the country. In a political democracy such as India, this is extremely important.
Delhi University is a good example of this. The campus flourishes with numerous student political parties that are supported by national parties. While the Delhi University Students Union (DUSU) has gained popularity, other organizations such as the All India Students' Association, All Indian Students' Federation and many others comprise students voicing their opinions.
Many students have argued that politics is an inevitable part of educational institutions as the goal of any university is to holistically prepare students for every curveball life throws at them. Another view they hold is that if students are planning to pursue a career in politics, participating in political happenings from early on (i.e. in university) is essential to give them a headstart in the field. 
It has also been argued that academic freedom in universities is 'sacrosanct' as it enables the future citizens of the country to debate issues, explore ideas and think independently in a quest for excellence. The direct or indirect intervention of the government in shaping the political views of students defeats the purpose of receiving a higher education. Guaranteeing complete autonomy to universities allows freedom from any ideology, enabling independent thought.
COUNTERVIEW: Educational institutions should be free of politics
While there is merit in student politics, many people believe that universities should be apolitical. Union Road Transport and Highways Minister Nitin Gadkari shares this opinion as he says, "Many educational institutes belong to politicians, but the education imparted through such centres should not be based on the ideology followed by their founders."
As a response to Presidency University having to change its convocation venue in 2019 due to students locking the gates of the main campus, West Bengal Chief Minister Mamata Banerjee said that educational institutes should be free from political interferences. She stressed that students should respect their peers and faculty members despite their differences.
Additionally, Banerjee alluded to the 2014 incident at Jadavpur University (JU) where students refused to receive certificates from the governor and deemed such actions as "not acceptable." The West Bengal CM also said that while having debates over history is encouraged, such debates should not fuel intolerance. The then-West Bengal Governor and JU Chancellor K N Tripathi backed this view by saying, "Universities are not playgrounds for politics. Your primary objective is to concentrate on learning. Everything else comes secondary." He also urged students to focus on career-building rather than indulging in politics.
Further, a student from JNU expressed his disappointment with the way elections were carried out on his campus stating that they got "annoying" as the political parties were invading students' privacy. It has also been argued that the prevalence of politics on a university campus has adversely affected the academic performance of students.
What's your opinion on this?
(Only subscribers can participate in polls)
a) Universities should allow political activities on campuses.
b) Universities should not allow political activities on campuses.
---
🕵️ BEYOND ECHO CHAMBERS
For the Right:
The India Of Capitalists' Nightmares
For the Left:
Why It's Cool To Foresee Doomsday Scenario For Hinduism While Being Charitable Towards Islamists
---
🇮🇳 STATE OF THE STATES
Growth of startups (Punjab) – The state ranks second in the region behind Haryana in the number of startups with 716 registered since 2016. They've also generated employment for more than 9,000 youngsters. Startups recognised by the Department for Promotion of Industry and Internal Trade (DPIIT) are given financial incentives and industry and academia partnerships.
Why it matters: Across India, more than 72,000 startups have been registered since the Centre launched the Startup India initiative in 2016. They've employed more than 7 lakh youth. In September, chief minister Amarinder Singh launched the Innovation Mission Punjab (IMPunjab), a public-private partnership to bring in global experts and investors to catalyse startups in the state.
Replacing OPS (Tamil Nadu) – Edappadi K Palaniswami (EPS)-led AIADMK replaced deputy leader O Panneerselvam (OPS) with former minister R B Udhayakumar. The party also replaced deputy secretary Paul Manoj Pandian with former minister Agri SS Krishnamoorthy. Palaniswami had communicated to the assembly speaker about the expulsions. Udhayakumar was the first to propose V K Sasikala's name for the Chief Ministerial post after J Jayalalithaa's death.
Why it matters: Party leaders in the southern districts were surprised by the choice of Udhayakumar. Krishnamoorthy was removed by Jayalalithaa from the cabinet and party posts in the wake of the suicide of an agricultural department official. He was taken in by the EPS-OPS group in 2018. The changes come as EPS looks to take control of the party that has been in flux since Jayalalithaa's death.
Grain ATM (Odisha) – The state government will set up its first grain ATMs. These will dispense rations to beneficiaries of the Public Distribution System (PDS) scheme. Each ATM can dispense up to 70kg of grain in five to seven minutes. The government signed agreements with the World Food Programme (WFP) last year for six projects. One of them is the grain ATM. It'll first be introduced in urban areas.
Why it matters: The ATMs will be set up to benefit people by giving them the right quantity of rations. It will bring about transparency in the PDS, according to Atanu Sabyasachi Nayak, the Minister of Food Supplies and Consumer Welfare in Odisha. The first such ATM was set up in Gurugram last year, under the WFP. It's called the Automated, Multi Commodity, and Grain Dispensing Machine'.
Offensive social media posts (Maharashtra) – The state police have filed more than 600 cases over the past two years against social media users for objectionable content. Most of them were against Twitter and Instagram users. The posts were alleged to have been on inciting violence against politicians and provoking communal sentiments. In two-thirds of the cases, the police have managed to have the platforms delete the posts.
Why it matters: The cyber cell of the state police has been busy since the pandemic began. Various national issues have flared up like the farm protests and incidents of communal violence have kept them busy on the lookout for social media content that might be dangerous or violate community rules. On average, the Social Media Monitoring and Analysis Unit flags at least 50 posts daily.
Unique concert (Meghalaya) – Shillong was the venue for a unique concert experience as the famous Arwah Cave at Sohra was the venue. It played host to a grassroots musical project called KI Sur Na Pubon or "message from the cave". It featured young folk singers from Sohra performing songs that had themes of conservation and the environment. Clean Sohra Campaign leader Alan West Kharkongor said the idea is to create awareness of protecting the environment.
Why it matters: The purpose of the event at the cave was to promote tourism and nurture local talent. The cave is known for its limestone structures and stalagmite and stalactite formations. It's surrounded by the thick forests of Law Shyna. Despite being a relatively new discovery, the cave has become a must-see destination for travellers.
---
🔢 KEY NUMBER
₹1.16 lakh crores – The value of electronic goods exports in 2021-22. It's a 42% increase according to Minister of State for Electronics and IT Rajeev Chandrasekhar. Manufacturing and exports of electronic goods have increased over the past five years.