May 5, 2023
Good morning. In today's either/view, we discuss whether judges should take long summer breaks. We also look at Jharkhand's Schools of Excellence, among other news.
---
📰

FEATURE STORY
Supreme Court Vacations: Should judges take such breaks?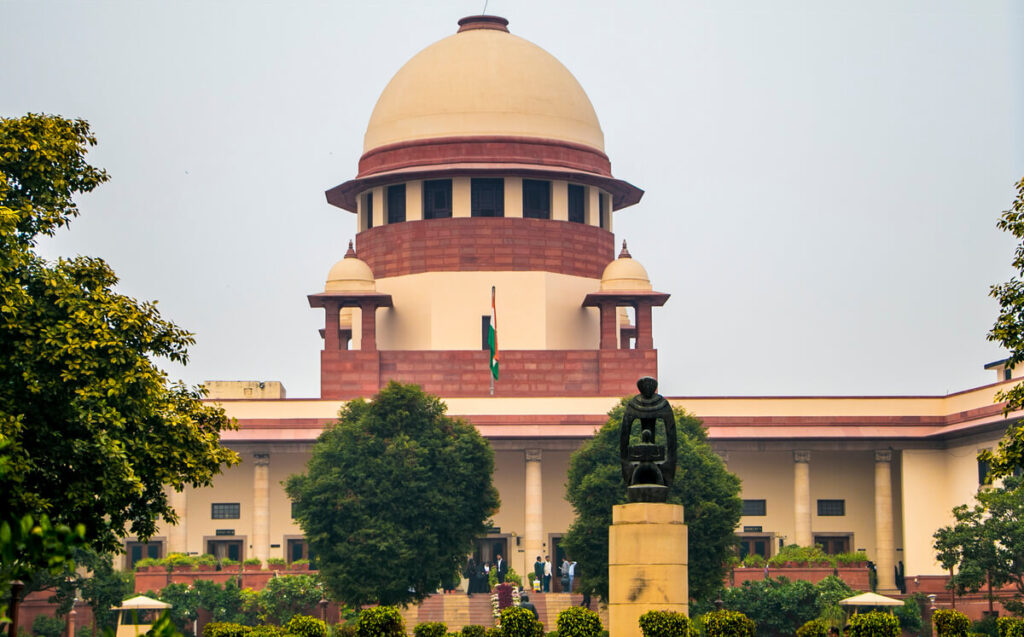 It's the summer. For many people, that means it's time to take a vacation. Travel agents, airlines, and tourist spots gear up for the incoming rush. Maybe amidst the crowd is a Supreme Court (SC) justice.
Everybody needs some time off, right? Well, for the apex court, it has become a contentious matter. Should it have an extended vacation period? Do the judges not deserve some time off, or are the cases on the court's docket too important to postpone?
Context
After over seven decades since India achieved Independence, several remnants of colonial practices and laws remain. One such practice is court vacations. It was incorporated by the British to allow their judges enough time to travel back and forth between home and work.
India gets hot during the summer, and the English judges couldn't handle it. They all had families back home in England and would sail to and fro. It would usually be a month to travel, a month back home, and another month to return to India. That's three months of summer vacation. They would usually return during the monsoon season.
In 2018, for the first time, a public interest litigation (PIL) was filed before the SC that demanded court vacations be cut to reduce the court's ever-mounting pendency. The SC works for 193 days a year, high courts for 210, and trial courts for 245. The SC usually has five vacations in its annual calendar. There's the 45-day summer break, a 15-day winter break, and a week for Holi. It also closes for five days each for Dussehra and Diwali.
When the 13 courts of the SC go on vacation, there is one court that sits during this time to hear urgent cases. The PIL, filed by SC lawyer and BJP spokesperson Ashwini Kumar Upadhyay, argued that the Law Ministry should implement the recommendations of the Law Commission Report No. 221, 230, and 245 to alter the calendar so that the SC works for at least 225 days a year.
In 2014, then Chief Justice of India, RM Lodha, wrote to the Chief Justices of the High Courts asking for their thoughts on the possibility of the courts operating year-round. Lodha suggested the vacation time allotted at the same time to all judges be scrapped. Instead, each judge could signify beforehand when they would take a vacation.
In 2017, the SC made history and set up two vacation benches to dispose of urgent cases. By this point in time, it had been a decade since the SC constituted vacation benches to hear urgent matters during the summer break. Also, over the years, the summer break was shortened by over a week, and the frequency of vacation benches and their numbers increased.
Former Chief Justice Dipak Misra broke tradition and set up vacation benches during the winter break. The cases taken up during the hiatus were poor litigants waiting for compensation for injuries or the death of kin in accidents that happened nearly two decades back.
Are these vacation benches not enough to deal with the backlog of cases, or is it unreasonable to ask for the SC to work for more than 200 days a year and cut down on the summer break, given how bad the issue of pendency is?
VIEW: It's fine as it is
Over the past several years, the SC has introduced reforms in the vacation matter. The summer break has been reduced. The question is, will scrapping the court's summer break or curtailing it significantly solve anything? From the judge's standpoint, many of them complete pending dictations of reserved judgments and tend to non-court commitments like public meetings and training.
Vacation benches aren't the B-team. Previously, they've comprised Chief Justices and other senior justices of the SC. They also take up important cases. In 2018, a vacation bench heard the Congress' plea against the BJP in the wake of the Karnataka assembly elections. The bench ordered an immediate floor test to see who would form the government.
Those in favour of court vacations argue judges are overburdened and work long hours. On average, High Court and subordinate judges have 60-70 cases listed before them each day. Evenings, nights, and weekends are often spent reading files, writing orders, and reading other judgments.
It would be wise to see how efficiently the court's time is used. For example, most arguments are through written briefs in the US and continental courts. In India, most lawyers prefer oral arguments, which take a lot of time that could've been written down. What's needed are sweeping changes in the legal culture. Cutting down on holidays doesn't really solve much and could lead to an increasing number of fatigued lawyers.
COUNTERVIEW: Let's do away with it
For some, there's no special reason why High Court and the SC need long vacations. Judges are like other professionals and should be treated as such. Most working professionals don't get a 45-day summer break. There's no doubt SC judges work with intellectual rigour in analysing and understanding complex legal disputes. By that measure, some other professions would qualify for such breaks, but that isn't the reality. Why the exception for judges?
Where's the proof that judges use the break to author judgments and for other administrative work? There needs to be an accountability measure in place to gauge this. In fact, there's some evidence to the contrary. An analysis of cases and judgments about the 2022 summer break found no positive impact on judgment writing or delivery.
The entire concept of vacation, given its colonial history and context, was for English judges who couldn't handle the Indian summer. Why hasn't there been no correction or upgrade to this concept, assuming the role of the term 'vacation' is supposedly different post-independence? Plus, having no accountability on this matter is odd for the country's highest constitutional authority.
Shutting down courts for several weeks does nothing to solve the enormous backlog. Listing a large number of cases during work days and working long hours isn't the answer. Vacation benches are fine and good, but their effect in reducing the pendency of cases isn't much. The judiciary is a vital institution. It shouldn't be seen as residing in an ivory tower.
Reference Links:
What is your opinion on this?
(Only subscribers can participate in polls)
a) The summer vacation break is necessary for judges.
b) The summer vacation break is not necessary for judges.
---
🕵️ BEYOND ECHO CHAMBERS
For the Right:
For Bajrang Dal, a PM's Chant. For Bajrang Punia, a Midnight Police Assault
For the Left:
Why entertaining the idea of a 'republic of south India' is mischievous, dangerous and outright ahistorical
---
🇮🇳 STATE OF THE STATES
Water hydel firms apply to operate (Himachal Pradesh) – Despite the BJP-led Centre calling the imposition of a water cess on hydropower projects in Himachal Pradesh "illegal and unconstitutional" and ordering the state's Congress administration to withdraw its decision last month, 27 companies have registered to operate in the state through a portal set up for that purpose. Among the 27 firms are two government-owned enterprises, National Thermal Power Corporation Limited (NTPC) and National Hydroelectric Power Corporation (NHPC). The Chamera project in Chamba is managed by NHPC, whereas the Koldam power project is managed by NTPC.
Why it matters: Aside from the Centre's objection, a case has been filed in the Himachal Pradesh high court against the state government's decision. Mallikarjuna Rao of GMR Energies first submitted the petition to promote the Holi Bajoli power plant in Chamba, but it was withdrawn on technical grounds. Following that, the Allain Duhangan Power Project filed a petition, for which the court issued a four-week notice to the state and central governments. On March 16, the state administration enacted a bill implementing a water cess during its first budget session. Following the governor's approval, the new law became applicable to 172 existing and future power projects in the state.
Police to arrive at the scan of a QR (Telangana) – The Rajanna-Sircilla police department has created a QR code in order to assist individuals, particularly ladies in trouble. If an auto driver misbehaves with a lady or attempts to take her on an alternate path with an ulterior motive, the victim can quickly scan the code on her mobile phone, and the information will be transmitted to the police control centre.
Why it matters: Within 24 hours of its release, the code garnered an overwhelming response from the general public. In addition, to raise public knowledge of the QR code, the police department produced a short video and distributed it via Twitter and WhatsApp groups of inhabitants in the district. The short clip depicts how a police squad tracked an automobile which was quickly apprehended by local cops after receiving information via a QR code supplied by a woman in trouble.
80 new schools of excellence (Jharkhand) – Jharkhand government opened 80 district-level Schools of Excellence on May 2, 2023, in the presence of Chief Minister Hemant Soren. Thakur Vishwanath Shahdeo High School, located in Dhurwa, Ranchi, was inaugurated as one of the 80 Schools of Excellence. These 80 schools are all associated with CBSE, and pupils will be educated in English.
Why it matters: For the first time, considerable efforts are being made to develop and improve the quality of education in government schools to match that of private schools in the state. The state government has set a goal of setting up 80 district-level Schools of Excellence, 325 block-level Leader schools, and 4,091 gram panchayat-level Model schools throughout the state, intending to deliver quality education to more than 15 lakh students enrolled in government schools.
New AI university to come up soon (Maharashtra) – In Maharashtra, a first-of-its-kind Artificial Intelligence (Al) university will be established. The Al University will make its official launch this academic year, with classes beginning on August 1. The university has established a green campus in Karjat, close to Mumbai. On January 25, the Maharashtra government's Higher and Technical Education Department authorised this institution and issued a letter of starting. As a result, it will be India's first institution to provide undergraduate and postgraduate degrees in Al.
Why it matters: Undergraduate and postgraduate programs in Al and future technologies are available at Universal AI University. Other new-age programs include liberal arts and humanities, international relations and diplomacy, law, environmental issues and sustainability, and sports sciences. By teaching universal skill sets, this university will be an important engine of the country's growth and development in the twenty-first century. Furthermore, the university would function as a research hub for the research and development of new Al technologies, which would benefit both the economy and technology.
Special training at LAC(Arunachal Pradesh) – Even as tensions remain high along the Line of Actual Control with China, the armed forces conducted Buland Bharat, an integrated surveillance and firepower training exercise, to test "simulated war conditions in high altitude area" at the Mandala High Altitude Firing Ranges in Arunachal Pradesh. The exercise confirmed strategies for reducing integrated firepower by coordinating synchronised shooting by artillery pieces and infantry fire support components aimed at destroying selected targets.
Why it matters: The Indian Army's Gajraj Corps Artillery, Infantry, Sashastra Seema Bal (SSB), Indo-Tibetan Border Police (ITBP), and Special Forces performed day and night training for integrated surveillance and fire application to maximum devastation at target, according to an official message tweeted by the Indian Army. The Gajraj Corps is in charge of important tasks in West Arunachal Pradesh, including the Tawang region, ranging from counterinsurgency to the Line of Actual Control. The People's Liberation Army (PLA) of China has been constantly trying to unilaterally overturn the status quo in several areas. The PLA and the Indian Army had also clashed at the Galwan Valley in mid-2020.
---
🔢 KEY NUMBER
9 – Coal mining will resume in Meghalaya after nine years, according to Chief Minister Conrad K Sangma.