July 10, 2023
Good morning. In today's either/view, we discuss whether the Tele-MANAS chatbot will solve Kashmir's mental health crisis. We also look at BJP's moves in Andhra Pradesh, among other news.
---
📰

FEATURE STORY
Tele-MANAS chatbot: Will it solve Kashmir's mental health crisis?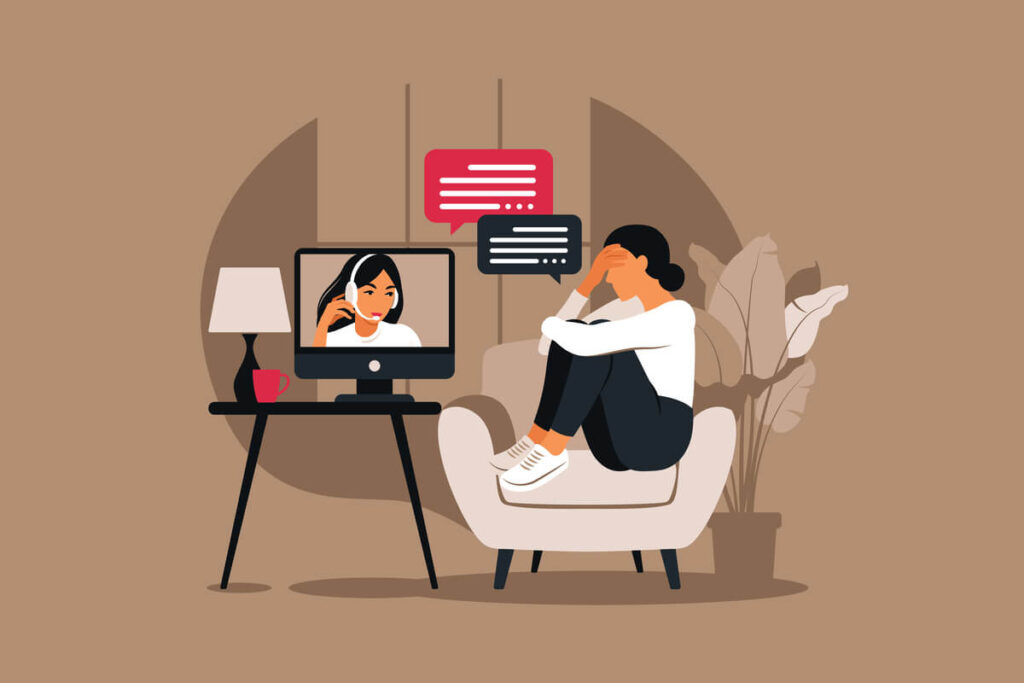 Communities instinctively engage in activities to promote mental well-being, like making jokes, taking walks in nature, and cherishing moments with loved ones. Paradoxically, these coping mechanisms are the most crucial when they're the hardest to do when lives and livelihoods get disrupted. Kashmir has endured prolonged crises and instability since the late 1980s. While grassroots strategies have emerged, the official prioritisation of mental health has been lacking.
On July 5, Manoj Sinha, the Lieutenant Governor of Jammu and Kashmir, unveiled the inaugural Tele-MANAS chatbot in the region. It will ensure that health counsellors, clinical psychologists, and consultants are accessible 24×7. Tele-MANAS brings a glimmer of hope to communities left alone to navigate the tumultuous aftermath of political violence, the pandemic, and human rights abuses. Can it truly make a lasting impact, or will it merely scratch the surface?
Context
First, how does Tele-MANAS work? It enables people in distress to start instant conversations for support. The framework operates on two levels. On the first level, Tele-MANAS cells encompass counsellors and mental health specialists who offer initial assistance. Secondly, the system incorporates District Mental Health Programme (DMHP)/Medical College resources for physical consultations, complemented by eSanjeevani for audio-visual consultations.
eSanjeevani, an integral component of the Ayushman Bharat Digital Health Mission (ABDHM), serves as a national telemedicine service facilitating doctor-to-doctor interactions through digital means. The Centre introduced it in 2019 to help doctors offer specialised opinions in complex cases.
In the union territory of Jammu and Kashmir, it might prove a much-awaited palliative. Scientists usually distinguish between positive and negative coping mechanisms during times of disaster. Historically, humans have proved capable of developing coping strategies to endure difficult times. But most studies point to the diminishing effectiveness of such methods in the face of protracted disasters.
Health experts have frequently sounded the alarm on the pervasiveness of mental health illnesses in J&K. Frequent eruptions of intra-state violence, destruction of property and places of worship, the burden of being the world's most militarised zone, with frequent internet shutdowns and free speech abuses aren't just headlines – they're events with tangible effects on the mental health of residents.
A 2015 mental health survey by Doctors Without Borders (MSF) revealed that only 0.3% of the population had never experienced a traumatic event. The same study revealed alarming statistics regarding probable depression, anxiety disorders, and post-traumatic stress disorder (PTSD).
Adults living in the Kashmir Valley either witnessed or went through 7.7 traumatic events on average in their entire lifetime.
It indicated that 50% of women (compared to 37% of men) showed symptoms of probable depression, 36% of women (compared to 21% of men) exhibited probable anxiety disorders, and 22% of women (compared to 18% of men) were affected by PTSD.
The entire region has only two psychiatric facilities, one in Jammu and the other in Kashmir. But the communication blockade in 2019 restricted whatever little treatment was being accessed until then. During Covid-19, when Indian women were experiencing a grave increase in domestic violence, the phone lines in Kashmir were dead.
Studies suggest that the effects of violence can be transmitted across generations. Children growing up in a conflict-ridden environment in Kashmir face increased risks of psychological distress and trauma-related symptoms.
Tele-MANAS is one intervention the Centre has come up with to boost India's mental health infrastructure. It launched toll-free helpline numbers in January and is now supplemented with a chatbot. Nowhere might it prove as useful as in conflict zones, where violence survives long after it has purportedly ended.
VIEW: A winning formula
Tele-MANAS fills a big gap in the union territory's mental health infrastructure. Since November, the Tele-MANAS helpline numbers have received 10,500 calls from people in distress. Many health experts have been pushing for telepsychiatric services in J&K so that people have a lifeline when they can't access help through traditional routes. The advent of a chatbot further widens the initiative's accessibility.
The stigmatisation of help often comes in the way of seeking proper care. Going to a mental health practitioner is commonly equated with insanity in most social settings in India. It's why Kashmiris rely on faith healers in large numbers. The chatbot's perceived smoothness, anonymity, and privacy can significantly eliminate the risk such social taboos pose toward mental healthcare.
The ones who suffer the most are often those in abject socio-economic circumstances. A significant number of civilians who have directly experienced disasters, such as victims of state or insurgency violence or financially-dependent women, find themselves unable to spend on healthcare. Much of their resources may be spent on treating physical wounds, ailments, fighting cases, or rebuilding their homes and lives. The Tele-MANAS framework makes mental healthcare an affordable and viable choice.
COUNTERVIEW: Many i's to dot and t's to cross
Finding the limits of a sorely needed intervention isn't an easy task. But it's a necessary one, so a mere bandaid may not be sold as a panacea. For instance, Tele-MANAS is a national-level initiative. Will it be modified according to the local and indigenous modalities of healthcare? It's unclear whether Tier-1 and Tier-2 counsellors are Trauma-informed, that is, equipped to deal with trauma. If that isn't the case, it can leave patients more distressed than before.
While the large number of distress calls indicates abundant demand for such a service, we don't know how the services have performed. The government hasn't yet clarified how it plans to regulate telepsychiatry services. Establishing quality control mechanisms and regular monitoring systems is crucial for assessing mental health outcomes and ensuring confidentiality in conflict-ridden zones. 24×7 services is a tall order, and reports suggest that e-Sanjeevani doctors are sometimes too overburdened to meet for digital consultations.
The last point to reflect on, and perhaps the hardest to digest, is what if the cure for the mental health crisis in J&K is not more mental health care? Telepsychiatry service delivery is essential, but the vast number of disorders like schizophrenia, sensory defects, cognitive impairment, and PTSD points to not just a gap in the infrastructure, but a massive negligence for the quality of people's lives in the region. What happens during another episode of a communications blockade? Or when thousands of people are denied access to the justice system because the perpetrator is a state actor?
Reference Links:
What is your opinion on this?
(Only subscribers can participate in polls)
a) The tele-MANAS chatbot will help solve Kashmir's mental health crises.
b) The tele-MANAS chatbot will not help solve Kashmir's mental health crises.
---
🕵️ BEYOND ECHO CHAMBERS
For the Right:
The Art of Dissent: Against Odds, India's Political Cartoonists Will Watch the Watchmen
For the Left:
India's rise and intellectual bankruptcy of West: Why Fukuyama's era should get over
---
🇮🇳 STATE OF THE STATES
Jammu Darshan service (Jammu & Kashmir) – A new bus service for pilgrims called Jammu Darshan was flagged off by the government. The service is for the benefit of pilgrims staying at Yatri Niwas, Bhagwati Nagar, Jammu. Four buses of the state tourism carried pilgrims from the Yatri Niwas to the Suchetgarh Border Retreat Ceremony and other temples.
Why it matters: This service, according to the government, will benefit pilgrims, especially when the Amarnath Yatra is suspended and they're staying at Jammu. It's an opportunity for the state to capitalise on its tourism potential and help promote local places like Akhnoor, Jhiri, and Suchetgarh.
BJP's moves (Andhra Pradesh) – The BJP has appointed Daggubati Purandeswari, the daughter of NT Rama Rao and founder of the Telugu Desam Party (TDP), as the president of their Andhra Pradesh unit. The Jana Sena being positioned as the Kapu party could become a stumbling block for the BJP. If there's no alliance between the BJP and TDP, this appointment could be a setback for the latter.
Why it matters: The BJP's decision is striking since it seems focused more on caste than a Hindutva narrative to compete in the state. The BJP believes the party won't survive unless it has a sound strategy to win over caste blocs. It doesn't want to experiment with appointing an OBC or SC leader. The BJP is confident in her appointment and isn't worried about the TDP since the party was voted out in 2019.
Progress on education (Odisha) – The BJD has blamed mismanagement of data and faulty input of information as contributing factors towards the state's lower ranking in the 2021-22 Performance Grading Index (PGI). The party blamed the state education ministry for the lack of progress. The Centre awarded negligible scores to the state. The state scored 517.1 out of 1,000 in the latest rankings. It's placed in the Akanshi-2 grade, which is the lowest.
Why it matters: BJD leader Sasmit Patra said the ranking has overlooked the state's efforts in implementing the largest alumni connect programmes in the world. The state has the 5T High School Transformation Programme, which the party believes has improved the education landscape in Odisha. The Odisha Adarsha Vidyalaya initiative is another scheme.
Fisherfolk stand their ground (Goa) – In the wake of Tourism Minister Rohan Khaunte's comments on removing illegal encroachments along the beaches, fisherfolk say the government has messed up the CRZ 2011 plan, and their removal would affect the fishing community. They said the tourism department isn't the owner of the beaches, and successive CRZ plans have emphasised fishermen have the right to live in the 500-metre tide line.
Why it matters: While in some areas fisherfolk villages have been demarcated, it hasn't been properly done across the state. While the government is looking out for tourism purposes and revenue, removing fishermen from the stretches would go against their many customary rights. However, Tourism Minister Rohan Khaunte said the demarcation has been done, and encroachment areas have been marked.
Importing drugs (Assam) – The Chemists and Druggists Association of Assam (CDAA) stated that some unauthorised stockists with no drug licenses are infiltrating and importing medicines from outside the state and evading GST. According to CDAA secretary Jitu Barman, this happens despite Guwahati having manufacturer depots.
Why it matters: The unauthorised importing of medicine threatens the local healthcare sector and public health at large. Given how big India's pharmaceutical industry is, the CDAA said action should be taken against illegal traders and importers. If government agencies aren't able to keep a check on this, the authorised trade apparatus could collapse as has happened for food grains.
---
🔢 KEY NUMBER
500 – The Russian invasion of Ukraine reached the 500-day mark. To commemorate the occasion, Ukraine President Volodymyr Zelenskyy visited the Black Sea island that became a symbol of the country's resistance.