January 11, 2022
either/view ⚖️
Dips in chips
To: either/view subscribers
---
📰

FEATURE STORY
The Great Indian Gamble: Dealing With A Global Chip Shortage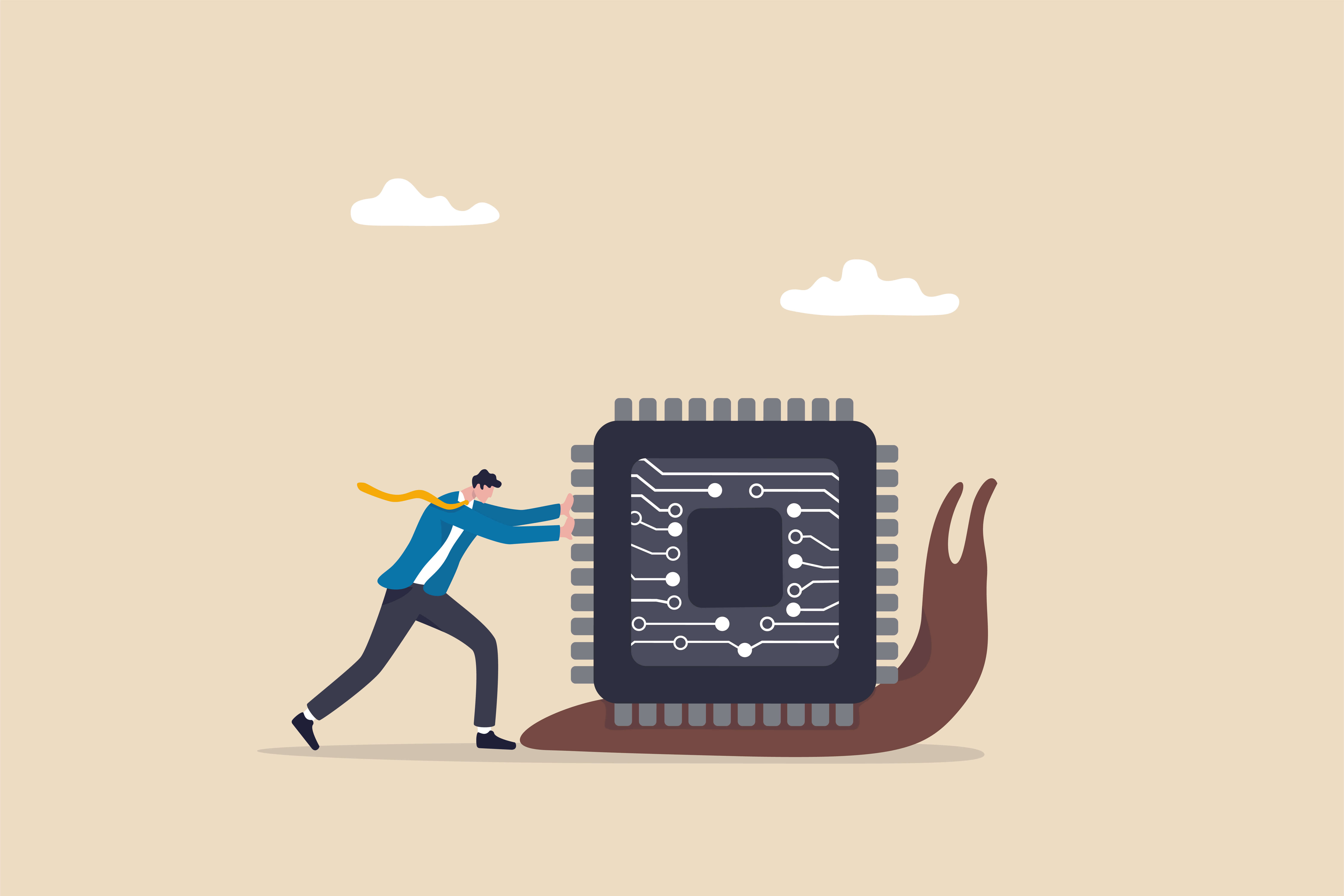 It's pretty safe to say that, over the past few years, nothing has been quite as influential as the ever-evolving coronavirus. Miss Rona came in all guns akimbo and girlbossed her way into every possible industry we could ever think of. And boy, is she thorough. Even when it comes to technology, she managed to hit us where it hurt the most – right in our chips.
With factories shut and businesses upended, 2020 saw the beginnings of a major shortage that is still going on. That's right, we're talking semiconductors, people. The little pieces of hardware that run everything from electric toothbrushes to the brakes in your car. While it is getting exceptionally difficult to get your hands on a working PlayStation right now, there may be a silver lining in here for us… there may just be.
Context
First thing on the agenda – let's decode tech-speak. What's a semiconductor? According to the US-based Semiconductor Industry Association (SIA), "semiconductors are the brains of modern electronics". Also known as microchips or "integrated circuits", they usually start as silicon-heavy sand that gets processed and cut into tiny little pieces with "highly intricate circuit designs" printed on them. Clearly, this is nobody's backyard science project.
Making them often requires inter-continental cooperation. While the mechanical part of chip-making happens in foundries, the design aspects are covered in companies known as "fabless firms". More often than not, these fabless firms pop up in already developed nations while the foundries are outsourced to labour abundant ones like Taiwan and China. But every now and then, we come across an independent queen that covers all aspects of chip-making on its own – an Integrated Device Manufacturer (IDM).
So where did this shortage come from? Well obviously, the pandemic's disruption of global supply chains played quite the major role but it wasn't acting alone. Sure, the rise in demand for remote-working equipment when factories were effectively shut did not help. But as it turns out, this shortage was years in the making.
You see, we've been in the middle of a tech-boom for a while now. Pre-pandemic, the rise of 5G was causing spikes in demand but supplies, even then, were shaky at best. Tense relations between the US and China, with the former blacklisting several of the latter's tech firms and thus, preventing the sale of semiconductors, only exacerbated the scene. Even from a manufacturing point of view things weren't looking too good due to a scarcity of equipment.
In general, things were going from bad to worse and the full-fledged global pandemic simply served as the last straw. And according to the chief executives of IDMs like Intel and IBM, this dearth is here to stay for the foreseeable future. At least, for the next two years for sure.
A well-disguised golden opportunity
As of now, 100% of India's chip appetite is satiated by imports from Taiwan, Singapore, Thailand, Vietnam and Hong Kong. Looking at our auto-sector alone – last November saw a drop of about 18% in vehicle sales – we can say that this isn't working for us anymore. Over the years, India has tried to place itself on a favourable footing when it comes to chip-making but this proved to be a lot harder than it seems. Now, one must remember that these are unprecedented times we're dealing with. Right now, what the world is looking for is more diverse sources for supplies. This is exactly where India can be set up to win.
As per the Ministry of Electronics and Information Technology, "India produces nearly 2,000 chips every year and more than 20,000 engineers in the country are involved in chip design". This gives us a "distinct advantage in chip design" that must not be overlooked. Over the years, several IDMs have also set up shop in India to benefit from our comfortably large labour force. Besides, this recent crisis of chips has left the world yearning to diversify production. Given that China and Taiwan are leading the game in that aspect, and that Beijing fully sees Taiwan as a part of its territory, this push to diversify is quite palpable.
Strategically speaking as well, focusing on chip production would benefit India loads. Even the government thinks so, as displayed by their approval of a ₹76,000 crore production-linked incentive (PLI) scheme. This PLI is expected to create 35,000 specialised jobs, generate around ₹1.7 lakh crore in investments and "boost the development of a complete semiconductor ecosystem". It would include everything from design to packaging. Not only would this reduce our dependence on imports but also place us in a more lucrative geopolitical position. If we are going to gamble, this is as good a time as any.
Just another distant dream
Here's the thing, this isn't the first time India is trying to throw its name in the growing tech-producing hat. And yet, we remain nothing more than a blip on the "global semiconductor radar". First of all, India is significantly late to the game. The chip industry is considered to be incredibly fast-paced. With constant innovation and change in the air as technology continues to grow and better itself, India remains at high risk of burning out before we even begin. The goal here isn't to simply meet current demands and go back to business as usual, and that "lack of long-term vision" is exactly what set us up for failure.
Another point to remember is that it's still a rich man's world. As in, the manufacturing of semiconductors requires hefty annual investments just to keep up with changing tech. Intel and Samsung, both IDMs, spend over $20 billion each in research and development (R&D), equipment and "process improvement" every year. And even then, the chances of success are quite slim. Just look at China for example, after years of heavy government investments, the best they could do is manufacture the 14-nm chip. A chip that is two generations behind the 5-nm chip currently being used in Apple's iPhone 13.
Finally, it is important to note that South Korea, a major Asian player in the semiconductor scene, took 15 years to develop its industry. Taiwan, the current chip-manufacturing hub, took 21 years of sustained support, political focus and market discipline for the same. As for us, not only are we already late to the process, we're also trying to back the wrong horse apparently. Focusing our efforts on manufacturing doesn't really help us as experts believe that "the world will soon have surplus [manufacturing] capacity." This is due to the sudden increase in manufacturing investments made after the global shortage. The odds simply don't favour us.
What's your opinion on this?
(Only subscribers can participate in polls)
a) This is the right time for India to invest in chip manufacturing.
b) This is not the right time for India to invest in chip manufacturing.
---
🕵️ BEYOND ECHO CHAMBERS
For the Right:
To Counter BJP's Politicised History, India Must Promote Historical Multiculturalism
For the Left:
Views about Mayawati, and what they tell us
---
🏴 STATE OF THE STATES
New DGP (Punjab) – Ahead of the announcements of poll dates, the state has appointed Viresh Kumar Bhawra as the state Director General of Police. He replaces Siddharth Chattopadhyaya. Bhawra has served in Assam, the Intelligence Bureau, and the Indian government in many capacities. He is a recipient of the police medal for meritorious service and the President's Police Medal for Distinguished Service. The post of DGP has been caught in flux due to Congress infighting in the state.
Why it matters: The appointment of Bhawra comes close on the heels of the security lapse that occurred when Prime Minister Narendra Modi visited Punjab. Also, the government order confirming Bhawra's appointment came just a few hours before the announcement of the poll schedule for the state assembly elections, which would have brought the code of conduct in place.
Worry over mid-day meal scheme (Tamil Nadu) – As COVID-19 cases begin to surge across the state, schools have started to close. Educationists are worried about its impact on mid-day meals for students. For many kids, this is the only proper meal they get for the day. One social worker said during the previous lockdown, many children went hungry as the distribution of meals stopped, and they had to rely on dry rations. Now, the supply of dry rations isn't enough.
Why it matters: Over 42 lakh school children in Tamil Nadu are beneficiaries of the mid-day meal scheme. During the peak of the pandemic when schools were closed, the state government provided 10 eggs per month as dry rations to each student to meet their nutritional needs. With schools shutting down once again now, managing children's health has become a challenge.
e-Mulakat between prisoners and families (West Bengal) – As the state sees a surge in COVID-19 cases, the prison department has installed an online-based e-Mulakat system in correctional homes (prisons) for prisoners to meet their families. Each computer that is used has web cameras. Prisoners are allowed to talk to their families for fifteen minutes, once a week. To avoid physical meetings, the system allows inmates to talk to their families who might be in another city or state. According to officials, the response to this system has been positive.
Why it matters: Rights of prisoners have been neglected for a long time in our country. In such a scenario, enabling prisoner-family meetings through a web-based video calling facility during the pandemic is a step in the right direction.
Inclusive manifestos requested (Goa) – The Disability Rights Association of Goa (DRAG) has urged all political parties to include persons with disabilities in their manifestos. It has requested the formation of a state policy to empower persons with disabilities by the party that forms the government. It also wants a person with a disability to be appointed as an advisor to the government on such issues. DRAG President Avelino de Se has called for a 5% allocation of the state budget of all government departments for the empowerment of persons with disabilities.
Why it matters: As per the 2011 census, there were 33,012 persons with disabilities who constituted around 2% of the population of Goa. A report titled 'Persons with Disabilities in India – A Statistical Profile 2021' found that only 50% of persons with disabilities in Goa received any benefits from the state government. The inclusion of persons with disabilities in poll manifestos will ensure representation and make the political parties more accountable.
Flooding eating away at tribal lands (Assam) – The flooding of the Brahmaputra river uproots families in Besemora, forcing them to relocate to an ever-shrinking area of land. Due to climate change and their dependence on natural resources, many indigenous communities bear the brunt of extreme weather events. A 2018 study by the Department of Science and Technology stated Assam to be the most vulnerable of the Himalayan states to climate change. Due to this, many tribals engaged in farming and fisheries have been affected.
Why it matters: Flooding in Assam has resulted in 660 deaths and affected 3.2 crore people between 2014 and 2021. Residents affected by the floods either relocated or raised the floors of their stilted homes after the floods. Floodwaters during monsoons leave behind nutrient-rich fertile topsoil, but frequent floods remove the topsoil leaving behind coarse sand and debris. Floods also disturb the habitats of fish, thereby affecting fishing in the region.
---
🔢 KEY NUMBER
17.99 lakh acres – Land belonging to the Ministry of Defence in India. The data was revealed through a first-of-its-kind three-year survey using drones, satellites, and GPS.