February 9, 2023
Good morning. In today's either/view, we discuss whether India is ready for the second space age. We also look at the high-risk black spots of Delhi, among other news.
---
📰

FEATURE STORY
The Second Space Age: Is India ready?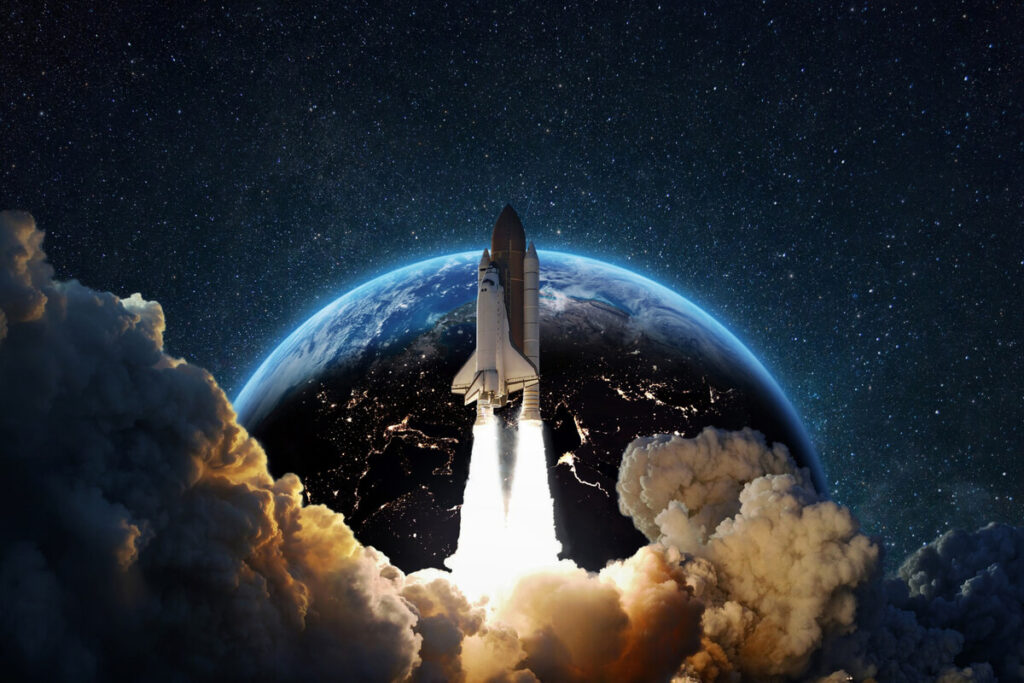 Since the establishment of India's Department of Space and the Space Programme, India's space sector has been ad nauseam deemed ambitious and wide-ranging. The recent global thrust of private players into the arena has brought the world to a decisive crossroads: which countries will catch the $469 billion space economy by the horns, and who will trail behind in the shadows?
On the public sector front, Finance Minister Nirmala Sitharaman announced a budget cutback on the space sector. On the private front, funding for space startup solutions grew to impressive heights in 2022. Where does India stand in this Space Age 2.0?
Context
Nations often view space exploration as a responsibility and a reward. It is a responsibility because space travel bridges the gap between what humans know about the universe(s) and the knowledge that exists beyond it.
Besides re-affirming a country's STEM development, successful space missions send messages to other nations about their neighbour or geopolitical rival's technological might.
Nations officially construe space research and exploration as part of their fiscal responsibility, in budget and in policy, to develop the sector. And it's not all about geopolitical flexing. Space expenditure bolsters highly skilled jobs, accelerates overall technology advancement, and produces business opportunities that add to the GDP.
Take, for instance, the case of thermal wear for soldiers or different types of ventilators and artificial limbs that have improved defence services and medical infrastructure. In India, these were conceived by space scientists working at the national space agency, Indian Space Research Organisation (ISRO).
Some of the most memorable human moments in space have been achieved through developments in nationally managed public sector enterprises. The first space race between the US and USSR saw the respective governments leading the charge on space exploration with private players on the sidelines.
But speculations over a second space race have been rife since private players acquired more skin in the game. One avenue through which private players have entered the segment is through seeping geopolitical tensions. With Russia planning to abandon the International Space Station, NASA started to infuse private players with funds to develop commercial space stations in 2021.
Now consider the growth of SpaceX, which is marching forwards in America's space sector with the Starlink and Starship programs. SpaceX builds rockets, transports freight for NASA, and dispatches satellite missions for private players. Only last month, the company reportedly raised $750 million in a new funding round at a valuation of $137 billion.
Across the world, governments are supporting private players and public-private partnerships in development and manufacturing for two reasons. One, it reduces the nation's fiscal budget, and two, private players can induce a sectoral boom and secure the country a competitive advantage.
Presently, India makes up about 2.6% of the global space economy. Increasing the private foothold in not just manufacturing but in every sphere and creating a hospitable legal and regulatory environment can incrementally burgeon India's slice of the space economic pie.
VIEW: Slow and steady wins the game
In the last three years, the government has been forthcoming about introducing reforms in the space sector. The GOI's first noted priority was setting up the Indian National Space Promotion and Authorisation Centre (IN-SPACe), an autonomous regulatory body to mediate public-private partnerships between space startups and ISRO. This is so that private space companies can access the equipment and facilities at the ISRO premises.
The number of space startups is already zooming. By December 2022, private players witnessed a massive jump in funding by 61.5%. The infusion soared to $108.52 million from $67.2 million in 2021, with Hyderabad-based Skyroot Aerospace bagging the highest funds in the sector.
Last year, Skyroot launched India's first privately developed vehicle, Vikrant S, to test the systems for Vikrant I's upcoming orbital mission. Another private player foraying into space tech is Agnikul Cosmos, whose semi-cryogenic Agnilet engine was test-fired for 15 seconds last December at ISRO's Thumba Equatorial Rocket Launching Station (TERLS), Thiruvananthapuram. ISRO's Small Satellite Launch Vehicles (SSLV) are also likely to be manufactured and operated by private players soon.
Experts also predict that the sector will see big space companies emerging soon in upstream and downstream segments. The public sector mainly prioritises space technology development, which could allow private players to lead the sectoral development in other spheres like space-based applications, ground station services, and satellite services.
Besides IN-SPACEe, the GOI established the New Space India Limited (NSIL) in 2019. NSIL was established as ISRO's commercial sidekick so that it facilitates the promotion and utilisation of space technology for socio-commercial purposes. This means that ISRO's operations will be streamlined into research and development.
COUNTERVIEW: The current approach is stymying growth
Startups in India witnessed a boom alright. But the question remains whether the sunshine space will withstand the effects of a global economic slowdown. In 2022, for instance, investments in space startups more than halved to $21.9 billion.
Investing in space tech requires a long-term commitment. According to experts, investors in India are generally risk-averse and, until now, have largely restricted themselves to pre-seed rounds. If this continues, the bubble of a boom is likely to burst.
The scarcity of human resources is another challenge for the space sector, the roots of which extend to educational neglect. A boost for the private sector requires a labour force equipped with STEM knowledge and capable of business strategising development and marketing.
While FM Sitharaman released a few space guidelines, India still doesn't have a policy framework to assure homegrown entrepreneurs and foreign investors about the scope of acceptable space activities and their treatment under the law. While the GOI drafted a Space Activities Bill in 2017, the wait for its cabinet approval has dragged on.
Lastly, there is still the consideration of Foreign Direct Investments (FDI). FDIs will be crucial for the development and emergence of upstream space industries. Presently, India's foreign direct investment policy is short of a section on space. The satellite sector does allow up to 100% FDI, but government approval and Department of Space authorisation constrain it.
Risk-averse investors gravitate towards downstream industries which support ISRO's missions and utilise their developments for commercial purposes. Instituting subsidiary arms for ISRO does have some positives for the national agency, but commercialisation and opening up of space tech will require the GOI to rid of regulatory bottlenecks.
Reference Links:
What is your opinion on this?
(Only subscribers can participate in polls)
a) India is ready for Space Age 2.0.
b) India is not ready for Space Age 2.0.
---
🕵️ BEYOND ECHO CHAMBERS
For the Right:
How bans on Chinese loan apps don't change anything
For the Left:
Sonia Gandhi tried but failed to form valid criticism
---
🇮🇳 STATE OF THE STATES
High-risk black spots of Delhi (New Delhi) – In Delhi, 32 metro stations and about 30 schools have been designated as high-risk hazardous locations due to the frequent reports of traffic-related fatalities there. According to an analytical study by the city transport department, the casualties in each of these places were pedestrians, and their deaths were caused by the absence of sidewalks, footpaths, pavements, and road crossing facilities.
Why it matters: According to the report, traffic calming, pedestrian infrastructure, and poorly designed junctions with unclear lane lines and delineation are to blame for the high frequency of accidents near schools, metro stations, and other locations. The road network's architecture encourages vulnerable road users to share the road with bigger and quicker cars. Speeding has been a key factor in many fatal crashes and catastrophic personal injuries.
Research on conservation of cultural landscapes (Kerala) – The preservation of sacred natural sites and lands of cultural significance has been a hot topic of discussion for a long time now. The National Institute of Technology, Calicut's (NIT-C) architecture and planning department has received a special grant from the Ministry of Education to study Indian knowledge systems' approach to deep ecology, integrating sacred geography and sustainability, which is a significant development that could be helpful for conservation efforts.
Why it matters: The holy groves or sacred natural areas (kavu), which are regarded as affluent abodes of biodiversity, would be the major subject of the study in Kerala. The study's goal is to catalogue sacred natural areas before classifying and rating their ecological and cultural significance. It has been determined that the state's cultural landscapes are in danger of being destroyed. Given their importance to the environment, they must be preserved.
Darbhanga is the only airport to make a profit (Bihar) – According to official statistics released on Monday, Darbhanga Airport in Bihar made a profit in fiscal 2021–22. In contrast, Gaya Airport and Patna Airport both experienced losses during the same time period. Examining the information provided indicates that during the fiscal year 2021–2022, Darbhanga airport had a profit of ₹2.10 crore, whereas Gaya airport lost ₹14.32 crore, and Patna airport lost ₹41 lakhs.
Why it matters: On November 8, 2020, the regional connectivity scheme (RCS) of the union government officially started the civil aviation facility from Darbhanga Airport. This was a time when flights were not very functional, yet, within just two years, the airport made a net profit. Satyendra Jha, the airport director (APD) in Darbhanga, stated that construction on the terminal building's additional extension was already underway and scheduled to be finished by August 31 this year.
Appasaheb Dharmadhikari named Maharashtra Bhushan (Maharashtra) – Chief Minister Eknath Shinde on Wednesday named renowned social worker and reformer Dattatreya Narayan Dharmadhikar, also known as Appasaheb Dharmadhikari, for the "Maharashtra Bhushan" 2023 award. Appasaheb Dharmadhikari, 77, who received the Padma Shri in 2017, will receive the honour, which consists of a medal, a citation, and ₹25,00,000, at a later ceremony.
Why it matters: Shinde cited Appasaheb Dharmadhikari's contributions to social and society-building initiatives such as reforestation, blood donation, and medical camps, rejecting the dowry system, empowering women and tribals, organising training for kids and adult literacy centres, holding job fairs, maintaining cleanliness, doing away with superstitions, tackling addiction, promoting national integration, and educating the populace on traditional and religious values.
Six including CM's brother convicted (Mizoram) – On Tuesday, the Special Court (Prevention of Corruption Act) in Aizawl found six persons guilty of receiving false compensation, including the younger brother of Mizoram Chief Minister Zoramthanga. The judge found the six defendants guilty of getting compensation through a conspiracy to fabricate land passes, create fictitious village council land passes, and defraud the authorities in order to receive compensation under sections 420, 467, 468, 471, and 120B of the IPC.
Why it matters: As compensation for acquiring lands that were submerged during the building of the 60-megawatt Tuirial Hydro Electric Project, which was performed by the North East Electric Power Corporation (NEEPCO) Ltd., all six guilty individuals fraudulently earned lakhs of rupees.
---
🔢 KEY NUMBER
578 –  The state of Odisha reported a total of 578 forest fires over the last week.