April 15, 2022
Good morning. In today's either/view, we discuss the impact of TRAI's 5G recommendations on the telecom sector. We also look at the investments for data centres across Bihar, among other news.
---
📰

FEATURE STORY
TRAI's 5G Recommendations – Impact on the Telecom Sector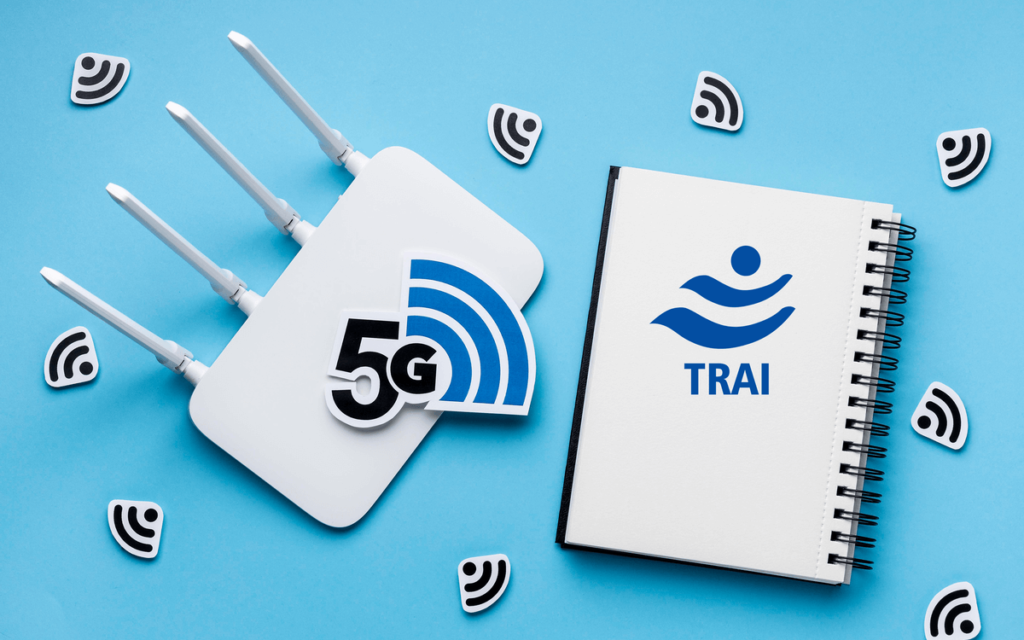 You're travelling, and the WiFi is non-existent or spotty, at best. So, you watch something on your phone with your service provider's data plan. If the video or the live stream is choppy or keeps buffering, then 5G will come to your rescue, eventually. If you're in the market for a new smartphone, you'll probably want to buy one with 5G capability.
India's long-awaited journey of 5G seems to be picking up steam. Telecom Regulatory Authority of India (TRAI) has recently announced some recommendations on the upcoming 5G auctions. While they've done so in the interest of the process and end-users, everyone isn't on board.
Context
In telecommunications jargon, 5G is the fifth generation technology standard for a broadband cellular network. It's the natural successor to 4G, which most smartphones currently use.
Here's a basic explainer of how this works. Whether it be 4G or 5G, the service area under these networks is divided into geographical areas called cells. The networks are connected to the internet and telephone network through radio waves. Through these waves are how data is transferred. For 5G, the waves have higher bandwidths, hence higher download speeds.
5G can be implemented in low, middle, and high bandwidths. Low-band 5G uses a similar frequency to 4G cellphones, with 600-900 MHz. Mid-band 5G uses microwaves of 1.7-4.7 GHz with higher speeds. High-band 5G uses frequencies of 24-27 GHz. Here, download speeds enter the gigabits per second territory.
About 30% of the world's countries have implemented 5G commercially. South Korea was the first country to adopt 5G on a large scale in April 2019. According to Ericcson, 5G coverage will cover almost 65% of the world's population by 2025. It estimates 2.6 billion 5G contracts worldwide by the mid-2020s.
India is playing catch-up. Our 5G journey has been bumpy and controversial. In 2017, it came to the forefront when the government set up a forum to outline its 5G roadmap. The initial goal was to have it set up by 2020, which obviously didn't happen. In 2018, companies were invited to conduct trials and prepare a framework for 5G applications and use cases.
As trials were being conducted, two points of contention flared up and led to delays. One was increased emphasis on encouraging homegrown telecom equipment manufacturers to participate. There were some concerns about the reliability of foreign companies. The other was a debate on India-specific 5G standards. The Telecommunications Standards Development Society, India (TSDSI) wanted a 'Large Cell Low Mobility' approach for wider coverage in rural areas. The Cellular Operators Association of India (COAI) argued for the global 3GPP standard.
Then there's the spectrum pricing and allocation issues. These have plagued India's 5G journey from the beginning. In the first auction in 2017, the base rate was ₹492 crore per unit, the highest worldwide. The telecom companies were unhappy, and the process was delayed. Last year, a parliamentary panel report concluded that sufficient groundwork for 5G wasn't in place.
A few days back, TRAI made two recommendations. A 35-40% price cut in the base price for the 5G spectrum and allowing all the existing and new bands available for auction. With these, industry bodies aren't happy. Do they have a case?
VIEW: Good for the sector and economy
The basic tenet of TRAI's recommendations is to ensure the long-term growth and sustainability of the telecom sector. While it has propelled digital growth, India's telecom sector has been under considerable stress. As Airtel Chief Sunil Mittal stated, since tariffs haven't seen any movement, telecom companies are in a financial mess. The recommended price cut is ideal as anything lower would mean lower revenues for the government.
TRAI also suggested that telecom service providers should be allowed to surrender spectrum easily by paying a fee of ₹1 lakh per spectrum band per Licenced Service Area (LSA). This is in line with the Department of Telecommunications (DoT) policy change announced in September. This will allow telecom companies to return the spectrum they aren't using. While none of the providers have responded, they are likely to benefit from this. It's a way to boost the ease of doing business in the sector.
Last month, a parliamentary panel expressed its concerns about the high price of the spectrum while commenting at large on the delays in implementing 5G in India. It wanted the DoT to ensure the price was affordable and sustainable. The reduction in the base price will lead to cheaper services. The price issue doesn't just affect telecom operators but other industries also, given their dependency on it. For the Indian economy, that's vital.
COUNTERVIEW: Not a sustainable approach
The Cellular Operators Association of India (COAI) has the three major telecom operators – Vodafone Idea, Reliance Jio, and Bharti Airtel as its members. They've expressed their disappointment at the prices despite giving their views to TRAI during consultations. For COAI, the price is still too high. It wanted a 90% reduction in the price. Even at the new base price of ₹320 crores, an operator might have to pay ₹70,000 crores to offer decent coverage. That's only going to increase the sector's debts.
Also, lowering the cost of the 5G rollout won't be enough to create an ideal or sustainable telecom environment. One of the problems that telecom companies have faced is a tariff glut. While prices have remained constant, the companies have had to shell out more for expanding operations. They aren't able to make their money back. It's led to a lack of competition, and there's a danger of the sector becoming a duopoly.
The Indian Space Association, a collective of players in the satellite communications business, also criticised the recommendations. TRAI wanting to put up all available spectrum would lead to oversupply for the terrestrial companies at the cost of the satellite industry. It cited global standards for allowing the 28GHz band exclusively for satellite communications. Also, allowing private networks would negatively affect the sector. They would disincentivise the industry from investing in networks.
What's your opinion on this?
(Only subscribers can participate in polls)
a) TRAI's 5G recommendations are good for the operators and the sector.
b) TRAI's 5G recommendations are bad for the operators and the sector.
---
🕵️ BEYOND ECHO CHAMBERS
For the Right:
From Ram Navami 'clash' to 'gun-tantra' in New York, Indian news channels sell violence best
For the Left:
The Brahmin Files: Why atrocities on Brahmins remain one of the best-kept secrets in independent India
---
🏴 STATE OF THE STATES
More Eklavya schools (Tripura) – According to Union Minister Bishweswar Tudu, 17 Eklavya Model Residential Schools will become functional by the academic year of 2023-24. As of now, the state only has 4 such schools. Construction for 16 of these schools has already started, and the process for land acquisition is still going on for the other one. Around 40 crores will be spent on setting each of them up.
Why it matters: The Eklavya Model Residential School (EMRS) is a scheme set up by the Union government to ensure quality education reached students from Scheduled Tribes. These schools will follow the CBSE curriculum and are expected to teach 500 students each. The schools will also all be English medium schools to make sure that the students don't lose out on opportunities. The scheme itself started in 1997-98.
Court on same-sex marriage (Uttar Pradesh) – The Allahabad High Court recently rejected a plea by two women who asked for their marriage to be recognised. The couple claimed that the Hindu Marriage Act did not explicitly oppose such a union. The court rejected this claim by saying that same-sex marriages are against Indic religions and culture. Therefore, it would stand invalid under Indian laws.
Why it matters: The Union government has also rejected same-sex marriages in the past. According to them, marriage isn't just an institution between individuals but between a biological man and woman. As of now, around 31 countries have legalised same-sex marriages. Historically speaking, however, same-sex relationships have always had a space in ancient India.
Investments for data centres (Bihar) – Recently, the state received an investment proposal worth ₹817 crores to set up data centres across Bihar. The data management firm VueNow plans to develop a 4-tier data centre with 100 racks. The master data centre will be in Patna while four other centres will be in Darbhanga, Bhagalpur, Purnea and Buxar. All of this will happen just in the first phase.
Why it matters: According to Information Technology Minister Jibesh Kumar, the state has been trying to become "the next IT hub of the eastern region". Currently, West Bengal is considered to be the IT hub of the east. As of May 2021, the state is expected to have a  compound annual growth rate (CAGR) of 20% between 2017-22. Back in 2020 itself, the state saw over 200 startups form under different incubation centres.
Uniform issues (Lakshadweep) – On 8 April, an official tender that called dealers and manufacturers to supply readymade uniforms was spread around. The document was signed by Rakesh Singhal, Director, Education, Union Territory of Lakshadweep. It included items like stitched skirts for girls, half-sleeve shirts and half pants for boys. Locals are concerned about these changes as it is a Muslim majority community.
Why it matters: A district panchayat member, Nizamuddin, said that this will affect around 20 schools across the several islands of the UT. Locals find this change quite strange as no stakeholders, including parents and local authorities, were consulted before doing this. Before, when the uniform colours were changed to blue and white, discussions with locals were held. Given the impact of this on Muslim girls' education, people seem concerned.
Hold off on transfers (Andhra Pradesh) – On Wednesday, the Supreme Court stopped the state government from transferring funds to personal deposit accounts from the State Disaster Response Force (SDRF). It also told the government to not use the funds that have already been diverted for anything other than what is mentioned in the Disaster Management Act, 2005.
Why it matters: According to a petition filed by Palla Srinivasa Rao, the state government has been diverting funds from the SDRF to the kin of those who passed from Covid-19. As per Section 46 (2) of the Disaster Management Act, 2005, this use of the fund is definitely illegal. According to a letter from the Union Minister of State for Finance, the state received ₹324.15 crores as the central share of the SDRF and ₹570.91 crores from the National DRF.
---
🔢 KEY NUMBER
$41.39 billion – In a strange turn of events, Elon Musk offered to buy Twitter for $41.39 billion only days after rejecting one of its board member seats. According to Musk, for Twitter to serve its "societal imperative", it needs to become a private company.