May 6, 2022
Good morning. In today's either/view, we decode the recent rise in the number of startups gaining unicorn status in India. We also look at deaths related to Shawarma consumption in Kerala, among other news.
---
📰

FEATURE STORY
Understanding Both Sides Of India's Unicorn Boom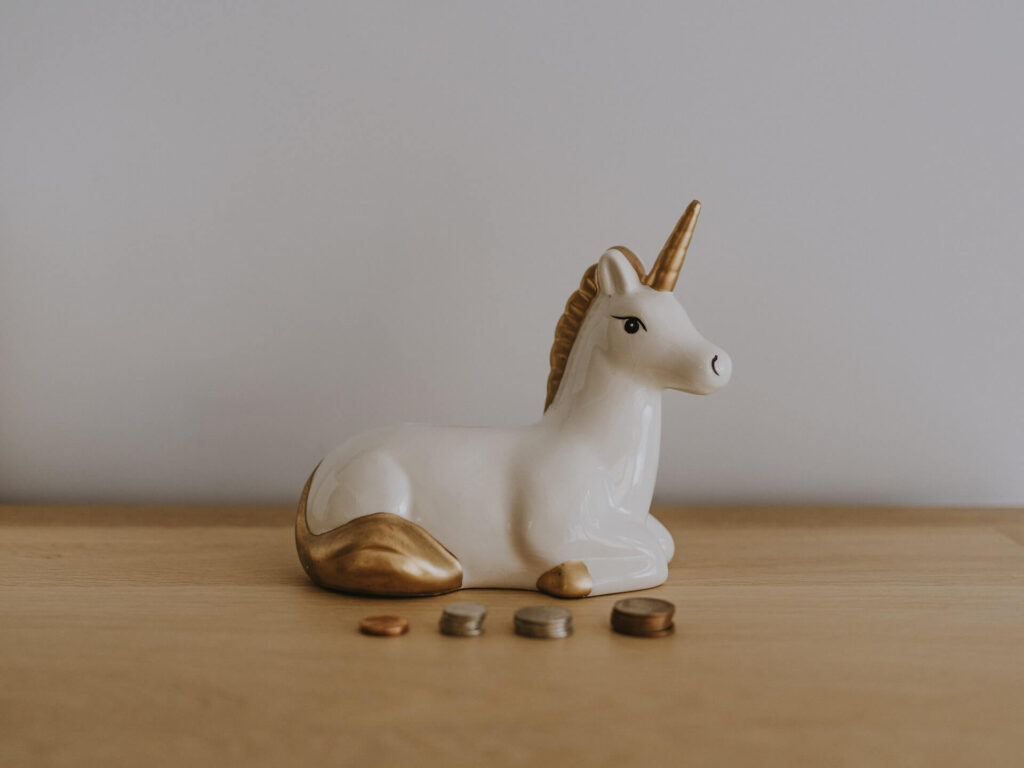 While everything from the global economy to morale was down in 2020, one thing did very well – our tech startups. Before the pandemic, a unicorn might have just been a mythical horse with a horn and holographic blood. As of now, even if you aren't the biggest fan of business news, the reference to the $1 billion+ valued startups is very much in the zeitgeist.
Of course, the boom we're experiencing is seen as a good thing. And articles with unicorns in the title tend to cut through all the depressing stuff. But with unemployment high and general dismay all around, the claims of unicorns helping the people need a quick relook. That's what we're here to do.
Context
Let's start with definitions. A startup is basically a younger company in the first few stages of operation. And whenever one of these startups is estimated to have a value of $1 billion or more, i.e. its valuation, the company gets tagged as a unicorn. According to recent data, India has reached a point where we see a new unicorn every two weeks.
While the number of unicorns India has produced till now has reached 100, the number of active unicorns in the country is 92. This means that 8 of them have dipped in value since their $1 billion mark. For example, companies like Hike, Shopclues, Snapdeal and Quikr have all gone down in value.
India's first unicorn spotting happened in 2011 when InMobi, an ad-tech startup, gained the tag. 2015 saw our favourite trio – Ola, Paytm and Zomato – getting unicorn-ed. And, then 2018 and 2019 witnessed the graduation of eight startups each. It was in 2020 when things really started to turn.
For the first time, a double-digit number showed up on our unicorn charts. 11 startups entered the high valuation club, and the reports went crazy. At this point, we still just had 33 unicorns – but that was almost the global number till 2013 when only 39 existed worldwide. The year after, 2021, saw a 133% uptick as 44 new unicorns were added to the list.
We're just 5 months into 2022, and the numbers seem to be doing great! 15 new unicorns have already taken shape and settled in the country. Reports even say that by 2025, India is set to house more than 250 highly valued businesses.
While this is clearly good news, fresh data from the Centre for Monitoring Indian Economy (CMIE) said that the crisis isn't in unemployment alone. Our labour force participation is down at 40% too. People have been disillusioned to the point of no return where now, they aren't even looking for jobs. Something just doesn't add up.
VIEW: Job creation and GDP hikes
When talking about India's growth, the industry definitely matters. With the $5 trillion economy goal hanging, rather formidably, above our heads, the trajectory of economic development simply does not offer up some peace of mind. This is where unicorns can truly come in to save the day. It's the boom of liberalisation, you see. Before, only large and politically-established business houses were seen as beacons of hope during economic collapses. The new can-do attitude of smaller companies rising through the ranks not only breaks old patterns but also offers an even playing field for possible success.
For one, the more success the Indian startup ecosystem shows, the larger the inflow of investments to the country will be. As Managing Partner at the growth-stage fund, Iron Pillar, Anand Prasanna says, this "helps create more unicorns under private valuation metrics. This means there are no longer any doubts about the ecosystem in terms of value and returns." Thus, sustaining the uptick and making India's younger population more attractive in the global markets. Plus, this fundamental shift in the Indian economy fuels job creation while still catering to consumer needs. The system essentially feeds itself.
It also helps that the unicorns are spread out over disparate sectors. Fintech has 20 unicorns, e-commerce has 23, and enterprise-tech has 17. These might be our leading sectors, but significant strides have been made in ed-tech, healthcare, transport, energy, etc. Sure, this leads to both white and blue-collar job creation in diverse sectors. Something we definitely need right now. But it also fosters an environment where the sectors become more open, and consumers become more trusting of smaller businesses for quality. This allows the new and small enterprises to actually survive and have a fighting chance in the market.
It doesn't just end there. Several Micro, Small & Medium Enterprises (MSMEs) used to depend on major conglomerates for business. This dependence is steadily dwindling as unicorns have come in and are butting heads with the big dogs. The giants can no longer starve the little guys as the latter finally have the power to choose. Competition is good for the value chain, and ultimately, the consumer experience gets better.
COUNTERVIEW: False promises and a possible crash
Every gold rush is followed by a depression. That's just the way it works. And right now, we're witnessing the roaring 20s. The liquidation push from banks since the pandemic and the generally unstable and quick fluctuations of the stock market have made investors more likely to invest at the moment. How long will that benevolent attitude last? Then you have the very real possibility of over-valuations as unicorn valuations are based on future earnings. They're just estimates. Companies like Paytm fell flat on its face, with shares getting traded at 27% of their initial public offering (IPO).
This sudden focus on the unicorn boom can also hurt other small businesses. We're talking about investor interest here. Investors, believe it or not, are actually just people. Like the rest of us, they too, can get distracted by hype. Since the hype is currently around unicorns, international investors and entrepreneurs might actually be moving away from real opportunities. Those ventures might be profitable and good for the consumer but simply lack the potential of the $1 billion. And, since quickly expanding businesses tend to do worse than others, the investment might actually just go to waste.
Coming to the thing everybody loves about unicorns – the jobs. Whenever the job creation aspect of the unicorns is brought up, reports start missing some specific numbers. Mohandas Pai said that startups created 15 lakh jobs. The NASSCOM Tech Start-up Report 2021 said that 6.6 lakh jobs were created directly. Indirectly, they made 34 lakh jobs. But the jobs that did get made were low-skilled ones. We're mostly looking at e-commerce, food delivery and logistics companies for this.
As much as we need the work, investment banker PN Vijay says that a "high proportion of the workforce has no proper wages, has abysmal working conditions, no representation of any form, are made to sign opaque and unintelligible contracts, and of course, have absolutely no say in the management." Looking at how keen the government is on making India the next manufacturing hub, the dent made in that sector by unicorns is also little to none.
It's also worth noting that the sheer amount of plastic waste from the packaging involved in these e-commerce and delivery based companies is way too high to ignore. And we have some serious climate goals to reach. While sure, unicorns are the fun new kids on the block, something is going on under the surface. Just because somebody taped a horn on a horse doesn't make it worth backing.
What's your opinion on this?
(Only subscribers can participate in polls)
a) Startup companies with unicorn valuations will help the Indian economy.
b) Startup companies with unicorn valuations don't add much to the Indian economy.
---
🕵️ BEYOND ECHO CHAMBERS
For the Right:
How Arun Shourie was wrong about VP Singh, Narendra Modi – and BR Ambedkar
For the Left:
Communal harmony needs 'sabka prayas'. Indian Muslims also have a part to play
---
🏴 STATE OF THE STATES
Garbage mountains (Delhi) – Delhi has a mounting garbage problem with landfills filling up. At the largest dumpsite in East Delhi's Ghazipur, it'll take decades to process the old waste at the current pace. Per data from the Delhi Pollution Control Committee (DPCC), biomining of legacy waste at the Ghazipur, Bhalswa, and Okhla landfills began in October 2019. As waste piles up, there aren't any alternative sites. The Delhi government will have to allow space for the corporation to handle the daily fresh waste.
Why it matters: The dumping of waste at these sites has resulted in recurring fires. So far during this summer, there have been four fires at landfills. Subsurface fires are the most difficult to tackle as they burn from the inside due to pockets of methane. The National Green Tribunal (NGT) has taken notice and said landfills like the ones in Delhi and other cities are time bombs.
Shawarma issues (Kerala) – Shawarma has become a popular street food in Kerala. But health and food experts have issued warnings about the dangers of eating it in the summer as high temperatures could aid bacterial growth. In a recent case of a girl dying after eating one, the bacteria were identified as shigella. The most common cause of illness is salmonella.
Why it matters: The state's first reported shawarma death came in 2012 and the following year, another person died in Kozhikode. The most recent victim is a teenage girl in Kasaragod. The Kochi Corporation has begun an inspection drive at restaurants and hotels under its jurisdiction. Officials suspect some eateries sell shawarma with low-quality meat to keep costs down.
Coal mining impact on elephants (Odisha) – The Coal Ministry has asked the state's forest officials to study the impact of coal mining in the Angul district on the movement of elephants in the area. The mine is located near an elephant reserve and elephant corridor. The ministry wants information on any adverse effects on elephants. Some wildlife experts are concerned about the Naini opencast coal mine in the district increasing instances of human-elephant conflict.
Why it matters: In the past eight years, 184 elephants have died due to human-elephant conflicts in the region. The district is among the most polluted in the state due to the coal mine. Due to the diversion of forest land, elephant corridors have been broken and disrupted. 783.275 hectares of forest area is part of the 912.799 hectares proposed mining area.
New API manufacturing units (Gujarat) – The state's pharmaceutical landscape continues to evolve. 115 new manufacturing plants will get licenses to make drugs and active pharmaceutical ingredients (API). The sector will get an investment of ₹2,000 crores. The goal is to reduce the sector's import dependence on China. Per the state's Food and Drugs Control Administration (FDCA), the average number of new units making APIs was 30 per annum till 2019-20. It has now doubled.
Why it matters: Due to supply disruptions from China, prices of APIs increased. Indigenous production will bring down prices. Over the past couple of years, the state has approved more than 280 new pharmaceutical manufacturing units. 40% of those will make API drugs. Most of the new units are MSMEs who want to make high-value products.
Church leaders against gambling (Meghalaya) – The Khasi Jaintia Christian Leaders Forum (KJCLF) has asked the state government to repeal the Meghalaya Regulation of Gaming Act 2021. They discussed the issue with leaders of different churches in the wake of the government announcing that gambling will be legalised in the state. They cited studies showing gambling harms society and a person's life. They said the government should look at other ways of improving the state economy and called some politicians business-minded for legalising gambling.
Why it matters: A couple of days back, Chief Minister Conrad Sangma chaired a meeting with a group of ministers on casinos and online gambling. They discussed issues related to GST rates and valuation to be applied to online gaming. The state hopes that legalising gambling and online gaming will bring in much-needed revenue. The government came up with the Gaming Act as a follow-up to the Gaming Rules, 2021, to issue licenses to casinos and operators of online gaming.
---
🔢 KEY NUMBER
$20 billion – Amazon announced that it plans to export Indian-made goods worth ₹20 billion by 2025. It's double the initial goal set by the company as it attracts more than 1 lakh exporters for the overseas market.