April 6, 2022
Good morning. In today's either/view, we discuss whether menstrual leaves for women in the workforce is a good idea. We also look at Manipur's decision to increase hospitalisation benefits for the poor, among other news.
---
📰

FEATURE STORY
What's the deal with Menstrual Leaves?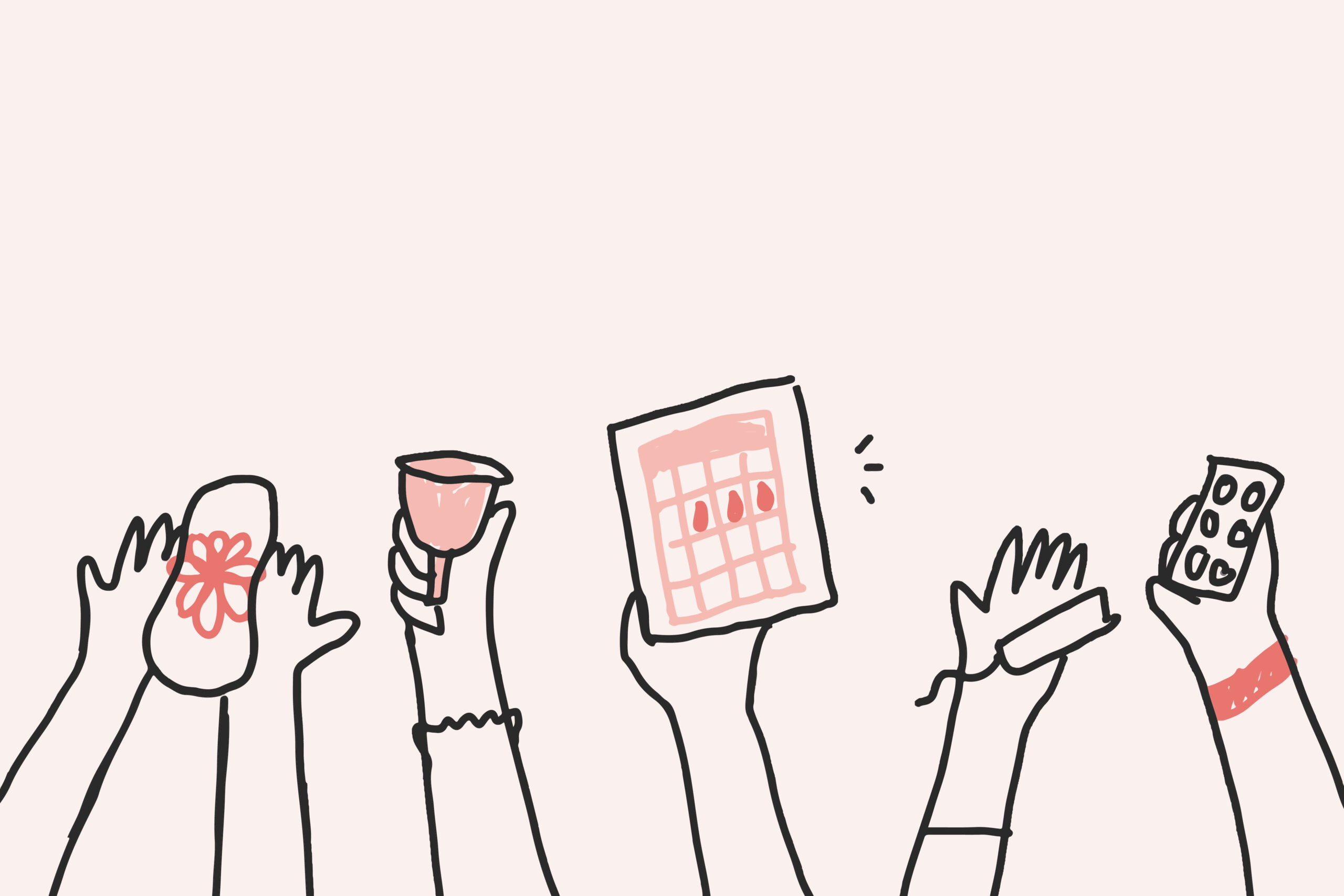 Whether it's the curse of Eve or the curse of Indra, the ancient world seemed pretty sure that menstruation was not for the faint of heart. From causing and curing leprosy to rotting everything around them, a menstruating person was generally seen as a force to be reckoned with. And here's the real punchline, more often than not, people on the rag are still treated like that today.
For the past 5 years, Congress MLA Ninong Ering has been pushing for menstrual leave legislation in India. In 2017, he brought it up in the Lok Sabha as a private member's bill, but that didn't really go anywhere. So this time, he took it to the Arunachal Pradesh Legislative Assembly, which also turned him down after calling menstruation a "dirty thing".
Here we have it, the inherent paradox of Indian legislation: a traditional engine in a modern build. So let's talk about it.
Context
Contrary to popular belief, the notion of a formal menstrual leave is not new. Around a century ago, menstruating women of Soviet Russia would get released from work to protect their reproductive health. And this was in the 1920s. This soon became popular among labour unions in Japan, and in 1947, the country officially added menstrual leaves to their national laws.
It didn't take long for period leaves to gain traction in Asia. South Korea implemented it in 1953. Several provinces and businesses in China followed suit and added various perks to menstruating employee care at the workplace. Countries like Taiwan, Indonesia and Zambia also recognise menstrual leaves and include them in their employee leave policies.
So, where do we stand? In 2017, former MP Ninong Ering introduced the Menstruation Benefit Bill in the Lok Sabha. The bill proposes that working women get 2 days of paid menstruation leave each month, and workplaces must be designed to handle such issues to make work more comfortable. Obviously, the law didn't make a lot of moves in Parliament, but it did get us talking about it.
Even before this, the Bihar government has been offering 2 days of period leave to women employees since 1992. Women are allowed to choose any 2 days of the month to take those leaves and are under no obligation to justify their choice. Since 1912, a girls' school in Kerala has been giving its students menstrual leaves. And more noticeably, the corporate world has been doing wonders for this in India.
In August 2020, Zomato started giving their employees 10 days of paid menstrual leave each year. While other companies had such policies as well, for some reason, international news media used this prompt as yet another conversation starter. At Arunachal's 2022 Budget Session, Ninong Ering tabled his bill again. The dismissal of which definitely deserves a fresh look.
VIEW: Debilitating pains and potential
Menstruation is more than just a biological process. It comes with serious discomfort, debilitating pain, emotional tolls and in some cases, severe health issues. Why women's bodies wage war on themselves, we will never know. But what's even scarier is how hush-hush the whole process is. A study conducted in 2012 showed that 20% of women deal with severe cramps that actively deter their daily lives. As per the NHS, 80% of women have felt discomfort during their cycles at some point or the other. In India, girl students even tend to miss 20% of their school year because of their periods.
This is clearly no joking matter, and neither is it one to simply brush under the carpet. Despite the government's various efforts to promote healthy menstrual habits over the past decade, 70% of mothers in India still consider periods to be "dirty". One thing a codified period leave can do is effectively destigmatize the process as a whole. This is also why including period leaves in a sick leave policy simply isn't enough.
When Girona in Spain added a menstrual leave policy for their workers in April 2021, people were quick to see the psychological benefits of the move. As one employee puts it, "It shatters all taboos to be able to say 'listen, I'm menstruating, sometimes that provokes certain pains that impede me from going to work or being 100% productive." In a country where 75% of menstruating women are still affected by superstitions and societal restrictions, such a policy could do wonders for women, not just in the workforce.
Now, coming to women in the workforce, India has one of the lowest female participation rates in the world. We stand at an abysmal 35% of women in the workforce. According to University of Sydney professor Elizabeth Hill, just like the argument for maternity leaves, menstrual leaves will also encourage more women to not only take part in the workforce but also stay. Having policies that agree with people's biological processes reduce stress and overall, makes for a better work environment that increases productivity. It's got nothing to do with gumption.
In the words of social scientist and former senior adviser at the World Bank Deepa Narayan, "the problem is work, not women".
COUNTERVIEW: The corporate conundrum
One thing you'll find uncharacteristically common in arguments against menstrual leaves is the support it gets from other women. Journalist Barkha Dutt, in a tweet replying to Shashi Tharoor, said "menstrual leave ghettoises women [and] becomes one more excuse to close certain professional doors [for them]". This is a common sentiment among women in the workforce, especially from those who have been active players for a while now. The workplace is still seen as a dog eat dog world, and "focusing on weakness" will get one eaten.
You see, what people call the "feminist agenda" is just a declaration of equal rights for all. This includes everything from reproductive rights or rights against discrimination. Looking at the progress made by the movement, some feminists believe that this period leave train is going to land us in a station that asks for discrimination based on biological determinism. It is the idea that human behaviour is directly controlled by their biology. Something most gendered discrimination is based on. It's not that these women don't feel the effects of their cycles but according to them, leaning into it will do more harm than good.
They also believe that a paid menstrual leave will actually turn companies away from hiring women as an equally qualified man will not have to take more days off. Even in countries where menstrual leaves are readily available, women in higher posts tend to "work through the pain". In 2014, the Japanese government published a study that showed less than 0.9% of women actually use their menstrual leaves in the country. In 2021, "highly educated white-collar workers" were far less likely to take leave. Why? Well, the women cited embarrassment or unempathetic male superiors.
In a country like India, having a blanket rule for menstrual leaves doesn't really make much sense. Several groups have pointed out that the Menstruation Benefit Bill, as it stands, only helps women in white-collar jobs. Reportedly, 94% of India's unorganised sector is covered by women. Most of them don't even get a day off, let alone period leaves. Bringing up a topic like menstruation in that sector, at this point, is completely unheard of. Not just because of stigma, but also due to the rampant labour exploitation in the sector itself. The flagbearer bill itself is lacking.
What's your opinion on this?
(Only subscribers can participate in polls)
a) Menstrual leaves will help increase the productivity and participation of women in the workforce.
b) Menstrual leaves will ultimately hurt the participation of women in the workforce.
---
🕵️ BEYOND ECHO CHAMBERS
For the Right:
Ukraine, state taxes and electric vehicles: How BJP is defending sky-high fuel prices
For the Left:
Male leadership won't do. India's Muslim community needs a woman in charge
---
🏴 STATE OF THE STATES
Seeds from other states (Delhi) – Delhi's native flora has reduced over the years due to urbanisation. Now, experts will get seeds from other states and germinate them in the city's soil. The department of forest and wildlife and the Bombay Natural History Society (BNHS) has set up two nurseries for Aravali. Officials have requested experts from the Central Arid Zone Research Institute (CAZRI) and Arid Forest Research Institute (AFRI), Jodhpur, to help regenerate native species. So far, officials have bought seeds from Rajasthan, Uttar Pradesh, and Haryana, to name a few.
Why it matters: Due to the march of invasive species, many of the city's native flora have been reduced. Among them was the Peelu or the Toothbrush tree, which was a common sight. Last year, forest department officials said it was one of 22 native species that were on the verge of disappearing. Amit Anand, the deputy conservator of forests (south division), said the department is trying to create a seed bank for various plants.
Fruit production (Andhra Pradesh) – The state stands first among others in India in terms of fruit production. For the 2021-22 financial year, estimates from the Union ministry of agriculture and farmers' welfare showed the state produced 1.8 crore tonnes of fruit. Fruit plantations cover about 7.5 lakh hectares in the state, with mango, papaya, and orange being the highest in terms of quantity.
Why it matters: It represents a pattern where the horticulture sector is growing faster than agriculture. The returns from horticulture per unit of land are higher than in agriculture. It's because the former is a climate-resilient alternative and provides higher incomes to farmers. The state has identified it as a growth engine for its economy and for food security. Estimates show the horticulture sector in the state is growing at 12% year on year.
Digital village pilot project (Odisha) – 30 villages in Odisha have been included in the Centre's pilot digital village project. It will show stakeholders how the Digital India Programme can transform villages. It will have a platform to avail services like LED street lighting, WiFi hotspots, and telemedicine. Public Health Centres will be connected with lead hospitals at the district and state levels. Free internet will be available for at least 5 hours a day. The pilot is expected to cost ₹3 crores for the 30 villages in the state.
Why it matters: According to Minister of State for Electronics and Information Technology Rajeev Chandrasekhar, ₹98.32 crores has been allocated for the Digital Village Pilot Project. In Odisha, there have been previous attempts at improving villages through technology. In 2018, SBI adopted Bhagabanpur village. Part of the initiative was to provide mobile and Aadhaar-enabled machines to shopkeepers and promote cashless banking services.
Increase in property prices (Maharashtra) – For new housing projects in the state, property prices could increase by more than 15%. This is due to a hike in the ready reckoner (RR) rates. A rise in the prices of steel and cement could also contribute. In the past year, there has been a 40% increase in raw material costs. The average RR rates in municipal areas were increased by 8.8%, apart from Mumbai. Last month, developers said they would have to hike prices by 10-15% due to increased construction costs.
Why it matters: RR rates are the benchmark valuation of real estate. It's used to calculate how much is to be paid as stamp duty to the government. Per industry experts, homebuyers will now have an additional burden. The increase in RR rates will affect the mid and affordable segments. It's because the hikes have been higher for suburban municipal areas. This is where the majority of residential sales and launches are.
Increase in free hospital benefits (Manipur) – The state has decided to increase free hospitalisation benefits for the poor from ₹2 lakh to ₹5 lakh under Chief Minister Hakshelgi Tengbang (CMHT) scheme. Chief Minister N Biren Singh said the decision was made due to the success of the CMHT scheme over the past four years. He said it had covered 300 villages to date, and the remaining villages will be soon covered as well.
Why it matters: So far, more than 5.2 lakh beneficiaries have enrolled themselves in the scheme. More than 83,000 have received the benefits of free hospitalisation of up to ₹2 lakh. Prabhari officers comprising of IAS, IRS, and others were appointed to each sub-division to conduct a family-wise survey to identify their needs.
---
🔢 KEY NUMBER
₹53,489 crores – The amount states have yet to receive from the Centre as GST compensation for the 2021-22 financial year. Per data from the finance ministry, there are no pending payments to nine states.