May 19, 2023
Good morning. In today's either/view, we discuss whether an Emissions Trading Scheme (ETS) will help India combat climate change. We also look at the discovery of a new gecko species in Mizoram, among other news.
---
📰

FEATURE STORY
Will an Emissions Trading Scheme (ETS) help India combat climate change?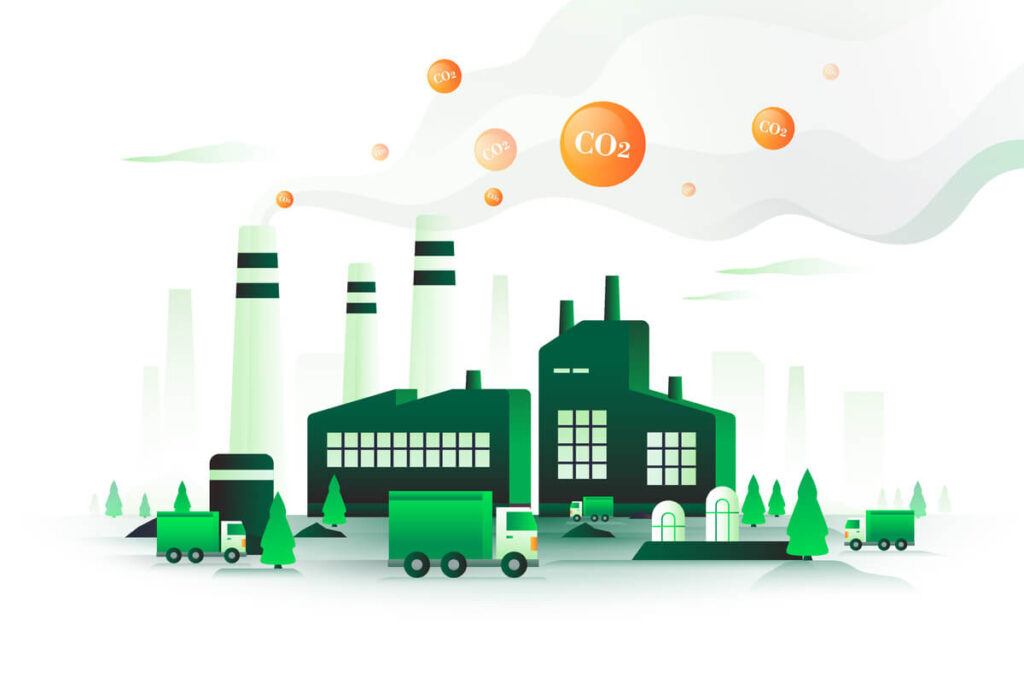 It's one thing to make lofty promises, it's a whole other ball game to keep them. When it concerns mitigating the effects of climate change, there's an air of impatience and urgency among many, and rightly so. India has made some lofty promises at international conferences. It's on the clock to deliver them.
How can it deliver? Probably through an emissions trading scheme (ETS) that the government is actively considering. Such a system does have its advantages in reducing emissions, but can it be implemented in India?
Context
Let's begin with what an ETS is. An Emission Trading Scheme is a regulatory tool used to reduce pollution levels while minimising the cost of compliance for industries. You can think of an emissions trading system as a market where the traded commodities are particulate matter emissions and greenhouse gases.
It's sometimes called carbon trading since carbon dioxide is the primary greenhouse gas. This isn't to be confused with a carbon tax, which directly sets a price on carbon dioxide emissions.
How does an ETS work? It sets a quantity limit and a price on emissions. To incentivise companies to reduce emissions, a government can enforce a cap on the maximum level of emissions and create permits for each unit of emissions allowed under the cap. If a firm doesn't expect to have enough permits, it should cut back on emissions or buy them from another firm. Simply put, government-issued emissions units are the currency you need to be able to trade emissions.
What about international emissions trading? Article 17 of the Kyoto Protocol allows countries with spare emission units to sell them to countries over their targets.
The European Union's (EU) ETS is one of the biggest carbon markets in the world. It's the bloc's flagship policy to cut greenhouse gas emissions. It began as a pilot in 2005, covering power and steel plants, oil refineries, and cement factories. In New Zealand, ETS is the country's primary tool to meet its Paris Agreement targets.
China is the world's largest greenhouse gas emitter and possesses the largest carbon market. It launched its ETS in 2017 after several pilots at the local level and implemented it in 2021. Its ETS is expected to grow by 70%, with plans to add manufacturing and heavy industries.
Indonesia launched its ETS in February. Now, India is jumping on the bandwagon.
The Centre is in the final stages of notifying its ETS. The nodal agency will be the Bureau of Energy Efficiency (BEE) from the power ministry. Since 2008, the BEE had its 'Perform, Achieve, Trade' (PAT) scheme. Under this, over 1,000 industries across 13 sectors have gotten energy savings certificates for exceeding their targets. But its effectiveness has often been debated.
Now that the government is finalising India's ETS, it's worth asking whether such a system would do any good.
VIEW: It's a big deal
India has successfully dabbled with such a system in the past. In September 2019, Surat, in Gujarat, implemented a pilot ETS for particulate pollution. It was a world first. Industries that participated reduced their particulate matter pollution levels by 24%. The Gujarat Pollution Control Board (GPCB) fixed the number of tradable emission permits.
Under the regular command-and-control model, industries can't pollute beyond a limit. To comply, they have to install cost-intensive pollution-curbing technologies. Under a market-based emissions trading system, industries have financial incentives to reduce pollution. They also have an opportunity to earn profits by trading in emission permits.
What will set India's ETS apart is that companies will have to cut carbon emissions in absolute terms. The announcement for India's ETS was met with enthusiasm by the Council on Energy, Environment and Water (CEEW). Its policy paper stated that Indian stakeholders could view the domestic ETS as an instrument for decarbonisation and domestic climate finance rather than international climate finance.
COUNTERVIEW: Bumpy road ahead
Given how diverse India's industries and emission levels are, one challenge will be to design and implement a fair and equitable ETS. For Indian companies in energy-intensive sectors, they could face competition from industries in countries that don't have similar carbon pricing mechanisms. With fears of competitiveness, some companies may be spooked from participating in the ETS.
Much like the EU, India has different states with different priorities. A key concern is getting them to arrive at a consensus. Some players might be concerned about potential unemployment since implementing an ETS could have socio-economic implications, particularly for the most vulnerable demographics. There's also the risk that the cost of emission allowances could be passed on to the consumer. The economics of an ETS need to be carefully planned out. A steep carbon price caused by excessive targets could affect small and medium size businesses.
India's track record for such a scheme isn't great. The BEE's PAT scheme didn't help in any meaningful way. A study by the Centre for Science and Environment (CSE) showed industries found it easier to buy their way out of the regulations rather than upgrade factories. How will companies react to the ETS? In China, one of the challenges its ETS faces is lobbying by energy-intensive industries to cut targets. This could happen in India too.
Reference Links:
What is your opinion on this?
(Only subscribers can participate in polls)
a) An Emissions Trading Scheme will help India tackle climate change.
b) An Emissions Trading Scheme won't help India tackle climate change.
---
🕵️ BEYOND ECHO CHAMBERS
For the Right:
BJP's 2014 mandate is near its expiry date. Modi magic didn't work in Karnataka
For the Left:
This is how Shiva became Asia's most popular god – innovation, assimilation, conquest
---
🇮🇳 STATE OF THE STATES
90% of pre-covid footfall in metro (New Delhi) – According to data from the Delhi Metro Rail Corporation (DMRC), the ridership of Delhi Metro, which experienced a significant decline during the Covid-19 lockdown in 2020 and subsequent waves, has now reached 90% of the pre-pandemic levels. Notably, the Pink Line, Grey Line, and Green Line have even surpassed the pre-pandemic ridership levels, with figures exceeding 100%. This achievement can be attributed to the inclusion of new stations and enhanced connectivity along these lines.
Why it matters: Prior to the Covid-induced lockdown in 2020, the daily ridership of the Pink Line stood at 4,08,587 passengers. However, in March and April of this year, the ridership surged to 5,03,959 passengers. This increase in ridership is indicative of the gradual restoration of normalcy in the city as economic and social activities resume. The Pink Line's performance serves as a positive indicator for the overall recovery of public transportation in Delhi, indicating that people are gradually resuming their daily commutes and embracing public transit as a safe and convenient mode of travel.
Ordinance to safeguard healthcare workers (Kerala) – The LDF government in Kerala has recently sanctioned an ordinance aimed at implementing stricter penalties for individuals convicted of inflicting serious physical harm upon doctors, medical students, and other professionals working within the healthcare industry in the state. The ordinance outlines severe consequences, including imprisonment of up to seven years and a maximum fine of ₹5 lakh.
Why it matters: In addition to the heightened penalties, the ordinance emphasises the need for expeditious trials in cases filed under the Act. The ordinance further specifies that investigations pertaining to cases registered under the Act must be conducted by a police officer holding the rank of Inspector or higher. It further mandates that the investigation should be concluded within 60 days from the date of filing the First Information Report (FIR). The decision was made during a cabinet meeting led by Kerala Chief Minister Pinarayi Vijayan, in response to the tragic and violent incident involving the unfortunate killing of Dr. Vandana Das by a patient at a taluk hospital in the Kollam district last week.
SC lifts ban on 'The Kerala Story' (West Bengal) – The Supreme Court has temporarily suspended the order issued by the West Bengal government on May 8, which prohibited the screening of the film 'The Kerala Story' within the state. By staying the state government's directive, the Supreme Court emphasised that West Bengal has a responsibility to uphold law and order. The court further remarked that the law should not be employed to promote public intolerance, as it would create a situation where all films could face similar restrictions.
Why it matters: The Supreme Court issued the aforementioned order in response to a plea filed by the creators of 'The Kerala Story,' who sought the lifting of the ban. The bench also questioned the assertion made by the film that 32,000 women from Kerala had been fraudulently converted to Islam. Senior Advocate Harish Salve, representing film producer Vipul Shah, conceded that the film would include a disclaimer stating that "no verified data is available to verify the claim of 32,000 conversions or any other established figure."
21 new estates to boost jobs (Gujarat) – The Gujarat cabinet has granted its endorsement to a proposal aiming to establish 21 additional industrial estates across 13 districts within the state. The government of Gujarat had previously announced its intention to create these new industrial estates during a session of the Legislative Assembly in March. The objective behind this initiative is to provide employment opportunities for local youth in proximity to their hometowns.
Why it matters: A pre-feasibility study will be conducted to thoroughly examine several key aspects. This study will encompass an evaluation of factors such as the availability of suitable land for the establishment of the proposed industrial estates, an analysis of demand and supply dynamics, as well as an assessment of the existing agricultural production within those respective areas. This shows the government's proactive approach towards industrial development, job creation, and regional economic empowerment.
New gecko species discovered (Mizoram) – A recent discovery was made by a team of researchers from Mizoram University and the Max Planck Institute for Biology in Tubingen, Germany. Their findings unveiled a previously unknown species of gecko residing in Mizoram, near the Indo-Myanmar border. Notably, this newfound gecko exhibits the ability to glide, leading the researchers to christen it a "parachute gecko." Geckos, generally diminutive lizards, are commonly observed in temperate regions across the globe and are predominantly carnivorous in nature.
Why it matters: In honour of its discovery in Mizoram, the newly identified species has been officially designated as gekko mizoramensis. While this particular species has been documented in various regions of South Asia, such as Bangladesh, Myanmar, Thailand, and Cambodia, its presence within the state of Mizoram has now been confirmed. This discovery adds to the existing body of scientific knowledge and contributes to our understanding of the ecological dynamics in Mizoram and its neighbouring countries.
---
🔢 KEY NUMBER
₹20,000 crore – The Railway Ministry has granted approval for the procurement of 238 air-conditioned (AC) rakes for Mumbai locals, amounting to a total value exceeding ₹20,000 crore.