June 9, 2023
Good morning. In today's either/view, we discuss whether Apple's big bet on spatial computing will pay off. We also look at the newest regional airline based out of Goa, among other news.
---
📰

FEATURE STORY
Will Apple's big bet on spatial computing pay off?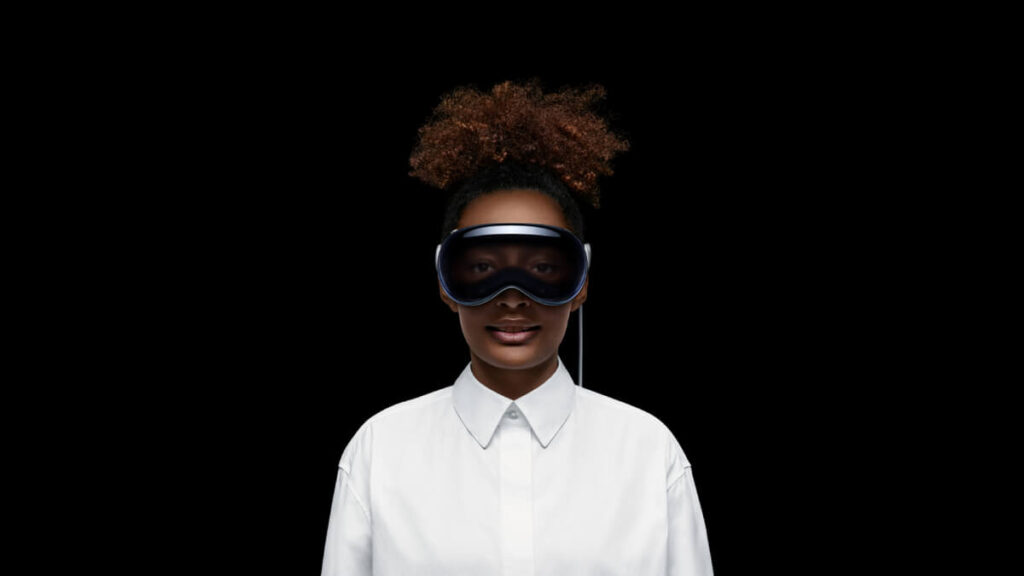 Spatial computing sounds futuristic. It's basically interactions in a three-dimensional space using a Virtual Reality (VR), Augmented Reality (AR) headset. Not quite at the level of Tony Stark's EDITH, but seemingly on our way. In the era of the Metaverse, Apple is betting big on spatial computing.
At its recent Worldwide Developer's Conference (WWDC) presentation, Apple unveiled its long-rumoured AR/VR headset, the Apple Vision Pro. Releasing next year, it's an AR immersive experience that comes close to VR experiences. Apple isn't the first to have such a headset, but since it's Apple, people are talking about it as a turning point for technology and the company. Do we dare bet against Apple?
Context
Let's begin with what spatial computing is. It's not separate from AR or VR. In fact, they form the very basis of spatial computing. To understand this modern/new-age technology, we can thank the scientist Sir Charles Wheatstone. In 1838, he outlined the concept of binocular vision. This is where the human brain combines two images, one from each eye, to form a 3D image. It led to the first stereoscopes that took two images and turned them into one 3D image.
It's the same technology used in VR systems today to ensure a sense of depth in digital images and enhance the feeling of immersion.
Move forward to the 1950s, 60s, and 70s, and you see practical applications of this technology. In 1956, cinematographer Morton Heilig built the first VR machine called Sensorama. It combined 3D, colour video, audio, smells, and a vibrating chair to offer a fully immersive experience. Most people know this as the 4D experience nowadays.
In 1960, Heilig patented the first head-mounted display with 3D stereoscopic images and sound. Then came the Headsight headset in 1961 from Philco. It was designed for military use and had motion-tracking technology for the first time. The blueprint for modern VR is believed to be computer scientist Ivan Sutherland's 1960 paper, in which he talked about the "Ultimate Display". A virtual world, so real users won't be able to distinguish it from reality.
The VR/AR trend started to catch on. In the 1970s, the Massachusetts Institute of Technology (MIT) created the Aspen Movie Map, where people could tour the computer-generated streets of Aspen. VPL Research Inc, founded in 1985, was the first to sell VR goggles and gloves. One of the company's founders, Jaron Lanier, is credited with coining the term 'virtual reality'. Augmented reality was later coined by Boeing researcher Tom Caudell in 1990.
It wasn't until the 2010s that this technology began to spread its wings. 18-year-old Palmer Luckey created a prototype for a VR headset. A $2.4 million Kickstarter campaign later, Oculus VR was formed and later bought by Meta for about $2 billion. Sony and Samsung wanted in on the action and announced their own VR headsets. Google Glass entered the market and didn't take it by storm.
This technology has captivated people from several industries. Take retail, for example. In 2017, IKEA used an early application of AR for its IKEA Place app. It helped people see how the furniture they wanted to buy would look in their homes.
Coming to Apple, they emphasised spatial computing rather than referring to it as a VR or AR headset. CEO Tim Cook called it the company's first spatial computer, welcoming people to the era of spatial computing. It's certainly a giant leap for the company. Will it soar?
VIEW: Never bet against Apple
There are some obvious questions surrounding Vision Pro's real-world application. However, it would be unwise to dismiss Apple's ambition here outright. Suppose the product itself fails to gain traction, Apple has already demonstrated this to be an essential new computing platform. After all, they're welcoming us to the era of spatial computing. This is just the beginning.
Coming to the product itself, the technology on display, literally in this case, is at least appealing. What sets this product apart is that it isn't trying to replace the smartphone but the traditional monitors and TVs with portable screens. While other companies with similar products emphasise the 3D aspects, Apple focussed on how adjustable 2D windows can look inside your house. For developers, this product can be a game-changer.
Content is everywhere these days. Companies are spending boatloads of money vying for people's attention. They're trying to figure out new ways of presenting content. Look at it this way, while James Cameron wasn't the first to make a 3D movie, he spent a lot of time and money on the technology and told people why Avatar is best viewed in 3D on a big screen. Even Disney CEO Bob Iger made an appearance and talked about how Disney+ shows will look and feel on the device.
When the iPhone was unveiled in 2007, few predicted how revolutionary it would become for media consumption and everyday life. The Vision Pro has the potential to go down the same route. The race to see how brands can leverage it has already begun.
COUNTERVIEW: Skepticism abound
There's no doubt VR and AR are new-age technologies that's got people's attention. In the gaming space, at least, VR isn't new. There's Oculus and PlayStation with their own VR gaming headsets. There's a market for those devices – gamers, who were offered a new way of playing. What about the Vision Pro? Is using an AR headset to do general computing tasks something people want? Is this how people want to watch movies? Is this device a solution in search of a problem?
While the device is still at least half a year away from being retailed, the unknowns outweigh the knowns. Apple has always had impressive marketing skills. However, it's unclear what the practical day-to-day applications of this device will be. It seemingly boils down to – looking at your photos and videos, but bigger, and taking 2D apps and projecting them onto virtual screens.
It's unclear if this is what spatial computing is all about. No one knows what its killer use case might be or if there's even one. It's certainly not for gamers, even though they showed it off as something you can use to play games. There's another element at play here, and that's whether such a device will increase isolation. We're tethered to our phones, but that at least makes us feel like we're connected to the world. The Vision Pro seems like the opposite.
One more thing. The Vision Pro costs $3,499. It's the most expensive VR/AR headset on the market by quite a distance. It's hard to see how this will become an everyday consumer product at this price point. After all, millions of people have Disney+, but how many will get to experience it the way Apple and Disney have promised?
Reference Links:
What is your opinion on this?
(Only subscribers can participate in polls)
a) Apple's big bet on spatial computing will pay off.
b) Apple's big bet on spatial computing is unlikely to pay off.
---
🕵️ BEYOND ECHO CHAMBERS
For the Right:
PB Mehta writes: Manipur crisis reveals the limits of BJP's politics in the Northeast
For the Left:
From war machines to waste colonialism: How hypocrisy of West is harming planet's sustainability
---
🇮🇳 STATE OF THE STATES
Jaiswal bridge reaches completion in Kashmir (Kashmir) – According to Union Minister Nitin Gadkari, the construction of a two-lane Jaiswal bridge over the Chenab river in Ramban district, along the Jammu-Srinagar national highway, has been successfully concluded. Despite missing two deadlines between March and April, the bridge was finished just weeks before the start of the two-month-long annual pilgrimage to the Amarnath cave shrine.
Why it matters: Gadkari stated that this bridge will serve a dual purpose. Firstly, it would alleviate congestion along the Chanderkot to Ramban section, ensuring smoother vehicular movement. Secondly, it would facilitate the seamless passage of vehicles and pilgrim traffic during the 'Shri Amarnath Yatra' on the Jammu-Srinagar National Highway 44, which is scheduled to commence shortly.
Free electricity since 2003 (Karnataka) – While people in other parts of the state are eagerly anticipating the Congress government's promised provision of free electricity up to 200 units per household, the residents of Shirol village in Bagalkot district have already been benefiting from this privilege for the past 20 years. This privilege exists due to the collective efforts of Raitha Sangha members and villagers. They staged a protest twenty years ago, confining government officials within a room to highlight the power crisis in Shirol village. As a result, the authorities stopped collecting power bills from the villagers.
Why it matters: Venkanna Malali, a resident of Shirol, recounted the severe power scarcity experienced by the village until 2003. The availability of electricity was crucial for irrigating their crops, and the persistent energy crisis resulted in substantial annual losses. Despite the villagers' pleas to the Karnataka Electricity Board (KEB) officials for improved power supply, their requests went unanswered. Consequently, in 2003, the villagers, led by Raitha Sangha leaders, launched a massive protest in front of the Shirol Gram Panchayat office.
Making ragi cultivation profitable (Chhattisgarh) – The efforts made by the Chhattisgarh government to promote millets are proving to be fruitful. Farmers in the state are embracing crop diversification, reducing their dependence on paddy cultivation. Chhattisgarh is the only state in India to procure millet (Nutri-Cereals) crops, including Kodo, Kutki (little millet), and Ragi (finger millet), at support prices. Furthermore, efforts are being made to enhance their value through value addition.
Why it matters: The 'Millet Mission' in the state has produced significant results as farmers gradually shift from paddy cultivation to Ragi, Kodo, and Kutki crops. In the Dhamtari district alone, approximately 1,500 farmers have embraced these alternative crops, cultivating them across 1,200 hectares of land. This transition marks a noteworthy departure from traditional paddy farming practices.
Fly91 takes off (Goa) – Fly91, a newly established regional airline, has recently emerged in the Indian aviation industry with a primary focus on offering last-mile connectivity from its hub in Goa. The airline has chosen to symbolize its identity with a flying butterfly logo and the tagline "Bharat Unbound." Its strategic decision is based on the continuous growth of the aviation sector in India and the expanding tourism industry centred around Goa.
Why it matters: Fly91 received the no-objection certificate from the Ministry of Civil Aviation in early 2023 and is now working to obtain an air operator's permit from the Directorate General of Civil Aviation. The plan is to commence operations between October and December from Goa's Manohar International Airport at Mopa, using two ATR 72-600 turboprop jets. The airline aims to cater to the short-haul segment, flying to locations where bigger aircraft cannot land or where demand is insufficient for larger airlines to serve effectively.
The majestic but dying dance of Assam (Assam) – Ojapali, the oldest semi-dramatical dance form, is an indigenous folk dance originating from Assam. Notably, this folk dance is exclusively performed by men. The distinctiveness of Ojapali lies in its combination of narrative singing and dancing, executed by a group of performers. The performance is led by an Oja, while four or five palies enhance the presentation by skillfully playing the cymbal throughout the performance.
Why it matters: The art form originated in Kamata state and gained patronage from Darrangi King Dharmanarayan. The performers wear white gowns, adorn silver jewellery, and begin with prayers to 330 million deities. During the Indian Freedom Struggle, the practitioners of this dance form incorporated lyrics featuring messages of freedom. However, since this dance form is passed down from one generation to another via oral teachings, it is almost on the brink of getting lost.
---
🔢 KEY NUMBER
27 years – After a hiatus of 27 years, the Miss World 2023 pageant makes its comeback to India.