July 12, 2022
Good morning. In today's either/view, we discuss whether Sri Lanka's current misfortunes have a lesson for India. We also look at the entry of Lulu Group in Uttar Pradesh, among other news.
---
📰

FEATURE STORY
Will India become the next Sri Lanka?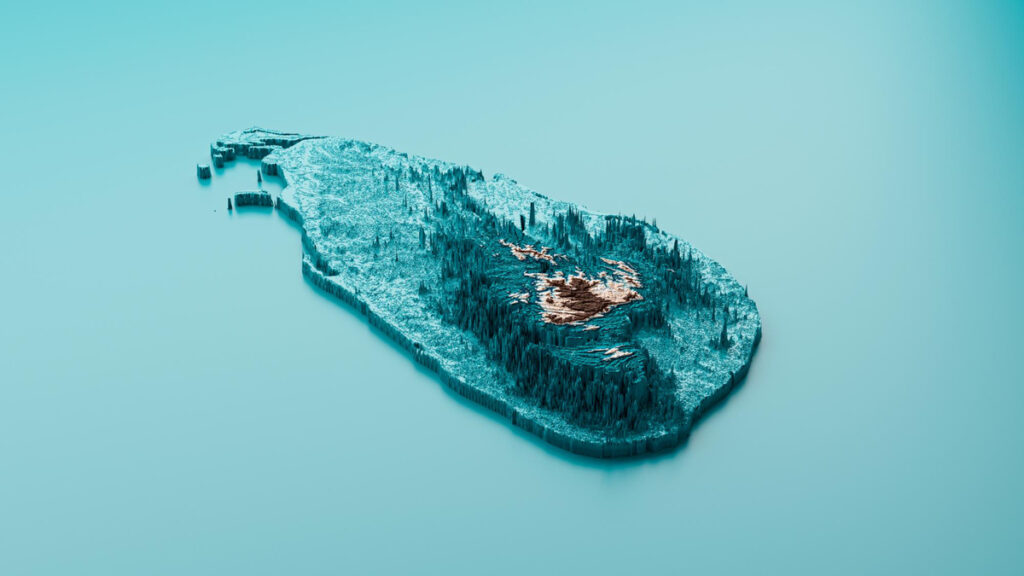 It was 1792. The undeniable grandeur of the French monarchy was getting rubbed in the faces of the starving masses. What happened next was strikingly similar to the fate of Sri Lanka's presidential palace. While the Jacobins stormed the Tuileries Palace, Sri Lankan citizens took over the president's residence. Thankfully, this time, there isn't as much bloodshed.
But the situation in Sri Lanka has left all its neighbours in cold sweats. Turns out, their internal politics isn't too different from the island nation, and the question we're all thinking about is who's next? While some believe India is more stable relative to Sri Lanka's misfortunes, others, including Rahul Gandhi, can't ignore the warning bells.
Context
Unless you have a complete aversion to news from beyond the coastline, Sri Lanka's economic crisis is a well-known event to you. Last month, Prime Minister Ranil Wickremesinghe officially declared that the nation's economy had "collapsed". As of now, the country has run out of all its reserves and thus, cannot pay for any food or fuel for its people. Last Saturday, he and President Gotabaya Rajapaksa resigned from office.
So how did we get here? Economists say that this crisis has been a long time in the making. For one, the island nation heavily relies on tourism for their daily bread. That got shot in the gut thanks to the pandemic, but things had been bad since the 2019 Easter bombings at 3 churches and 3 hotels. The general mismanagement of funds and offensive amounts of corruption didn't help either.
The government had also carried out intensive tax cuts in 2019 that lost the nation around 10 lakh taxpayers since. This was when the government was supposed to look for ways to increase its revenue. The amount of foreign debt they had accumulated was way too high to do any of this, but just when the world thought Sri Lanka would zap, they pulled off the craziest tax cut in the country's history.
Food started getting hit when Rajapaksa banned all imports of chemical fertilisers in April 2021. This came without warning, and the sudden pressure on organic farming killed all their rice crops. The lack of supply drove the price of rice, a staple crop, through the roof. Then Russia invaded Ukraine, and food and oil prices increased further. In May this year, inflation reached 40%, and food prices were up 60%.
According to the UN World Food Programme, around 9 out of 10 families are either skipping meals or eating less to ration out their food for longer. Another 3 million people are dependent on emergency humanitarian aid. Doctors are using social media to ask for supplies. Government workers are getting extra days off work to grow their own food. People are desperate to migrate. Things really are as bad as it gets.
This is what's happening right now. The issue is that most countries in the subcontinent can see a little bit of themselves in this, which is terrifying for the rest of us. So let's look at India's track record till now.
VIEW: Following some eerie footsteps
When the Sri Lankan government was supposed to bring measures to deal with debt and currency fluctuations responsibly, it went the populist route. And now, look at what happened. Unfortunately for us, India is also run by a populist government currently seeing terrifying red strokes on charts and an employment rate that even shames Icarus' fall. Some states in our country are also dealing with economic realities that share similar elements with Sri Lanka. Here's what all of that means.
In April, a group of bureaucrats sat down with our Prime Minister Narendra Modi to go over a few concerns they had with the populist schemes of states like Punjab, Andhra Pradesh and West Bengal. These "freebies", as they called them, were putting the states' finances under severe stress. In 2017, the Centre's fiscal responsibility and budget management panel said that India needed to make sure its government debt remains within 60% of its total GDP by 2022-23. For the Centre, the ceiling was set at 40%, while the states got a 20% limit. As of April, other than Maharashtra (20.4%) and Gujarat (21.4%), every other state has crossed this threshold.
Punjab, especially, has a debt-to-GDP ratio of 53.3%, the highest in the country. And then, the new Chief Minister Bhagwant Mann even promised a bunch of freebies in the run-up to this election. The freebies are expected to cost the state ₹17,000 crores every year. Even NITI Aayog member Ramesh Chand said that the fate of Sri Lanka will soon be upon us if we don't get rid of our "culture of freebies". According to him, our excessive support measures for farmers have made the agriculture sector highly dependent on these braces.
Finally, populist regimes with low economic growth usually lead to a Sri Lanka-esque macroeconomic scenario. In fact, India is actually doing worse than Sri Lanka in healthcare, education and social security. On average, our unemployment crisis is far worse than our neighbour's, and the Reserve Bank of India's hold over our inflation seems to be slipping daily. Even though Sri Lanka and India are two completely different countries, the policy directions Rajapaksa took before everything broke down were scarily similar to ours.
COUNTERVIEW: Too stable to be concerned
Let's get this straight. Our states are definitely not in the best position when it comes to handling their debt, but comparing them with Sri Lanka doesn't really work. In Sri Lanka's case, the debt they have acquired is foreign in nature. By the end of 2021, the country's foreign debt was at $50.7 billion. Out of this, only 17% was short-term debt. By the end of March, the Central bank of Sri Lanka's foreign exchange reserves held $1.9 billion. Most of India's debt, however, is denominated in our domestic currency, i.e. 90% of public debt.
The fact that Indian states can use Indian rupees to pay off their debts immediately puts them in a better position than Sri Lanka. Does this mean that we don't need to worry about our financial situation? Absolutely not. It's just that the existence of our national currency avails us of certain guarantees that, unfortunately, Sri Lanka never got. And, even when it comes to our states' debt, foreign investors can only invest up to 2% of their unpaid bonds. So the likelihood of being indebted to a cold foreigner is very low.
Finally, among large economies, India is just better placed. According to a report from the United Nations, despite all the economic hardships the country faces, it is still projected to grow by 6.4% this year. Sure, this is far less than last year's 8.8%, but it is still considered to be a fast-growing economy. Especially now that domestic economic activity is expected to stabilise after Covid restrictions got a lot less restrictive. According to RBI Governor Shaktikanta Das, India's economy is also more suited to deal with the crackling world order because of " the central bank's accommodative stance and timely monetary policy".
Even former Finance Minister and critic of the Centre, Yashwant Sinha, said that India is far from becoming Sri Lanka. This is mostly because the strength of any economy depends on two things – its foreign exchange reserves and its current account deficit (CAD). Currently, India has $600 billion in forex reserves which should keep us afloat for another year. The CAD for FY 2021-22 is 1.2%, which is less than the market forecast of 1.5%. We'll be okay.
What's your opinion on this?
(Only subscribers can participate in polls)
a) There's a high chance India might end up like Sri Lanka in the future.
b) The likelihood of India ending up like Sri Lanka is very low.
---
🕵️ BEYOND ECHO CHAMBERS
For the Right:
The Changing Semantics Of Indian Polity
For the Left:
Why Getting Ilayaraja On Its Side Is No Small Feat For The BJP In Tamil Nadu
---
🇮🇳 STATE OF THE STATES
Lulu Group enters the market (Uttar Pradesh) – Billionaire Yussuf Ali-led Lulu Group will enter Uttar Pradesh with one of its largest supermarkets. The Abu Dhabi-based company will open its supermarket in Lucknow. The company's entry is also one of the biggest investments for the BJP-ruled state. The company's Indian subsidiary has diversified its operations into hypermarkets, shopping malls, food processing units, and e-commerce.
Why it matters: This is the company's first foray into North India. It already has a presence in Kochi, Thiruvananthapuram, and Bengaluru. Lucknow has become something of a hub for commercial and retail activities. In 2019, the state outlined its policies for the retail sector. The state has emerged as a key growth market for e-commerce and retail major due to its large population and area.
Increasing dragon fruit cultivation (Andhra Pradesh) – The state horticulture department is formulating a plan to increase dragon fruit cultivation. It plans to increase the crop acreage by 200 hectares in the current fiscal. Dragon fruit is currently cultivated on 195 hectares in the state. There's also a proposal under the Mission for Integrated Development of Horticulture to encourage its cultivation. Now, 1 kg costs between ₹100 and ₹400.
Why it matters: Demand for dragon fruit in the state and its export potential has been steadily increasing. For cultivation, an initial investment of ₹5 lakh is needed per acre. After every year, ₹50,000 needs to be spent per acre as a recurring expenditure. The lifespan of a dragon fruit tree is about 25 years. Recently, a national meeting on its cultivation was held in New Delhi to outline a 5-year strategy.
Cheaper diabetes and BP medicine (Bihar) – The prices of several medications, including ones to treat diabetes and blood pressure, will come down in the state in the wake of a recent order issued by the National Pharmaceuticals Pricing Authority (NPPA). Pradeep Kumar Chaurasia, general secretary of the Bihar Chemists and Druggists' Association (BCDA) said it was a good decision. The largest sale of medicines in the state is for those with hypertension and blood sugar.
Why it matters: Previously, the state's medicines were sold at varying prices. With a reduced price tag, people who could not afford the drugs will now be able to get them. It will also help reduce their monthly medical expenses. Among the medicines on the list are some antibiotics and pain relievers.
FIR against activists (Madhya Pradesh) – An FIR has been filed against Narmada Bachao Andolan leader Medha Patkar and 11 others in the Barwani district. It's based on a complaint by a villager alleging misuse of funds meant for managing educational facilities for tribal students of Narmada valley. Patkar has refuted the allegations. She said there had been a full audit of the expenses and the allegations were political. A full investigation will be conducted according to the police.
Why it matters: Patkar said this wasn't the first time she was subject to these kinds of allegations and will provide the audits as proof. She said the complaint may be associated with the RSS and ABVP. She also said her organisation doesn't receive money from abroad, and all finances are annually audited. The organisation's funds are dealt with by other functionaries and not Patkar herself.
Chief Secretary removed (Tripura) – Chief Minister Manik Saha removed chief secretary Kumar Alok. He's now the director of the State Institute of Public Administration. His temporary replacement is JK Sinha, the principal secretary to the Chief Minister. The government will recruit a new chief secretary from a list of eight senior officials who have been in central deputation in Delhi. Alok had allegedly implicated fabricated corruption charges against senior CPM leader Badal Choudhury and others.
Why it matters: This is the sixth time in 52 months the state government has changed the chief secretary. Alok was appointed by former chief minister Biplab Kumar Deb as his principal secretary in 2018. The entire administration had complaints about Alok and his behaviour with other officers. After Saha came to power, Alok allegedly didn't get along with him.
---
🔢 KEY NUMBER
73 lakh – The number of pensioners who will benefit from a newly proposed central pension disbursal system. The Employees' Provident Fund Organisation (EPFO) will discuss it in its meeting at the end of the month.