January 17, 2022
either/view ⚖️
Journalists v/s journalists
To: either/view subscribers
---
Good morning. In today's either/view, we look at the recent coup that took place in Kashmir Press Club, executed by none other than fellow journalists. Also, we find out the link between climate change and violence against women, among other news.
---
📰

FEATURE STORY
A look at the Kashmir Press Club coup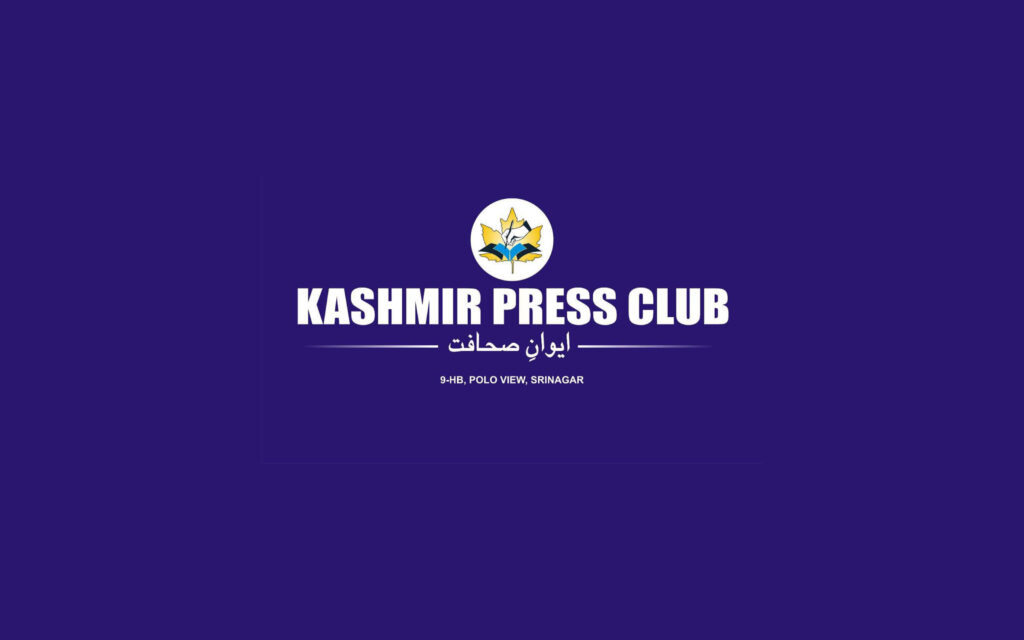 Whether it's the New York Times or infographics on Instagram, the government's onslaught of curbs and regulations on the Kashmiri press has been more than well documented. Clearly, they aren't the best of friends. But another contender just got added to the long list of entities that are willing to fight journalists: other journalists.
On Saturday, the Kashmir Press Club (KPC), easily the largest democratic organisation of journalists in the Valley, was subjected to a coup. And we aren't even exaggerating. A group of 11 journalists, along with armed paramilitary officials, took over the KPC building to announce that they will hold power till new elections are held.
While this "interim body" is sure that their ideal end will justify these means, most other organisations and journalistic groups are worried about the precedent being set. Is a military coup really all we have left or have the interim eleven gravely misjudged the situation?
Context
After several efforts of Kashmir's journalist fraternity to set up a safe space for themselves, the Kashmir Press Club was established in 2018. An independent body of and for journalists to kick their feet up, discuss and debate in an environment where such was not only expected but encouraged. Supposed to be run by an elected body of office bearers, the KPC held its first elections in July 2019.
Saturday's coup is supposed to have taken place due to these elections. You see, the elected office bearers are only allowed to hold office for 2 years. This means that the officials elected in 2019 ended their term in July 2021. And boy, did they have a tricky term. Almost exactly a month after the KPC's first-ever elections, Article 370 was abrogated and Jammu & Kashmir lost its special status.
Now, because of that, the new elections for the KPC's office-bearers never took place. The club has been run by an ad-hoc body since July of last year. Their main course of action was to get the KPC back on track and hold proper elections for a new head. This is what the 11 journalists who staged a coup on Saturday simply do not believe. According to them, the ad-hoc body was delaying elections for no good reason.
So, the only thing left to do to ensure stability for the journalists of Kashmir was to stage an effective coup. First came the armed paramilitary officials who stationed themselves in front of the KPC building. Then, the 11 journalists, led by the Times of India's M. Saleem Pandit, came in for a meeting that lasted about an hour. This was when they announced that they would be forming an interim body that would hold office till the elections are rightfully held.
An anarchist's guide to the democratic model
While coups might feel like an abrupt change in major policies, that rarely ever is the case. Coups don't just happen overnight. They usually stem from long systemic issues that need immediate attention. On the national level, a coup rarely ever changes the fundamental ideas of a country but rather, it satiates the urgent need for official change. That is exactly what Mr Pandit is trying to do here. In his own words, what he saw was a fraught journalist fraternity due to a lack of an elected head. And why was that head missing? Because of delayed elections for "unknown reasons".
The goal here isn't to head the KPC for an indefinite period, something Pandit insinuates the ad-hoc body was moving towards. The point of this new interim body is to ensure "free and fair" elections take place in the KPC as soon as possible. Given the similarity in both these bodies' agendas, on paper at least, what makes the Saleem Pandit crew more qualified for it? Well, it's important to note that before the 2019 elections, Pandit was the first interim president of the KPC. And as he put it, he is being backed by "unanimous" support from the journalist community.
Not only that, the 11 journalists that sought this extreme demonstration are all crucial voices in Kashmiri media. While Pandit himself is the associate editor of the Times of India, his General Secretary is Zulfikar Majid, the bureau chief of the Deccan Herald. His Treasurer, Arshid Rasool, is the editor of the Daily Gadyal, a major Urdu publication. Seeing that the KPC isn't just a leisurely club but also an organised and independent voice for journalists, the lack of an elected representative has allegedly cost them loads. Journalists are being summoned, censored and raided by the administration. Obviously, things need changing.
More of the state-sanctioned audacity
After the news of this unlikely coup broke, several journalist organisations and public figures echoed a similar sentiment. That this proverbial rug-pull is a clear breach of the KPC's constitution and therefore, an illegal act. But it doesn't just stop there. The fact that the whole operation had a paramilitary presence goes to show that the government was in on it. While talking to Newslaundry, Pandit even stated that the arms were the administration's doing. The one responsible for censoring and raiding Kashmiri media. Pandit, in place of explanation, said the arms were for his safety but never mentioned who or what was threatening it.
This brings us to our main event: why were the elections actually delayed? While Pandit and his 10 supporters are sure that those reasons remain unclarified, the KPC begs to differ. As per the Societies Registration Act VI of 1998, clubs and organisations need to be registered under it to officially exist. But after the abrogation of Article 370 in August 2019, because the local laws got replaced with central laws, the KPC needed to re-register to exist. So, until that re-registration happens, the club cannot hold any elections. This has proved rather tricky for a journalist organisation to attain in modern-day Kashmir.
In fact, last Thursday, the KPC had even released a statement saying that their registration was finally complete. The ad-hoc body had even agreed on a date for the next elections, i.e. February 15. But only a day later, the club received an order from Kashmir's Registrar of Firms and Societies stating that their registration has been "kept in abeyance". Why? A report from the senior superintendent of police, CID, said that a verification certificate about the KPC's management was put on hold. While this did put the organisation's future in limbo again, it was clear that the ad-hoc body was also in favour of free, fair and fast elections.
As of now, several press bodies in Kashmir have sent out a joint statement against this coup. In their words, "If such incidents are allowed to happen with a Press Club in Kashmir this can be precedent for the future." It also doesn't bode well that Saleem Pandit, on several occasions, has been accused of showing a clear bias towards the current administration. Considering that the KPC is just one out of the two "independent bodies with a voice in Kashmir", this change in leadership could gravely affect the journalists of the Valley.
What's your opinion on this?
(Only subscribers can participate in polls)
a) The coup to take over the Kashmir Press Club is a justified move.
b) The coup to take over the Kashmir Press Club sets a dangerous precedent.
---
🕵️ BEYOND ECHO CHAMBERS
For the Right:
The forthcoming Assembly polls could be the tipping point of people's angst against BJP
For the Left:
How RSS looks at electoral politics and what role it plays
---
🏴 STATE OF THE STATES
Climate change consequences for women (Bihar) – In the wake of the August 2017 floods in the state, there was an increase in violence against women and girls in the region. Some women, in their time of grief and resulting financial difficulty, get into abusive marriages. Extreme weather events lead to the migration of marginalised communities, who are often the hardest hit. Men migrate to find better work, while women are left behind with few opportunities. One study in Bihar stated that homes with more daughters were the most vulnerable.
Why it matters: The problems of climate change are aplenty. This is one such consequence that doesn't get much attention. Data from The Third Pole showed that between 2010 and 2019, more than half a million houses were damaged in Bihar due to floods. Studies show how extreme weather events increase violence against girls and women. The financial uncertainty with the loss of livelihood and food security following a flood, only increase instances of people looking to take advantage.
Smartphones helping Dalits (Rajasthan) – Dalits are using smartphones to capture and share violence propagated against them in the state. Some tech-savvy Dalit youths are using their phones to inform officials about various incidents of harassment and violence. Video evidence becomes crucial when eyewitnesses become hostile. One police officer said technology has become an equaliser as the caste system continues to force lower caste people to face atrocities at the hands of the upper caste.
Why it matters: Some Dalit people have realised the potential of technology. For example, Hansraj Meena, activist, and founder of Tribal Army, observed how parties use social media. He became something of a Dalit media influencer with around 4.4 lakh followers. It means the cases are in the public domain. In 2020, the state recorded more than 7000 atrocities against Scheduled Castes. In 2019, it was just under 6800. Per the 2011 census, Scheduled Castes make up 17.83% of the state's population.
Barn owls to the rescue (Assam) – There's a new form of pest control for some farmers in Assam – barn owls. Agricultural Scientists from the Regional Agricultural Research Station (RARS) of Assam Agricultural University have distributed artificial wooden nest boxes for the owls to roost. These boxes have been distributed to farmers across many districts in the state. Barn owls are natural pest control since they feed on more than 20 types of mammals.
Why it matters: For farmers to keep their crops safe from pests and rodents who damage them, some use pesticides, which can be harmful. This new method has its roots in 2012 when ornithologist and chief scientist at RARS, Prabal Saikia heard about a man who kept an owl inside his rice mill to protect it from rats. Saikia began experimenting with artificial nests. Another reason this method could be popular is due to the value of organic methods rising exponentially.
Parking fees at malls (Kerala) – The Kerala high court opined that malls do not have the right to collect parking fees. The court heard a plea that alleged Lulu International shopping mall at Ernakulam was illegally collecting parking fees. While the court did not ask the mall to stop collecting the fee, it did say it was at their risk if they were to continue. Film director Pauly Vadakkan, the petitioner, stated that the mall's management should provide free parking.
Why it matters: States and cities have different views concerning this issue. For example, malls in Vijaywada collected parking fees despite a 2019 order from Consumer Forum Court asking malls and multiplexes in the city to not. In the Kerala case, the contention is that collecting fees violates the Kerala Municipality Act and Kerala Municipality Building Rules 1994. The rules state that a mall is a commercial complex. The place in the approved building plan cannot be converted into a pay & park facility.
False promises (Delhi) – The Delhi high court questioned the Delhi government on its promise of a 24-hour water supply. The court said such promises are always made during election time. Sakshi Popli, representing the Delhi Jal Board, said 24 hours water supply is not available in all areas. In some areas, people depend on tankers. The court also questioned why water lines have not been laid everywhere to ensure a continuous water supply.
Why it matters: Delhi has faced water supply issues. In September, the government announced plans to augment supply by setting up Reverse Osmosis (RO) water purification plants in places where groundwater is unusable. They also announced a new ambitious scheme for 24×7 supply to every household by 2024. Eight years after the government started its pilot project for 24×7 water supply, only 5% have access.
---
🔢 KEY NUMBER
$125.66 billion – Total trade between India and China in 2021. Despite rocky relations, it is a 43.3% increase from 2020.