January 18, 2022
Good morning. In today's either/view, we discuss if common entrance tests are the right approach for admission to colleges and universities. In other news, we look at why importing pork from the US has aggravated farmers of the northeast.
---
📰

FEATURE STORY
What's the deal with Common Entrance Tests?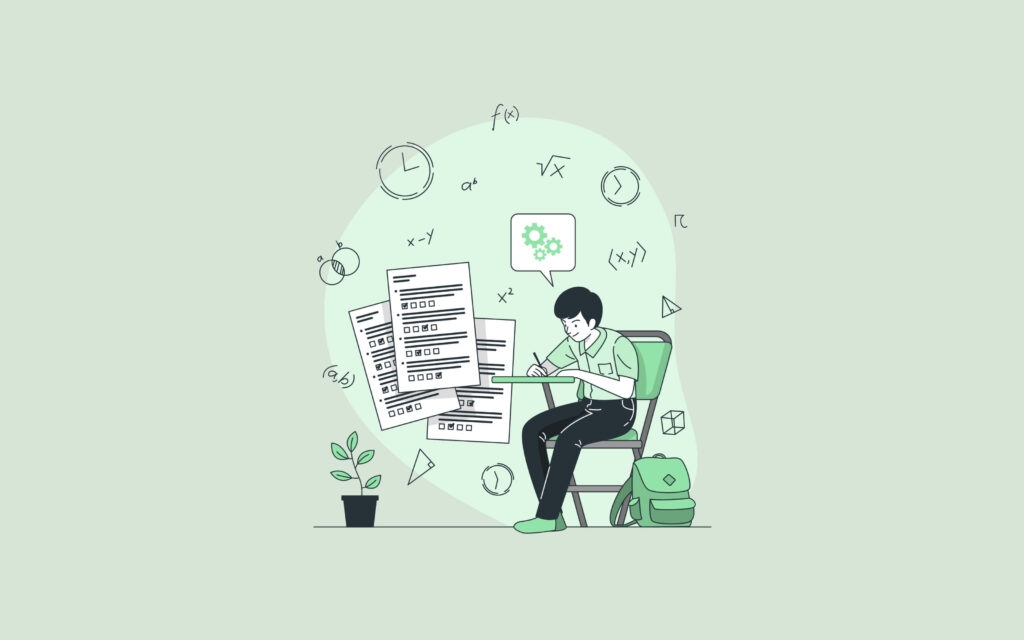 You're a class 12 student who's been preparing for the board exams. You have also zeroed in on what to pursue for your higher studies and the colleges to apply to. Then a pandemic hits, and your plans go out the window. Schools are shut, classes go online, and board exams are postponed. That has been the reality for many students. College admissions can be stressful as it is.
Universities have had their fair share of struggles in moving to online learning and examinations. Add to the mix admissions with thousands of applications from students of different backgrounds amid unprecedented circumstances. In light of the current situation, there's a debate on how universities should admit students. What should be the criteria? Some universities have opted for a common entrance test. However, is that the best approach or does it leave marginalised students at a disadvantage?
Context
In India, entrance exams are aplenty, depending on the course or discipline you want. Some notable ones are the National Eligibility cum Entrance Test (NEET) if your chosen field is medicine. Another is the Common Admission Test (CAT) for management courses. Then there's the Central Universities Common Entrance Test (CUCET). It's the exam you take if you want admission into a central or state university.
Here's a bit of history on CUCET – it started in 2010 for admissions to seven central universities. At the time, it was one of the most important reforms introduced in the Indian education system. From then until 2020, it was conducted and coordinated by the Central University of Rajasthan. From 2021 onwards, the National Testing Agency took over. Following its November meeting, the University Grants Commission (UGC) renewed its call for a common entrance test for undergraduate and postgraduate courses in central universities from the 2022-23 academic season.
Central universities are established by Acts of Parliament. They come under the purview of the Department of Higher Education. The Central Universities Act, 2009 regulates their functioning and powers. As of March 31, 2021, there are 54 central universities recognised by the (UGC). A state university is run by the state government and is established by a local legislative assembly act.
Recently, Delhi University (DU) and Jawaharlal Nehru University (JNU) opted for CUCET. The decision has been polarising. While college administrators say this is the best approach, some students and teachers say it could affect unique, interdisciplinary courses.
In the US, standardised tests like the Scholastic Aptitude Test (SAT) have been under the scanner. Over the past few years, hundreds of universities have allowed students to apply without SAT scores. Some have made it optional. Some university presidents said these test scores weren't important predictors of a student's success. The rationale is that some students who could be successful were discouraged due to low SAT scores. Many people have criticised the New York-based College Board that offers the SAT. The issue is also part of a broader debate on access to education.
Uniformity and a level playing field
One of the tenets of the New Education Policy (NEP) 2020 is common entrance tests for both undergraduate and graduate programmes. Per the policy, students can sit for exams in the subjects of their interest. Universities can access a student's individual subject portfolios. It also reduces the burden on students, especially for those who haven't scored high marks in their board exams. They can concentrate on their respective specialised subjects.
The NEP committee criticised the board exam framework of assessment. They didn't see it as a proper bridge between school and college. As long as class 12 marks are considered, cut-offs will be high, and everyone will clamour for a handful of institutions. There aren't enough seats to go around. If this becomes the status quo, it shows the poor supply of quality education options.
Last year, DU came under the spotlight during admissions for its high cut-offs. What followed was controversy concerning Kerala board students allegedly having an edge over CBSE and other state boards students. More than 6000 students scored 100% in their Kerala board exams. Hence, DU saw more outstation admissions from Kerala than any other state. Next time, it could be another state and its respective board under the scanner.
Given disruptions to the academic calendar and the board exam schedule, there needs to be a suitable mechanism for students and colleges to transition from school to college. There isn't a utopia where one single selection and admission mechanism exists. A common entrance test is the best option to keep things uncomplicated and ensure uniformity.
Discriminatory and undermines university authority
Two things can be true simultaneously. The existing board exam process leads to high cut-offs, and a common entrance test isn't an improvement. When sitting for an entrance exam, everyone in that room doesn't have the same family, financial and educational background. Few from marginalised backgrounds do well in these exams, but they are the exceptions. Some teachers and administrators have voiced their concerns on how private coaching centres will benefit and cater to wealthy students. There could be a rush of students to these centres that offer last-minute crash courses.
When it comes to the burden on students, NEET is one example. Tamil Nadu is no fan of it. Last September, the state assembly passed the Tamil Nadu Admission to Undergraduate Medical Degree Courses Bill. It sought to conduct admissions for undergraduate courses in medicine based on class 12 marks. It came in the wake of reports of students taking their own lives due to poor performances in NEET. For medical students, in particular, this is the only entrance exam for central and state universities.
In September, the Tamil Nadu government made public a report from the AK Rajan Committee on the impact of NEET on medical admissions. It backed up the state's claim that NEET favoured privileged, English-medium students. Pre NEET, the share of state government school students in MBBS courses was 14.44%. In 2020-21, it was 1.7%.
In the wake of JNU's announcement, some specialised courses could be under threat. For example, former JNU Teachers' Association President Ayesha Kidwai cited courses like "Computation and Integrative Sciences", "Development and Labour Studies", etc. She questioned how a common entrance test would cover these courses. While the focus has rightfully been on students in this matter, let's not forget teachers have a stake in this debate also.
Disha Nawani, Professor and Dean, School of Education, Tata Institute of Social Sciences, stated it this way – in a society with hierarchical and discriminatory schooling systems, a fair and equitable common entrance mechanism can't exist. The underlying issue of equitable educational opportunities gets lost in the shuffle.
What's your opinion on this?
(Only subscribers can participate in polls)
a) A common entrance test is the right approach for admissions to colleges.
b) A common entrance test is the wrong approach for admissions to colleges.
---
🕵️ BEYOND ECHO CHAMBERS
For the Right:
Why we need to revisit Shivaji's idea of Hindu culture
For the Left:
Passive BSP hurting own prospects
---
🏴 STATE OF THE STATES
Piggy problems (Assam) – For the first time, the Centre has allowed the import of pork from the US. This move has aggravated the pig farmers of the northeast. According to the North East Progressive Pig Farmers' Association (NEPPFA), both genetically and rearing-wise, US pork is on a completely different level. Adding that to the market is sure to "sound the death knell" of the northeastern sector.
Why it matters: According to the 2019 livestock census, Assam alone rears 2.1 million pigs out of a total of 9.06 million from India. Earlier last year, the government even built our largest pork processing plant in Upper Assam. It seemed as though they were willing to turn the northeast into a hub for pork export. While this new import deal with the US does remove a long-standing trade barrier, NEPPFA believes that a focus on bettering the quality of pigs in India would have served them better.
Polls postponed (Punjab) – On Monday, the Election Commission of India changed the polling dates for Punjab, from February 14 to February 20. This was done after a number of elected officials and political parties in the state asked for a change in the schedule. They pointed out that the Sri Guru Ravidas Ji Jayanti celebrations, usually held on February 16, may cause a lot of devotees to travel to Varanasi. This will keep a lot of voters from exercising their franchise.
Why it matters: According to a letter to the EC from the ruling Congress party, more than 20 lakh Scheduled Caste voters travel to Varanasi to pay respects to the famous saint. Since Punjab has the highest number of Dalits in the country and make up for about 38% of Punjab's population, their share of votes matter. The polls will now coincide with Uttar Pradesh's third phase of voting.
Prohibition problems (Bihar) – On Saturday, 11 people died after drinking spurious liquor in the Nalanda district of the state. As a result, CM Nitish Kumar has come under fire from both his alliance partners – the BJP and the RJD. The calls for repealing the prohibition law in Bihar has been around for a while now but after the Nalanda incident, things seem to have reached a boiling point. Most officials believe that the lack of proper implementation of the prohibition law has caused all of this.
Why it matters: Prohibition was enforced in Bihar in 2016 and ever since then, the number of hooch related tragedies in the state has been on the rise. Last year alone, over 66 people lost their lives to counterfeit liquor. The state Congress has also pointed out that the sale of hooch takes away revenue from the state exchequer and puts in the "liquor mafia". Still, CM Nitish Kumar seems adamant about the benefits of prohibition. According to him, women who used to be subject to rowdyism from people under the influence are now a lot safer.
A sweet deal (Rajasthan) – Over the years, the farmers of the Bharatpur district have been turning to honey production for an alternative livelihood. So many of them have turned to beekeeping that the farmers even started a farmer producer organisation (FPO) called Honey Fed. Now, the National Agricultural Cooperative Marketing Federation (NAFED) has said that they will help the FPO with branding and marketing to open overseas markets to them. Honey Fed will also receive a grant of ₹15 lakh to set up a honey processing plant.
Why it matters: Rajasthan alone takes care of 43% of the total mustard seed in India and Bharatpur is one of its many districts that rely on that mustard production. If anything, beekeeping has further helped the district in mustard production. Turns out, the bees help in cross-pollination which resulted in a 20-25% increase in crop yield. Besides, the district produced about 3,520 metric tons of honey in 2021. Honey Fed also happens to be one of the 5 honey-based FPOs in the country.
Data purity project (Tamil Nadu) – The state is now looking at a 'data purity project' to make sure that the needy get to reap the benefits of government schemes. According to a senior official, the project operates on a data and evidence-driven decision-making system. The Information Technology Department has already told all government departments to forward their data to the Tamil Nadu e-Governance Agency (TNeGA). This will be responsible for processing the data and then issuing directions to the government departments on standards for the data.
Why it matters: This project can actually provide the exchequer with more revenue. For example, after looking into the state's Social Security Pension Schemes' data, it was found that 8,800 beneficiaries weren't even alive. Recently, certain political parties and farmers' associations raised concerns about the Registrar of Co-operative Societies stating that 35.37 lakh loans against jewellery would not qualify for loan waivers. On further inspection, it was found that those loans were taken by people belonging to the same family under different names to wrongfully access the loan waivers.
---
🔢 KEY NUMBER
142 – According to an Oxfam report, 2021 saw the number of Indian billionaires go from 102 to 142 in India. While this was happening, the income of 84% of households in the nation declined due to the pandemic.