January 19, 2022
Good morning. In today's either/view, we try to figure out if there is any basis to the notion that the Centre is playing politics by rejecting Republic Day tableaux from Tamil Nadu, Kerala and West Bengal. We also look at why Gujarat is not so vibrant these days, among other news.
---
📰

FEATURE STORY
Understanding the Republic Day Parade and its Rejected Tableaux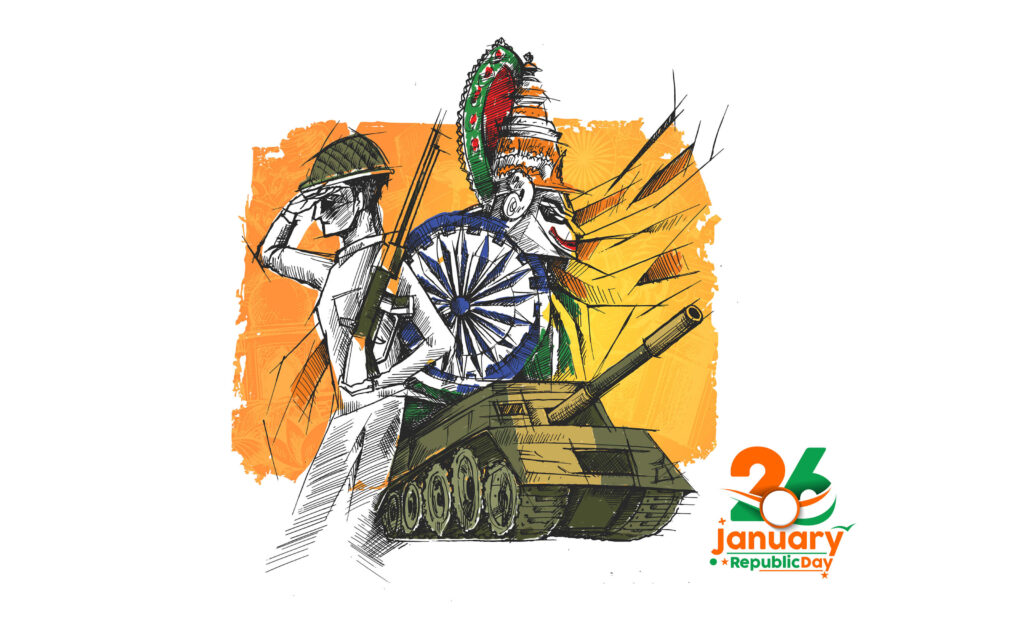 On January 26, 1950, the Indian Constitution came into effect and ever since then, we've been celebrating it by throwing a little parade down Rajpath. We're talking clear skies, nippy New Delhi weather and 21 tableaux going over the diversity of independent India. What's not to like, right? Well, turns out, there's drama afoot.
Tamil Nadu, West Bengal, Kerala and even Delhi have gotten their tableau plans rejected for this year's parade; and the question on everyone's mind is: what gives? While the states are sure that this is a political ploy to keep them out, the Centre says that they just needed to save time. So let's try figuring out what's going on backstage.
Context
Every year, around September, the Defence Ministry writes letters to all the states, Union Territories, some constitutional authorities and certain departments of the government. This letter basically asks these institutions to participate in the Republic Day parade by sending in their tableau proposals. For this year's parade, officials received a total of 56 proposals out of which 21 have been selected – 12 from the states and UTs, and 9 from the rest.
The problem arose when West Bengal CM Mamata Banerjee wrote to PM Modi about the state's rejected proposal and how they never received any reason or justification for it. This sentiment was then echoed by the governments of Tamil Nadu and Kerala as well. Along with them, the tableaux of Maharashtra, Delhi and Bihar have also been rejected. Considering all the states had proposed tableaux around the freedom struggle, the states found their rejection to be rather strange. But before that, let's get into the process of selection for the Republic Day parade.
First, obviously, you've gotta conform to the theme. Every good parade has a theme. This year's theme is around our 75 years of independence. This includes everything from the freedom struggle to ideas, achievements, actions and even our resolve over the seven and a half decades. The states and UTs are clearly told that they must involve "young qualified designers" in their tableau making process and their end designs can't be too similar to each other. The point of this display is to show off our diversity, we can't have copycats.
These proposals then go into an "elaborate and time-consuming" selection process carried out by a committee of distinguished persons with backgrounds in fine art, culture, music, dance, etc. This committee shortlists the proposals and even makes suggestions for modifications to the tableaux if needed. The shortlisted proposals are then turned into mini 3D models by the participants and sent back to the expert committee to evaluate.
In the final stage of selection, the committee takes into account the tableaux visual appeal, their impact on the audience, the amount of detail involved, the music accompaniment, etc. And even after making it through all of this, a selected tableau can be kept from moving on Rajpath if any last-minute changes have been made to the pre-approved design. This entire process takes about 6 official committee meetings over several days. So what happened to our rejected states?
The politics of vendetta and being left on read
Rejection is tough. It's difficult to deal with and depending on how it's done, can become really messy. It can be especially hard to come to terms with when you know that you've done nothing wrong. This is what our deferring states are dealing with right now. Unjustified rejection based on, what some claim is, bad blood. This year, it all started with West Bengal.
West Bengal got their Netaji Subhash Chandra Bose-themed tableau rejected without any reasoning attached to it. As per a letter written by CM Mamata Banerjee to the PM, the proposed tableau was designed with Netaji Bose in mind as this year marks his 125th birth anniversary. The tableau would have also featured several portraits of various Bengal-based freedom fighters, celebrating them in a national ceremony. But alas, according to the CM, the Centre doesn't deem them fit to be a part of the said ceremony. Even Congress' Adhir Ranjan Chowdhury said that the Centre has "shown its bias" by this rejection.
This was followed by Kerala's rejection, for the third time in a row. Their tableau covered the social reformer Sree Narayana Guru and the Jatayu Park monument. The Defence Ministry suggested changing this to commemorate Adi Sankaracharya, a theologian and philosopher who propounded the Adwaita philosophy in Hinduism. The ministry seems to think that Sankaracharya actually helped unite the country. This seems like a strange request as Sree Narayana Guru was an anti-caste reformer and headed the movement that allowed people of lower castes to enter temples.
And finally, we come to Tamil Nadu whose CM MK Stalin joined his Bengali counterpart in writing to the executive head of the country. Their tableau, like West Bengal's proposal, aimed to celebrate their own freedom fighters. People like Mahakavi Bharatiyar, Rani Velu Nachchiyar, presumably the first Indian queen who waged war with the British and the Tamil Helmsman, VOC Pillai. Seeing that all these regions, including Delhi, Bihar and Maharashtra, are not controlled by the BJP, the opposition seems to believe that the Centre is acting discriminatorily towards them.
Setting a wrong precedent with misinformation
Here's the thing, real life isn't a Dan Brown novel. Not everything is based on a plot that needs unravelling and not everyone is constantly out to get you. As previously mentioned, the process of selection is done entirely by an external committee of seasoned experts. Sources from the Centre have made it abundantly clear that the Defence Ministry does not make any decisions when it comes to the selection of tableaux. They are simply responsible for communicating information during this whole process. The same goes for the PM's involvement, as per due process, it doesn't exist.
It is also important to note that this isn't even the first time the opposition has chosen to play this tune. This has been a regular part of our January news cycle for the past 15 years. In 2020, West Bengal, Maharashtra and Kerala were left out of the list of paraded tableaux. Back then, the opposition was quick to harp on the states' non-compliance with the Citizenship Amendment Act (CAA) and the proposed National Register of Citizens (NRC). The Kerala assembly even passed a resolution against it. But, as the data suggests, using the Republic Day parade as a tool to attack the opposition hasn't really been a thing.
While Kerala's tableaux were only selected in 2018 and 2021 under this Modi government, West Bengal saw their tableaux on Rajpath in 2016, 2017, 2019 and 2021. Even the accusations of insulting Netaji Bose by rejecting West Bengal's proposal fall flat as the Central Public Works Department's selected tableau celebrates him as well. Bringing up Tamil Nadu, Union Defence Minister Rajnath Singh, in his letter to CM MK Stalin, pointed out that the state's tableaux were selected in 2017, 2019, 2020 and 2021. The rejection of their proposals this year was based more on time constraints than unresolved issues.
What's your opinion on this?
(Only subscribers can participate in polls)
a) The Republic Day parade's tableaux list is being used as a political tool by the Centre.
b) The Republic Day parade's tableaux list is not being used as a political tool by the Centre.
---
🕵️ BEYOND ECHO CHAMBERS
For the Right:
11 Big Trade Deals For India Under Manmohan Singh. None After.
For the Left:
Why Swami Prasad Maurya's Exit From BJP May Not Be The Turning Point It's Being Made Out To Be
---
🏴 STATE OF THE STATES
Charter for parties (Uttar Pradesh) – The Aligarh Muslim University (AMU) passed a 15-point resolution as a charter of issues concerning Muslims. It wanted these to be included in the election manifestos of the political parties contesting the upcoming polls. One of their demands is accelerated investigations and releasing innocent people booked under the Unlawful Activities (Prevention) Act and National Security Act. Broadly, the carter demanded the enactment of anti-communal and anti-hate crime laws with speedy trials and stricter punishments.
Why it matters: The Muslim vote in the state could be crucial. They make up more than one-fifth of the state's population. The RSS' Muslim Wing has launched efforts to reach out to Muslims to counter any "BJP being anti-Muslim" messaging. They also want to propagate the narrative that other parties see Muslims only as vote banks. Out of the 403 seats that go to the polls, 57 have a high concentration of Muslim voters. Between 2012 and 2017, Muslim voters switched from the SP to the BJP. In 2017, the BSP didn't win a single Muslim-dominated seat.
Expats return (Kerala) – Maybe for the first time, deposits by non-resident Keralites have declined. Their deposits in Kerala banks have reduced by ₹593 crores to ₹2,35,897 crores for the quarter ending September 2021 from the previous quarter. Many expats have returned to the state following job losses over the past couple of years. Most of them are from West Asian countries. As of July 2021, 15 lakh people have returned since May 2020. Most of them cited a lack of employment opportunities.
Why it matters: This is part of a trend that continued to accelerate as the pandemic progressed. Last January, data from the Non-Resident Keralites Affairs (NORKA) department showed that more than 1 lakh who returned from other parts of the country cited job losses. Once travel restrictions were eased after the first lockdown, more than 8.6 lakh returned from overseas. In all, more than 21 lakh returned from abroad and within the country till January 2021.
Herbal industry sales (Chhattisgarh) – Herbal products from the state touched ₹4.34 crore in the first nine months of the current financial year as compared to ₹2.15 crores last fiscal. The products are sold under the Chhattisgarh Herbals brand through thirty Sanjeevani Kendras' in all the districts. The state has been promoting forest-based produce and medicines to boost employment for forest dwellers. For the distribution network, private entrepreneurship is being promoted. Online sales are done through Amazon and Flipkart.
Why it matters: The state has been consistent in promoting herbal produce. In 2015, the state contemplated manufacturing Ayurvedic medicines on a large scale, under its 'Make in Chhattisgarh' vision. It came as demand for plant-based therapeutics was increasing domestically and internationally. At the time, the Chhattisgarh State Medicinal Plant Board identified more than 2,000 medicinal and aromatic plants in the state. In 2018, the state partnered with Dabur to set up nurseries to provide herbs for its ayurvedic products.
A decline in investment prospects (Gujarat) – As the 10th edition of the Vibrant Gujarat Global Summit (VGGS) was cancelled due to the current surge in Covid cases, other states have overtaken it in terms of being the vibrant investment destination. States like Maharashtra and Tamil Nadu are growing faster in terms of the inflow of investments. For Gujarat, most of the investments are domestic. For 2020-21, Gujarat accounted for 35% of the country's FDI. However, it has failed to sustain it. For the first six months of the 2021-22 fiscal, investments were ten times lower than April-September 2020-21. Foreign investors feel such summits are good opportunities to create goodwill and cut red tape.
Why it matters: In the wake of the 2001 earthquake and 2002 riots, then Chief Minister Narendra Modi went on an aggressive investment push with the launch of the VGGS in 2003. In 2009, Japan joined as a partner, then Canada in 2011. The 10th edition had 27 partner countries. However, many of the large MoUs signed during these summits never saw the light of day. Among them was a ₹40,000 crore deal with Hindustan Construction Company in 2011 for a waterfront city near Ahmedabad. Still, many of the deals signed helped the state project itself as an investment destination. Over the past five years, employment exchanges in the state provided more than 17 lakh jobs.
Human trafficking worsens (Assam) – As the pandemic set in, experts and activists say the problem of human trafficking in the state has worsened. According to the National Crime Records Bureau (NCRB), Assam recorded 124 cases of human trafficking in 2020. However, as per the Kokrajhar-based Nedan Foundation, an anti-trafficking NGO, they recorded 144 cases in 2020 in just four districts – Kokrajhar, Chirang, Baksa, and Udalguri. Last year, the same four districts recorded 156, per the NGO. Among the reasons mentioned are the closure of schools and people returning to the state after the lockdown was implemented.
Why it matters: Assam has been a hub for human trafficking. Earlier, people from outside the state came to lure women and children. Now, due to restrictions on travel, people from within the state and communities act as agents for outstation traffickers. They lure people with the promise of jobs. Many families aren't able to financially support their children due to the pandemic. Many of them become labourers or are sold into prostitution. A recent trend is trafficking girls to Haryana and Rajasthan to be sold as brides. With its widespread reach, social media is also being used as a means to lure them.
---
🔢 KEY NUMBER
$650 million – India's expected export target for the current financial year, according to Commerce and Industry Minister Piyush Goyal.