January 20, 2022
Good morning. In today's either/view, we decipher the link between 5G technology and airline cancellations, specifically in the US. We also look at the roadmap agreed to by Assam and Meghalaya regarding their border dispute, among other news.
---
📰

FEATURE STORY
5G and Airline Cancellations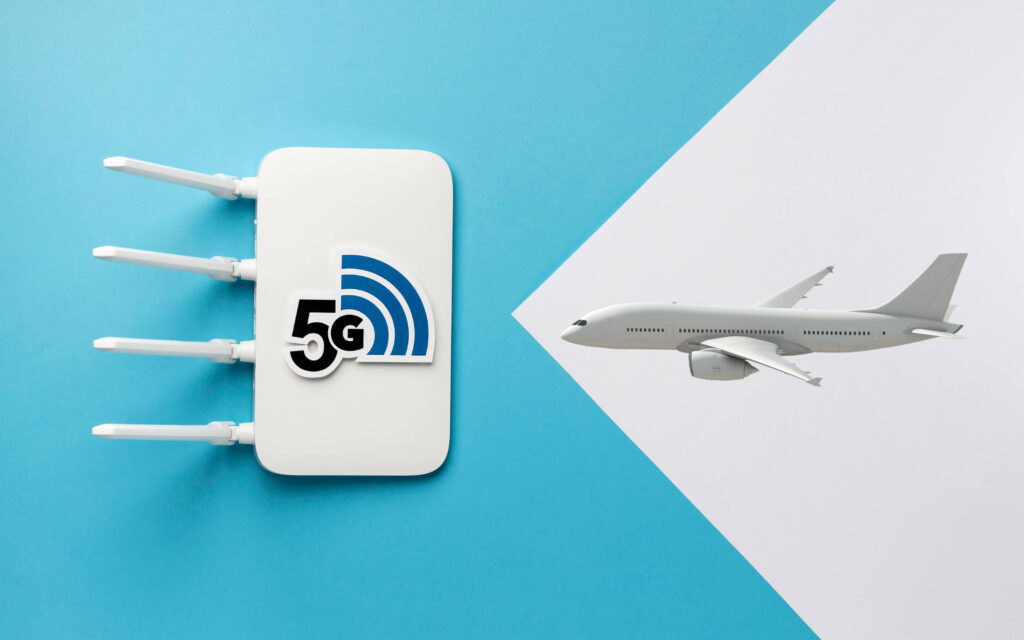 You're piloting an aircraft and getting ready for approach, and suddenly your radar and communication go haywire. You dig into your years of training and come up with solutions to avoid an accident putting passengers and people on the ground at risk. What you may not have been taught is how a high-speed data and networking service might've been at play.
It's 5G we're talking about. There's been talk of it by the Indian government, and we'll probably have to wait a while before it sees the light of day here. Abroad, many countries are moving forward with installing 5G networks. In the US, just as companies were gearing up for their 5G rollout, airlines came into the picture with concerns about its effect on some onboard instruments. As a result, many airlines, including Air India, have cancelled several US-bound flights.
Context
For the rollout of something as significant as 5G, you could be forgiven for thinking that the issue of it possibly affecting flight safety might've been resolved years ago. However, we've arrived at the point where airlines are cancelling flights amid uncertain times for the sector.
5G will get you super-fast download speeds and low latency. For telecom operators to offer 5G services to customers, towers need to be installed just like for regular mobile service. If you've been following the news in India about 5G, then you might've heard about spectrum auctions that will take place when the government decides on a date.
In the US, auctions have taken place. In early 2021, the Federal Communications Commission (FCC) auctioned mid-range 5G bandwidth known as C Band for about $80 billion. The most recent auction raised $22.5 billion, with AT&T leading the bidding. Italy, Germany, France, and the Netherlands are among the European countries that have followed the auction process for 5G.
Along with AT&T, the other big player for 5G in the US is Verizon. Just as they were about to begin activating the towers, some airlines expressed safety concerns. They are worried that the towers near airports will mess with some flight instruments. Following this, the two telecom giants decided to delay the launch.
The issue even went to the White House as airline CEOs warned of disruptions if the 5G rollout goes ahead. The Biden administration is involved in finding a solution. In the interim, President Biden thanked the telecom companies for the delay. There are multiple parties involved here – the FCC, telecom companies, airlines, airline manufacturers, and the Federal Aviation Administration (FAA). Meanwhile, AT&T said it will continue with the planned 5G rollout elsewhere.
Safety is paramount
Safety first should always be the motto when travelling by flight. Even with its advancements, piloting an aircraft is very technical. No pilot wants outside interference with in-flight instrumentation. This is the issue at hand – safety.
Here's the specific concern. An aircraft's radar operates on similar frequencies as 5G towers. This can interfere with the onboard instruments during the most sensitive portions of a flight – takeoff and landing. To avoid getting too technical, here's the problem. An aircraft has a radar altimeter system necessary for navigation. It uses radio signals to gauge altitude. It is tied with other onboard instruments and safety features like landing in low visibility and the Traffic Collision Avoidance System (TCAS).
Transportation regulators also had the same concerns on interference with airline instrumentation. However, telecom regulators and carriers assured them that this wouldn't happen. As one pilot put it, the timing of this is sudden. It has led to a lot of uncertainty and could affect flight operations.
There's also uncertainty if any interference will be constant and always happen in the same manner at the same airports. It could be random. No one knows until something actually goes wrong, and that's not a risk worth taking. It's this uncertainty that has airlines and their pilots worried. The airline industry has been hit hard by the pandemic. This latest problem only rubs salt into its wounds.
Unnecessary delays and FAA's inefficiencies
From the telecom companies' point of view, there's frustration. There's a lot of money riding on 5G technologies as the investment and infrastructure aren't cheap. All they're trying to do is their business – provide 5G services to their customers. This isn't their fight.
On January 1, FCC Commissioner Brendan Carr wrote a letter to Transportation Secretary Pete Buttigieg outlining why another delay was not backed up by science or engineering. He said the 5G rollout plan was made more than a year ago, and delays will cost tens of billions of dollars in investment. Clearly, there's a lot to gain economically for the companies and the country.
Understandably, the FAA is safety-minded. However, it shouldn't be the telecom companies' problem that the FAA and airlines can't work things out, or rather, didn't work things out earlier. At the urging of Secretary Buttigieg, the telecom companies have already delayed the rollout twice, most recently earlier this month. They had no choice due to safety concerns.
This begs the question – why hasn't this been an issue in other countries? First, let's look at the concerns in the US. It has to do with the radio spectrum. There's a sweet spot between 3.7 and 4.4 GHz. These have long enough wavelengths to travel a distance necessary for cellular coverage and hold data. For aircraft altimeters, the band is 4.2 to 4.4 GHz. For 5G, the FCC authorised it to be 3.7 to 4.2 GHz. The FAA is worried about what will happen when the bands meet.
In South Korea, the 5G frequency is on the 3.42-3.7 GHz band. There have been no reports of interference since 5G commercialisation in April 2019. The EU set standards for mid-range 5G frequencies at the 3.4-3.8 GHz range. The European Union Aviation Safety Agency (EASA) said there was no similar risk in European airports.
What's your opinion on this?
(Only subscribers can participate in polls)
a) The airlines' concerns about the 5G rollout in the US are valid.
b) The airlines' concerns about the 5G rollout in the US are unfounded.
---
🕵️ BEYOND ECHO CHAMBERS
For the Right:
The Electoral Grammar of Priyanka Gandhi in Uttar Pradesh: Where Means Matter
For the Left:
To cry persecution in Missionaries of Charity's FCRA licence row is to give in to victimhood politics
---
🏴 STATE OF THE STATES
Settling state disputes (Assam) – In a series of tweets, CM Himanta Biswa Sarma explained that the representatives of both Assam and Meghalaya have agreed to a roadmap to settle their long-standing dispute. This roadmap is the result of several meetings held by three regional committees that included representatives from both states. In a meeting held on Tuesday, it was agreed that Assam would get 18.51 sq km of the disputed areas while Meghalaya would receive 18.29 sq km.
Why it matters: Along their 885 km long shared border, Meghalaya and Assam have 12 points of dispute. Out of those 12, the two states have agreed to quash their beef regarding 6 points. Meghalaya came to be when the Assam Reorganisation Act, 1971, carved it out of Assam. But Meghalaya quickly turned to challenge the piece of legislation, resulting in disputes. Now, the settlement deal between the two is expected to come into force by January 21 as it's the day Meghalaya will turn 50.
Construction in green belts (Himachal Pradesh) – The draft Shimla Development Plan that is expected to be notified soon has opened the city's green belts up to construction. After 22 years, the 17 green belts covering 414 hectares of land will be available for the construction of residential buildings. A provision in the plan states that construction will only be allowed in plots that are vacant and don't have any trees.
Why it matters: Green belts are supposed to be planned stretches of land that don't get subjected to developmental activities. The 17 belts in Shimla, widely considered to be the lungs of the city, were even considered so after satellite imagery showed growing green cover in them. Thus, the ban on construction in those areas was there since December 2000. In 2015, the National Green Tribunal ruled out even the possibility of a partial relaxation on the ban.
Attack on federalism (West Bengal) – On Tuesday, CM Mamata Banerjee wrote to the PM about the Centre's proposed amendments to the existing IAS service rules. Till now, the states could shield their state IAS officers from Central influence. The proposed amendments change that. CM Banerjee, in her letter, stated that this is "against the spirit of cooperative federalism and it upsets harmonious arrangement between Centre and States in the matter of posting of IAS and IPS officers".
Why it matters: The new amendments to the IAS (Cadre) Rules, 1954, state that any IAS officer could be posted on central deputation if the Centre wishes so. While the states would be a part of that conversation, the Centre would still be allowed to bypass any reservations posed by the state governments. The Centre believes that this could help overcome the dearth of IAS officers in different states. For example, the Centre has allocated 208 IAS and 119 IPS officers to Telangana but the state needs at least 250 IAS and 200 IPS officers.
Mangroves are forests too (Maharashtra) – The state forest department has decided to take over another 20-25 hectares of the mangroves in the Dharavi area. The area will now form a part of the Mahim creek sanctuary. As of now, the Mumbai Metropolitan Region Development Authority (MMRDA) controls the area as Dharavi, in general, is considered to be Asia's largest slum. But after years of nagging, the environmentalists have gotten their way.
Why it matters: With this new addition, the state forest department has now declared around 53% of the 32,000 hectares of Mumbai's mangroves as "protected forests". Another 16,000 hectares fall under private property which leaves around 3,000 hectares of the mangroves that are yet to be called "protected forests". The NatConnect Foundation has requested the government to take control of all 19,000 hectares, even if they fall under private property. This is because these mangroves are a part of our natural heritage and act as important deterrents against tidal water attacks.
Discriminatory dress codes (Karnataka) – For the past 3 weeks, 8 girls from a pre-university government college in the Udupi district have been missing their classes due to a dress code violation. The girls have been barred from attending their classes as they come to college wearing hijabs. They have not been able to attend classes since December 27, as directed by their college's principal, and have been marked absent from classes ever since.
Why it matters: This goes directly against Article 25 (right to faith) and 21-A (right to education) of our constitution. The girls have mentioned that they began wearing the hijab in December 2021 as their college rulebook has no mention of a hijab in it. A photograph from the 2020-21 academic year also shows evidence of students wearing hijabs in the classroom. The college officials are sure that no such thing was allowed in the history of the institution. Besides, the barred students also pointed out that Hindu festivals are openly celebrated in the college so wearing the hijab should not change anything.
---
🔢 KEY NUMBER
82% – According to a LinkedIn report, 82% of Indian workers are considering job changes in 2022. Among the reasons for leaving their current jobs, 30% stated that they have a poor work-life balance. 28% said that they weren't getting paid enough, and 23% said that they were moving on to better career opportunities.