January 21, 2022
Good morning. In today's either/view, we discuss whether the removal of Urdu's official status in Ladakh will affect the Union Territory positively or adversely. We also look at an interesting petrol subsidy scheme in Jharkhand, and the first bamboo village in Tripura, among other news.
---
📰

FEATURE STORY
Removal of Urdu's Official Status in Ladakh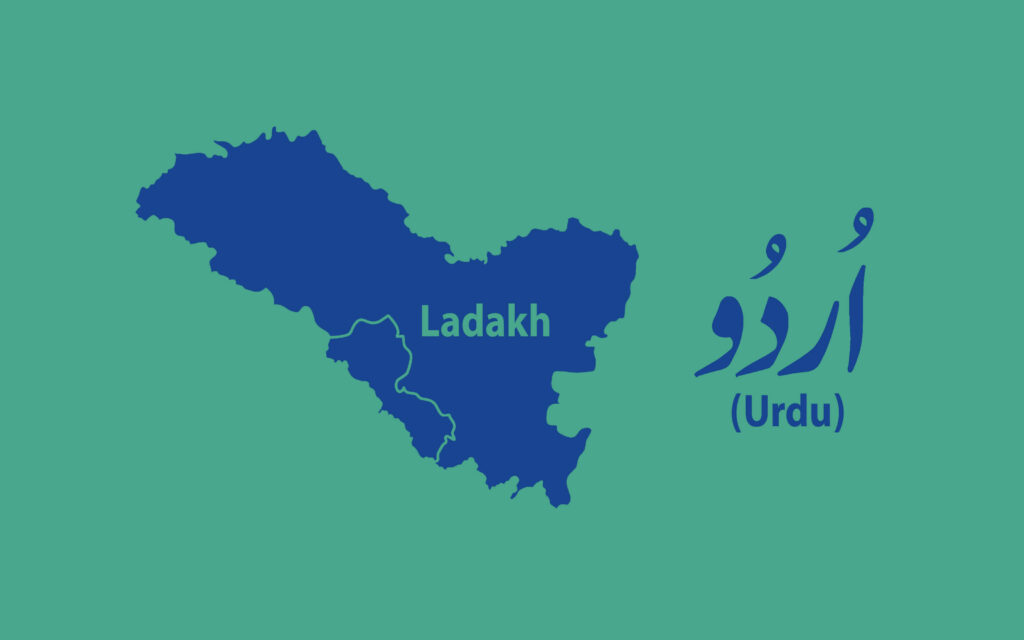 Language is a strange thing. About 1,00,000 years ago, our ancestors started hooting and growling at each other; now, we've got way too many versions of these communication units to count. In India alone, there are supposed to be more than 19,500 mother tongues. And while that may be true, around 96.71% of us mostly speak one of our 22 scheduled languages. Okay, so what's with all this language talk, right?
Well, Ladakh underwent quite a controversial change regarding its use of language last week. In the most lowkey way possible, their government dropped the Urdu language's official status. Now, people of the region no longer need a working knowledge of it to become government employees. While some are happily welcoming this sudden change, others sense a more sinister plot lurking from the shadows.
Context
On January 7, Lieutenant Governor R.K. Mathur amended the Ladakh Revenue (Subordinate) Service Recruitment Rule, 2021, through a notification. The official text regarding the qualifications needed by a candidate for roles in the government's revenue department dropped the "knowledge of Urdu" as a requirement. This would immediately apply to candidates looking to fill the Naib-Tehsildar and Patwari posts of the revenue department. Something the Ladakh Buddhist Association is more than glad about.
Before this, candidates had to prove their working knowledge of Urdu and provide a Bachelor's degree from any recognised university. Now, people simply need a degree to be considered. It is important to note that this is happening despite Urdu's wide use in the region and its recognition as one of the 22 scheduled languages in the country. Other than Urdu, Hindi and English are seen as official languages in Ladakh.
Social activist and politician Sajjad Kargili has also written to the PM to seek his intervention in this matter. The biggest claim is that this removal of official status won't just pit religious communities in Ladakh against each other but will also create a rift between Leh and Kargil. While Leh has a massive Buddhist population, Kargil houses a larger Muslim demographic.
An administerial nightmare
Before getting into the demographic politics of the Union Territory, let's go over the practical changes needed to deal with such a monumental change. Urdu has been an official language in Ladakh since 1889, during Maharaja Pratap Singh's rule. This means that all records, especially revenue ones, have been drafted in Urdu. While the Dogra ruler's say was carried out in Jammu & Kashmir as well, most of Jammu's revenue records have been written in Hindi.
From a practical sense, the former deputy commissioner of Kargil Hassan Khan points out that proper implementation of the amendments could create decades worth of backlog. Considering that most new appointees will lack Urdu reading skills, available revenue records would have to be translated to Hindi and/or English. This is bound to take up the better part of several years to complete and is sure to cost the administration loads.
The menacing undertones attached to the new changes stem from the fact that most Urdu speakers happen to be Muslim. And this isn't even the first time the administration, directly run by the Home Ministry, would have acted against Urdu in the region. In June 2021, Ladakh's education and information technology departments launched the YounTab scheme. Under this, 12,300 students were given free tablets with preloaded texts and lectures. While they did do a decent job covering most of the school curriculum, the only textbook missing from those tablets was the Urdu textbook.
This brings us to the Leh-Kargil rift. As mentioned earlier, Leh has a big Buddhist population while Kargil has a bigger Muslim one. Since before the abrogation of Article 370, Leh has been favouring the status of a Union Territory for Ladakh. But ever since then, the two districts have come together in their demand to restore Ladakh's statehood. This is clearly a problem for the Centre. Thus, favouring one over the other seems like a blatant move towards creating a rift between the two. According to former DC Khan, this is an attempt to create an "ideological division" between Leh and Kargil.
Not a native tongue
In a series of tweets and a video message, MP Jamyang Tsering Namgyal of Ladakh expressed his elation over this new development. According to him, it freed the territory from "psychological colonialism" and practically liberated the people of Ladakh from the 'imposition' of Kashmiri rulers. While his emotions did seem to get the better of him here, it is worth noting that Urdu is actually not native to any demographic group in Ladakh.
Urdu traces its origins back to regions in Punjab and Delhi. In Jammu & Kashmir, as Ladakh was considered a part of it, the official language before the Dogra rulers came around was Persian. It was after 1885 that Urdu was even considered a viable language. This was when British Residency had started in the region with Dogra Maharaja Pratap Singh in power. Urdu was used as a link between the British and the Dogra rulers. In fact, the popularity of Urdu grew among the masses as a form of resistance to the Dogra rule.
You see, Maharaja Pratap Singh's predecessors had tried to make the Dogri language the region's official language on multiple occasions. Seeing that they were based in Jammu, the rest of the region fought tooth and nail to keep that from happening. When Urdu came along, the masses found the perfect alternative as no native group actually spoke the language. If anything, those sentiments carried Urdu in the region even in the post-Independence days.
Moving away from the history lesson for a bit, the Ladakh Buddhist Association (LBA) also seemed very happy about the removal of Urdu's official status. Even if it is just for positions in the revenue department. The number of Muslims and Buddhists in Ladakh aren't too dissimilar. Muslims seem to have a slender majority in the entire UT with 46% of the population, while Buddhists cover 40%. Former DC Hassan Khan even mentioned that most Buddhists do not speak or even understand Urdu. They largely speak Ladakhi, an offshoot of Tibetan.
Considering that most Buddhists live in Leh, not Kargil, the forced requirement of Urdu in government posts puts them in an inconvenient spot. With this new amendment, the scope of employment simply gets more inclusive as it widens. The LBA also hopes to see similar changes in the police services and insists that the options of Hindi and English get offered instead.
What's your opinion on this?
(Only subscribers can participate in polls)
a) The removal of Urdu's official status in Ladakh is justified.
b) The removal of Urdu's official status in Ladakh is not justified.
---
🕵️ BEYOND ECHO CHAMBERS
For the Right:
The Criminalisation of Faith, Love, and Charity
For the Left:
How the BJP Became the World's Largest Political Party
---
🏴 STATE OF THE STATES
Petrol subsidy scheme (Jharkhand) – Chief Minister Hemant Soren launched the CMSUPPORTS App for the 'Petrol Subsidy Scheme' he previously announced. Under the scheme, pink and green ration cardholders owning two-wheelers will get ₹25 per litre on petrol for a maximum of 10 litres a month via a direct bank transfer. A person is eligible if they are a ration cardholder of the National Food Security Act or Jharkhand State Food Security Act. An applicant should have a valid driving license, a verified Aadhaar number, and a bank account.
Why it matters: This scheme comes in the wake of Soren announcing the subsidy last month. He said poor and middle-class families have been the worst affected due to increasing petrol and diesel prices. Currently, petrol price in the state is just under ₹96 per litre. The scheme is expected to benefit more than 60 lakh people in the state. Due to rising fuel prices, other states have resorted to cutting the value-added tax on petrol, as Delhi did last month. The Arvind Kejriwal government reduced it to 19.40% making petrol cheaper by ₹8.
Rehabilitation of forest area (Jammu & Kashmir) – More than 5,000 hectares of degraded forest area have been rehabilitated in the state in the current fiscal. About 27 lakh plants were planted during the monsoon and autumn seasons as winter planting is ongoing. Part of the plan also includes protective fencing. For the next financial year, a total of 17,715 hectares of the degraded forest area has been prepared.
Why it matters: The state is among the top performers in growing stock/biomass. It has more than 42 types of forests, with the local forest department continuing to increase the green cover. Over the past couple of years, the state has seen an increase of 348 sq km of forest cover. Overall, the forest and tree cover in the state is at 55%, well above the national average of 24.56%. Some of this has been transferred to the Army. In 2019, more than 250 hectares were transferred to the armed forces.
Textile manufacturers plan strike (Tamil Nadu) – The power loom, garment, and hosiery manufacturers in Palladam and Tiruppur have threatened to go on a hunger strike demanding the government take measures to control prices. They stopped production on January 17 and 18 in protest against the current price hike for yarn. Chief Minister MK Stalin has written to the Centre on this issue. He asked the government to remove the 11% import duty on cotton as it affects local producers. He also suggested giving yarn manufacturers priority over traders for the procurement of cotton.
Why it matters: The textile industry in the state is important for the local economy. It has been proactive in attracting investments. After last year's budget, the textile industry was disappointed with the levy of customs duty on cotton imports. Last June, the Southern India Mills' Association (SIMA) appealed to finance minister Nirmala Sitharaman to withdraw basic customs duty, and the agriculture infrastructure development cess (AIDC) levied on cotton. The government rejected these calls saying the decision to impose duties was to benefit domestic cotton farmers.
Spice units for women (Rajasthan) – PNB Housing Finance said it set up two spice units in Baran and Chittorgarh districts for underprivileged women. Combined, these units employ almost 75 women. It's part of PNB Housing's CSR scheme called Pehel. The aim is to help women become financially independent and self-reliant through gainful employment. The unit at Baran makes products like ginger-garlic paste marketed under the Katori brand name. The Chittorgarh unit produces spices like chilly, coriander, and turmeric.
Why it matters: PNB Housing encourages women to form self-help groups and market the products in nearby areas. It's done through the marketing representatives known as Business Sakhis. In the next quarter, more Business Sakhis will be deployed in other cities and states like Ajmer, Jaipur, Delhi, Noida, to name a few. PNB Housing has undertaken other CSR activities focusing on health, education, and sanitation. In 2019, it partnered with The Confederation of Real Estate Developers Association of India to train 13,000 construction workers across India.
Bamboo village (Tripura) – Tripura is now home to the country's first Bamboo park, along with the first-of-its-kind multi-purpose bash gram (bamboo village). It is in Western Tripura's Katlamara along the India-Bangladesh border. It has already attracted tourists, including environmentalists from India and abroad. The village has more than 14 species of bamboo and other natural plants and herbs. Bamboo architect Manna Roy said the village came up with a ₹60 lakh investment with no money from the government or a bank.
Why it matters: Bamboo is one of Tripura's most abundant natural resources. In 2006, the state government launched the Tripura Bamboo Mission to provide a platform for lakhs of tribal and rural residents who depend on bamboo. Since 2007, the initiative has been implemented through a Public-Private Partnership (PPP) model. In 2020, the government announced plans to set up 28 bamboo processing units in eight districts. Among the notable products that the state has produced over the years have been bamboo rice, salt, and cricket bats.
---
🔢 KEY NUMBER
4.3 million – The current fixed broadband user base of JioFibre. It is now India's no.1 wired broadband operator. BSNL at 4.2 million and Bharti Airtel at 4.1 million user base come second and third, respectively.