July 12, 2023
Good morning. In today's either/view, we discuss whether Carbon Capture systems are worth it. We also look at the release of additional cheetahs in Madhya Pradesh, among other news.
---
📰

FEATURE STORY
Are Carbon Capture systems worth it?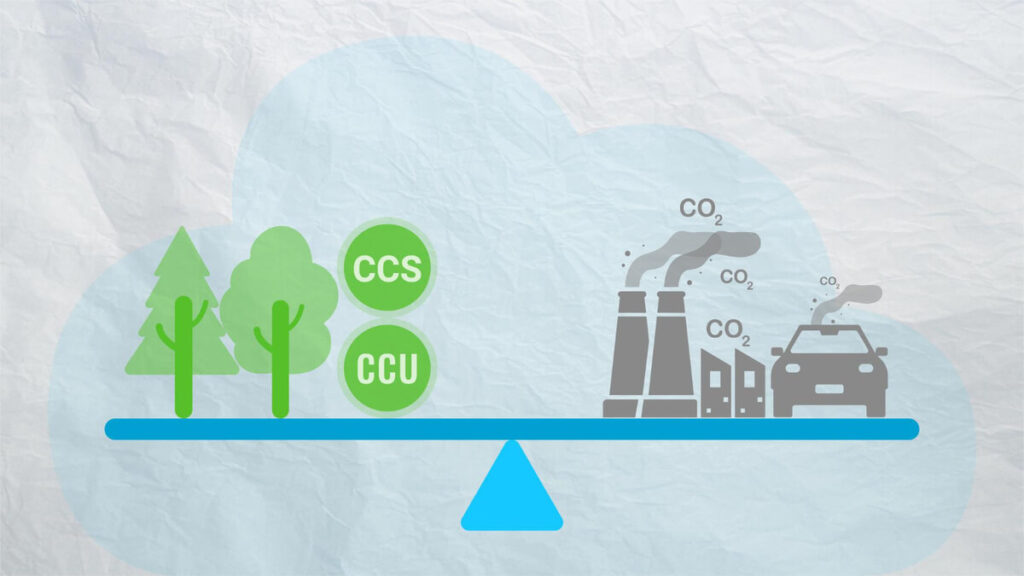 In the past three years, carbon capture usage and storage (CCS or CCUS) technology has emerged from the sidelines and taken centre stage in the climate action scene. With a shrinking global carbon budget, rising average temperatures, and a high-stakes target to achieve net-zero emissions, countries are racing against time. Utilising CCS technology is one crucial way the industry is stepping up.
Carbon capture technology captures CO2 emissions before they are released into the atmosphere, effectively reducing the carbon load on our planet. It offers countries a pathway to build circular economies around carbon, with industries leading the charge. But there's concern that companies are using carbon capture as an excuse to continue relying on fossil fuels. In such a scenario, where climate action hinges on the ethics of large energy conglomerates, one might wonder if CCS is a worthwhile investment.
Context
There are multiple pathways that lead the way to global climate goals. Switching to a 100% renewable energy system is one of them. The other? Capturing and storing carbon emissions that are bound to occur until the energy transition is complete.
Our energy usage typically follows a linear pattern: we extract what we need, use it, and throw it away when we're done. This linear model is all the more harmful in electricity and heat generation, where fossil fuels are the key drivers. No matter what the future looks like, in the present, fossil fuels still dominate the energy mix of some of the largest economies, including India, the United States, and China.
It's not just that they are non-replenishable, but fossil fuels emit a lot of greenhouse gases (GHGs). Per the IPCC report, GHG emissions need to see a 43% cut by 2030 compared to 2019 levels, and CO2 emissions by 48%.
In 2021, electricity and heat production accounted for 46% of the global increase in emissions – the highest across all sectors. Carbon emissions from the energy sector rose by 6% from 2020. Coming up second is the transport sector, which accounted for 16.2% of the world's emissions.
Industrial and agricultural processes are another set of contributors. The chemical processes involved in the production of oil, cement, concrete, and metals like steel leads to carbon emissions. As long as these factories keep churning, CO2 will keep accumulating in the atmosphere, trapping heat, and melting ice caps.
Of course, renewable resources are one pathway to eliminating carbon emissions. Its all-important sidekick is the technology that captures and stores atmospheric and industrial CO2. There are two ways to do this – Direct Air Capture (DAC) technology, which sucks the CO2 out of the air and infuses it underground for long-term storage, and CCS, which traps it not from the atmosphere but directly at the source point during industrial processes.
CCS technology has existed since the 1920s to separate CO2 from methane gas found in natural gas reservoirs. The 1970s saw a significant breakthrough with companies using captured CO2 to enhance oil production in oil fields, known as enhanced oil recovery.
In 1997 the Equinor-owned Sleipner CCS plant pioneered the permanent storage of emissions underground. To this day, it remains the longest-operating carbon capture facility globally. In the more recent past, investments in CCS have exploded.
Currently, around 35 commercial facilities apply CCUS to industrial processes, fuel transformation, and power generation. It comes down to an annual capacity of capturing 45 megatonnes of CO2.
Suffice it to say, it's still very new, and experts are still divided on whether CCS can be scaled up and commercialised.
VIEW: Can't do without
A major benefit of carbon capture technology is its ability to tackle emissions at their source, which is easier than sucking it from the atmosphere. Since a significant portion of greenhouse gas emissions originates from energy production and industry, CCS can capture CO2 directly from these point sources and securely store it in geological formations for good. Its ability to build new utilisation pathways for carbon is essential for building a circular economy.
The slow uptake of CCS is often blamed on its high costs. But the fact is, it's the cheapest way to reduce emissions in the fertiliser, cement, and concrete industries. It could also be useful in waste processing plants. CCS can be retrofitted to existing power and industrial plants and prevent around 8 billion tonnes of CO2 releasing in the atmosphere by 2050. Additionally, it can enable the production of low-carbon hydrogen from fossil fuels, which is a cost-effective option in various regions.
The rising momentum for CCS is complemented by a lowered involvement of oil and gas companies in CCS utilisation. Several firms recognise this and focus on specific sectors like transportation and storage. German industrial goliath Heidelberg Materials is one such facility building capacity to capture the highest amount of carbon possible. It's establishing the first facility to capture carbon from cement and store it underground.
COUNTERVIEW: Laying it on a bit thick
The promises of CCS have yet to be fulfilled and overestimated. One major challenge of adopting carbon capture technology is its high cost. Without government subsidies, equipping existing industrial and power plants with CCS will increase the cost of their products. CO2 separation, transportation infrastructure, and storage are prohibitively expensive without regulatory incentives. Put simply, without incentives, the deployment of CCS isn't going to match the climate requirements.
There's also skepticism around the need for CCS in the energy sector. After all, we already have cheaper and more efficient ways like wind turbines and solar panels. While it could be a backup for gas plants in regions where fossil fuel infrastructure development is still underway, CCS needs to become way cheaper and more efficient to be a viable solution. Many environmentalists opine that the technology gives fossil fuel companies a social sanction to keep up production.
Commercial carbon capture projects are bogged down with several issues. Some have experienced breakdowns or operational limitations, failing to operate consistently. Some, like the Heidelberg Materials facility, are designed to capture only a fraction of the total emissions, falling short of their intended targets.
Reference Links:
What is your opinion on this?
(Only subscribers can participate in polls)
a) Carbon Capture systems are worth it.
b) Carbon Capture systems aren't worth it.
---
🕵️ BEYOND ECHO CHAMBERS
For the Right:
UP govt bans meat on Kanwar Yatra route: This is not Sarv Dharma Sama Bhava
For the Left:
Credit where credit's due—Modi govt has scripted an unbelievable banking success story
---
🇮🇳 STATE OF THE STATES
Rajkumar Rao in state campaign (Uttar Pradesh) – Bollywood actor Rajkumar Roa will be featured in the state police's campaign to raise awareness of online fraud and other cybercrimes. The police have plans to bring in more notable actors and sportspersons for future cybercrime campaigns. The proposal was made at the conference of the Director General of Police and Inspector General of Police.
Why it matters: The state government has set up cyber police stations in 18 ranges across Uttar Pradesh. To tackle cybercrimes, the state has 91 posts of inspectors, 93 sub-inspectors, 51 head constables, and 176 constables. According to the police, over 5,400 people have been arrested for cybercrimes, and ₹89.46 crore has been recovered.
New land use policy (Tamil Nadu) – A study by the State Land Use Research Board showed the state lost over 16 lakh hectares of its net sown area in the past 45 years. The state government is now planning to introduce a new land use policy since the patterns of land use in the state have changed over the past several decades. The government wants to prevent further deterioration of land resources by reviving degraded land through sustainable measures.
Why it matters: The draft land policy from 2004 lapsed in 2019. Land use for non-agriculture purposes increased from 15 lakh hectares in 1971 to 22 lakh in 2015-16. Thanks to natural disasters, the use of spatial land has become necessary to guide development compared to ad-hoc allotment of land for projects.
Tamper-proof signaling system (Odisha) – In the wake of the Odisha train disaster that killed 290 people, there's been a renewed focus on improving safety through a better signaling system. Aurobinda Routray from IIT Kharagpur is leading the project entrusted to the institute by the Indian Railways. The goal is to develop a tamper-proof signaling system based on blockchain technology. The design will take another fortnight to finalise. The system is such that it can't be manipulated or hacked into using technology similar to crypto and banking.
Why it matters: Before the Odisha tragedy, Railways Minister Ashwini Vaishnaw asked IIT Bhubaneswar and Kharagpur to come up with modern communication, control, and security systems for the railways. If the new system gets approved, a 50-member team from the institutes will work on implementing the new system and be ready in two years.
Additional cheetahs at KNP range (Madhya Pradesh) – Kuno National Park (KNP) in the state welcomed two more cheetahs. With the recent additions, the total number of cheetahs in the park's Sheopur district is now twelve. Last September, eight Namibian cheetahs were brought to KNP and released into special enclosures by Prime Minister Narendra Modi. This February, twelve more cheetahs arrived from South Africa and were released into their enclosures at the park.
Why it matters: The government has undertaken an ambitious programme to reintroduce cheetahs in India. Since March, six cheetahs, including three cubs have died at the park. The project was controversial since some wildlife experts said there isn't enough space at the park for several cheetahs. The National Tiger Conservation Authority (NTCA) held a meeting a few months back in the wake of the cheetah deaths.
Request to meet community leaders (Manipur) – Manipur Governor Anusuiya Uikey said she has requested Prime Minister Modi to meet with local community leaders to help find a solution to the ongoing violence in the state. She appealed to all parties and groups to cooperate with the government to help bring peace. She said security forces have been deployed in vulnerable areas, and housing is being arranged for those displaced.
Why it matters: Uikey met with Modi last month as opposition parties and community leaders have criticised his silence on the ongoing violence. A group of MLAs went to Delhi seeking an appointment with Modi but were unsuccessful. Despite Home Minister Amit Shah's meeting with local leaders last month, incidents of violence have continued.
---
🔢 KEY NUMBER
4 – In the latest Forbes list of 100 self-made women in the US, there are four Indian Americans. They are Jayshree Ullal, President of Arista Networks, Neerja Sethi, co-founder of Syntel, Neha Narkhede, founder of Oscilar, and Indira Nooyi, former head of PepsiCo.