March 15, 2023
Good morning. In today's either/view, we discuss whether the Bengaluru-Mysuru Expressway is adaptive or maladaptive. We also look at the success of the homestay policy in West Bengal, among other news.
---
📰

FEATURE STORY
Bengaluru-Mysuru Expressway: Is it adaptive or maladaptive?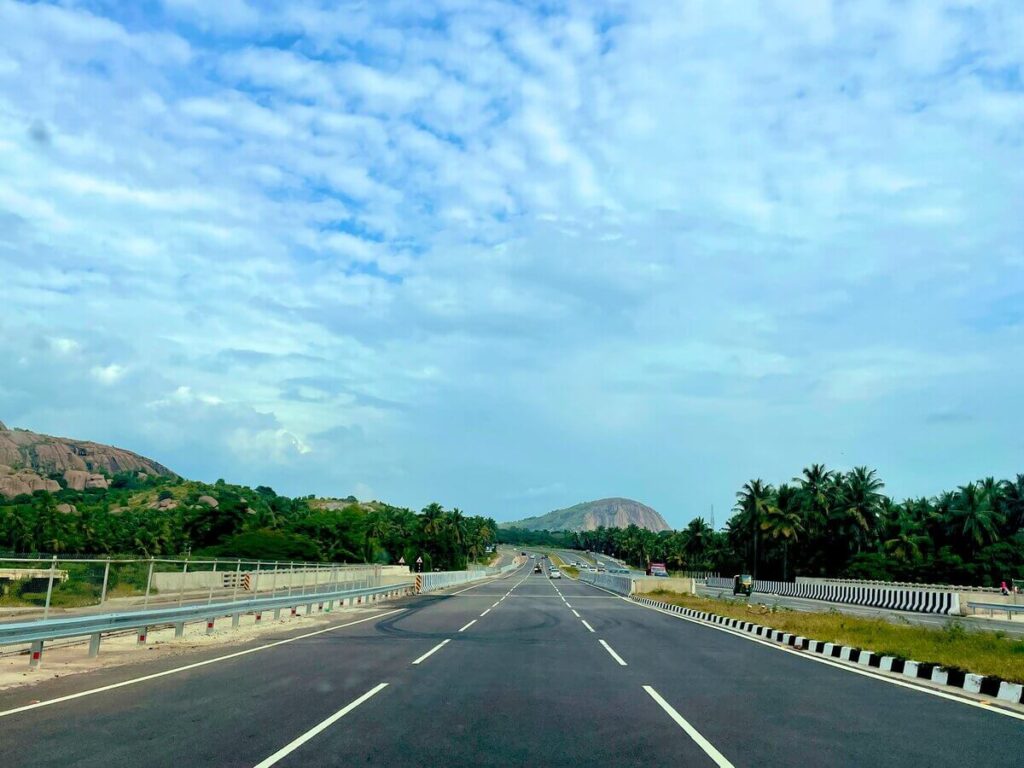 Expressways are urban adaptations to improve transportation and travel between cities. The inauguration of every new roadway project in India is projected as a boon to India's economic growth. However, large infrastructural projects can become stories of maladaptation if design, safety, and local voices aren't taken seriously.
On March 12, Prime Minister Narendra Modi inaugurated the Bengaluru-Mysuru expressway claiming that the 119 km expressway would fast-track India's journey to prosperity and development. But does every new project boost development, or do they just help sell the development story without delivering it?
Context
The Bengaluru-Mysuru expressway is a 6-lane highway built at the cost of ₹8,480 crores. It starts in Bengaluru and connects it to Mysuru. The expressway has six elevated, access-controlled lanes that are supposed to allow fast and safe vehicular movement. Flanking them are two-lane service roads to accommodate local traffic.
The Bengaluru-Mysuru expressway's tale is not unlike other highways. Ever since the Ministry of Road Transport and Highways laid its foundation stone in 2018, the project has been host to delays, controversies, and fatal mishaps.
In 2019, despite the forest department greenlighting its land acquisition for the project, private landowners were either reluctant to part with their land altogether or not impressed by the compensatory sums. But Dilip Buildcon, a Bhopal-based firm responsible for the construction, stayed the course.
Soon, COVID-19 rared its horns. Labour shortages prevailed, and the workers had to dally several deadlines. When parts of the expressway became operational, reports of accident-related casualties and deaths began to emerge. Road accidents aren't temporary or a one-off problem.
In 2021, the country saw 4,12,432 road accidents claiming 1,53,972 lives. A higher number of fatalities was accompanied by a higher road crash severity. As per a SaveLife Foundation report, in 2021, India recorded a 38.6 road crash severity, higher than any other country.
Considering how the working-age population is more likely to experience these fatalities, road accidents are a bigger national concern than one would have imagined at the outset.
And then came the record high rainfall of 2022 in Karnataka when parts of the expressway became partially or completely inundated. In August 2022, several underpasses were flooded. Traffic was in gridlock, buses broke down, vehicles submerged under water, and social media recorded it all. While cranes helped mitigate the situation, the National Highways Authority of India (NHAI) received much flack for implementing a flawed project.
Despite a tumultuous journey, the authorities and construction workers completed a large chunk of the expressway by the March 2023 deadline. It's in line with the overall pace of road construction across the country, which has risen since 2022.
Now, if all were to go well, this expressway could improve tourism, generate employment, and effect a higher socio-economic development in the stretch.
But there's another side to the story. Think of it as two Indias, one that improves with the introduction of the expressway – like logistics, storage, transport, and other related industries. And the other India that suffers, perhaps those who cannot afford high tolls or those businesses that take a hit from the elevated connectivity.
Weighing all the upsides and risks of the Bengaluru-Mysuru highway, does it prove more adaptive or maladaptive?
VIEW: It's a boost to economic development
The expressway's design delivers on both its objectives to reduce travel time and allow fast-paced, access-controlled movement. It will reduce travel time between Bengaluru and Mysuru from 3.5 to 1.5 hours.
The expressway has service lanes, 11 overpasses, 64 underpasses, and five bypasses to relieve the main traffic load and ensure that small vehicles can continue to travel unencumbered. These constructions will also help the smooth travel of wildlife around the Handigundi Forest and Hultar Reserve Forest.
The expressway can function as an essential artery of socio-economic development in the region. By benefiting transportation and logistics, it can accelerate employment and revenue generation. Faster mobility will also help people from connected towns avail of social and healthcare services in bigger cities like Mysuru and Bengaluru.
Then there are the economic benefits that follow tourism. The expressway is bound to generate more opportunities in the tourism sector in Mysuru and other neighbouring areas like Kodagu, Mangaluru, and Chikkamagaluru. The NHAI also plans to introduce some new modifications in due time, like public toilets and wayside food joints that house local hotels and restaurants.
COUNTERVIEW: Speedy construction led to shoddy design
Problems of shoddy design that emerged in 2022 remain pertinent. Vehicles travelling from Mysuru to Bengaluru experience bottleneck traffic jams at the end of the expressway at Kengeri. Much of the time saved is lost during this congestion. The NHAI's proposal for land acquisition around the NICE Road Junction is expensive.
This year's monsoon may witness a repeat of last year's inundation. It wasn't simply heavy rains that caused it. The expressway blocks natural drains and encroaches upon lakes' waste weirs, allowing no flow of rainwater. It is unclear, as of now, whether the NHAI-proposed temporary drains can handle extreme floods.
Several people have lost their lives in accidents on the expressway. Mitigation measures such as proper signage, delineation of accident zones, and provisions for ambulances and fire engines are reportedly absent. The non-enforcement of speed limits contributes significantly to casualties on the expressway.
While the elevated bridge promises economic development, its impact on local businesses has been contrary. Vendors across Ramanagara, Channapatna, Maddur, and Mandya who used to benefit from the Bengaluru-Mysuru traffic have either shut down or incurred huge losses. A Channapatna toy seller who used to earn ₹20,000 on weekends barely makes ₹4,000 now.
Reference Links:
What is your opinion on this?
(Only subscribers can participate in polls)
a) The Bengaluru-Mysuru expressway is adaptive in its current state.
b) The Bengaluru-Mysuru expressway is maladaptive in its current state.
---
🕵️ BEYOND ECHO CHAMBERS
For the Right:
In Manipur, the Kukis are up in arms against the 'majoritarian' BJP government
For the Left:
Raghuram Rajan's remark on Hindu rate of growth is outdated. He is living in the past
---
🇮🇳 STATE OF THE STATES
Rising influenza cases (Delhi) – There has been an increase in ICU admissions of elderly patients due to the H3N2 influenza A infection. Doctors have advised caution and masking up outdoors. While stating there's no need to panic, doctors have urged the government to step up testing of influenza-like illnesses. Some are concerned about the rate of spread of the H3N2 strain and have cautioned those who experience flu-like symptoms.
Why it matters: The news comes in the wake of 2 deaths at Delhi hospitals. Officials have asked public hospitals to take the necessary precautions. While the strain isn't as deadly as Covid-19, it can still spread rapidly. The Delhi government ordered hospitals to reserve beds in case there's an increase in patients coming in.
Elephant whisperers (Tamil Nadu) – As "The Elephant Whisperers" won the Oscar in Los Angeles, back home, the film's main characters continued to do the work they love. One of them, K Bomman, is on a mission to protect abandoned elephant calves in Dharmapuri. Bomman and his team were busy monitoring the movement of two orphaned calves. He inherited the skills from his father, who used to work with the forest department.
Why it matters: The movie is about the tribal couple Bomman and Belli, who take care of an orphaned baby elephant named Raghu in the Theppakadu elephant camp. Released on Netflix in December, the Oscar win garnered congratulatory messages from Chief Minister MK Stalin to the filmmakers.
Homestay policy success (West Bengal) – The state's ₹1 lakh financial incentive to homestays that fulfil basic standards has received 2,700 applications. A lot of them are from heritage property owners looking to earn some revenue. Some people with old properties have struggled to sell them. They now have an opportunity to run a homestay. They have to comply with a 12-point marking system and score at least 50 to be eligible.
Why it matters: The sop was announced in the state budget a month back. Homestays have emerged as an alternative to hotels since it allows guests to experience the local culture by interacting with the host families. Festivals like Durga Puja make homestays a viable option for visitors.
Resolution against BBC documentary (Madhya Pradesh) – The BJP-ruled state of Madhya Pradesh passed a censure motion against the controversial BBC documentary on the 2002 Gujarat riots. The state Vidhan Sabha resumed its Budget session on Monday and passed the resolution citing it tarnished the image of Prime Minister Narendra Modi. BJP legislator Shailendra Jain accused the BBC of misinterpreting the riots and the actions of then Chief Minister Modi.
Why it matters: Chief Minister Shivraj Singh Chouhan said the documentary attacked India's sovereignty, tried to weaken the constitution, and called for strict action against the broadcaster. The resolution comes a few days after Gujarat did something similar by passing a resolution against the documentary.
Child marriage and POCSO cases (Assam) – Since 2017, the state police have prepared charge sheets against more than 8,000 people in child marriage and POCSO cases. However, only 500 have been convicted so far. More than 6,000 have been released on bail. Chief Minister Sarma said the government hadn't taken any steps to care for the children born out of child marriages but would do so if they needed care and security.
Why it matters: Last month, the government began a widespread crackdown on child marriages and rescue girls across the state. Officials detained more than 2,000 people as part of the campaign. It sparked controversy as hundreds of women protested, saying those detained were innocent. Opposition leaders criticised the BJP government in the state for arresting individuals and demanded to know who would look after the women and girls left behind.
---
🔢 KEY NUMBER
₹130 crores – Finance minister Nirmala Sitharaman told the Rajya Sabha that the digital or e-rupee currently in circulation is ₹130 crores as of February 2023.