August 30, 2022
Good morning. In today's either/view, we discuss whether EdTech institutions can disrupt traditional MBAs. We also look at the craze for Futsal in Goa, among other news.
---
📰

FEATURE STORY
Can EdTech Institutions Disrupt Traditional MBAs?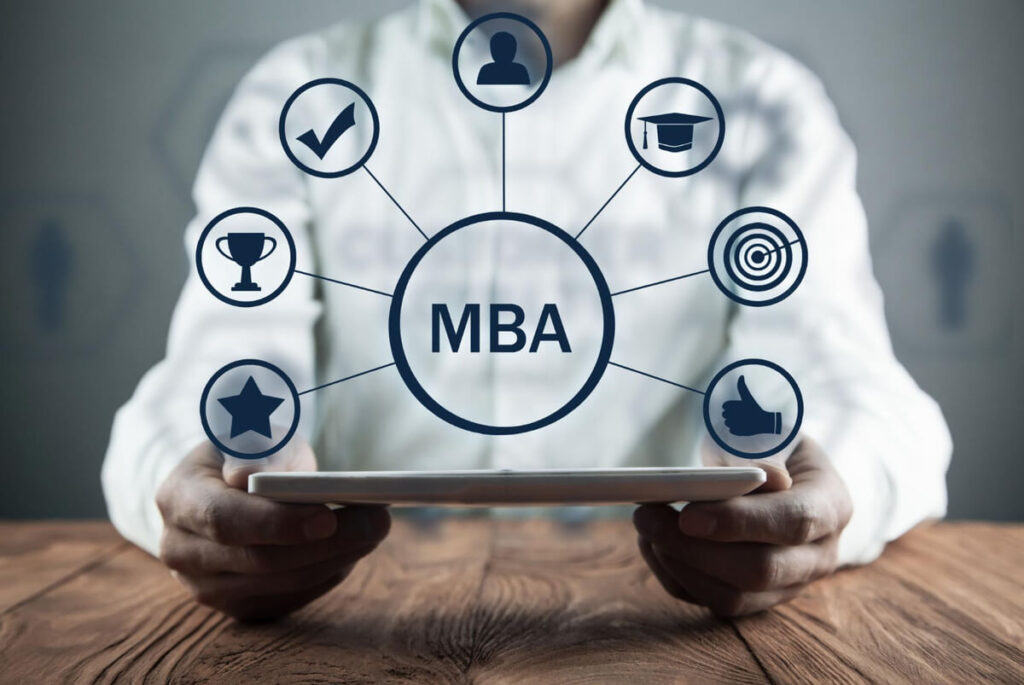 You finished with the board exams, done with school, and the world is now your oyster. The eventual question you get asked is, what's next? The answer will obviously be different for everyone, but there are some patterns and similarities. Whatever undergraduate course one may choose, the path eventually leads to an MBA for many people. They see it as a requirement to jumpstart their careers.
When it comes to MBAs, there are several options at home. There are obviously top-tier institutes in India or perhaps others in Europe or the USA that some might have an eye on. But what if there is something different? EdTech companies are looking to continuously disrupt the MBA education space. Will they succeed? Can they offer something that traditional MBA courses don't?
Context
One sector clearly impacted by the pandemic is education. Experts and governments are trying to ensure students don't fall behind in their schooling. For universities, exams and admissions went astray as they tried to bring some order to the chaos.
What came to the fore was online learning, even distance learning. Over the past decade, this has been growing. You can learn courses from the comfort of your own home, and that's where EdTech comes in. The Indian EdTech space was valued at $750 million in 2020. A KPMG study on online education in India estimated the market could grow to $1.96 billion.
Many EdTech startups have taken notice of technology adoption in India's education sector, which has traditionally been slow-moving. Before, investors were wary of pouring funds into this sector. Now, there are five EdTech unicorns. It's come at a crucial time for the Indian education sector as it continues to get back on its feet. One example is Stoa. The popular EdTech startup is a professional charter for young business talent.
In the US, private education has resulted in unsustainable college debt for many. In India, many EdTech companies can sell their services to middle-class families who can take out loans and pay. While it's an additional economic load, parents are willing to go the extra mile for education. But what some EdTech firms want to do is make this affordable and flexible. They're making big strides in the IT space and training people in specific skills.
The early EdTech companies had massive open online courses (MOOCs) created by universities. Some of it was free, and others were moderately priced. Some were faculty providers, and others saw themselves playing an end-to-end role. For EdTech, both students and parents are part of the conversation. It's how companies in this space are adapting. The current crop of companies isn't just dipping their toes in. They want a bigger slice of the pie.
India is facing an education and employment crisis. Despite having lakhs of schools and thousands of colleges, there's still concern about the quality of education and the employability of graduates. Given the startup boom in India, can startups like Stoa offer something better than traditional MBAs? Do they have an advantage? Or are there inherent challenges and risks?
VIEW: Flexibility and accessibility
If you've decided to pursue an MBA from a traditional institute, it's not going to be cheap. But aside from that, there's something that EdTech companies are looking at which is potent. If you're a working professional, studying full-time is tough. So, companies like Stoa offer business and management programs that are time and cost-efficient alternatives to traditional MBA programs.
The opportunity cost for experienced professionals to leave their jobs is relatively low. Many may also want to transition from their corporate job and enter a startup. It's all about convenience at the right price point. Unlike K-12 education, EdTech companies can rewrite how management education is taught and delivered. Now, students can take bite-sized online courses at their own pace.
Unofficial estimates state India has approximately 4,000 B-schools. Many of them could disappear in the years ahead with the growth of the EdTech sector. Also, students would rather opt for an online course over a two-year-long course at a low-quality B-school. There's also the opportunity in tier 2 and 3 cities. Employers are willing to recruit irrespective of background, so a high-profile institution's brand doesn't carry as much weight in the long term.
EdTech firms have identified critical gaps in traditional management education. For example, there aren't many options for people in the 5-15 years experience range. Given their accessibility, cost, and time benefits, EdTech firms like Stoa are democratising executive education.
COUNTERVIEW: Inherent risks and challenges remain
Some people may be hesitant about online courses, and many EdTech companies offer unaccredited courses. Some believe the future of higher education is accredited courses. India is a country that values credentials in education and courses. This could be a challenge for those who are hiring. Some companies might want that stamp of approval or 'legitimacy'.
We also need to consider the regulatory aspects. The current government isn't against technological disruption. However, the All India Council for Technical Education (AICTE) Chairman Anil Sahasrabudhe isn't in favour of EdTech companies entering this domain. He doesn't want them offering diploma and degree courses. His comments came on the heels of the UGC warning universities against offering courses in partnership with EdTech companies.
Education experts have been concerned about the lack of in-person learning over the past couple of years. That could apply in this scenario too. An MBA comprises something more than online classes. It's the possibility for students from diverse backgrounds to spend time together outside the classroom. It's part of integrating interpersonal interactions into the curriculum domain.
The allure of an on-campus MBA program probably won't go away any time soon. It still gives you the campus social experience, world-class facilities and faculty, and the ability to network with a diverse group of people. At the end of the day, education will be about quality. Long term, the success of any EdTech player will be based on whether customers are satisfied.
What's your opinion on this?
(Only subscribers can participate in polls)
a) Traditional MBAs are better than the courses offered by EdTech companies.
b) Courses offered by EdTech companies are better than traditional MBAs.
---
🕵️ BEYOND ECHO CHAMBERS
For the Right:
The 'Rashtrapatni' Row Should Make Us Rethink The Everyday Bias Against Women In Our Languages
For the Left:
"Serial Killer" Remark Makes It Clear Kejriwal Will Bait Modi
---
🇮🇳 STATE OF THE STATES
Agro-residues to speed up clean energy transition (Punjab) – Since agriculture is Punjab's mainstay, it has tremendous potential for energy generation from agro-residues in addition to tapping solar power. According to Union Minister of New and Renewable Energy, R K Singh, Punjab is the leading clean energy generator with 6,034 million units (MUs) of solar power in the last four years. According to official records, Punjab has tapped 15 megawatts (MW) of rooftop solar capacity, and the current state budget has the provision to install rooftop solar plants in government schools at the cost of ₹100 crores.
Why it matters: The state has been dealing with the stubble burning issue for quite some time now. The focus on agro-residues will help in its fight against pollution. The state's New and Renewable Energy Minister Aman Arora iterated that the focus will be on setting up projects for new sources of energy including solar, biomass, and hydel.
Two clouded leopard cubs hand-reared (Tripura) – Since clouded leopards have been marked as 'vulnerable' on the IUCN Red List, Tripura's attempt to protect and conserve them has been successful as two cubs were hand-reared over the past few months at a breeding centre. The cubs, one male and one female, have been released in Sepahijala zoo.
Why it matters: Clouded leopards have been threatened by deforestation and commercial poaching. This instance was deemed the first successful hand-rearing of clouded leopards in India by the wildlife warden of Sepahijala sanctuary, Biswajit Das. Das also stated that mothers have a habit of devouring cubs after giving birth and they had to segregate the newborns immediately.
BJP's first training workshop (West Bengal) – The BJP has set out on its three-day training programme for all the party's West Bengal MPs, MLAs, and other state leaders. This event is an opportunity for BJP general secretary Sunil Bansal to interact with state leaders on a common forum. The training camp aims to educate and familiarise the Bengal rank and file with the party's ideology and goals.
Why it matters: The event will allow Bansal to contribute to his designated task of organizational affairs in West Bengal and Telangana. While the BJP has bright prospects in Telangana, they need to be prepared to fight for Bengal after their loss in 2021.
15 new Futsal grounds (Goa) – The football-crazy state has gradually warmed up to the idea of futsal, an indoor version of the sport. Termed as a nursery for football players, the state has seen the development of over 15 futsal grounds in the span of 10 years. 
Why it matters: While the Goa Football Association (GFA) was denied a helping hand from its affiliate FIFA, the Don Bosco Institution at Fatorda in South Goa has come to the rescue by constructing an international standard futsal court on its premises. Futsal can be played across all age groups, and it requires only 10 players.
Special buses for Nehru Trophy boat race (Kerala) – In the event of the upcoming Onam festivities and the boat race, the Kerala State Road Transport Corporation (KSRTC) has set up and tour programme to allow people to enjoy the spectacle at affordable prices. Chartered buses will be arranged from various districts with tickets costing between ₹500 and ₹1000.
Why it matters: Conducted on the Punnamada Lake, the Nehru Trophy Boat Race was instituted to commemorate the visit of late Nehru on his boat ride on the lake. The state-run transport corporation is setting up special buses for festival buffs to have a glimpse of the annual event.
---
🔢 KEY NUMBER
68 lakhs – The Visual Impairment Survey conducted in 2019 revealed that 68 lakh people suffered from corneal blindness in India.