May 11, 2023
Good morning. In today's either/view, we discuss whether Go First's issues spell trouble for the Indian aviation sector. We also look at the pan-Indian cyber fraud perpetrated from Haryana, among other news.
---
📰

FEATURE STORY
Do Go First's issues spell trouble for Indian aviation?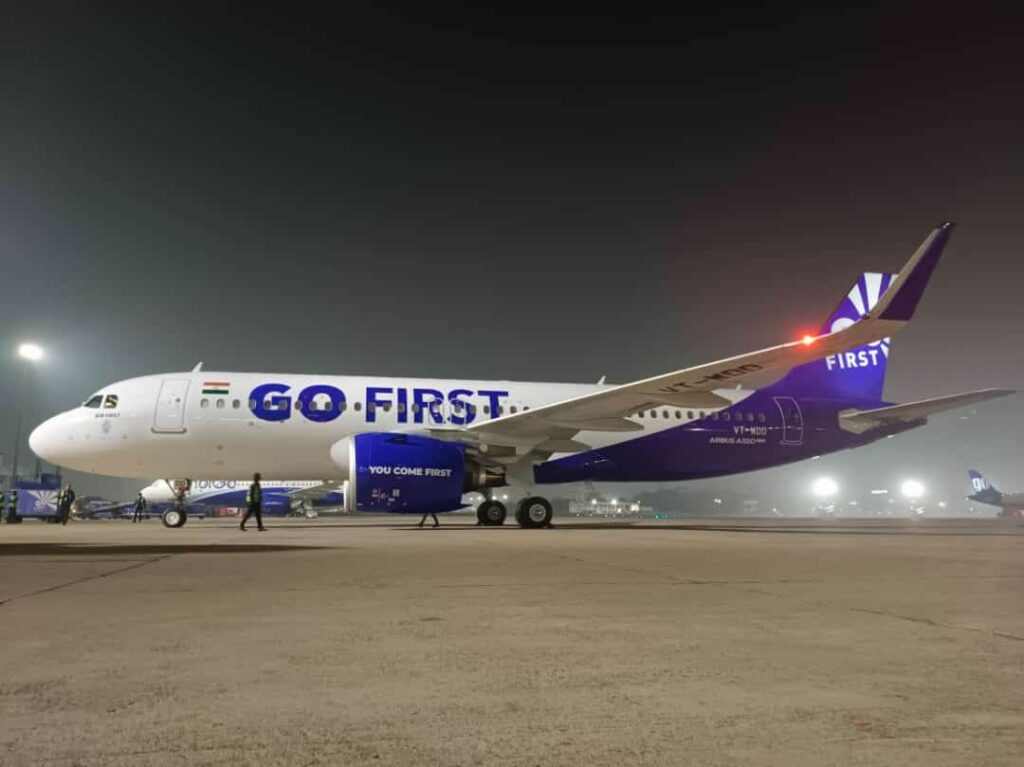 When commercial airlines are grounded for an extended period, it usually spells trouble. The pandemic made sure of that, and the entire aviation sector suffered. In this arena, time is money. The quicker you can turn around an aircraft and avoid delays, you don't lose money.
One of those airlines is Go First. They're grounded as the company said it's filing for bankruptcy. This isn't the first Indian low-cost carrier, or any carrier, for that matter, to ground its fleet due to financial woes. The question is, what does this mean for the Indian aviation sector? Is there some turbulence ahead, or are things looking good?
Context
The aviation sector is lucrative but unforgiving. It's all about the economics at play. Part of the story of Indian aviation is well-known airlines ceasing operations owing to financial troubles due to increased competition and rising operational costs. Just ask Jet Airways, Kingfisher Airlines, or Paramount Airways.
In 2004, GoAir was launched as a low-cost carrier. Owned by the Wadia Group, it began operations in 2005 with one Airbus A320 aircraft. Jeh Wadia wanted to enter the airline sector by investing in some of the existing carriers or starting his own company.
GoAir didn't exactly take the segment by storm, as its competitors were aggressively expanding. By 2011, it had 10 A320s and ordered 72 more for $7 billion. In comparison, IndiGo, which began operations a year after GoAir, had ordered 180 A320s.
The company did relatively well. Its first international flight was from New Delhi to Phuket, Thailand, in 2018. A couple of years later, it had ten international routes restricted to South East Asia and the Middle East. The company consistently turned a profit. In 2019, with an eye on the future, it ordered 144 Pratt & Whitney engines to power the 72 new A320s that would join its fleet.
In 2021, it amassed 57 planes and became the third-largest low-cost carrier in India, behind IndiGo and SpiceJet. That same year, it rebranded itself as Go First to establish itself as India's first ultra-low-cost carrier (ULCC).
The company's hopes to capture market share didn't pan out as planned. On the management side, at least seven CEOs came and went in 15 years. Some didn't even last a year. The company's last profitable year was 2019. It struggled financially ever since. The pandemic was salt in the wounds. In an attempt to stay afloat, an Initial Public Offering (IPO) followed to raise ₹3,600 crore. This was mainly to eradicate its debts rather than fund future investments.
Go First wanted to be a leader in the ULCC market, which is unchartered waters for the most part. The low-cost carrier segment in India is highly competitive. While Go First wasn't the first airline to go down this path, will it be the last? Is this a bad omen for the low-cost segment?
VIEW: Nothing to worry about
On April 30, Civil Aviation Minister Jyotiraditya Scindia said domestic air traffic reached an all-time high of over 4.5 lakh passengers on over 2,900 flights. That's more than the pre-Covid average. There's some hope that the Indian aviation sector, despite its hiccups and stumbles over the years, is set to take off in the coming decade. Air India, after its share of troubles, made headlines with an order for 470 aircraft.
Aviation leaders are optimistic about India's aviation sector. There's a growing economy underneath all those planes in the air with rising disposable income. India is the world's third-largest and fastest-growing aviation market in the world. Indian airlines have ordered over 1,100 aircraft to be delivered in the coming years.
If there's a silver lining, other airlines will benefit from potentially more passengers. There's a pilot shortage in the Indian aviation space. With Go First grounded, their pilots are up for grabs. It's understandable and necessary to think about the sector at large when an airline fails, but reports suggest Go First has itself to blame. Engine supplier Pratt & Whitney said the airline had a history of missing payments.
COUNTERVIEW: Another one?
While Go First had its share of financial issues and should certainly take some blame, larger issues are at play. Its money and fleet issues are symptomatic of the wider Indian aviation sector. The commercial air transport industry has high capital and operational costs with wafer-thin margins. India's budget airlines adopted aggressive pricing strategies and spent crores on new planes that stretched their balance sheets. There needed to be more regulatory oversight here.
Take SpiceJet as well. It's facing an agitated overseas lessor over unpaid lease rentals. The government knows what the issues are that plague the sector. Among these is the tax structure that keeps Aviation Turbine Fuel (ATF) costs prohibitive and an outdated regulatory apparatus. Globally, the insolvency of airlines has been a subject of great concern, particularly for creditors and passengers.
Experts have been predicting the rapid ascent of the Indian aviation sector. There's real market potential. But what gets lost in the discussion is fulfilling that potential at a profit. The sector seems to be a playground for the rich who fancy their own airline. The late Rakesh Jhunjhunwala's Akasa Air is an example. Successive governments have shied away from offering a direct lifeline to struggling airlines. Tata consolidating its airlines is proof that in Indian aviation, there's no guarantee of survival.
Reference Links:
What is your opinion on this?
(Only subscribers can participate in polls)
a) Go First's issues don't spell trouble for the broader Indian aviation sector.
b) Go First's issues do spell trouble for the broader Indian aviation sector.
---
🕵️ BEYOND ECHO CHAMBERS
For the Right:
Modi and Shah Remind Us That One Can Be in India and Still Be Absent From Duty
For the Left:
PM Narendra Modi's France visit to boost India-EU ties
---
🇮🇳 STATE OF THE STATES
Pan-India cyber fraud exposed in Nuh (Haryana) – The Haryana Police stated on Wednesday that it had cracked down on an organised group of cyber criminals in the Nuh district in April, uncovering a ₹100 crore pan-India scam in which about 28,000 individuals had been duped. According to Nuh Superintendent of Police Varun Singla, these con artists utilised fake SIM cards, Aadhaar cards, and other documents to deceive people across the country, and they used to transfer money in fake bank accounts to avoid arrest.
Why it matters: According to Singla, the accused are between the ages of 18 and 35 and operated in groups of three or four. He stated that a few of the accused in a village were involved in creating false bank accounts, phoney SIM cards, publishing advertising on social media platforms, and so on, and charged 5% to 50% of the fraud amount as their commission fee. Cybercrime in India has grown exponentially. Cybercriminals in India are not only scamming the average unaware citizen but are also stealing from eminent personalities as well as people situated in other countries. Watchdogs in several countries are seeing a huge rise in cybercriminals situated in India.
Gurudwaras to be exempted from property tax (Andhra Pradesh) – Chief Minister YS Jagan Mohan Reddy assured the Sikh community that the state government would set up a special corporation for their growth, instructing officials to exempt Gurudwaras from property tax and to provide benefits for Granthis (Priest for a Gurudwara) on par with priests, pastors, and maulvis, according to an official statement.
Why it matters: On Monday, a team from the Sikh community led by Andhra Pradesh State Minorities Commission Member Jithendarjith Singh met with CM Reddy at his camp office in Hyderabad and requested that he establish a Corporation for Sikhs and their affiliated communities to ensure the efficient execution of the Navaratnalu. Following the delegates' request to exclude Gurudwaras from property tax, the chief minister directed authorities to eliminate the property tax on Gurudwaras, according to an official statement. CM Reddy also announced the recognition of Guru Nanak Jayanti as a closed holiday.
Children reporting GI issues due to excess heat (Bihar) – Children and the elderly are particularly vulnerable since temperatures in several sections of the state have risen beyond 40 degrees Celsius. A huge number of youngsters in the city have begun to complain of gastrointestinal infection (GI), which causes diarrhoea, loose motion, and vomiting, in addition to fever, cough, and cold. Dr Nigam Prakash Narain, former national vice-president of the Indian Academy of Paediatrics, stated that at least two-thirds of the children he saw had GI problems, and a handful had coughs and colds.
Why it matters: He stated that because sweat glands do not develop correctly in the first two to three months, newborns should be maintained at a low temperature. People with a middle or lower income can keep their newborns' bodies cool by sponging them with tap water twice or three times each day. He further mentioned that, in addition to GI troubles, skin infections and other heat-related skin concerns, such as prickly heat, boils, and scabies, were being recorded. Bihar and other Eastern states are witnessing high amounts of heat this year. The Northern and Southern states are reporting losses in crop output due to unseasonal rains. India is in a very severe grip of extreme weather conditions due to climate change.
Goa to implement new NEP initiatives soon (Goa) – Goa is likely to be the first state to adopt the National Education Policy (NEP) 2020 guidelines at the higher education level. According to Goa University vice-chancellor Harilal B Menon, students who get 75% or more in all eight semesters of their undergraduate program would be entitled to pursue a PhD without first completing a postgraduate degree. The modifications will go into effect in the academic year 2023-24.
Why it matters: The university had also previously planned to implement four-year BA, BSc, and BCom graduate programs at all of its affiliated institutions beginning in June. These four-year programs provide several entrance and departure points. Menon stated that if a student leaves after one year with a certificate or two years with a diploma, they will have the opportunity of returning within seven years to finish their degree. With these new changes, students who have to drop out due to familial or economic reasons will receive a lot of relief. Moreover, the concept of directly entering the PhD program can help students who can't invest a lot of time and money into pursuing a series of different degrees.
Government to check if it can ban polygamy (Assam) – According to Chief Minister Himanta Biswa Sarma, the Assam administration intends to abolish polygamy as "a component of the Uniform Civil Code" and would organise a committee to investigate whether the state legislature has the authority to do so. The committee would look at the regulations of the Muslim Personal Law (Shariat) Act of 1937 in conjunction with Article 25 of the Indian Constitution in light of the directive principle of state policy, he added.
Why it matters: The Committee is anticipated to give its recommendations within six months, and in addition to the legal components, it will look into the religious and personal aspects as well. The chief minister stated that the prohibition was not aimed at any one community but at all those who practice polygamy, adding that the state will do this through consensus, not force or aggression. Sarma also mentioned that unlike what a lot of people would like to think, this initiative does not target Muslims, as polygamy in educated Muslims in urban areas is almost non-existent.
---
🔢 KEY NUMBER
2.25 lakh – In Bihar and Jharkhand, the Telecom Department deactivates 2.25 lakh cell phone connections.