May 10, 2023
Good morning. In today's either/view, we discuss whether biogas can become India's fuel of the future. We also look at Jio replacing Vodafone as the Gujarat government's telecom provider, among other news.
---
📰

FEATURE STORY
Will Biogas be India's fuel of the future?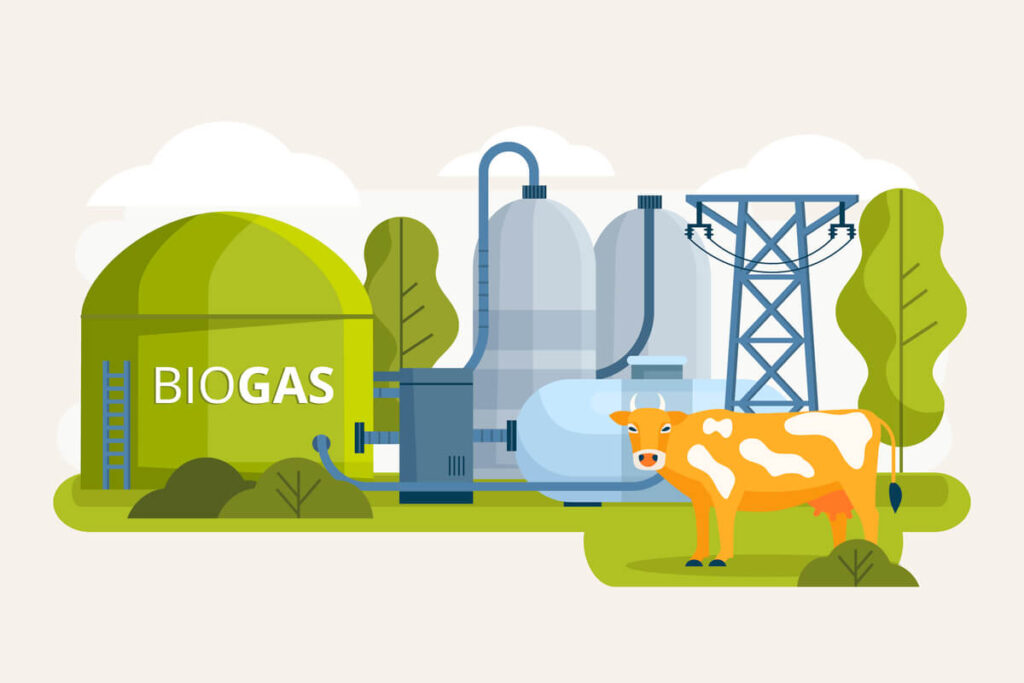 Where there's muck, there's brass. The old Irish saying couldn't be more true for biogas in India, which is seeing renewed policy support as India buckles down to achieve its net zero commitment. What does this mean? Well, at the 26th Conference of Parties of the UN Framework Convention on Climate Change (UNFCCC), or CoP 26, India committed to drawing 50% of its energy from renewable sources. And how does it plan to do that?
Compressed Biogas, or CBG, is one such renewable energy source. Experts often hail it as a key pathway to a circular economy while authorities find ways to install more of these in cities. The Brihanmumbai Municipal Corporation (BMC) in Mumbai is no exception, as it plans to set up a biogas plant to process 1,000 tons of wet waste daily. But there are some barriers to its large-scale expansion as a viable green energy source.
Context
Biogas plants turn waste into clean – or rather, cleaner – energy. It composes of methane, CO2, and small quantities of other toxic gases. It's easy to understand how biogas is generated if you're prepared to get your mind in the gutter.
Biogas is released when biomass sources like livestock manure, crops, household waste, or trees undergo anaerobic digestion, a form of decomposition in the absence of oxygen. Instead of being let out into the atmosphere, biogas plants trap its high energy content for heating and generating electricity.
The first such plant was installed in India. By 1859, scientists discovered that swamps and rotting organic matter produced methane and thus set up a biogas plant in Bombay. Soon enough, sewer gases were being trapped and used to light up the streets in Victorian England.
This biofuel has proved advantageous on multiple levels. The largest biogas plant in Methan village in Patan, Gujarat, helps save 500 metric tonnes of fuelwood annually. It's operated by Silver Jubilee Biogas Producers and the Distributors Cooperative Society Limited.
Two people from Methan receive ₹50 to operate the plant daily. The raw input comes from cow dung, dry waste from the plant is sold for ₹300 as manure, and biogas is supplied to households at ₹50. All such houses are members of the cooperative.
Recently, the government expressed a desire to replicate the success achieved in ethanol blending. A cabinet proposal by the oil ministry is underway for increasing the biogas supply in phases across cities. It will assure natural gas marketers of capital support for biomass aggregation, laying of gas pipelines, and means to blend 5% biogas by 2027.
Government schemes and investment in its production by green energy firms have made biogas a lucrative commercial venture too. In India, the market is predicted to reach ₹32,000 crore by 2030-31. Startups have found a way for people to install in-house biogas plants at homes or places of work. Can it be a large-scale viable alternative energy source for India's green transition?
VIEW: Full steam ahead
Biogas is a clear alternative green energy source. By diversifying its arsenal of green energy, India will be equipped to handle a smooth transition to renewable energy sources. For the environment, it hits two stones at once by reducing landfills and greenhouse emissions. Its potent energy can replace CNG in automotive, industrial, and commercial industries. While biomass might not be abundantly available in other countries, it's not an issue in India.
Biogas projects in India have been success stories for effecting environmental, economic, social, and health improvements. They promote circular economies by recycling organic waste into lucrative resources. Studies show that villages with biogas plants can meet almost all of their cooking energy needs with biogas. It improves the lives of countless women who would otherwise have to resort to the traditional chulha, which produces toxic fumes.
If India scales up its reliance on biogas, it could enormously reduce the annual import bill – specifically, $20-25 billion by 2030. India has already put the pedal to the metal in this regard. This year's annual budget includes establishing 500 biogas plants across the country under the Gobardhan scheme. Out of the 75 meant for urban areas, the Urban Affairs Ministry has already approved 42 facilities.
COUNTERVIEW: Hold your horses
The outlook of biogas as a fuel of the future depends not only on its potential, which may be high but on the technical and fiscal impediments in its way. India's perennial waste management crisis may restrain biogas' potential. The lack of segregation of organic material at the source is visible – or odorous – in urban landfills, over half of which is composed of organic waste, rotting away and releasing methane into the atmosphere.
Then there's the problem of inconsistent supply of feedstock for the plants. Research shows that many existing and functional biogas plants are underutilised because biomass aggregators simply charge too much for clearing up their farms. Farmers in Punjab's Sangrur would rather resort to stubble burning than pay ₹3,000 per acre to the aggregators.
Lastly, biogas might not appear as lucrative an opportunity due to limited offtakes or products, and higher electricity generation costs. The revenue from its offtakes, like manure, is finite because of its high moisture content and unstandardised carbon-to-nitrogen ratio. Its large-scale commercialisation will require a decisive policy intervention from the government.
Reference Links:
What is your opinion on this?
(Only subscribers can participate in polls)
a) Biogas will be India's fuel of the future.
b) Biogas won't be India's fuel of the future.
---
🕵️ BEYOND ECHO CHAMBERS
For the Right:
From Rights to Revdi: Hindutva and the Limits of Economic Justice
For the Left:
Three reasons why Yogi Adityanath is sweating it out in UP urban local body polls
---
🇮🇳 STATE OF THE STATES
Pine forest residue to act as new biofuel (Himachal Pradesh) – Nearly 22% of Himachal Pradesh's total forest cover, or 8,267 square kilometres, is highly fire-prone. The bulk of the fires were recorded in pine woods because the trees drop needles that are very combustible owing to the high level of turpentine oil they carry throughout the summer. Every year, 1,200 to 2,500 forest fires are recorded in the state, according to government data. The government said on Tuesday that it plans to manufacture compressed biogas (CBG) from pine needles for conservation, scientific management, and sustainable use of pine forest leftovers that may be used as biofuel, an alternative to reliance on fossil fuels.
Why it matters: The government inked a memorandum of understanding with Oil India Ltd. (OIL) last month and plans to launch a pilot project for the bioconversion of pine needles into biofuel. The use of pine needles for biofuel generation via pyrolysis and other processes will be a long-term solution to both forest fires and the energy issue. A pine forest generates two to three tonnes of needles per hectare every season, and the state contains pine woods scattered throughout 1,500 square kilometres, up to a height of 5,500 feet. This will not only reduce the risk of forest fires but will also generate a lot of rural employment.
Catering to a third of nation's rice needs: ANGRAU (Andhra Pradesh) – Since its inception, Acharya NG Ranga Agricultural University (ANGRAU) has generated 123 high-yielding rice varieties, 47 pulse varieties, 29 oilseed types, 21 commercial crop varieties, and 19 millets. ANGRAU is now focusing on generating new high-yielding, drought-resistant agricultural types. According to ANGRAU Vice-Chancellor A Vishnuvardhan Reddy, ANGRAU rice varieties would account for 90.29% of total agricultural acreage in Andhra Pradesh in 2021-22.
Why it matters: With a total area of 21.78 lakh hectares in the state, ANGRAU rice varieties dominate in both the Kharif and Rabi seasons. ANGRAU rice varieties account for 14 million hectares of the country's total agricultural acreage of 46 million hectares. Its rice types account for 33.15% of total rice production in the country, with an output of 38 MT. ANGRAU has also produced the country's first powdery mildew-resistant black gram variety, LBG17 (Krishnayya). ANGRAU has also produced various types of other crops that have benefited farmers in general and increased their income.
100 paperless courts soon (Odisha) – In the next three months, at least 100 courts in districts throughout the state of Odisha will become paperless. On Sunday, Chief Justice of Orissa High Court S Muralidhar declared this during his remarks at the valedictory session of a two-day national conference on digitisation, paperless courts, and e-initiatives. According to the chief justice, a paperless regime improves the design of a court. Odisha may be the first state in the country to have paperless courts in all districts.
Why it matters: On September 11, 2021, the state's first paperless court was established in the court of the chief judge of the high court. On September 17, 2022, the state's district courts opened 34 paperless courts. Lawyers must be brought into the fold to complete the system transformation, and the safety and recovery of data, as well as the paperless operation of courts, must be secured. The Supreme Court of India is pushing for all the courts in the country to become paperless, and Odisha has outperformed all the other states and UTs in this regard.
Jio replaces Vodafone as government's telecom provider (Gujarat) – The Gujarat government has chosen Reliance Jio Infocomm, helmed by Akash Ambani, to replace Vodafone Idea as the new service provider for all government dignitaries and officials' mobile phones. Vodafone has been offering its services to the Gujarat government for 12 years and is now being replaced. The tender for a new service provider was issued days prior to the December 2022 Assembly elections.
Why it matters: When the decision to provide mobile phones to the staff was made in 2008, BSNL was tasked with the responsibility of providing telecom services to the government of Gujarat. However, it was replaced by Vodafone in 2011. The first term of the arrangement with Reliance Jio is of two years. After six months, the government will examine the quality of mobile phone service and tariff pricing, and if either is determined to be poor, the agreement will be cancelled.
NGO provides zero-interest loans (Nagaland) – Working toward its goal of delivering stress-free funds to women in tough and sustaining industries during the COVID-19 outbreak, The Entrepreneurs Associates (tEA) of Kohima issued interest-free loans to 20 women street vendors in the state capital. The loans, which were made possible by Caring Friends Mumbai, were presented to recipients on Monday at the organisation's headquarters. So far, approximately 1,000 women and a handful of its partners have received zero-interest or interest-free loans.
Why it matters: When introducing the "Uplifting Women Street Vendors Program," under which the loans are made available, tEA's CEO Neichute Doulo stated that the organisation was devoted to serving the interests of women, particularly local vendors, who he believes have made significant contributions to the local economy. Ruovizokhonuo E Pienyu from Carl Rogers Institute of Mental Health and School Counseling trained women about the need to care for individual mental health in the interest of women vendors and merchants who experience ongoing issues as a result of their profession.
---
🔢 KEY NUMBER
675 – Between January 1 and March 31, 2023, 675 Indians arrived illegally via small boats in the United Kingdom.