April 27, 2023
Good morning. In today's either/view, we discuss whether Satyapal Malik's remarks about the BJP government carry any weight. We also look at the story of the Mangrove Man of Kerala, among other news.
---
📰

FEATURE STORY
Do Satyapal Malik's remarks about the BJP government carry any weight?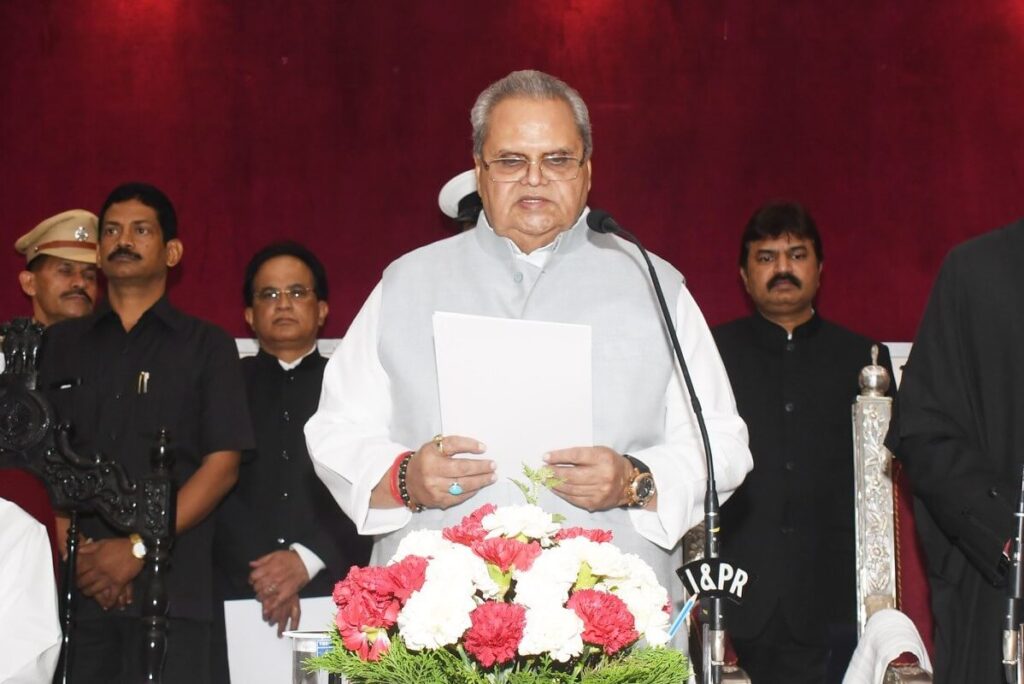 Interviews can sometimes be a tricky thing. What people say can be misconstrued or taken out of context. They can also have a ripple effect, especially when someone supposedly with an axe to grind speaks their mind.
Former Jammu & Kashmir (J&K) Governor Satyapal Malik's recent interview with Karan Thapar made headlines. From the Pulwama attack to the Modi government turning a blind eye to corruption, Malik didn't hold back on his insider knowledge. As the opposition and BJP critics have pounced on Malik's revelations, do his words hold any water?
Context
Satyapal Malik began his long political innings as a student leader at Meerut University. Quickly rising through the ranks, he became an MLA in Uttar Pradesh in 1974 and twice a Rajya Sabha MP between 1980 and 1989. He also represented Aligarh in the Lok Sabha from 1989 to 1991.
It's tough to put him in a box. He's a self-proclaimed Lohia-ite, a follower of Ram Manohar Lohia. He's changed his political affiliation from Lok Dal to Congress, then the Janata Dal to the Samajwadi Party, and finally to the BJP.
He joined the Congress in 1984 and became a Rajya Sabha member in 1986. In the wake of the Bofors scandal, he resigned in 1987. Arun Nehru was a big influence on Malik, and he decided to follow Nehru out the Congress door. In 1989, he was elected to the Lok Sabha as a Lok Dal candidate and became the Union Minister of State for Tourism and Parliamentary Affairs in the VP Singh cabinet.
The BJP came into the picture in 2004. When the Janata Dal collapsed, Malik was in unchartered waters. He didn't have a political home. He joined the BJP and became the Vice President of the Uttar Pradesh BJP. He didn't have much impact there. He was later made the party's National Vice President in 2012 and 2014.
Things were looking up for Malik when he became the Governor of Bihar and Odisha in 2017. Within a year, he was sent to J&K. While Malik's history with the BJP is well-documented, he hasn't spared the party from his views on some of their policies. He supported the farmer's movement when he was the Meghalaya Governor in 2021. This wasn't done through tepid press releases. He addressed rallies with farmers and warned of a fierce battle unless the government didn't meet their demands.
His statements saw no response from the BJP machinery. In his recent interview with Thapar, Malik decided to lay it all out. Not only did he make revelations about Pulwama, but he also claimed being kept out of the loop concerning scrapping Article 370.
Given Malik's history, there's an argument that a former BJP insider's claims should be taken seriously. On the other hand, is he just an unreliable former disgruntled employee?
VIEW: An insider's standpoint
It's fair to ask if Malik's comments should be taken seriously. But he is someone with unique insight. Malik wasn't an outsider – quite the opposite, in fact. He was the Prime Minister's choice to be Governor of Bihar, J&K, Goa, and Meghalaya. He clearly had the BJP high command's confidence and respect.
The scrapping of Article 370 in J&K has been discussed and debated at length. But Malik's revelations cast new light on the BJP's controversial decision. Revoking Article 370 required the state's consent. Malik claimed this was done in haste and on shaky legal ground. Given the numerous petitions in the Supreme Court challenging the Article 370 decision and the commentary on its legality, Malik's comments need to be taken seriously.
Then came his remarks on the Pulwama attack. The Central Reserve Police Force (CRPF) requested to have their personnel transported. Per Malik, not only was this denied, but he was asked not to speak on the matter. It's a serious charge, and the BJP doesn't usually take too kindly to people making such accusations and criticisms. After all, Malik is still a BJP member. An aggressive counterattack, the BJP's usual modus operandi, might not work.
His other remarks on alleged corruption and incompetence will certainly sting and give opposing parties and leaders some ammunition. Malik's interview has put the BJP in a tough spot. Going after a former Vice President of the BJP and Governor might not play well in the court of public opinion.
COUNTERVIEW: An unreliable narrator
It's not exactly been radio silence from the BJP. Responding to Malik's accusations of corruption, Ram Madhav sent him a legal notice for making untrue and defamatory statements. Amit Shah questioned Malik's silence on the Pulwama claims when he was Governor. Shah said the BJP has done nothing that needs to be hidden.
It's no secret that since 2019, the J&K political scene has been muddled. The last government was a coalition of the BJP and the People's Democratic Party (PDP). It ended in 2018 after the BJP withdrew. Till November of that year, the Legislative Assembly was in limbo until regional parties decided to come together and form a government. Malik seemingly didn't give time to Mehboob Mufti and others. Why? It was Eid, he said, and there was no one in his office to take faxes. Some don't find that argument convincing.
His insinuations on the Pulwama attack ring hollow since the availability of an aircraft for the CRPF wouldn't have made a difference. They would have landed in Srinagar and then travelled to Pulwama via convoy. The attack and loss of life are mostly attributed to an intelligence failure. Malik's view of Modi using this for political gain is strange since the attack itself was seen to damage Modi's chances ahead of the 2019 polls.
Shah and Madhav are on the same page that Malik's claims and the Thapar interview, in general, are nothing more than him trying to stay politically relevant and grab headlines. While the opposition will no doubt use this as an opportune moment to dredge up the past, the BJP seems to have bigger fish to fry.
Reference Links:
What is your opinion on this?
(Only subscribers can participate in polls)
a) Satyapal Malik's remarks about the BJP government will have some repercussions for the party.
b) Satyapal Malik's remarks about the BJP government won't impact the party adversely.
---
🕵️ BEYOND ECHO CHAMBERS
For the Right:
Despite Looming Chinese Threat, Politicisation of Defence Forces Mars India's Preparedness
For the Left:
April, Indira, and Nationalisation of Grain: The Failure of 'Hard Socialism'
---
🇮🇳 STATE OF THE STATES
Parkash Singh Badal passes away (Punjab) – Parkash Singh Badal, a five-time former Chief Minister of Punjab and the leader of Shiromani Akali Dal, died on 25th April 2023 at the Fortis Hospital in Mohali. The former chief minister was brought to the hospital a week ago after complaining of respiratory problems. The 95-year-old leader passed away at 8 pm in the night. The experienced politician began his political career as a local sarpanch before running for assembly elections for the first time as a Congressman in 1957, when he was 30 years old.
Why it matters: In a seven-decade career, he had only lost two elections: one in 1967 and the most recent in the 2022 Punjab assembly election. The loss was especially painful since he had lost his stronghold of Lambi, which he had defended for several decades. He was the youngest person to be elected as the CM at 43 years of age. During the farmers' revolt against the Centre's farm laws in 2020, his party severed relations with the BJP. He also returned his Padma Vibhushan award, the country's second highest civilian honour, which he had received from the government of India in 2015 in response to the Union government's disregard for protesting farmers.
Mangrove Man of Vypin conserving coasts (Kerala) – Murukesan, known locally as "Mangrove Man," has devoted himself to growing trees along the shoreline of Vypin Island and the adjacent areas in Kerala's Kochi district to mitigate the effects of rising waves on his house. Murukesan grew up in a lovely, rich mangrove forest that divided islands from the sea. In Kochi, the state's economic hub, only fragmented areas of mangroves are visible these days.
Why it matters: Tidal flooding happens when the sea level rises and local conditions combine to raise water levels over typical levels. Mangroves may serve as natural coastal barriers against rising sea levels, rising tides, and storm surges. However, forest cover in the state has declined throughout Murukesan's lifetime. Murukesan claims to have planted over 100,000 mangrove trees. He plants saplings every other day and does the majority of the job himself. The MS Swaminathan Research Foundation, a non-governmental organisation located in Chennai, has donated seedlings.
Powerless village gets electricity bill (Jharkhand) – Despite having no electrical power supply since independence, 37 homes in the Dalit village Dumuhaan under Pratap Pur Block in Chatra district have been slapped with electricity bills. Villagers said they had been told to pay up right away or face the consequences. People of the village use the powerless power lines to dry their clothes on certain poles in the village because there are no transformers or power connections to supply electricity.
Why it matters: The power metre, which was delivered to the villagers five years ago with the promise that electricity would reach families within a week or two, is collecting dust. Rural people continue to rely on kerosene lights. The most interesting as well as ironic fact in all of this is that Jharkhand is a significant source of energy in the country. Power plants are located at Bokaro, Jamshedpur, East Singhbhum, and Koderma. These units provide around 2,800 MW of power when combined. Apart from numerous coal mines, the state houses the nation's sole uranium reserves, utilised to harness nuclear energy.
Four teens trade lives for selfies (Goa) – There are 30 forbidden or no-photography zones on Goa's beaches. Even though warning signs have been placed at all of these locations, some tourists continue to incur unjustifiable risks for the sake of an image or a reel. Four young teenagers drowned on Sunday at Keri Beach after climbing a rocky section of the beach that had been marked as hazardous. Last year, between June and July, three tourists perished in a similar fashion in separate incidents.
Why it matters: Given the rising tendency and fascination among visitors and even residents to discover isolated locations on beaches – the harder the terrain, the better – to take pictures of themselves with the sea as a backdrop, the Department of Tourism put warning posters at all such spots a few years ago through Drishti Marine. The craze among people for looking cool on social media has been driving them to take such risks for a very long time now. In spite of several news articles where such risky behaviour has claimed the lives of people, in their hunger for volatile fame, people think that they will not meet such deadly fates.
Police hold workshop for wildlife conservation (Meghalaya) – On 24th April 2023, the Meghalaya Police, in collaboration with Aaranyak, held a workshop on wildlife conservation in Tura. The program highlighted the importance of the general public in biodiversity protection through wildlife crime prevention, as well as the effectiveness of wildlife crime regulations. The police also taught the public about climate change and how human activities and forest loss had harmed the ecosystem.
Why it matters: The police also emphasised the importance of reducing the area under shifting cultivation, which involves the burning of forest cover, by employing innovative agricultural practices. The police quoted the well-known example of Jadav Payeng, who transformed an arid sandbar island in Assam into a dense forest, demonstrating how a simple man may make a significant contribution to biodiversity protection. Northeast India is exceptionally rich in biodiversity due to its unusual altitudinal gradient, particularly in the Garo highlands.
---
🔢 KEY NUMBER
157 – Cabinet gives nod to the establishment of 157 government nursing colleges: Health Minister Mansukh Mandaviya.