February 17, 2023
Good morning. In today's either/view, we discuss whether India can move away from fast fashion to sustainable fashion. We also look at the compensation to be granted to Joshimath residents, among other news.
---
📰

FEATURE STORY
Fast fashion: Can India move away from it?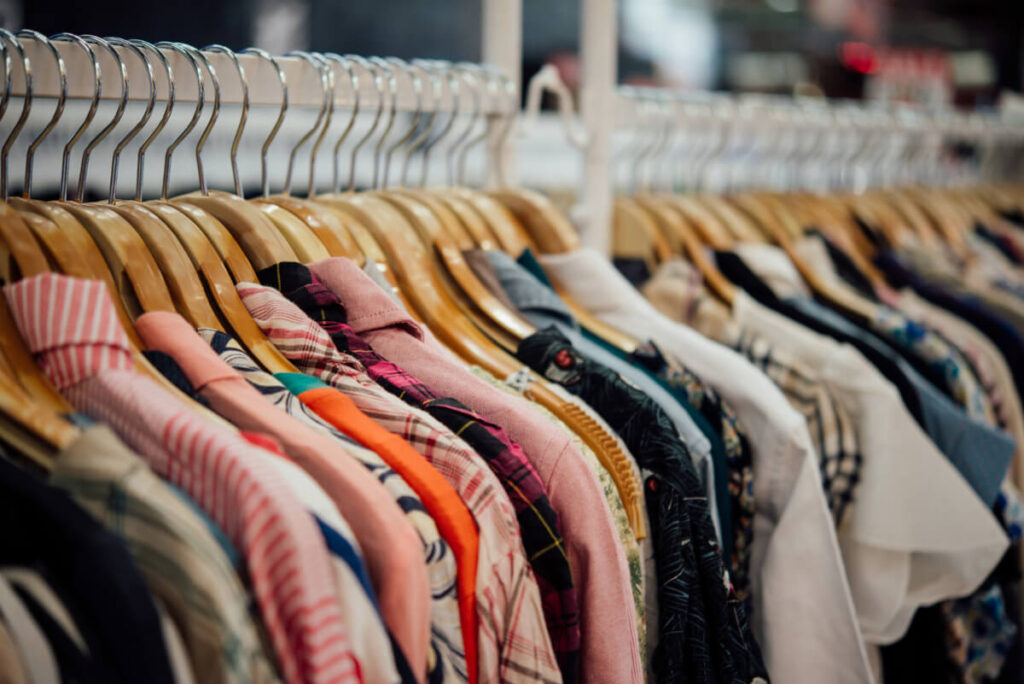 It's the end-of-season sale. Or the beginning of spring sale. Or the Diwali, New Year's, and Independence Day sale. It's a chance to own designer products that one might ordinarily only gaze at from afar. Do our consumer sensibilities prioritise the carbon footprint of the product, or rather its affordability and aesthetic value? On the flip side, are brands opting to create durable fabric or clothes that lose their threads and charms with the end of a season?
Recently, Prime Minister Narendra Modi sported a Nehru jacket made of recycled PET bottles to spotlight the government's commitment to sustainable living. Sustainable, upcycled clothing has become something of a trend too. With India being one of the top manufacturing destinations for fast fashion, is this shtick likely to make a dent?
Context
The problem with fast fashion is that the world is making, buying, and discarding too much. The clothes we buy from our darling and affordable brands are created to last shorter periods to keep people returning for more. The fast fashion model ties consumers and brands together in a toxic loop of over-consumption of resources to drive profits higher and temporarily satisfy the consumer.
Consider this. The fashion industry consumes about 100 trillion litres of water. Around 3,000 litres of water might have gone into making your favourite cotton T-shirt. These clothes culminate into about 92 million tonnes of waste annually, most of which piles up in overflowing landfills or inside the mouths of polluting incinerators.
And what makes these trendy clothes cheap? In countries like India, Bangladesh, and China, where these clothes are manufactured, workers are paid abysmally low and are subject to hazardous working conditions. Fast fashion brands are frequently in the dock for employing slave or forced labour.
In India, workers suffer both in factory settings and the informal sector. Our garment industry is primarily informal, with over 75% being women. This implies that the workers are without paid leaves, job security, or an alternative form of employment. So, it is no surprise that when the prime minister dons a recycled vest and the Indian Oil Corporation launches its Unbottled project for waste-free uniforms, people perceive it as a move towards sustainability.
A few questions to keep in mind as you read this are: who benefits from the current wave towards sustainability, and who can access sustainability?
Two important variables that can make or break the sustainability movement are the willingness of brands to pursue economic policies and the willingness of consumers to hop off the train of never-ending trends. These factors and good governance determine whether India is on the precipice of discarding fast fashion or not.
Before we get into the nitty gritty of analysis, let us also consider a significant implication of sustainable living – the ability of people from all walks of life to access it. India's caste and class divisions pose a tremendous challenge to inclusive sustainability. As long as upcycled clothing caters to elite consumers, most people will still prefer fast fashion.
A brutal reality in India is that when people step out from caste barriers to don trendy or elite apparel, they are brutally penalised. How, you might ask? People from oppressed castes are assaulted, humiliated, and killed by the upper caste for wearing sunglasses, jeans, and shoes. A debate over sustainability is amiss and tone-deaf if it does not acknowledge the indignity with which fashion is weaponised.
VIEW: Sustainable clothing has history and momentum on its side
Indian entrepreneurs have demonstrated cognisance of the importance of recycling and upcycling the tonnes of plastic and textile waste that piles up in landfills every year. Steadily, hundreds of sustainable brands have emerged that directly produce ethical and sustainable clothing. The State's support will most likely encourage higher investment and growth in the sustainable fashion industry.
The government's limited but sustained efforts have led to India's top retail brands overhauling their operations and production to make sustainable clothing. The government's project SuRe aimed to enfold the textile industry in a commitment towards a clean environment. Under it, 16 brands like Lifestyle, Shoppers' Stop, Future Group, and Aditya Birla Retail pledged to grow sustainable production by 2025.
The Indian textile and fashion industry has been able to develop a homegrown model of sustainability, thanks to the popularity of khadi in the Indian political and cultural consciousness. Khadi, or khaddar, is spun sans machines and thus has an especially low carbon footprint.
The Khadi & Village Industries Commission (KVIC) and the Ministry of Micro, Small and Medium Enterprises (MSME) have been working with Peter England and Raymond to bring khadi to the fore. Khadi sales made a 100% leap from ₹914.07 crore between 2004-2014 to ₹1,828.3 crore between 2015-2018.
While much work remains to ensure equitable access to sustainability, social entrepreneurs' efforts cannot go unnoticed. Consider, for instance, artist Sudheer Rajbhar who founded Chamar Studio, a sustainable fashion label where artisans from the Dalit community express their creativity and earn a dignified living. The brand strives to reclaim the term chamar for people of the community and confronts centuries-old caste biases.
COUNTERVIEW: The movement needs to shed its elitist aspirations
In India, sustainable fashion is still pretty nascent – barely more than an elite trend. Its hold over the market requires chalking out policies directly addressing the issue. For instance, subsidies for companies willing to adopt environmental measures like an Effluent Treatment Plant (ETP).
India's Textiles and Apparel Industry benefits a lot from exports. This induces the industry to treat goods for domestic and foreign buyers differently. For instance, fashion brands in India are regulated to avoid using chlorine, a harmful bleaching substance, in goods meant for foreign markets. However, the same policies don't apply to the Indian market.
There are several barriers that recycling runs into that restrict its scope. Innovation in recycling technologies is slow, and unsegregated waste disposal adds to the problem. The capital that goes into acquiring recycle tech and sorting through waste prevents several companies from hopping in on the trend, so sustainable fashion remains limited to a niche market.
Apart from legislation, a major barrier that prevents large fashion brands from embracing sustainability is the Indian consumer. Studies have shown that consumers' willingness to spend on ethically made fashion doesn't translate into action. People are simply not doing enough to market sustainability and make it affordable.
The government's and industry leaders' push for homegrown sustainability models has much room to grow. One way India's caste and class biases hold its sustainability back is visible in the deprecation of the lungi – a sustainable, cost-efficient zero-waste clothing of India's working class – in popular culture. To boot, the attire has a history of gender fluidity woven into it. But the garment is severely underutilised in a sustainability movement yet to lose its elitist flavour.
Reference Links:
What is your opinion on this?
(Only subscribers can participate in polls)
a) India is ready to move away from fast fashion.
b) India faces several barriers in moving away from fast fashion.
---
🕵️ BEYOND ECHO CHAMBERS
For the Right:
3 reasons why the Modi govt ordered an I-T raid on BBC — none of them makes sense
For the Left:
Ukraine War: How India Turns Geo-Economic Necessity into a Geo-Political Opportunity
---
🇮🇳 STATE OF THE STATES
Compensation to be granted to Joshimath residents (Uttarakhand) – The policy for compensating and permanently rehabilitating the afflicted households and individuals in Joshimath, which has been severely affected by ground subsidence, received approval from the Uttarakhand Cabinet on Wednesday. It authorised a one-time payment of ₹2 lakh to those who were operating shops or other enterprises in rented homes that had become dangerous due to the tragedy.
Why it matters: The houses of people in Joshimath had developed cracks because the grounds on which their houses stood started to sink. While a lot of experts point to the over-construction of settlements, other people also point to the construction of a hydro project. The rate of compensation for residential constructions would be determined after adding the cost index and the plinth area rates of the CPWD to determine the cost of a certain house.
Thiruvananthapuram wins the Swaraj Trophy (Kerala) – The state government of Kerala instituted the Swaraj Trophy to recognise and award the best corporation in the state. This time, the capital city of Thiruvananthapuram has secured the first position and bagged the Swaraj Trophy.
Why it matters: A corporation can spend more than 80% of the yearly project implementation budget for the years 2021–2022, according to Mayor Arya Rajendran. He said that this accomplishment is dedicated to the people, officials, and council members. He also stated that this would motivate everyone to advance all humanitarian efforts and developmental projects and provide maximum benefit to the public.
Debrigarh approved by NTCA as a tiger reserve (Odisha) -The National Tiger Conservation Authority (NTCA) has given the Odisha government's application to designate Debrigarh Wildlife Sanctuary as a tiger reserve in-principle approval (TR). According to NTCA sources, the top body accepted the request to declare a TR for the sanctuary's surrounding woods and an area of 804.51 sq km during its 17th technical committee meeting.
Why it matters: Debrigarh has a decent forest with a strong prey base, which can serve as an essential corridor between Odisha and Chhattisgarh, according to the NTCA. Per the agency, the sanctuary meets each of the six requirements set out by an NTCA Committee during its visit to the state in 2019.
Two-day literary festival to be held in Jaipur (Rajasthan) – Authors who have penned novels on historical towns including Jaipur, Jodhpur, Pushkar, Delhi, Bhopal, and Lucknow will discuss their memories, stories, art and culture, food, ancient significance, and old structures at Rajasthan's two-day literary festival.
Why it matters: Government efforts to preserve folk culture, history, and customs are underway, according to Gayatri Rathore, principal secretary for the tourism department. The state government has made it a priority to improve the financial situation of folk musicians. Thus provisions have been included in the most recent budget to guarantee that they work for at least 100 days in a year.
The police and the protesting encroachers (Assam) – On Wednesday, a number of eviction campaigns were carried out in three districts of Assam, placing thousands of suspected public land infringers in a difficult situation. Security officers used the stick during the drive against accused encroachers who threw stones at them to stop the eviction and some of whom claimed they were being evicted from their houses before the specified deadline.
Why it matters: The eviction drive in Burachapori is the fourth major one in Assam in two months. The drive in Nagoan's Batadrava on December 19 is billed as one of the largest in the region as it uprooted more than 5,000 alleged encroachers. It was followed by another exercise on December 26 in Barpeta. Since early in the morning, some 100 bulldozers, excavators, and tractors have been working to destroy the buildings and clear the site.
---
🔢 KEY NUMBER
150 million – India to have an estimated 150 million 5G users by 2024.