February 16, 2023
Good morning. In today's either/view, we discuss whether plant-based and mock meat would take off in India. We also look at the erosion of Puducherry's coast, among other news.
---
📰

FEATURE STORY
Plant-based and Mock Meat: Can they catch on in India?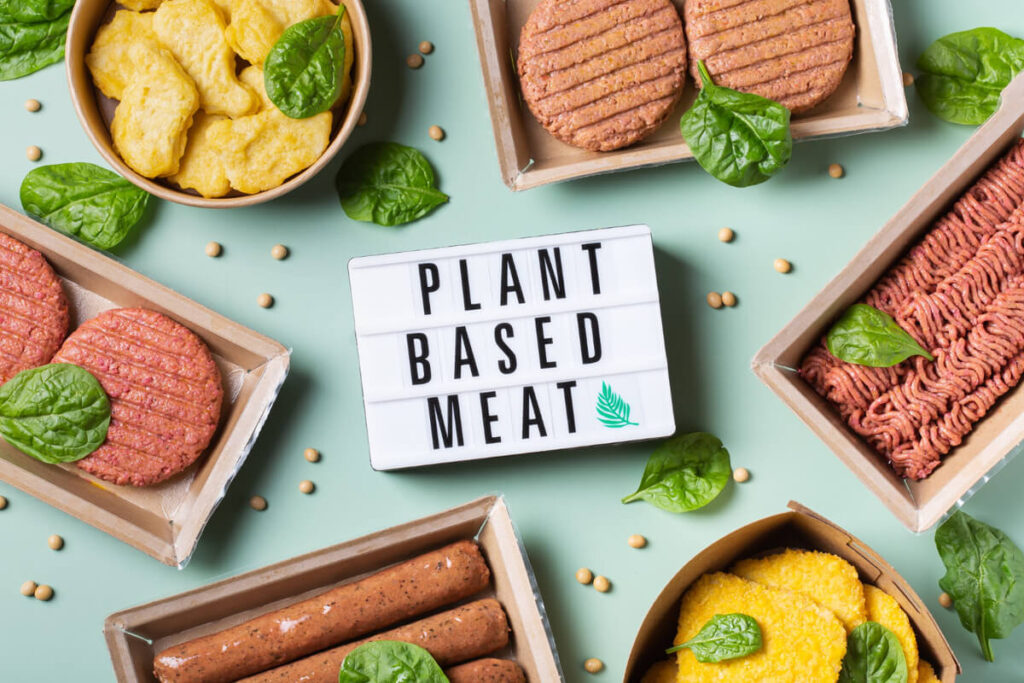 Indians love food. It's part of our history, culture, and traditions. Different parts of the country have their own culinary tales. Whether you're a meat eater or a staunch vegetarian, there's something for everyone.
With food habits come different tastes and preferences. People opt for different diets for health or other purposes. One trend that's come to the fore is plant-based meat products or mock meat. A relatively new concept for Indians, can it break into the mainstream, or will it be a niche?
Context
First, a quick history lesson. Mock meat isn't a new phenomenon. It's been a part of Chinese cuisine for centuries. It began as a tradition derived from Buddhist monasteries in dynastic China. Vegetarianism was adopted by Chinese sects of Buddhism in the 6th century. In the 10th to 13th centuries, faux meat was prepared as a delicacy for Buddhist pilgrims and visitors to monasteries. Throughout Chinese history, low-income households would eat tofu as a meat substitute. For many, meat and fish were luxuries.
Travel West, and the vegetarian food is purposefully plain. In the mid-19th century, the American Vegetarian Society was formed, and the food was nothing more than boiled vegetables and wheat bread. Its roots in the US began with Kellogg's, synonymous with breakfast cereals. Dr John Harvey Kellogg's vegetarianism was inspired by his faith. At Michigan's Battle Creek Sanitarium, guests dined on food containing soy milk, probiotics, and mock meat.
Kellogg's came out with mock meats containing a mix of nuts and gluten. Aside from the mid-century development of Bac-O Bits, more of a salad condiment, the scene was quiet. In the 1970s, there was a renewed interest in vegetarianism. The veggie burger became popular with several brands. Decades later, companies like Burger King and McDonald's jumped on the bandwagon.
So, what is mock meat? Simply put, it's a substitute. A meat eater wants to switch to an environmentally friendly option. For most faux meat products, the process begins with soy protein. The challenge is texture. Another method is using wheat gluten which has a stretchy texture making it easier to modify and resembles the chewiness of meat. There's also lab-grown meat which uses cells extracted from an animal and placed into a concoction of nutrients to multiply and create sinews of real meat.
The global plant-based food market is expected to be 7.7% of the worldwide protein market by 2030, with a value of $162 billion. Small and big brands are battling for shelf space in people's homes and have partnered with chain restaurants. In India, mock meat came to the market about a decade ago with not-so-stellar results. Now, things have changed. Big brands and startups like Goa-based Wakao Foods and Mumbai-based Blue Tribe Foods are offering consumers something new.
Will the perceived benefits of plant-based and mock meat products take off in India in a big way, or is the Indian market too stubborn?
VIEW: It's only the beginning
With increased awareness about the environmental impact of eating meat and the detrimental methods of animal farming and meat production, more people are looking for alternatives. A survey by the Good Food Institute showed 63% of Indians would switch to plant-based meat. Switching to plant-based meat can help reduce CHG emissions.
While this sector is still in its nascent stages in India, the future looks bright. India's meat substitute market is expected to reach $47.57 million by 2026. Several companies have realised their potential. Thanks to online retail, their reach is further than ever before. Restaurants and supermarkets are offering vegan and other plant-based meat options using science and innovation to make them taste like meat.
People want to take care of their health. Over the years, research has shown the links between meat consumption and heart problems, cancer, and diabetes. This is particularly true for processed meats. What the sector has going for it is India's population. Millennials, in particular, are becoming increasingly careful about what's on their plate.
COUNTERVIEW: Roadblocks ahead
One of the most significant talking points in favour of mock meats is they're healthier. Some research shows that's not necessarily true. Not all plant-based products are created equally. Salt levels in plant-based products are high and can have six times more sodium than meat-equivalent products. Most fake meats are classified as ultra-processed foods. Plenty of additives are pumped in to make these foods look and taste like meat.
If nutrition is the goal, then mock meat isn't the answer. For example, gluten-based mock meat may taste good but has no nutritional value. There's some research showing long-term consumption can lead to reduced levels of fibre and minerals. Researchers in the US say faux meats made of soy are largely genetically modified using chemicals and grown on monoculture farms. This doesn't really reduce its environmental impact.
From the consumer's point of view, the sector could remain a niche. For some, it's about knowing what goes into making these products. There's also the issue of price. Not everyone might be able to afford such products. Their pricing could be a detriment for widespread adoption. In general, the prices of plant-based meat products are 1.5 times more than real meat products. This might be fine for higher-income households, but there's no scale to reach the masses.
Reference Links:
What is your opinion on this?
(Only subscribers can participate in polls)
a) Plant-based and mock meat will be successful in India.
b) Plant-based and mock meat won't find much success in India.
---
🕵️ BEYOND ECHO CHAMBERS
For the Right:
The length of the LAC, as quoted by the MHA, is unfortunately wrong
For the Left:
What made the relations between India and the US stronger?
---
🇮🇳 STATE OF THE STATES
HC interrupts Pragati Maidan slum demolition (New Delhi) – The Public Works Department was scheduled to demolish a slum on Bhairon Marg near Pragati Maidan on Tuesday, but the Delhi High Court imposed a stay and asked the state government and the Centre to submit a report. Justice Prathiba Singh's one-judge panel noted that it was unclear if the slum community of Janta Camp, which is close to gate 1 of Pragati Maidan, was included in the Delhi government's 2015 rehabilitation strategy.
Why it matters: Inhabitants of Janta Camp asserted that because it was a notified cluster, residents needed to be rehabilitated in accordance with relevant regulations before any demolition. The DUSIB stated that the property belonged to the Railways, and the decision to relocate the slum inhabitants to a night shelter was made in accordance with the Chief Secretary's instructions.
Half of Puducherry coast is eroding: Study (Puducherry) – The 42.88 kilometre-long coastline of Puducherry is degrading by over 50%, according to the Marine Spatial Plan (MSP) of the union territory, which was unveiled on Monday by Lt Governor Dr Tamilisai Soundararajan. The Puducherry, Karaikal, and Mahe regions of the UT are covered by the MSP, which is a 32-year evaluation of the coastline. Additionally, the research cited coastal erosion as a serious threat to Puducherry.
Why it matters: High erosion is seen along the Karaikal shore for around two kilometres and moderate erosion for the remaining one. According to the assessment, erosion is minimal over the remaining 21.14 kilometres of shoreline that connect the three districts. The Indo-Norway Integrated Ocean Initiative MoU, which India and Norway signed in 2019, lays the foundation for the MSP. Lakshadweep and Puducherry were chosen as the project's trial locations and will collaborate over the next five years. The NCCR will create Lakshadweep and Puducherry's MSP framework.
Rourkela students raise the demand for a university (Odisha) – After the state government recently stated that Vikram Deb College in Koraput will be converted into a university, the demand for a university in Rourkela was raised once again. According to sources, degree college students from Rourkela and the rest of the Sundagarh district are suffering since they are forced to travel 180 kilometres to Sambalpur University (SU) for a variety of reasons. A branch of SU should have opened in the city more than 20 years ago, but that request was disregarded.
Why it matters: Rourkela is the most significant city in Odisha and a centre for technical education, second only to the twin cities of Bhubaneswar and Cuttack. However, the need for a university expressed by the locals and students has not been met. Around 40–50 current institutions in the districts of Sundargarh and Deogarh would be served by an affiliated university at Rourkela named after the previous chief minister Biju Patnaik. Additionally, more universities might emerge in isolated rural areas thanks to it.
Goa facing a jellyfish menace (Goa) – According to the information given by lifeguards, over the past three months, more than 850 beachgoers in Goa have reported being stung by jellyfish. The majority of the attacks—710—were recorded in South Goa's less-frequented beaches, with 225 assaults reported from Betalbatim alone, 180 from Colva, and 50 from each of the beaches at Benaulim and Zalor. The jellyfish also attacked one hundred twenty-five swimmers during a swimathon.
Why it matters: While they were previously very rare, jellyfish attacks have now become more frequent at Goan beaches. Jellyfish are of two types: toxic and non-toxic. Most jellyfish stings are benign and mildly irritate people, but in extremely rare instances, they can be harmful. The bluebottle jellyfish, often known as the Portuguese man of war, has recently been spotted in the waters around Goa. These jellyfish are extremely poisonous, and their stings can also be lethal.
Manipur cabinets to hire 1,140 teachers (Meghalaya) – S Ranjan, the minister of information and public relations, announced to the media in Imphal on Tuesday that the state cabinet has authorised hiring 1,140 pre-primary teachers to improve the state's educational system. Additionally, the state cabinet resolved to establish a cell to ban unregulated deposit schemes or BUDS. According to Dr Ranjan, one assistant director and one UDC would be hired to boost this institutional funding.
Why it matters: The state government was informed of the hiring of 210 graduate teachers under SSA per the terms of the Central and state share financing with equal pay share. The state cabinet also authorised the addition of 290 graduate instructors, bringing the total number of graduate teachers funded by Central and State salary share money to 500.
---
🔢 KEY NUMBER
9,000 –  Centre approves the induction of 9,000 ITBP troops to be stationed at the borders with China.